19th Delhi GM Open R1: Shivika Rohilla stuns GM Laxman
14-year-old Shivika Rohilla scored the biggest upset in the first round of 19th Delhi International GM Open 2022. The 1898-rated teenager from Delhi beat the Blitz king of India, GM Laxman R R who became unbeaten champion in 2nd SkillCraft - Omvati Memorial Rapid and Blitz Open, two days before the start of this event. The 19th edition of the biggest International GM Open tournament of the country is back after a two year hiatus due to Covid-19 pandemic. Bharat Singh Chauhan, Hony. Secretary of AICF and President of Delhi Chess Association announced that next edition will be held with a prize fund of ₹1.25 crore. Round 2 starts today at 9:30 a.m. IST. Photo: Aditya Sur Roy
Smooth sail for the top seeds
Ritvik Krishnan, Swayham P Das and WFM Chaitanya V beat IM Rahul Sangma, WIM Parnali S Dharia and WGM Varshini V each respectively. Shaik Sumer Arsh, Arjun Ghimire (NEP) and Hriday Panchal drew with IM Srihari L R, IM Viani Antonio D'cunha and IM Manish Anto Cristiano F.
Gukesh - Sudarshan: 1-0
GM D Gukesh (2614) scored a very nice victory by launching an attack on his opponent Sudarshan Bhat's (2100) kingside.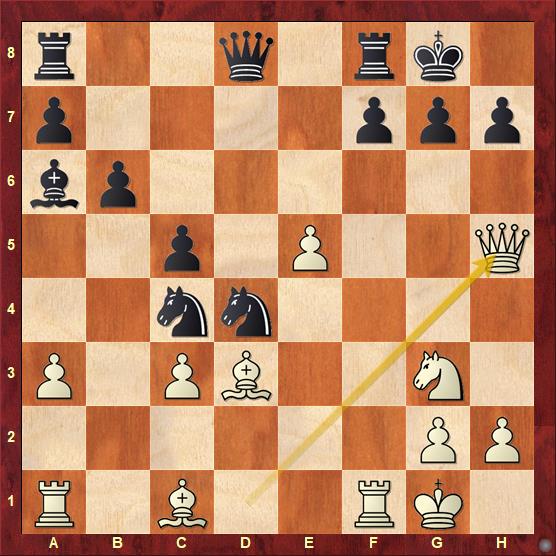 White did not need to be bothered about losing the d4-pawn. He knew that the attack on the kingside via 16.Qh5 will be decisive. 16...g6 17.Qh3 Nb3 18.Ne4 f5 19.exf6 Nxa1 20.Ng5 h5 21.f7+ and it's all over for Black.
Santu - Deepan: 0-1
GM Deepan Chakkravarthy (2520) was completely winning against Santu Mondal (2063). However, in the final moments, the GM almost allowed his opponent to turn the tables.
40...h3+ 41.Kf1 Rc4 was completely winning for Black. Yet 40...Rb2 created an opportunity for White to get back in the game. What was it?
For more Round 1 photos, please click here.
A total of 298 players including 21 GMs, 26 IMs, 3 WGMs and 6 WIMs are taking part from 13 federations across the world including India. The tournament is organized by Delhi Chess Association from 22nd to 29th March 2022 at Tivoli Grand Resort Hote, New Delhi. The ten-round Swiss league tournament has a time control of 90 minutes + 30 seconds increment from move no.1. Accelerated pairings are used in the first three rounds.
Replay Round 1 games
Round 1 results
Round 2 pairings
---