19th Delhi GM Open R9: Abhijeet and Sethuraman in the title fray
19th Delhi International GM Open 2022 is certainly heading for an exciting finish. Five players are in the lead 7.5/9 heading into the final round. They are - Arjun Erigaisi, Sethuraman, Gukesh, Harsha Bharathakoti and Abhijeet Gupta. While Arjun has the best tie-break among the lot, a final round draw will allow any of the remaining to clinch the championship. He must beat Karthik Venkataraman in the final round to increase his odds. Abhijeet will face Gukesh and Sethuraman against Harsha in the final round, where everyone will go for full point to increase their chances to win the tournament. Round 10 starts today at 10:00 a.m. IST. Photo: Aditya Sur Roy
Himal and Utsab impressive against Visakh and Masoud
IM Himal Gusain completely dominated his opponent GM Visakh N R. Utsab Chatterjee beat his first GM of the event, Masoud Mosadeghpour (IRI).
Kian - Abhijeet: 0-1
FM Seyed Poormosavi Kian (IRI, 2229) played the endgame a bit inaccurately against GM Abhijeet Gupta (2628). Eventually he landed himself in a relatively equal same color bishop endgame which was not easy to play.
38.Ke4 loses the game for White. However, 38.Ke5 saves the day. Find out the key difference between these two.
Ponkratov - Sethuraman: 0-1
GM Pavel Ponkratov (2641) suffered his second consecutive loss. He went terribly wrong in a pawn race in major piece endgame.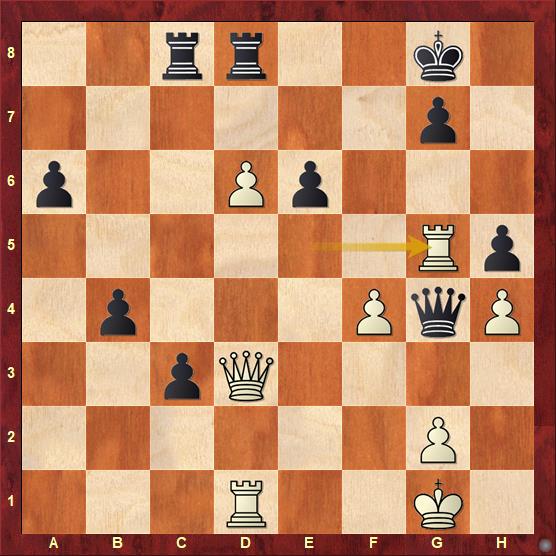 Black is completely winning here. Find out the finish for Black after 35.Rg5.
Visakh - Himal: 0-1
IM Himal Gusain (2408) made a short work of GM Visakh N R (2522) in just 23 moves.
17...Nd3+ is a deadly blow to an already dwindling position for White. 18.exd3 exd3+ 19.Kf1 Qxd4 and White resigned after four more moves.
Azer - Divya: 0.5-0.5
GM Azer Mirzoev (AZE, 2476) was completely lost in the final moments of the game against WGM Divya Deshmukh (2301). Unfortunately she could not find the precise winning continuation.
38...Rxf2 allowed White to escape with a draw by perpetual check 39.Qg8+ Kg6 40.Qe8+ Kh7 41.Qg8+. Find out the winning continuation for Black after 38.Bf1
For more Round 9 photos, please click here.
A total of 298 players including 21 GMs, 26 IMs, 3 WGMs and 6 WIMs are taking part from 13 federations across the world including India. The tournament is organized by Delhi Chess Association from 22nd to 29th March 2022 at Tivoli Grand Resort Hote, New Delhi. The ten-round Swiss league tournament has a time control of 90 minutes + 30 seconds increment from move no.1. Accelerated pairings are used in the first three rounds.
Replay Round 9 games
Round 9 results
Round 10 pairings
---