19th Delhi GM Open R5-6: Lalit Rohit and Karthik Venkataraman share the lead
GM Lalit Rohit and GM Karthik Venkataraman are the coleaders 5.5/6 at 19th Delhi International GM Open 2022. Lalit had a good opportunity to topple the top seed, Pavel Ponkratov. Unfortunately for Lalit, he could not capitalize it and the game ended in a draw. Karthik scored the sole win among the top six boards in Round 6 against GM Visakh N R to join the lead. 17 players are in pursuit at 5.0/6 each. GM Laxman R R's woes continue as he suffered his second loss of the event, it was against WGM Srija Seshadri in the sixth round. She is currently the top performing female in the field. Round 7 starts today at 10:00 a.m. IST. Photo: Aditya Sur Roy
Srija wins against Laxman
11-year-old Adireddy Arjun (1796) defeated IM Sai Agni Jeevitesh (2316) in Round 6 to complete his hat-trick.
Round 5: Iniyan - Arjun Erigaisi: 0.5-0.5
GM Iniyan P (2516) first sacrificed his queen for two rooks against GM Arjun Erigaisi (2660). Then he decided to sacrifice an exchange.
The reason 29.Rxd6 works is quite simple. After 29...Bxd6 30.Rxd6, White will just keep his rook in the fourth rank and prevent any f4 or h4 breakthroughs. White can also afford an exchange of his rook with his opponent's king either at f4 or h4 and the loss of g3-pawn. The resultant pawn ending would also be a draw.
Round 6: Lalit - Ponkratov: 0.5-0.5
GM Lalit Rohit (2558) got a commanding position against GM Pavel Ponkratov (2641).
25.Rxb8 Qxb8 26.g4 is the suggested continuation by the computer. The game continued 25.Qb3 Bd4 26.Ba5 Re3 27.Rxb8 Nxb8 28.Qc2. White's advantage evaporated and a draw was agreed in another five moves.
Karthik - Visakh: 0.5-0.5
GM Visakh N R (2522) had a couple of chances to repeat moves and take a draw but he was not interested. A mistake eventually turned things in his opponent GM Karthik Venkataraman's (2485) favor.
25...Qh5 would have still allowed Black to salvage a draw. However 25...Qxf1+ loosened the grip 26.Rxf1 and White got a completely winning position as three pawns were not enough for the lost bishop for Black.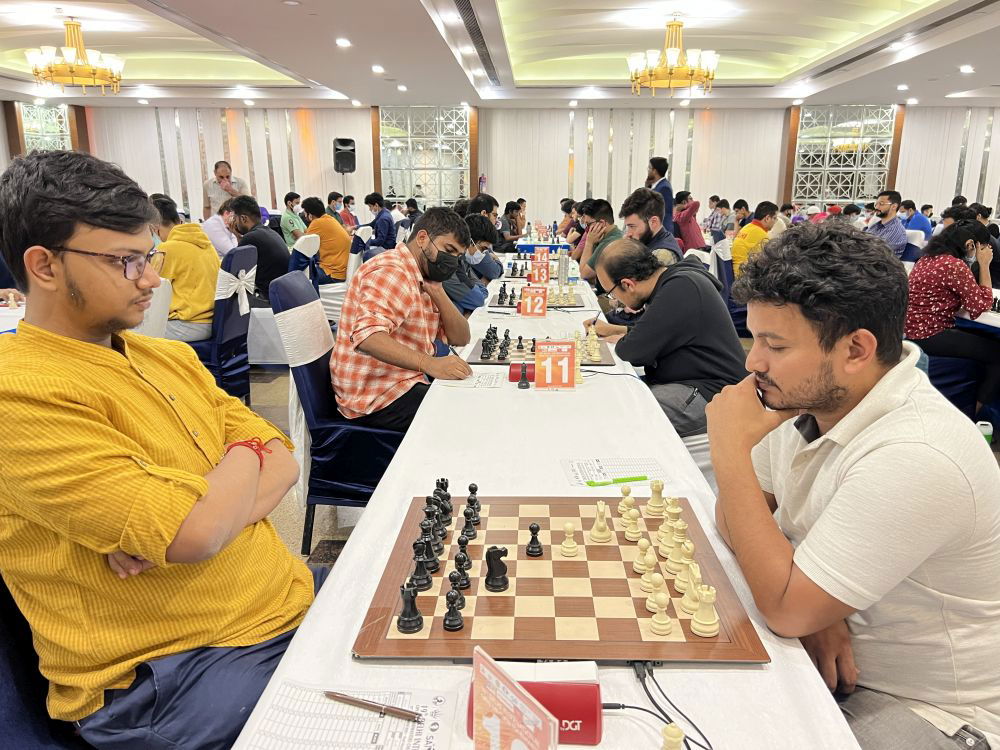 For more Round 5 and Round 6 photos, please click at the respective links.
A total of 298 players including 21 GMs, 26 IMs, 3 WGMs and 6 WIMs are taking part from 13 federations across the world including India. The tournament is organized by Delhi Chess Association from 22nd to 29th March 2022 at Tivoli Grand Resort Hote, New Delhi. The ten-round Swiss league tournament has a time control of 90 minutes + 30 seconds increment from move no.1. Accelerated pairings are used in the first three rounds.
Replay Round 5-6 games
Round 6 results
Round 7 pairings
---