Sheikh Russel GM R6: Srinath extends his lead by a full point
GM Srinath Narayanan beat GM Masoud Mosadeghpour (IRI convincingly in the sixth round to extended his lead by full point 5.5/6 at Sheikh Russel International GM 2021. 13 players including five Indians are at a full point behind him at 4.5/6 each. They are - GMs Stany G A, Shyam Sundar M, Visakh N R, IMs Mitrabha Guha and Aditya Mittal. Mitrabha defeated GM P Karthikeyan and Aditya drew with GM Misratdin Iskandarov (AZE). Koustav missed a win against the legendary GM Michal Krasenkow (POL). Round 7 starts today at 2:30 p.m. IST. Photo: Bangladesh Chess Federation
13 players in the hunt
IM Harikrishnan A Ra and untitled Sourath Biswas held GM Yuri Solodovnichenko (UKR) and IM Pranav V to a draw; IM Aronyak Ghosh and WIM Arpita Mukherjee defeated GM Himanshu Sharma and IM Sammed Jaykumar Shete respectively. GM Shyam Sundar M scored a 134-move long marathon victory over GM Laxman R R.
Srinath - Masoud: 1-0
GM Masoud Mosadeghpour (IRI) made an incorrect calculation which cost him material against GM Srinath Narayanan.
16...c3 lands Black in trouble 17.bxc3 Nxc3 18.Qb2 Nxe2+ 19.Kh1 and now White has too many threats Bxb6, Bxa8 and Bb4. There is no good way for Black to get out of it. 19...Rxa5 20.Rxa5 Qd8 21.Nb3 Nc4 22.Qxe2 Nxa5 23.Nxa5 Qxd4. Black might have two pawns for a piece but it is just not enough. White converted his advantage into a full point with ease.
Misratdin - Aditya: 0.5-0.5
IM Aditya Mittal played solid against GM Misratdin Iskandarov (AZE). Just when it seemed like the game is heading towards a draw, White made a tiny error.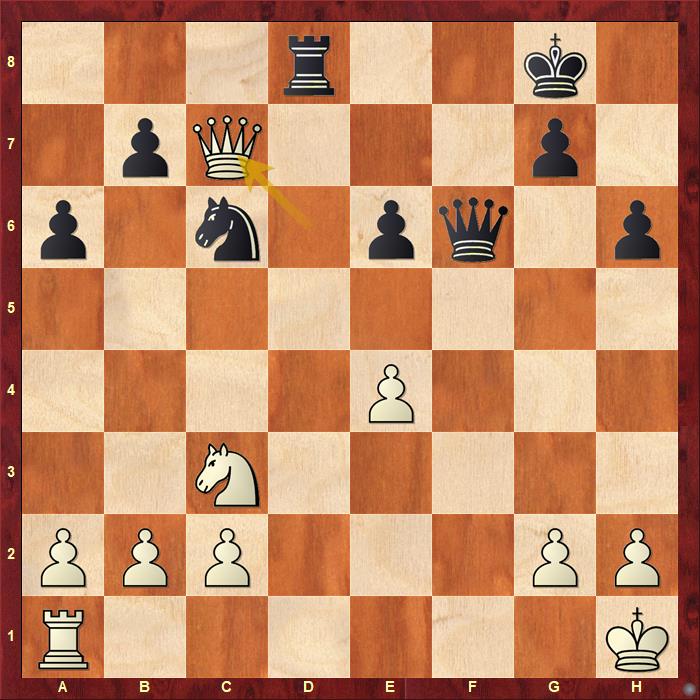 Position after 25.Qc7
25.Qc7 is a mistake. It creates an opportunity for Black to stir up some trouble. Find out what it is. White needed to play 25.e5 instead.
Koustav - Krasenkow: 0.5-0.5
IM Koustav Chatterjee got himself a completely winning position against GM Michal Krasenkow after the latter blundered in the final moments of the rook and few pawns endgame.
52...b5 is a blunder. Find out the winning continuation for White. 52...Rf8+ 53.Ke5 Re8+ and the game should end in a draw.
Highlights
A few interesting finishes from Round 6
Replay Round 6 games
/p>
The tournament is taking place at Hotel Purbani International, Dhaka in Bangladesh from 19th to 27th October 2021. Time control is 90'/40 + 30' + 30" per move. Round 1-8 starts at 3 p.m. local time (2:30 p.m. IST). Round 9 will start at 11:00 a.m. local time (10:30 a.m. IST).
Round 6 results
Round 7 pairings
Links
---