RTU Open 2021 R7: Narayanan and Kovalenko in the lead 6.0/7
Narayanan S L beat Budisavljevic and Kovalenko scored a win against Gukesh to share the lead 6.0/7 at the conclusion of the seventh round of Riga Technical University Open 2021. While Narayanan capitalized on his opponent's positional mistakes, the Latvia no.1 took advantage of his opponent's incorrect onslaught on his kingside. They will face each other in the penultimate round, which could possibly have huge implications for the championship. Arjun Kalyan provided staunch defence to make a 120-move long marathon draw against Aram Hakobyan. Round 8 starts today at 5:30 p.m. IST. Photo: Anna Shtourman/Riga Technical University Open 2021
Arjun and Arjun in pursuit
GMs Arjun Erigaisi and Arjun Kalyan are in pursuit 5.5/7 along with eight other players. They are - GMs Aram Hakobyan (ARM), Ilia Smirin (ISR), Nikita Meshkovs (LAT), Velimic Ivir (SRB), Gergely Kantor (HUN), Alexander Donchenko (GER), Vahap Sanal (TUR) and IM Tomas Laurusas (LTU).
Kovalenko - Gukesh: 1-0
Gukesh's ambitious attack did not work out the way he wanted against GM Igor Kovalenko (LAT).
White took 25.fxg3 Nxg3 26.Rf3 and Black has no attack. A better approach would have been 22...Qf6 instead of 22...Ndf6.
Narayanan - Budisavljevic: 1-0
Narayanan S L scored a victory over GM Luka Budisavljevic (SRB) after he made positional mistakes.
22...Bd7 is the first mistake made by Black. What should White do here?
Black needed to defend the f7-pawn immediately, which means 24...Be6 would have been a better choice. Find out the best continuation for White.
Pranav - Praggnanandhaa: 0.5-0.5
IM Pranav Anand held GM R Praggnanandhaa to a draw. Pranav gained upper hand in the middlegame but practically it was not easy to convert it into a substantial one.
Highlights
Here are a few interesting finishes from Round 7: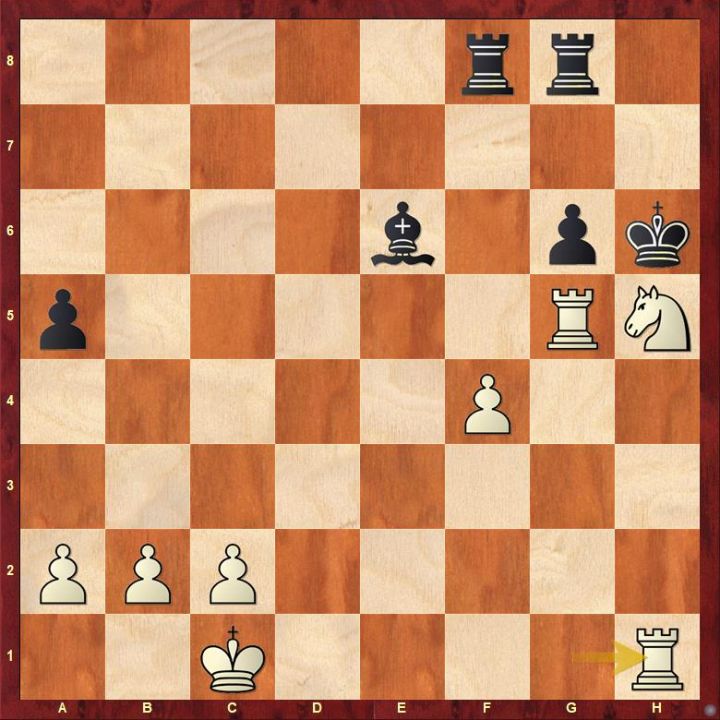 Replay Round 7 games
Round 7 results
Round 8 pairings
Links
---