RTU Open 2021 R5-6: Nihal's missed opportunities
Nihal Sarin played a fantastic game against Aram Hakobyan by sacrificing two minor pieces in the fifth round of Riga Technical University Open 2021. He was on the brink of a win, but he missed it and had to repeat the moves to make a draw. In the following round, he missed a simple tactic against Pultinevicius and that game also led to a draw. Narayanan S L also had Arjun Erigaisi on the ropes, but he let him loose, and he escaped with a draw. With just three rounds to go and seven players sharing the lead, the tournament can be won by anyone. Round 7 starts today at 5:30 p.m. IST respectively. Photo: Rupali Mullick
Gukesh, Narayanan and Arjuns in a seven-way lead
Seven players share the lead 5.0/6 at the conclusion of Round 6. They are - Kovalenko, Narayanan, Hakobyan, Arjun Erigaisi, Arjun Kalyan, Budisavljevic and Gukesh. Nihal, Aravindh, Karthikeyan, Pranav Anand and Aditya are just a half point behind at 4.5/6 along with 17 other players.
Round 5: Nihal - Hakobyan: 0.5-0.5
Nihal sacrificed two minor pieces and got himself a promising position.
The game continued 30.fxe6 which allowed 30...Qg3. Instead of 30.fxe6, White could have prevented Qg3 with 30.e5, a blockade as well as a threat on f6. Even after 30...Qg3 31.Rf1 would have kept the chances. Time scramble probably forced Nihal to repeat moves and take a draw.
Narayanan - Kulaots: 1-0
Narayanan S L scored a fine victory over GM Kaido Kulaots (EST) after the latter made a strange retreat in the endgame.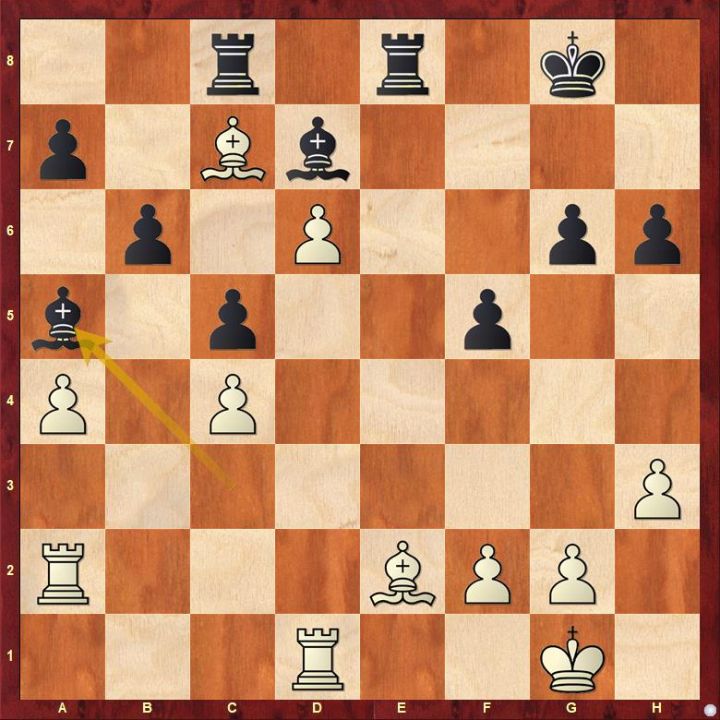 29...Ba5 instantly loses the game for Black. Find out why.
Visakh - Erigaisi: 0-1
Visakh N R succumbed to Arjun Erigaisi's devastating attack.
The e4-knight was en prise for five moves, yet taking it would have led to a quicker disaster. Black is ready to wreak havoc in the above position. How?
Round 6: Arjun Erigaisi - Narayanan: 0.5-0.5
Arjun Erigaisi had an interesting draw with compatriot Narayanan S L. Initially he had an opportunity to gain the upper hand which he missed and it was Narayanan who was better for the most part of the game.
Perhaps Black's best chance in the game occurred in the above position when White played 20.Bc3. Find out the best continuation for Black.
Pultinevicius - Nihal: 0.5-0.5
Nihal missed a win against GM Paulius Pultinevicius (LTU).
It is not every day Nihal misses simple tactics like this. He probably overlooked it due to time pressure, which cost him an important half point. Find out the winning continuation for Black in the above position.
Praggnanandhaa - Arjun Kalyan: 0-1
Praggnanandhaa lost to GM Arjun Kalyan after struggling to find balance for the better part of the game.
Highlights
Here are a few interesting finishes from Round 5 and 6:
Replay Round 5-6 games
Round 5 results
Round 6 results
Round 7 pairings
Links
---