Raahul V S wins 1st Queenstar Blitz Rating Open 2023
Both IM Raahul V S and FM Liyanage Ranindu Dilshan scored 8.5/9 at 1st Queenstar Blitz Rating Open 2023. Their penultimate round encounter against each other ended in a draw. The first three tie-break scores were exactly the same. Raahul won the tournament based on their fourth tie-break score, Liyanage was placed second. Sri Lanka no.1 IM L M S T De Silva edged past Shrayan Majumder on tie-breaks to secure third place. They both scored 8/9 each. The top three prizes were LKR 50000, 25000 and 15000 along with a trophy and medal each respectively. Raahul won ₹12770 approximately. This is Raahul's first tournament victory since December 2021 when he won Gold at Asian Junior Open in Sri Lanka.
Sri Lanka is a good place for Raahul
It has been 16 months since IM Raahul V S won Gold at Asian Junior Open championship in 2021. He had a few podium finishes, yet a first place was eluding him. That changed on Monday 17th April when he won the Blitz event. He also went on to finish third in the Classical tournament which will be mentioned in a separate report.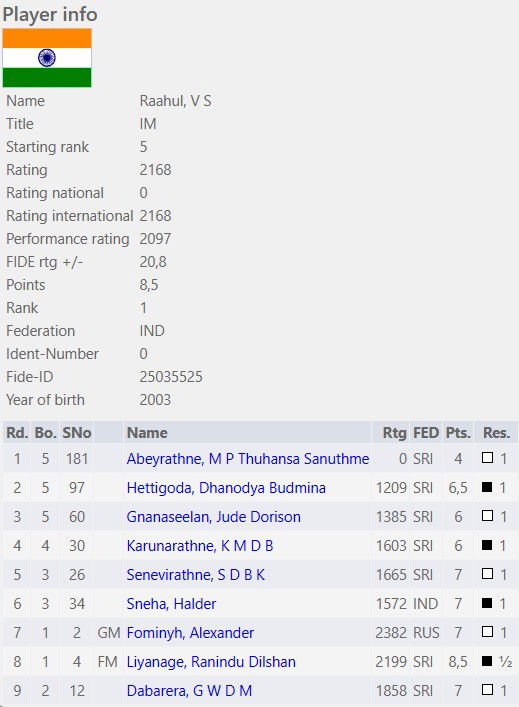 A total of 349 players including 2 GMs, 2 IMs and a WIM participated from India and various parts of Sri Lanka. The one-day nine-round Swiss league Blitz Rating tournament was organized by Queenstar International Chess Coaching Academy at Hotel Covanro in Naiwala, Sri Lanka on 17th April 2023. The time control for the event was 3 minutes + 2 seconds increment from move no.1.
Final standings
| | | | | | | | | | | | | | | |
| --- | --- | --- | --- | --- | --- | --- | --- | --- | --- | --- | --- | --- | --- | --- |
| Rk. | SNo | | | Name | Typ | sex | FED | Rtg | Pts. | TB1 | TB2 | TB3 | TB4 | TB5 |
| 1 | 5 | | IM | Raahul, V S | | | IND | 2168 | 8,5 | 0,5 | 8 | 55 | 59 | 44 |
| 2 | 4 | | FM | Liyanage, Ranindu Dilshan | | | SRI | 2199 | 8,5 | 0,5 | 8 | 55 | 58 | 44 |
| 3 | 1 | | IM | De Silva, L M S T | U17 | | SRI | 2404 | 8 | 0 | 8 | 48,5 | 53,5 | 38 |
| 4 | 23 | | | Majumder, Shrayan | | | IND | 1689 | 8 | 0 | 8 | 48 | 52,5 | 40 |
| 5 | 28 | | | Liyanage, Pesandu Rashmitha | U17 | | SRI | 1654 | 7,5 | 0 | 7 | 53 | 55,5 | 40,5 |
| 6 | 27 | | | Sivathanujan, S | | | SRI | 1660 | 7,5 | 0 | 7 | 46 | 50 | 38,5 |
| 7 | 24 | | | De Silva, Osheen | | | SRI | 1684 | 7,5 | 0 | 7 | 45,5 | 49,5 | 36,5 |
| 8 | 2 | | GM | Fominyh, Alexander | | | RUS | 2382 | 7 | 0 | 7 | 56,5 | 60,5 | 41 |
| 9 | 3 | | GM | Deepan, Chakkravarthy J. | | | IND | 2367 | 7 | 0 | 7 | 53 | 58 | 38 |
| 10 | 12 | | | Dabarera, G W D M | | | SRI | 1858 | 7 | 0 | 7 | 53 | 54 | 41 |
| 11 | 34 | | | Sneha, Halder | F15 | w | IND | 1572 | 7 | 0 | 7 | 49,5 | 51,5 | 39 |
| 12 | 36 | | | Jayaweera, Y | | | SRI | 1560 | 7 | 0 | 7 | 49 | 53 | 35 |
| 13 | 20 | | | Kulasekara, D M T Kashyapa | | | SRI | 1707 | 7 | 0 | 7 | 49 | 52 | 39 |
| 14 | 18 | | CM | Wijekoon, Chandana | | | SRI | 1751 | 7 | 0 | 7 | 48 | 51 | 38 |
| 15 | 11 | | | Saranya, Y | | w | IND | 1875 | 7 | 0 | 7 | 48 | 49,5 | 36 |
| 16 | 39 | | WCM | Sanudula, K M Dahamdi | F17 | w | SRI | 1537 | 7 | 0 | 7 | 47,5 | 51,5 | 36 |
| 17 | 6 | | FM | Kalugampitiya, R S | | | SRI | 2164 | 7 | 0 | 7 | 47,5 | 49,5 | 34 |
| 18 | 29 | | | Gunawardhana, Devindya Oshini | F11 | w | SRI | 1640 | 7 | 0 | 7 | 47 | 51 | 36 |
| 19 | 26 | | | Senevirathne, S D B K | U17 | | SRI | 1665 | 7 | 0 | 7 | 46,5 | 48,5 | 37 |
| 20 | 14 | | | Weerasinghe, C C | | | SRI | 1800 | 7 | 0 | 7 | 46 | 49,5 | 34 |
| 21 | 25 | | | Hettiarachchi, C U | | | SRI | 1681 | 7 | 0 | 7 | 46 | 48 | 35 |
| 22 | 17 | | | Kaluarachchi, Achinthya Shamen | | | SRI | 1766 | 7 | 0 | 6 | 46,5 | 50,5 | 38,5 |
| 23 | 73 | | AFM | Sumanathilake, Yonal | U15 | | SRI | 1308 | 7 | 0 | 6 | 46,5 | 49,5 | 34,5 |
| 24 | 10 | | | Nabil Nazar, Mohamed | U17 | | SRI | 1884 | 6,5 | 0 | 6 | 53,5 | 56,5 | 38,5 |
| 25 | 19 | | | Bandara, Dhanushka | | | SRI | 1726 | 6,5 | 0 | 6 | 51,5 | 55,5 | 36 |
| 26 | 54 | | | Kulathilake, S M M P | U15 | | SRI | 1423 | 6,5 | 0 | 6 | 50 | 53 | 37,5 |
| 27 | 8 | | FM | Alahakoon, Isuru | | | SRI | 1995 | 6,5 | 0 | 6 | 49 | 53,5 | 35,5 |
| 28 | 78 | | | Sathsindu, W M Minura | U15 | | SRI | 1290 | 6,5 | 0 | 6 | 49 | 52,5 | 34 |
| 29 | 15 | | | Liyanapathirana, Pasan Vindula | | | SRI | 1780 | 6,5 | 0 | 6 | 49 | 52 | 37 |
| 30 | 82 | | | Sanuda, Rehan | | | SRI | 1270 | 6,5 | 0 | 6 | 48 | 51 | 34,5 |
Links
---