How to hold Anish Giri to a draw?
As on 29th of July 2018 Anish Giri had a rating of 2780! He was ranked number five in the world. It goes without saying that he is one of the best players in the world. While the Dutch Open 2018 was in progress in Dieren, Netherlands, the organizers had prepared a special treat for the participants. 32 players would get a chance to play against the maestro in a simul. It was an opportunity of a lifetime and three Indians got the chance to play against Anish - Anand Nadar, Kushager Krishnater and Amardeep Bartakke. At the end of the simul, Anish managed to beat 31 opponents, but one of them slipped out of his hands! It was none other than the Mumbai youngster Kushager Krishnater, who played a fine game to hold the Dutch no.1 to a draw. Check out the game along with some very nice pictures by Harry Gielen.
At the ONK Schaken 2018, also known Dutch Open, there were many strong grandmasters in action like Erwin l'Ami, Reinderman, Van Den Doel, Ikonnikov and even our very own Anurag Mhamal. But there was one player who visited for just one day and caught all the eye balls - world number 5 Anish Giri! Anish came to the tournament for a special event - simul with 32 players of the tournament.
Amardeep played really well in the first half and maintained the balance, but soon Anish's positional feel became too much for him to handle. Pay special attention to moves h5 and Rh1 by White and how Giri handles the opposite coloured bishop positions.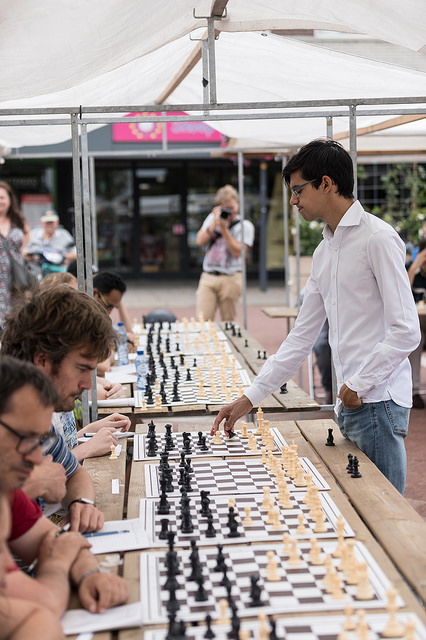 There was one guy who refused to give in. He fought hard and managed to hold the champion to a draw.
Here's the game played by Anish and Kushager:
After the game Anish tweeted with his typical humour:
We often underestimate the importance of such simuls. Apart from being a great spectacle, the players who fight it out against the top player get unparalleled exposure. At the same time it boosts their confidence. The thought that if I can draw with Anish, I can save this position, often comes in your head when you are defending inferior positions, or fighting against stronger opponents in tournaments. It doesn't come as a surprise to me that Kushager was able to gain nearly 130 Elo points after his draw against Anish.
India has many chess stars! Vishy Anand, Harikrishna, Vidit, Adhiban, Sethuraman, Sasikiran, Ganguly, Abhijeet Gupta, Praggnanandhaa, Nihal Sarin and many others. Organizers from all over the country should invite them to play simuls at the beginning or end of their events. Serious simuls in which people are able to draw or beat these players can boost the player's morale tremendously and also give good exposure to the event. A big thanks to the organizers of Dutch Open and Anish Giri for this wonderful event.
---