Anish Giri dominates Tolstoy Cup, performs at over 3000
Anish Giri started Tolstoy Cup scoring five consecutive victories on the first day against Gelfand, Alekseenko, Matlakov, Vitiugov and Abdusattorov. He finished day 1 at 5.0/5, with a massive 2.5 points lead over the competition. The Dutch no.1 finished the event with a score of 8.0/9 and 2.5 points ahead of others, maintaining the difference till the very end. He performed at 3003, gained 55.2 Elo rating points, moving from world no.35 to world no.8 in the live rapid ratings list. This was definitely one of the best performance of Giri's career so far, which he even tweeted after the event in his own humorous way by quoting a tweet by his compatriot and protégé Max Warmerdam. Check out some fantastic games by Giri in this article. Photo: Eteri Kublashvili
Giri delivers his career best
Anish Giri is a fan-favorite, no matter which tournament he plays and where. There is no doubt that Giri has at his best in his career. It became evident as early this year when he got very close to winning Tata Steel 2021 and also Candidates. He missed them both by a whisker. That did not deter him from getting stronger which is now evident to the world as he annihilated his competition at the inaugural Tolstoy Cup. He received a cup manufactured at the Imperial Porcelain Factory specifically for this event.
"I enjoyed my performance in Yasnaya Polyana. The result proved somewhat too high because on the second day I definitely did not play at the corresponding level. However, luck sided with me to the extent that nothing could stop. It goes without saying that I am a big fan of Leo Tolstoy's creative works and I am very happy that this tournament has been organised. I have not been aware that Tolstoy was a chess fan, but my taking part in the sightseeing tour filled this gap. I hope this event will become traditional", Anish Giri on his triumph and the Tolstoy Cup.
Round 1: Giri - Gelfand: 1-0
Giri's maverick attack caused Gelfand to blunder.
20...0-0 or Rb8 would have been fine for Black. However, 20...Ke7 ends the game for Black. Find out the trick which Giri had up his sleeve.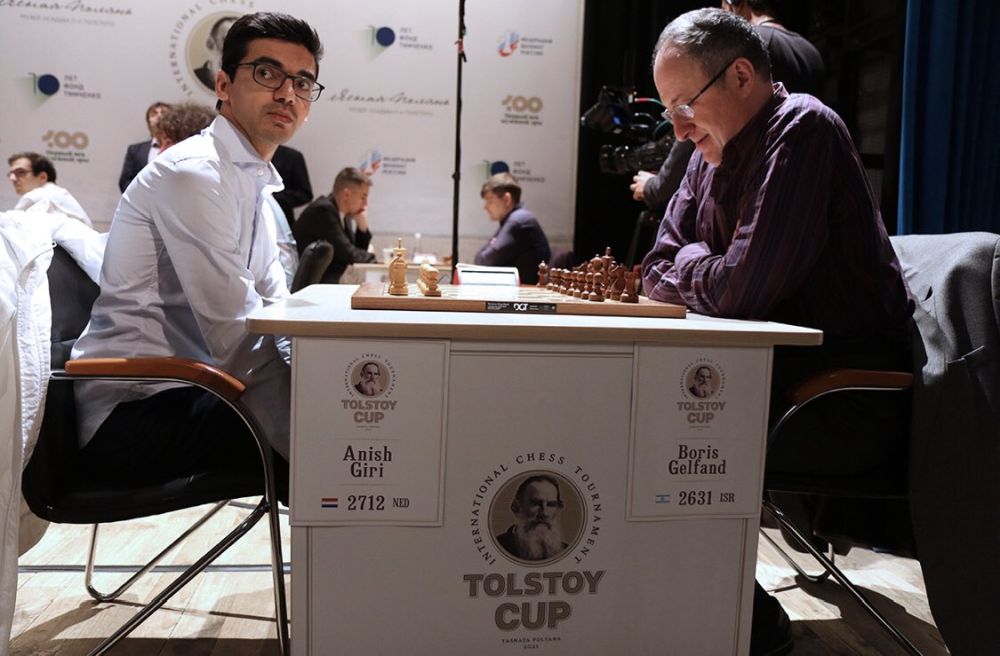 Round 2: Alekseenko - Giri: 0-1
Giri avenged his loss against Alekseenko early this year at the Candidates.
White can still save the game if he plays 66.Rf8+. However, he made a grave mistake of playing 66.Kh7 and lost the game.
Round 3: Giri - Matlakov: 1-0
Giri has never lost a game against Maxim Matlakov so far and that fact did not change in this event. He arguably had the most beautiful finish in this very game.
White has tied all Black's pieces and he is completely winning here. Find out the beautiful finish.
Round 4: Giri - Vitiugov: 1-0
Giri played magnificent in the endgame against Vitiugov.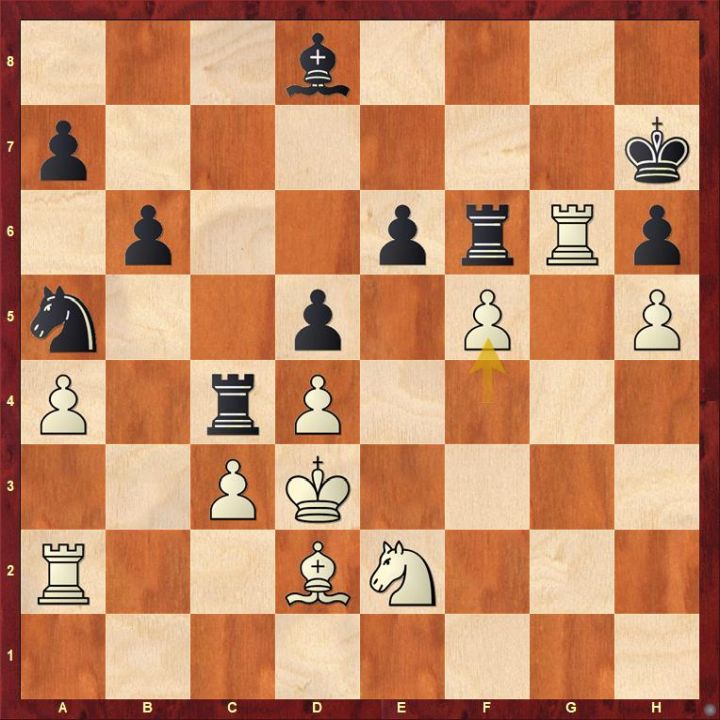 34.f5 is an excellent move as 34...Rxf5 is met with 35.Rxh6+ followed by Ra1. Black opted for 34...exf5 35.Nf4 Rcc6 36.Rxf6 Bxf6 35.Nxd5 and Giri showcased fantastic technique to convert his advantage into a full point.
Round 5: Abdusattorov - Giri: 0-1
Giri avenged his FIDE World Cup 2021 third round elimination by the Uzbekistan no.2 Nodirbek Abdusattorov.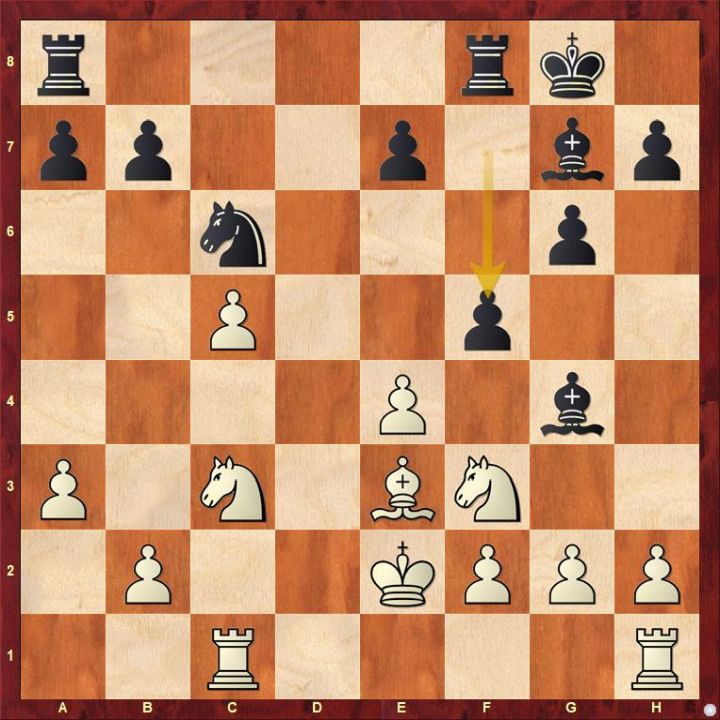 White's mistake 15.Be3 allowed Giri to launch a devastating attack 15...f5. 16.h3 only accentuated it, 16...Bxf3+ 17.gxf3 f4 18.Bd2 Nd4+ 19.Kd3 Rad8 20.Rcd1 Nxf3+ put White in deep trouble.
Round 7: Tomashevsky - Giri: 0-1
Evgeny Tomshevsky is yet to beat Giri in any format of the game. The Dutch no.1 made sure that the statistics remained in favor of him.
It would have been a very pretty finish if Black played 18...Bxf2+ but he opted for the more orthodox way 18...Nh5 and won the game in another nine moves.
Round 8: Giri - Paravyan: 1-0
GM David Paravyan decided to play Dutch against the Dutch. His knight sacrifice to make things difficult for Giri backfired the Russian.
Giri called Paravyan's bluff and took the knight 27.fxe5. Black needed to play 27...Qxf2+ immediately. Instead he opted for 27...c3 and White found a nice defense 28.Nf3. He soon returned the extra knight to protect the king, rid of the passed c-pawn and eventually used his own passed e-pawn to win the game with a beautiful underpromotion.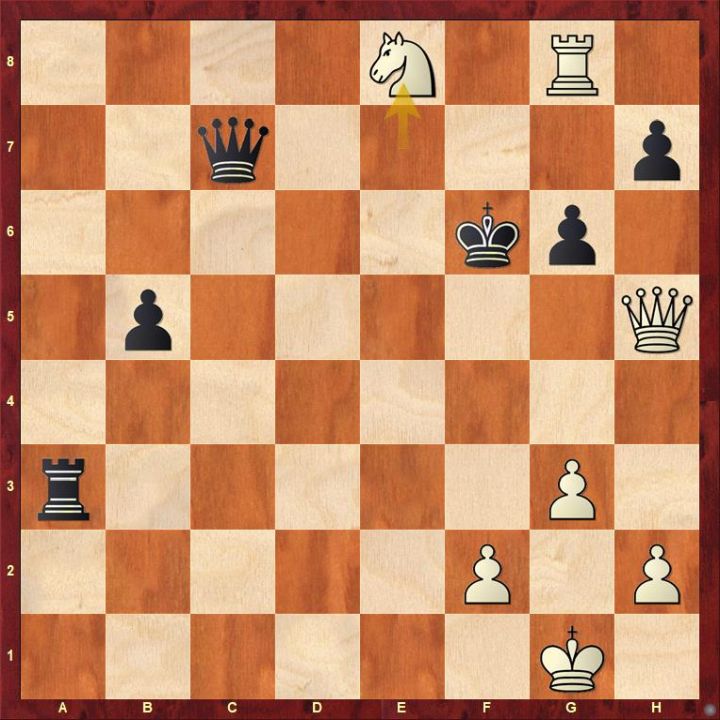 Anish Giri tweeted on one of his best career performance so far
Replay all games of Giri
Photo Gallery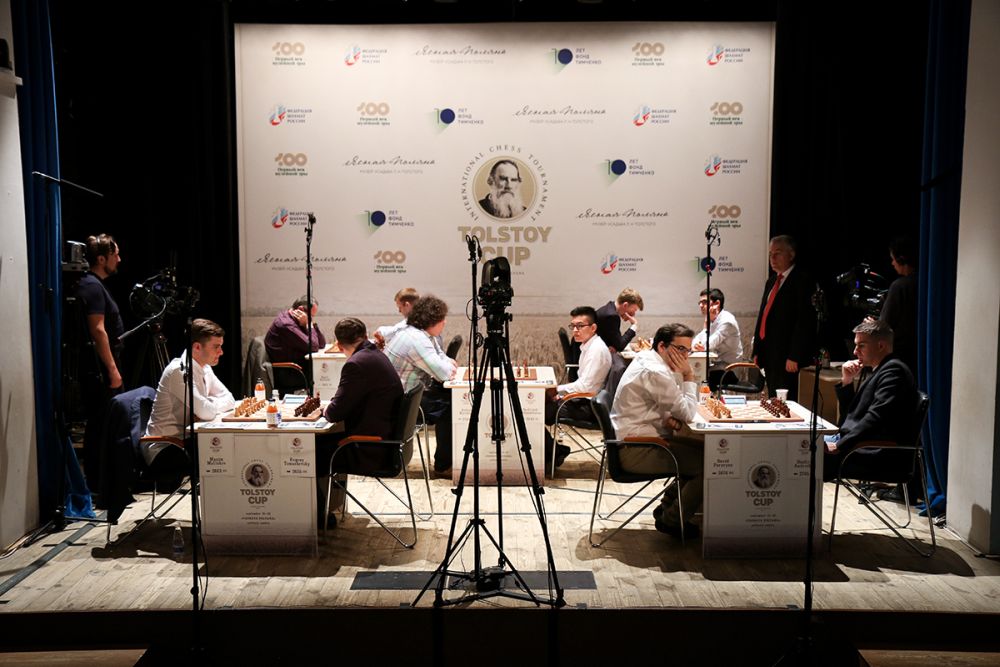 The tournament was hosted by the Leo Tolstoy Museum-Estate Yasnaya Polyana and the Chess Federation of Russia with the support of the Elena and Gennady Timchenko Foundation.
Replay the live stream
Final Standings
| | | | | | | | | | | |
| --- | --- | --- | --- | --- | --- | --- | --- | --- | --- | --- |
| Rk. | SNo | | Name | FED | Rtg | Club/City | Pts. | TB1 | TB2 | TB3 |
| 1 | 2 | GM | Giri Anish | NED | 2712 | Нидерланды | 8,0 | 0,0 | 7 | 3,5 |
| 2 | 4 | GM | Abdusattorov Nodirbek | UZB | 2542 | Узбекистан | 5,5 | 0,0 | 4 | 1,5 |
| 3 | 9 | GM | Gelfand Boris | ISR | 2631 | Израиль | 5,0 | 0,0 | 2 | 2,5 |
| 4 | 7 | GM | Paravyan David | RUS | 2676 | Россия | 4,5 | 1,0 | 4 | 1,0 |
| 5 | 5 | GM | Andreikin Dmitry | RUS | 2705 | Россия | 4,5 | 0,0 | 2 | 1,5 |
| 6 | 8 | GM | Korobov Anton | UKR | 2740 | Украина | 4,0 | 1,0 | 1 | 2,5 |
| 7 | 10 | GM | Matlakov Maxim | RUS | 2663 | Россия | 4,0 | 1,0 | 1 | 2,0 |
| 8 | 6 | GM | Tomashevsky Evgeny | RUS | 2635 | Россия | 4,0 | 1,0 | 0 | 2,0 |
| 9 | 1 | GM | Alekseenko Kirill | RUS | 2656 | Россия | 3,5 | 0,0 | 2 | 0,5 |
| 10 | 3 | GM | Vitiugov Nikita | RUS | 2619 | Россия | 2,0 | 0,0 | 0 | 0,5 |
Links
---