Grand Swiss R04: Magnus Carlsen survives a massive scare
Magnus Carlsen made an unbelievable escape from a completely lost position in the fourth round of FIDE Chess.com Grand Swiss in Isle of Man here. The World Champion was up against Vladislav Kovalev with the black pieces and just twenty-seven moves into the game found himself in severe trouble. But fortunately it was his opponent's poor management of time that finally spared him of what would only have been a crushing defeat. The first board encounter between the World No 2, Fabiano Caruana, and China's Wang Hao ended in a draw. The two have now been joined at the top by the World Junior Champion Parham Maghsoodloo and England's Luke McShane who got the better of Vidit Gujrathi and Adhiban Baskaran respectively. Apart from the electrifying Kovalev-Carlsen clash, the performance of the Indian contingent in the fourth round was rather sombre. We bring an illustrated report.
The stupendous escape of the day!
It is not just the ability to dominate one's rivals but also the resolve to bounce back out of impossible situations, the will to contain large damages and not letting them turn into catastrophe, that distinguishes a true champion from the ordinary. The fourth round of FIDE Chess.com Grand Swiss 2019 reflected among other things the depths of the current World Champion's resilience. Magnus Carlsen was in the brink of an imminent loss against the 2661 rated Belarusian Grandmaster Vladislav Kovalev. But the World no.1 had only one thing going for him: Kovalev was in serious time trouble – he had less than two minutes to make 14 moves and reach the first time control. Magnus, resourceful as ever he is, exploited this little upside of an otherwise miserable situation to the fullest and as he kept finding one defensive move after another, his opponent faltered trying desperately to keep up with the ticking clock beside. The next thing you know, the World Champion survived and escaped unscathed with a draw after 47 moves!
Without further ado let us see what exactly happened. Magnus had the black pieces and the game opened with a Sicilian Moscow - standard recipe for white players these days to bypass heavy Najdorf theory. Interestingly, till about move 10 the players followed one of Carlsen's own games from two years ago against Etienne Bacrot in Paris GCT. But soon enough the battle shifted into unexplored terrain.
Vladislav Kovalev - Magnus Carlsen, Round 4
19...Ne7 followed by 20...Nf5 was perhaps an attempt to do something about the d-pawn but Black had a much effective approach with 19...Na5 20.Qa4 Bc7 21.Bd2 Nb7 22.Rae1 Qf7 23.Qc6 Rab8 etc to keep things in check.
Analysis board
It is hard to imagine the World Champion erring so early in the game but that's what happened here. Soon White managed to push his d-pawn all the way to the seventh rank! This is very straightforward chess and everyone could see that Magnus was in serious trouble.
Kovalev had multiple ways to force a win from this position and even later (some sample lines can be found in the annotation below) but it was this plethora of choices that overwhelmed him. Of course, it was the clock that also betrayed, he came under immense time pressure and simply kept missing the winning moves that lay in front of him on the board. Check out the perpetual tragicomic turn of events for yourself below:
The Belarusian's plight was succinctly encapsulated by Emil Sutovsky, Grandmaster and FIDE Director-General, who wrote the following on his Facebook page: "Once Yussupov taught us, the young students of Polugaevsky chess school: when you are clearly winning - pick one move, focus on it and calculate till the end. Do not compare. But to Magnus' luck, Kovalev did not attend that lesson..."
Here is what Sutovsky expressed on his timeline just after the game:
A dismal day for Indians
While electrifying drama was unfolding on board seven between Kovalev and Carlsen, the Indian contingent wasn't experiencing all that great time. Sethuraman SP and Prithu Gupta were the only players to fetch wins on the fourth day of the event. Prithu had a devastating start with three losses in a row, he made his first point only in round four beating the Russian WGM Vera Nebolsina. Sethuraman's victory too came only against a lower rated opponent, IM Brandon Clarke of England. Elsewhere, Vidit Gujrathi, Adhiban Baskaran, and Nihal Sarin lost their respective encounters against Parham Maghsoodloo, Luke McShane, and Peter Leko. While Vishy Anand made a quick draw against Mircea Parligras.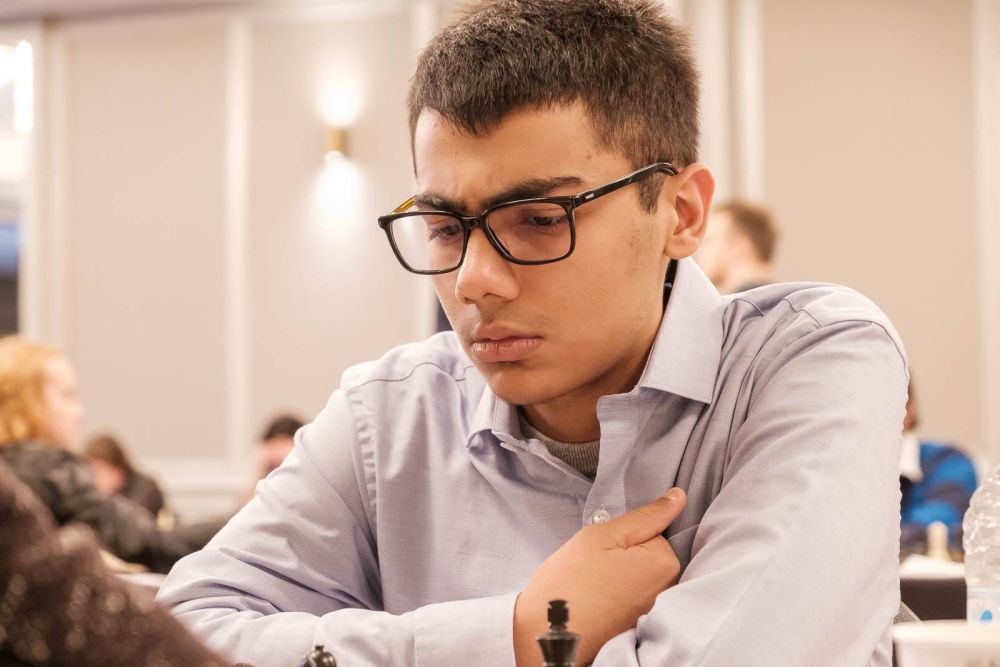 The big game of round five!

Results of all Indian players (Round 4)
Pairings of all Indian players for the next round
Results of top ten boards (Round 4)
Top ten pairings for the next round
---