Nepo falls for the Magnus bluff!
Magnus Carlsen has emerged as the sole leader of the ongoing Croatia Grand Chess Tour 2019 by beating Ian Nepomniachtchi in the seventh round of the event. In what was an unusually closed position, the World Champion found creative ways to test his opponent. Nepo finally gave away and fell for a cheap trap Magnus had set that brought in a lethal onslaught on his king. Elsewhere, Sergey Karjakin blundered away a sure victory against Wesley So by overlooking a winning tactic. Vishy Anand, Levon Aronian, and Shakhriyar Mamedyarov drew their respective games relatively quickly against Ding Liren, Hikaru Nakamura, and Maxime-Vachier Lagrave. Fabiano Caruana and Anish Giri played the longest game of the day as they battled out for 54 moves before splitting the points.
Unstoppable Magnus takes sole lead yet again!
Going into the seventh round of Croatia Grand Chess Tour 2019, world champion Magnus Carlsen was up against Ian Nepomniachtchi who has had a great start in the tournament. The game began with 1.e4 c5 and the Russian grandmaster with white pieces eschewed the open Sicilian. Soon the play meandered into a very closed set-up, both sides found nice outposts for their knights, and no obvious pawn breaks were in sight.
White went 17.Qb1 in the above position with the idea of getting his queen to a2 and perhaps castling queenside. The game continued 17...Be6 18.Qa2 Qd7 and now Black was hitting on the g4 square.

White has to be careful, after a slow move like 19.a5 there comes 19...Bxg4 20.fxg4 Qxg4 already threatening mate on e2, and if 21.Bxf4 then after 21...exf4 Black has plenty of compensation for a piece. His g7 bishop is breathing fire on the long diagonal and the f4 pawn is ready to roll up the board. Therefore, Nepo played 19.Rg1 here, supporting the g-pawn, and the game followed 19...b6 20.Bc3 Bxd5 21.Bxd5 a6. Magnus decided to get rid of the d5 knight and keep making progress on the queenside.
White played 22.Bd2 with the idea of eliminating the f4 knight next move. The game continued 22...Qe7 23.Rf1 b5 24.axb5 axb5 25.Kf2 and here Magnus burst out with 25...c4!? offering a pawn!
Well, the idea is after 26.dxc4 bxc4 27.Bxc4 Black is able to rapidly open up the position with 27...d5, if 28.Bxd5 then comes 28...f5! and suddenly the white king on f2 starts to feel very uncomfortable. In view of these complications, Nepo simply went for the safe 26.Bxf4 and after 26...exf4 even though the strong knight on f4 was gone, the g7 bishop had found the beautiful long diagonal.
Next, 27.Rad1 was played. Of course, 27.Rfd1 instead isn't an option as it allows deadly infiltration with 27...f5! 28.exf5 Bd4+ 29.Kf1 Qe3 etc. But after 27.Rad1, Magnus surprised everyone by going 27...f5!? anyway!
Here 28.exf5 looks dangerous at first glance for it opens up the e-file for the black queen. But actually after 28...Qe3+ 29.Kg2 Qe2+ 30.Kh3 White has everything solidly protected on the kingside and Black really has nothing. In the game however Magnus' "bluff" worked, Nepomniachtchi suffered some sort of a blind spot at this point and went 28.gxf5 - a blunder that leads to immediate loss.

Yes, you have guessed it right! 28...g4! is the move that wins on spot and sure thing Magnus played it immediately. The final moves of the game were 29.d4 Qh4+ 30.Ke2 Qh2 31.Rf2 gxf3 and Nepo resigned.
Magnus Carlsen has thus emerged as the sole leader with 5.0/7 after seven rounds of the event. He is up against the chinese number-1 Ding Liren in round 8, it remains to be seen if he can clinch his eighth tournament win in a row!
Henrik Carlsen, Magnus' Father and greatest fan, shows great love and respect for his son as a man and as the World Chess Champion. Henrik speaks candidly with Grandmaster Maurice Ashley on location in Zagreb.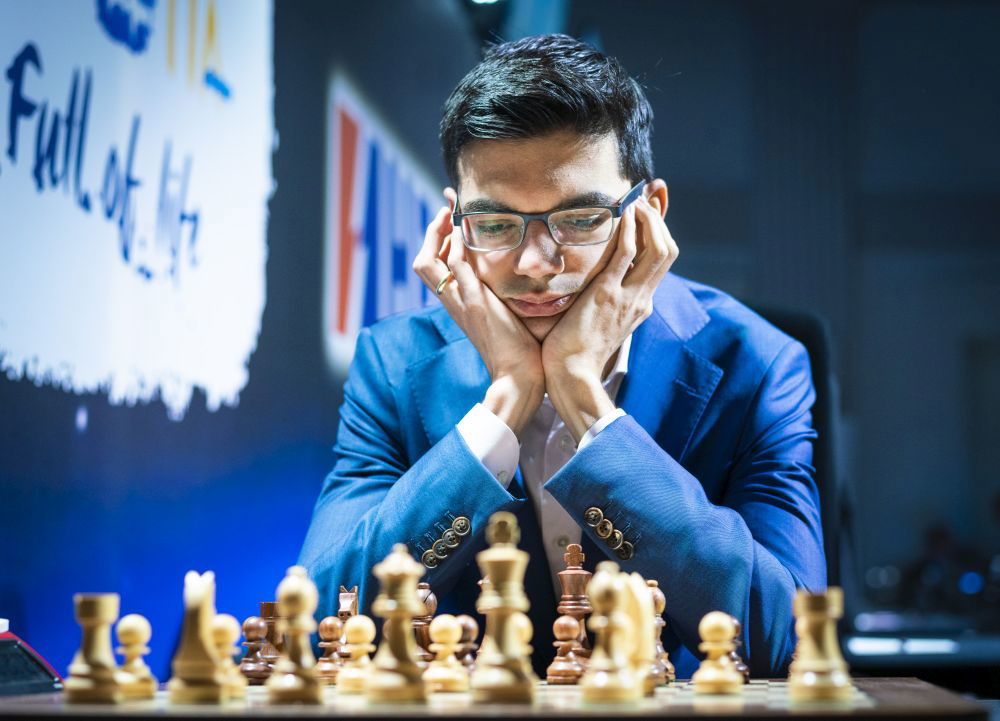 Results of round 7
| | | | | | | | | | | | |
| --- | --- | --- | --- | --- | --- | --- | --- | --- | --- | --- | --- |
| Bo. | No. | Rtg | | | Name | Result | | Name | | Rtg | No. |
| 1 | 4 | 2767 | | GM | Anand Viswanathan | ½ - ½ | GM | Ding Liren | | 2805 | 12 |
| 2 | 5 | 2819 | | GM | Caruana Fabiano | ½ - ½ | GM | Giri Anish | | 2779 | 3 |
| 3 | 6 | 2774 | | GM | Mamedyarov Shakhriyar | ½ - ½ | GM | Vachier-Lagrave Maxime | | 2779 | 2 |
| 4 | 7 | 2748 | | GM | Karjakin Sergey | ½ - ½ | GM | So Wesley | | 2754 | 1 |
| 5 | 8 | 2754 | | GM | Nakamura Hikaru | ½ - ½ | GM | Aronian Levon | | 2752 | 11 |
| 6 | 9 | 2775 | | GM | Nepomniachtchi Ian | 0 - 1 | GM | Carlsen Magnus | | 2875 | 10 |
Standings after round 7
| | | | | | | | | | | | | | | | | | | |
| --- | --- | --- | --- | --- | --- | --- | --- | --- | --- | --- | --- | --- | --- | --- | --- | --- | --- | --- |
| Rk. | | | Name | FED | 1 | 2 | 3 | 4 | 5 | 6 | 7 | 8 | 9 | 10 | 11 | 12 | Pts. | TB1 |
| 1 | | GM | Carlsen Magnus | NOR | * | | ½ | 1 | | | | ½ | ½ | 1 | ½ | 1 | 5,0 | 5,0 |
| 2 | | GM | So Wesley | USA | | * | ½ | | | 1 | ½ | ½ | ½ | ½ | 1 | | 4,5 | 4,5 |
| 3 | | GM | Caruana Fabiano | USA | ½ | ½ | * | 0 | ½ | | 1 | | | ½ | | 1 | 4,0 | 4,0 |
| | | GM | Nepomniachtchi Ian | RUS | 0 | | 1 | * | | 0 | | 1 | ½ | | 1 | ½ | 4,0 | 4,0 |
| | | GM | Aronian Levon | ARM | | | ½ | | * | | ½ | ½ | 1 | ½ | ½ | ½ | 4,0 | 4,0 |
| | | GM | Ding Liren | CHN | | 0 | | 1 | | * | ½ | ½ | ½ | 1 | | ½ | 4,0 | 4,0 |
| 7 | | GM | Vachier-Lagrave Maxime | FRA | | ½ | 0 | | ½ | ½ | * | ½ | | ½ | ½ | | 3,0 | 3,0 |
| | | GM | Anand Viswanathan | IND | ½ | ½ | | 0 | ½ | ½ | ½ | * | | ½ | | | 3,0 | 3,0 |
| | | GM | Karjakin Sergey | RUS | ½ | ½ | | ½ | 0 | ½ | | | * | | ½ | ½ | 3,0 | 3,0 |
| 10 | | GM | Giri Anish | NED | 0 | ½ | ½ | | ½ | 0 | ½ | ½ | | * | | | 2,5 | 2,5 |
| | | GM | Mamedyarov Shakhriyar | AZE | ½ | 0 | | 0 | ½ | | ½ | | ½ | | * | ½ | 2,5 | 2,5 |
| | | GM | Nakamura Hikaru | USA | 0 | | 0 | ½ | ½ | ½ | | | ½ | | ½ | * | 2,5 | 2,5 |
---