Learn the King's Indian Attack with reversed colours from Nepo!
Mamedyarov couldn't resist the temptation of grabbing an extra pawn on the queenside even though his king on the other side of the board was under fire. Perhaps he couldn't rightly assess the severity of problems his opponent could cause on the kingside as Nepomniachtchi registered his third consecutive victory, extending his lead to 3.0/3 and dominating the rest of the field by a full point. The remaining games of Day 3 all ended in draws - of them the longest was Karjakin versus Nakamura which went on for 77 moves. Vishy Anand played solidly to hold Levon Aronian with the white side of Giuoco Piano. In this report we bring you photos, analysis, and more.
Cost of a "free" pawn!
In chess, as in life, being materialistic doesn't always help. The round 3 encounter between Shakhriyar Mamedyarov and Ian Nepomniachtchi of the ongoing Croatia Grand Chess Tour 2019 instructively demonstrated this. It was the semi-classical variation of the King's Indian Defense and the game entered into uncharted territory as early as move 9. Not long after it became clear that both players were bracing up for a double-edged fight. As Nepo made strides on the king-side, Mamedyarov seized more space on the queenside and prepared to open up the c-file.
Shakhriyar Mamedyarov - Ian Nepomniachtchi, Round 3
In the above position 14.Nd5 was played, the idea is after 14...Nxd5 White can start putting pressure along the open c-file. The game continued 14...Nxd5 15.cxd5 Qe7 16.Rc1 Nh7 17.Qc7 Qg5 and here came the critical moment of the encounter.

18.Kh2 would have been a safe option here which leaves about even chances for both sides but Mamedyarov became ambitious and went 18.Qxc7?!
The game followed 19.Bf1 Bf8! (a good move, this supports the d6 pawn and keeps open the options for both Be7 and Bh6) 20.Qxb7 Nf6 21.Qa6 and now White wants to get his queen back to the king-side.
Next, with 21...Bc8 22.Qa4 Bd7 23.Qd1 Bg4 Black gained a few tempi on White's queen.
24.f3 exf3 25.Nxf3 Qh6 was played and now White made another slip with 26.Qb3?! this takes the queen away from the defense yet again.
A direct idea here would have been 26...Bxf3 27.gxf3 Qg5+ 28.Bg2 Bh6! creating pressure on the e3 pawn and bringing the dark-squared bishop into the foray and White's position already starts looking hopeless. But in the game Nepo went for 26...h4, also a strong move, the idea is simply to go h3 next and rip open White's king. Shakhriyar, in this position, played 27.Ne5 which somewhat looked like a desperate measure to ward off the troubles he was facing.
Nepo was anyway not interested in all these complications. He went ahead with his plan and replied 27...h3 declining the offer of a piece! And after 28.Nxg4 Nxg4 29.gxh3 Nxe3 the white king's position was completely busted... Soon, in the following position after Black's 32nd move, the game was resigned:

There is no good way for White to continue from here. For instance, 33.Bg2 Re2 34.Bc1 Bxc1 35.Rxc1 Qg5 wins as both c1 rook is hanging and mate is threatened on g2. Similarly, 33.Rdd3 runs into 33...Re1 followed by Ne3 with a double attack on f1!
A really nice game by Ian Nepomniachtchi and his third victory in a row that puts him a full point ahead of the entire field with 3.0/3 points. Replay the full game along with the tactical analysis (computer generated analysis) below: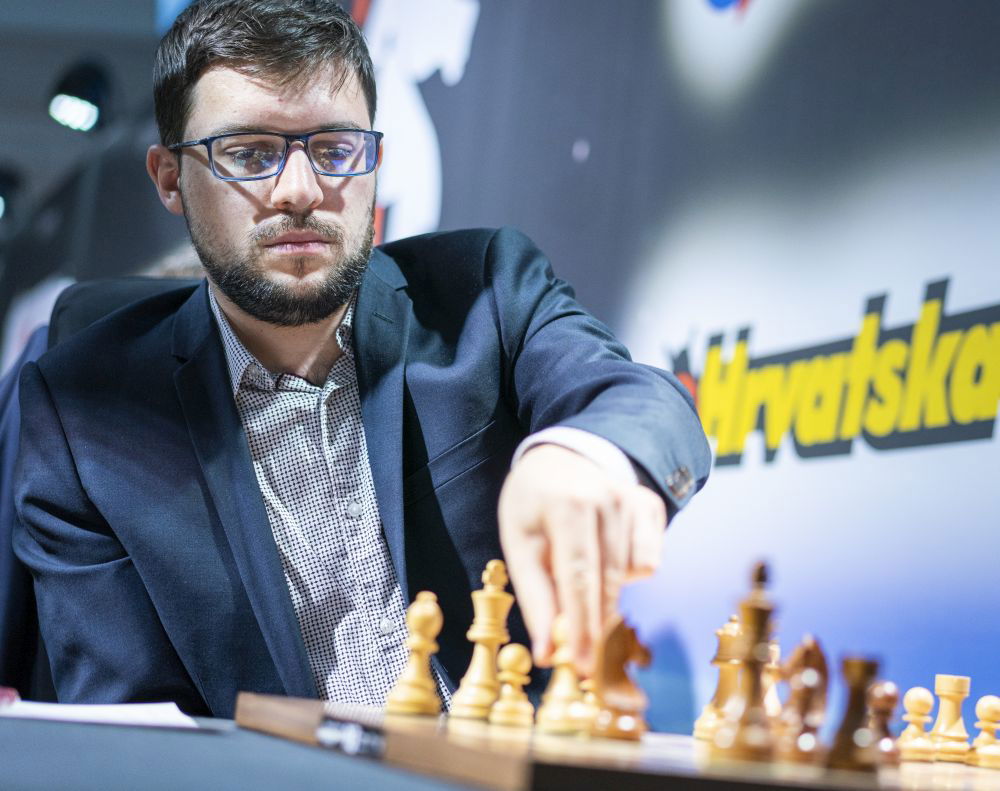 Results of round 3

| | | | | | | | | | | | |
| --- | --- | --- | --- | --- | --- | --- | --- | --- | --- | --- | --- |
| Bo. | No. | Rtg | | | Name | Result | | Name | | Rtg | No. |
| 1 | 2 | 2779 | | GM | Vachier-Lagrave Maxime | ½ - ½ | GM | Ding Liren | | 2805 | 12 |
| 2 | 3 | 2779 | | GM | Giri Anish | ½ - ½ | GM | So Wesley | | 2754 | 1 |
| 3 | 4 | 2767 | | GM | Anand Viswanathan | ½ - ½ | GM | Aronian Levon | | 2752 | 11 |
| 4 | 5 | 2819 | | GM | Caruana Fabiano | ½ - ½ | GM | Carlsen Magnus | | 2875 | 10 |
| 5 | 6 | 2774 | | GM | Mamedyarov Shakhriyar | 0 - 1 | GM | Nepomniachtchi Ian | | 2775 | 9 |
| 6 | 7 | 2748 | | GM | Karjakin Sergey | ½ - ½ | GM | Nakamura Hikaru | | 2754 | 8 |
Standings after round 3
| | | | | | | | | | | | | | | | | | | |
| --- | --- | --- | --- | --- | --- | --- | --- | --- | --- | --- | --- | --- | --- | --- | --- | --- | --- | --- |
| Rk. | | | Name | FED | 1 | 2 | 3 | 4 | 5 | 6 | 7 | 8 | 9 | 10 | 11 | 12 | Pts. | TB1 |
| 1 | | GM | Nepomniachtchi Ian | RUS | * | | | | 1 | | | | 1 | 1 | | | 3,0 | 3,0 |
| 2 | | GM | So Wesley | USA | | * | | ½ | | | | ½ | | | | 1 | 2,0 | 2,0 |
| | | GM | Carlsen Magnus | NOR | | | * | | ½ | | | 1 | ½ | | | | 2,0 | 2,0 |
| 4 | | GM | Vachier-Lagrave Maxime | FRA | | ½ | | * | | | ½ | | | | | ½ | 1,5 | 1,5 |
| | | GM | Caruana Fabiano | USA | 0 | | ½ | | * | | | | | | 1 | | 1,5 | 1,5 |
| | | GM | Karjakin Sergey | RUS | | | | | | * | | | | ½ | ½ | ½ | 1,5 | 1,5 |
| | | GM | Aronian Levon | ARM | | | | ½ | | | * | ½ | ½ | | | | 1,5 | 1,5 |
| 8 | | GM | Giri Anish | NED | | ½ | 0 | | | | ½ | * | | | | | 1,0 | 1,0 |
| | | GM | Anand Viswanathan | IND | 0 | | ½ | | | | ½ | | * | | | | 1,0 | 1,0 |
| | | GM | Mamedyarov Shakhriyar | AZE | 0 | | | | | ½ | | | | * | ½ | | 1,0 | 1,0 |
| | | GM | Nakamura Hikaru | USA | | | | | 0 | ½ | | | | ½ | * | | 1,0 | 1,0 |
| | | GM | Ding Liren | CHN | | 0 | | ½ | | ½ | | | | | | * | 1,0 | 1,0 |
---