The Magnus magic continues!
If Magnus's win over Nepomniachtchi yesterday was a display of his sheer on board confidence and creativity, then today's victory over Ding Liren is a proof of his preparation and practice. The World Champion registered his second consecutive win with the black pieces today and continues to lead the Croatia Grand Chess Tour 2019 after eight rounds of the event. Round 8 saw three decisive games in total, Wesley So defeated Hikaru Nakamura to stay at Magnus's heels with 5.5/8, while Anish Giri beat Shakhriyar Mamedyarov to catch up with Karjakin, Anand, and MVL on the leaderboard. Vishy Anand had an edge with the white pieces against Fabiano Caruana but the game somehow fizzled out into a draw. Elsewhere, Maxime Vachier-Lagrave and Levon Aronian also drew their respective games against Sergey Karjakin and Ian Nepomniachtchi. In this report we bring you photos, analyses, and more.
Magnus with the black pieces outclasses Ding in preparation!
In round 8 of Croatia Grand Chess Tour 2019 Magnus Carlsen was up against Ding Liren. The Chinese number-1 is well known for his solidity of play and ability to lose very few games. Believe it or not, up until now Magnus himself hadn't come close to beating him in classical time format. Naturally, this was one of the most anticipated encounters of the event. The game opened with a Catalan and as early as move 11 a completely fresh position was on board.
Ding thought for about 13 minutes here before capturing 11.dxc5, now 11...Bxc5 would have been a normal reply and has been played before but Magnus came up with this new idea of allowing White to keep the pawn on c5 and went 11...Ba6.

Well, 17...Bd6 could be a logical try but this doesn't really work because White has 18.Bh3, if now 18...Ne6 then after 19.Bxe6 fxe6 20.Bxd6 Qxd6 21.Rac1 the c7 pawn is nicely protected. What Magnus did in the game instead is quite novel, he went 17...g5!? with the idea of dismantling the bishop from h2-b8 diagonal, and when White played 18.Be5 in came 18...f6!
The game continued 19.Bd4 Rxc7 20.Qd1 Ne6 21.Nb3 Bc4 threatening Bxb3 followed by capture on d4 next and here was a key moment in the game.
A simple 22.Be3 would have worked just fine in the above position but Ding here played 22.Na5, not a mistake by any means but allows some concession. The game followed 22...Nxd4 23.Qxd4 Kg7 24.Rfc1 Bxe2 25.Rxc7 Qxc7 26.Re1 Bc5 27.Qxd5 Re8 and what Black had after these mass exchanges was a beautiful pair of bishops ready to breathe fire all over board. White's minor pieces in comparison looked dim and uncoordinated.
Next, even the queens and rooks were traded off with 28.Qb7 Qxb7 29.Nxb7 Bf8 30.Bc6 Re7 31.f3 Bc4 32.Rxe7 Bxe7 and a pure minor pieces endgame was on board.
Magnus converted his advantage with flawless technique and the Chinese GM had to call it a day on move 60. We show you the turning points from here on.
It was a Sicilian Nyezhmetdinov-Rossolimo and following was the critical moment of the encounter:
12...Bxf3 13.Qxf3 Be7 leaves about even chances but in the game Shakhriyar played 12...Bh5 - this gives White the opportunity to seize a serious initiative. The game went 13.g4 Bg6 14.Nxd5 Qxd5 15.Bg2!
Shakh lost it completely here and played the move 15...0-0-0? - this was simply giving the fight up.
The game continued 16.Ne5 Qxd4 17.Qf3! Rd5 18.Nxf7 and it was already a resignable position for Black. The Azerbaijani Grandmaster still played on till 31 moves before calling it a day.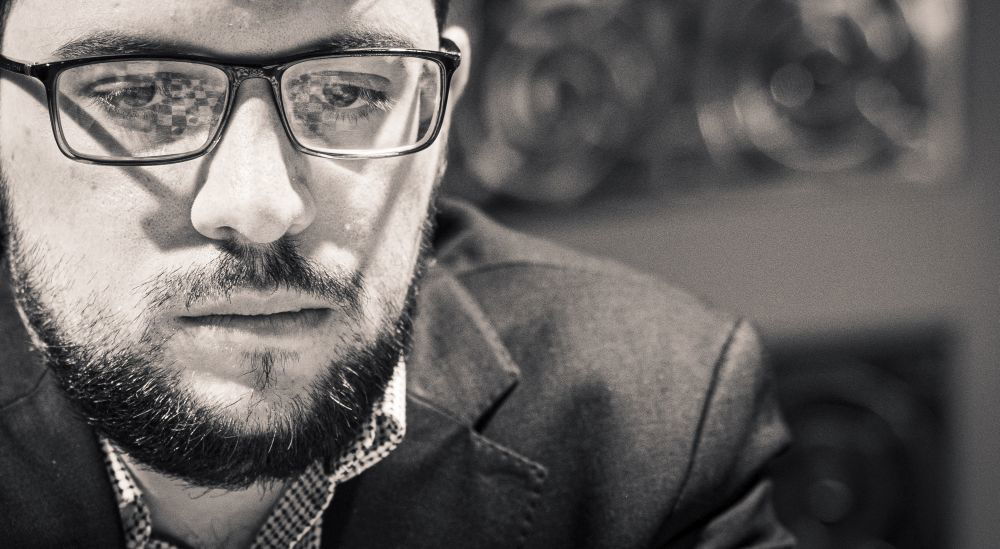 Results of Round 8
| | | | | | | | | | | | |
| --- | --- | --- | --- | --- | --- | --- | --- | --- | --- | --- | --- |
| Bo. | No. | Rtg | | | Name | Result | | Name | | Rtg | No. |
| 1 | 12 | 2805 | | GM | Ding Liren | 0 - 1 | GM | Carlsen Magnus | | 2875 | 10 |
| 2 | 11 | 2752 | | GM | Aronian Levon | ½ - ½ | GM | Nepomniachtchi Ian | | 2775 | 9 |
| 3 | 1 | 2754 | | GM | So Wesley | 1 - 0 | GM | Nakamura Hikaru | | 2754 | 8 |
| 4 | 2 | 2779 | | GM | Vachier-Lagrave Maxime | ½ - ½ | GM | Karjakin Sergey | | 2748 | 7 |
| 5 | 3 | 2779 | | GM | Giri Anish | 1 - 0 | GM | Mamedyarov Shakhriyar | | 2774 | 6 |
| 6 | 4 | 2767 | | GM | Anand Viswanathan | ½ - ½ | GM | Caruana Fabiano | | 2819 | 5 |
Standings after Round 8
| | | | | | | | | | | | | | | | | | | |
| --- | --- | --- | --- | --- | --- | --- | --- | --- | --- | --- | --- | --- | --- | --- | --- | --- | --- | --- |
| Rk. | | | Name | FED | 1 | 2 | 3 | 4 | 5 | 6 | 7 | 8 | 9 | 10 | 11 | 12 | Pts. | TB1 |
| 1 | | GM | Carlsen Magnus | NOR | * | | ½ | 1 | | 1 | | 1 | ½ | ½ | ½ | 1 | 6,0 | 6,0 |
| 2 | | GM | So Wesley | USA | | * | ½ | | | 1 | ½ | ½ | ½ | ½ | 1 | 1 | 5,5 | 5,5 |
| 3 | | GM | Caruana Fabiano | USA | ½ | ½ | * | 0 | ½ | | 1 | ½ | ½ | | | 1 | 4,5 | 4,5 |
| | | GM | Nepomniachtchi Ian | RUS | 0 | | 1 | * | ½ | 0 | | | 1 | ½ | 1 | ½ | 4,5 | 4,5 |
| | | GM | Aronian Levon | ARM | | | ½ | ½ | * | | ½ | ½ | ½ | 1 | ½ | ½ | 4,5 | 4,5 |
| 6 | | GM | Ding Liren | CHN | 0 | 0 | | 1 | | * | ½ | 1 | ½ | ½ | | ½ | 4,0 | 4,0 |
| 7 | | GM | Vachier-Lagrave Maxime | FRA | | ½ | 0 | | ½ | ½ | * | ½ | ½ | ½ | ½ | | 3,5 | 3,5 |
| | | GM | Giri Anish | NED | 0 | ½ | ½ | | ½ | 0 | ½ | * | ½ | | 1 | | 3,5 | 3,5 |
| | | GM | Anand Viswanathan | IND | ½ | ½ | ½ | 0 | ½ | ½ | ½ | ½ | * | | | | 3,5 | 3,5 |
| | | GM | Karjakin Sergey | RUS | ½ | ½ | | ½ | 0 | ½ | ½ | | | * | ½ | ½ | 3,5 | 3,5 |
| 11 | | GM | Mamedyarov Shakhriyar | AZE | ½ | 0 | | 0 | ½ | | ½ | 0 | | ½ | * | ½ | 2,5 | 2,5 |
| | | GM | Nakamura Hikaru | USA | 0 | 0 | 0 | ½ | ½ | ½ | | | | ½ | ½ | * | 2,5 | 2,5 |
---