Magnus Carlsen wins the Croatia Grand Chess Tour and his eighth consecutive tournament!
The World Chess Champion Magnus Carlsen has really been showing phenomenal dominance over the current chess scene with his back-to-back tournament wins. On Sunday he put another feather in his cap by winning the second leg of Grand Chess Tour 2019 in Zagreb, Croatia. This was a truly elite event with twelve of World's top Grandmasters competing but Magnus's domination over the field culminating into a sizzling final round victory was unmatched and almost unchallenged. Exactly how much ahead of the curve the Norwegian really is? The question has been speculated multiple times in the past week with none other than Kasparov comparing him to Fischer and himself at his peak. In this report we bring you the move by move analysis of Magnus's crushing last round game, photos, and more.
It is Magnus, and Magnus all the way, in Croatia!
Magnus Carlsen was up against Maxime Vachier-Lagrave in the final round of Croatia Grand Chess Tour 2019. Being just half a point ahead of his nearest pursuer Wesley So, the World Champion couldn't take this encounter lightly if he had to win the tournament. He had the White pieces and he knew he had to push for the full point - what came was a performance so clinical in style that it is worthy of inclusion in any textbook. One of the key features that distinguishes Magnus's play in recent times is his more and more preference for mainlines. In the early days he was better known for adopting quirky sidelines and eschewing theoretical battles out of the opening. But Magnus of today is evidently more experienced, more universal in his approach. Yesterday it was a Grünfeld defense and the way he outplayed his French opponent, who is himself a renowned specialist of the line, is simply stuff of class.
Magnus Carlsen - Maxime Vachier-Lagrave, Round 11
The point behind 10.Rb1!? is crafty. It threatens to win a pawn on c5 with Rb5 thus provoking Black to push a6 and weaken his queenside - 10...a6 11.Rc1 has actually been seen before. But here Black avoided a6 and 10...cxd4 11. cxd4 0-0 12.Qxa5 Nxa5 was played instead.
13.Bd3 was played in the above position, providing an early support to the e4 pawn, and Maxime kind of deviated from the standard course here going 13...Bg4 14.0-0 Bxf3 15.gxf3 e6 and crippling White's pawn structure.
Next came 16.Rfd1 Rfd8 17.Bf1 b6 18.Ba6 and now White controlled the important c8 square making it difficult for Black to get his rooks on the c-file. The power of bishop pair started to become apparent.
Black decided here to make use of the semi-open d-file instead, with 18...Rd6 19.Rbc1 Rad8 the play was focussed on the d4 square.
Magnus found creative ways to resolve this issue, 20. Bg5 f6 21. Be3 was played (Notice, 20.R8d7 Rc8+ 21.Bf8 Bb5 followed by Bh6 is absolutely crushing) and now Black had weaknesses along a2-g8 diagonal. 21...f5 is simply met with 22.Bg5 again, hence Maxime prepared 21...h6 first with the idea of going f5 next and opening up the bishop. Curiously enough this sent Magnus into a 20 minutes think.
A great player understands which positions to spend more time on, the World Champion had his reasons to invest his time here, and after about 20 minutes of thought he came up with 22.Bb5 - he sensed that his bishop had served its purpose well on a6 - and after Black played 22...f5 he burst out with 23.d5!
What happens if Black takes 23...exd5? Well, then comes 24.Bf4! Rd6 25.Bc7 followed by exd5 - supported by the absolutely menacing bishops there's no stopping the d-pawn here! Understandably, Maxime played 23...g5, stopping Bf4 and Magnus just nudged his bishop back with 24.Bd2, and now Bb4 was a strong threat.
The game continued 24...fxe4 25. fxe4 a6 26. Ba4 exd5 27. Bb4 Re6 28. Rxd5 and it was here Maxime crumbled under pressure and made the most critical mistake of the game.
28...Rb8 would have been a way to hold on to the position but in the game 28...Rxd5 was played and after 29.exd5 White's d-pawn was simply a monster.

The game followed 29...Re4 30. Rc8+ Kf7 31. a3! (Just solidifying the b3 bishop) 31...Be5 32. Be8+ Kg7 and White pushed 33.d6
33. d6 Rd4 34. d7 Nb7 35. Be7 was on board and Black played 35...Re4 a sneaky little move.
Well, it is possible to go 36.d8=Q right-away but then this runs into 36...Nxd8 37.Bxd8 Bxh2+ 38.Kxh2 when Black would have two extra pawns for a piece and White would have to work hard to convert his advantage. What Magnus did here was perfectly clean, he went 36.Rc6, hitting the lose pawns on a6 and b6, and also aiming Rg6+. The game was resigned in two moves after 36...Bd4 37.Rc7
Ian Nepomniachtchi versus Anish Giri, Round 11

The above was the critical moment of the Nepo-Giri encounter. It is White to move and practically there are multiple ways to continue the game. Moves like 13.Re1, 13.Be3 etc are all decent but Nepomniachtchi lashed out with 13.Nxh7 here - a premature sacrifice. The game continued 13...Kxh7 14. Qh5+ Kg8 15. Bxg6 Rf6 16. Qh7+ Kf8 17. Bh6 Rxg6 18. Qxg6 Bxh6 19. Qxh6+ Ke8 and White simply didn't have enough compensation for the sacrificed material. Giri went on to win the game fairly comfortably in 36 moves.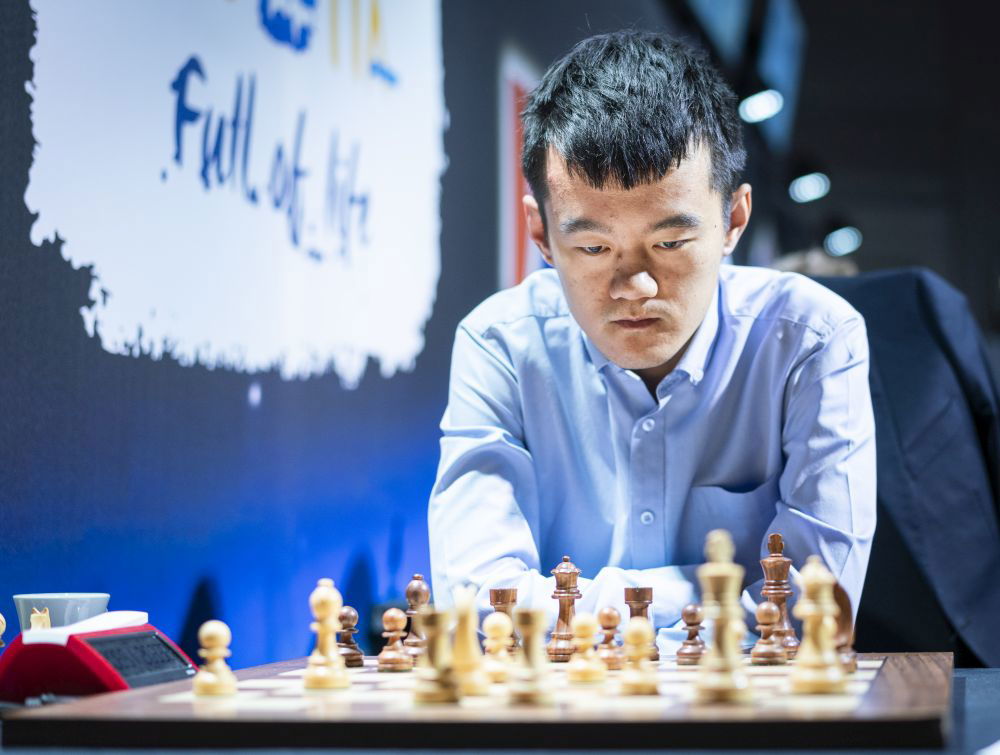 Results of final round
| | | | | | | | | | | | |
| --- | --- | --- | --- | --- | --- | --- | --- | --- | --- | --- | --- |
| Bo. | No. | Rtg | | | Name | Result | | Name | | Rtg | No. |
| 1 | 6 | 2774 | | GM | Mamedyarov Shakhriyar | ½ - ½ | GM | Ding Liren | | 2805 | 12 |
| 2 | 7 | 2748 | | GM | Karjakin Sergey | ½ - ½ | GM | Caruana Fabiano | | 2819 | 5 |
| 3 | 8 | 2754 | | GM | Nakamura Hikaru | ½ - ½ | GM | Anand Viswanathan | | 2767 | 4 |
| 4 | 9 | 2775 | | GM | Nepomniachtchi Ian | 0 - 1 | GM | Giri Anish | | 2779 | 3 |
| 5 | 10 | 2875 | | GM | Carlsen Magnus | 1 - 0 | GM | Vachier-Lagrave Maxime | | 2779 | 2 |
| 6 | 11 | 2752 | | GM | Aronian Levon | ½ - ½ | GM | So Wesley | | 2754 | 1 |
Final Standings
| | | | | | | | | | | | | | | | | | | |
| --- | --- | --- | --- | --- | --- | --- | --- | --- | --- | --- | --- | --- | --- | --- | --- | --- | --- | --- |
| Rk. | | | Name | FED | 1 | 2 | 3 | 4 | 5 | 6 | 7 | 8 | 9 | 10 | 11 | 12 | Pts. | TB1 |
| 1 | | GM | Carlsen Magnus | NOR | * | ½ | ½ | ½ | 1 | 1 | 1 | ½ | 1 | ½ | ½ | 1 | 8,0 | 8,0 |
| 2 | | GM | So Wesley | USA | ½ | * | ½ | ½ | ½ | ½ | 1 | ½ | ½ | ½ | 1 | 1 | 7,0 | 7,0 |
| 3 | | GM | Caruana Fabiano | USA | ½ | ½ | * | ½ | ½ | 0 | ½ | ½ | 1 | ½ | ½ | 1 | 6,0 | 6,0 |
| | | GM | Aronian Levon | ARM | ½ | ½ | ½ | * | ½ | ½ | ½ | 1 | ½ | ½ | ½ | ½ | 6,0 | 6,0 |
| 5 | | GM | Giri Anish | NED | 0 | ½ | ½ | ½ | * | 1 | 0 | ½ | ½ | ½ | 1 | ½ | 5,5 | 5,5 |
| | | GM | Nepomniachtchi Ian | RUS | 0 | ½ | 1 | ½ | 0 | * | 0 | ½ | ½ | 1 | 1 | ½ | 5,5 | 5,5 |
| | | GM | Ding Liren | CHN | 0 | 0 | ½ | ½ | 1 | 1 | * | ½ | ½ | ½ | ½ | ½ | 5,5 | 5,5 |
| 8 | | GM | Karjakin Sergey | RUS | ½ | ½ | ½ | 0 | ½ | ½ | ½ | * | ½ | ½ | ½ | ½ | 5,0 | 5,0 |
| 9 | | GM | Vachier-Lagrave Maxime | FRA | 0 | ½ | 0 | ½ | ½ | ½ | ½ | ½ | * | ½ | ½ | ½ | 4,5 | 4,5 |
| | | GM | Anand Viswanathan | IND | ½ | ½ | ½ | ½ | ½ | 0 | ½ | ½ | ½ | * | 0 | ½ | 4,5 | 4,5 |
| | | GM | Mamedyarov Shakhriyar | AZE | ½ | 0 | ½ | ½ | 0 | 0 | ½ | ½ | ½ | 1 | * | ½ | 4,5 | 4,5 |
| 12 | | GM | Nakamura Hikaru | USA | 0 | 0 | 0 | ½ | ½ | ½ | ½ | ½ | ½ | ½ | ½ | * | 4,0 | 4,0 |
---