CoinDCX Chess Super League R5: Pivotal Pawns top the group stage
Pivotal Pawns defeated Krazy Knights 4-2 to finish the top of the points table at the conclusion of fifth round in CoinDCX Chess Super League. The Kingslayers and Brutal Bishops drew with the Quintessential Queens and Ruthless Rooks respectively. Both Kingslayers and Pivotal Pawns finished the group stage with same score 7.0/10. They will face each other in the Qualifier 1. Brutal Bishops and Ruthless Rooks scored 5.0/10 each. They will play in the Eliminator 1. The winner of Eliminator 1 will play against the losing team of Qualifier 1 in the Eliminator 2. The winner of Qualifier 1 and Eliminator 2 will play the Finals tomorrow. Knockout stage starts today from 8:00 p.m. IST. Photo: Samay Raina live stream
Anna Muzychuk wins all five
GM Abhijeet Gupta got very close to winning against the Speed King Hikaru Nakamura. However, inaccurate play cost him the decisive advantage and he ended up in a losing position. Nakamura's phone rang and the full point was awarded to Abhijeet. It is obvious that Abhijeet did not want to win like that.
The Kingslayers - Quintessential Queens: 3-3
Wins, draws and losses were equally divided among the six boards. IM Soumya Swaminathan and GM D Gukesh scored victories for The Kingslayers. GM Yifan Hou and WIM Priyanka K were the victors for Quintessential Queens.
Tania - Soumya
20.Bxh4 is a positional mistake as the h-file opens for the rook and Black has countless threats c3, Bh6 and more. The game continued 20...c3 21.bxc3 bxc3 22.Qe3 Bh6 23.Bg5 Bxg5 24.Qxg5 Qb6 25.a5 Qa7 and Black is in complete control.
One must appreciate the fact that Gukesh is playing two events - 3rd Yerevan Open and this one, every day. He is also playing fantastic in both of them despite the tournaments having different format and time control. This totally shows Gukesh's class that he is ready to adapt and adjust.
Gukesh - Iniyan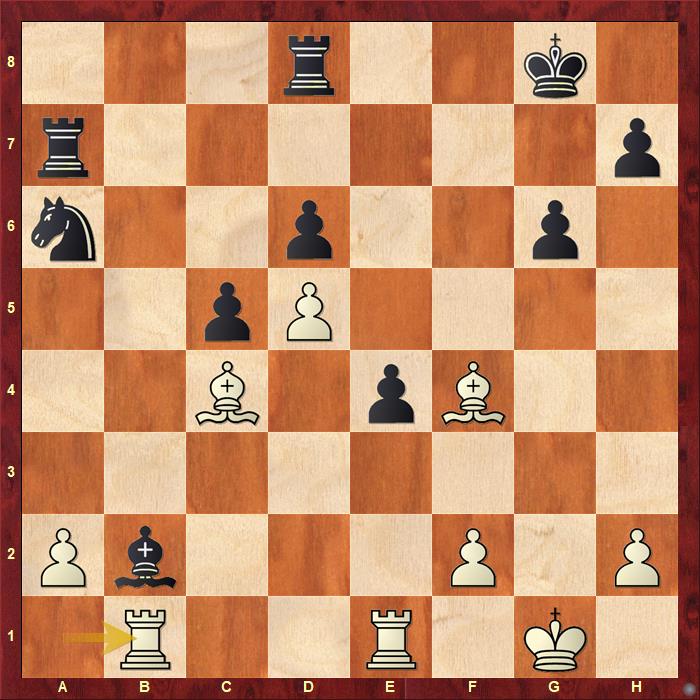 Where should Black retreat his bishop? Iniyan displaced at the wrong place 23...Bg7 which cost him the game after 24.Rb6 Nb4 25.Bxd6. Find out where Black should have retreated his bishop instead.
In a battle of WIMs, Priyanka K handed Arpita Mukherjee her first loss of the event after the latter went wrong in the endgame.
Priyanka - Arpita
How should Black handle the above position?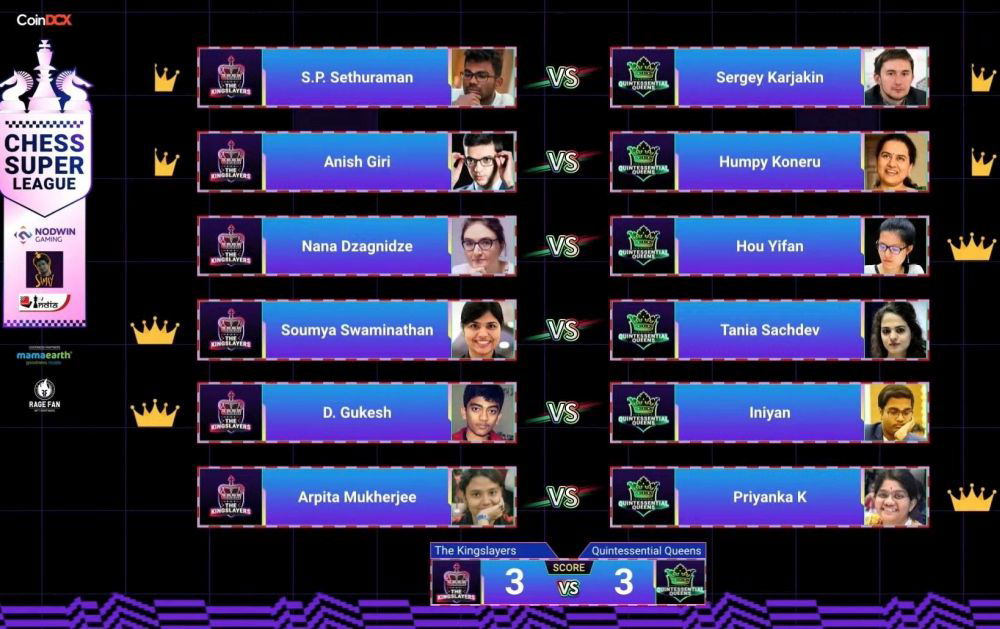 Brutal Bishops - Ruthless Rooks: 3-3
Brutal Bishops and Ruthless Rooks also had similar result, win, loss and draw were divided equally among six games. Hao and Raunak scored the victories for Brutal Bishops. Anna Muzychuk and Harika were the victors for Ruthless Rooks.
Vidit - Radjabov
42...Rh8 43.Qe1 Qe5 gives Black a significant decisive advantage. The game continued 43.Qe1 Qxd5 and eventually petered out to a draw. 43...Bg1 would have been a nice double attack.
Alexandra Kosteniuk went wrong early in the opening which allowed her opponent, Anna Muzychuk to score fifth consecutive victory, making her the only player who has won all five of her games.
Kosteniuk - Anna
White had to play 11.Bd2 to prevent the position from falling apart. 11.Bc1 Nd4 12.Qd1 Qh4 and it's all over for White.
Harika was completely winning the knight endgame against Eesha. However, some mistakes allowed Eesha to save the game.
Harika - Eesha
It is obvious that White has to take on h4, however, White is not forced to capture immediately. Find out the difference between 45.f4 and 45.gxh4+. After a few mutual errors, White managed to win the game.
Raunak Sadhwani correctly capitalized on his opponent Harshit Raja's mistake.
Raunak - Harshit
29...Nh5 made 30.b6 deadlier as now Black cannot go 30...Qb7 because e4-square is unprotected which enables Ne4-d6 jump. 30...Qd8 31.b7 Rb8 32.Ne4. Eventually the b7-pawn became the deciding factor in White scoring the victory.
Pivotal Pawns - Krazy Knights: 4-2
All six games ended decisively. GMs Abhijeet Gupta, Ding Liren, Zhansaya Abdumalik and WIM Savitha Shri B scored victories for Pivotal Pawns. GMs Mariya Muzychuk and Aryan Chopra scored the two wins for Krazy Knights.
Abhijit - Nakamura
24...Nc7 allowed White to gain upper hand 25.Re1 Kf8 and now White made a mistake of playing 26.Qe7+. Trading queens only helped Black to eliminate the attack and roll the pawns on the queenside. Instead, 26.Ne4 Qxd5 27.Nd8 Rb8 28.Rd1 would have been completely winning for White. Nakamura eventually got a winning position. However, he was given a loss as his phone rang.
Anish Giri showed solidarity to his colleague Nakamura
GM Aryan Chopra played his third game which went over 100 moves and this time he won, against Arjun Kalyan. Aryan hasn't lost a single game which went for 100 moves or longer. The young talent definitely has a lot of endurance, that's for sure.
WIM Savitha Shri B once again overcame adverse position, completely turned things around in her favor and beat WIM Mrudul Dehankar.
Highlights
Here are a few interesting finishes of Round 5.
Replay Round 5 games
Replay the live stream
Round 5 results
No.
Team
Team
Res.
:
Res.
1
The Kingslayers
Quintessential Queens
3
:
3
2
Brutal Bishops
Ruthless Rooks
3
:
3
3
Pivotal Pawns
Krazy Knights
4
:
2
Standings after Round 5
| | | | | | | | | | | |
| --- | --- | --- | --- | --- | --- | --- | --- | --- | --- | --- |
| Rk. | SNo | Team | Games | + | = | - | TB1 | TB2 | TB3 | TB4 |
| 1 | 5 | Pivotal Pawns | 5 | 3 | 1 | 1 | 7 | 17,0 | 0 | 245,5 |
| 2 | 3 | The Kingslayers | 5 | 3 | 1 | 1 | 7 | 15,5 | 0 | 230,5 |
| 3 | 4 | Brutal Bishops | 5 | 1 | 3 | 1 | 5 | 15,5 | 1 | 232,8 |
| 4 | 2 | Ruthless Rooks | 5 | 2 | 1 | 2 | 5 | 15,5 | 1 | 227,5 |
| 5 | 1 | Krazy Knights | 5 | 2 | 0 | 3 | 4 | 14,0 | 0 | 208,0 |
| 6 | 6 | Quintessential Queens | 5 | 0 | 2 | 3 | 2 | 12,5 | 0 | 193,8 |
Qualifier pairings
Round 1 on 2021/10/16
No.
Team
Team
Res.
:
Res.
1
Pivotal Pawns
The Kingslayers
:
2
Brutal Bishops
Ruthless Rooks
:
Links
---