Candidates 2020 R01: Ian Nepomniachtchi shows his class
After all the tension and drama related to whether the tournament would take place or not, the eight gladiators finally sat down for the first round of the Candidates 2020. Things were not the same though. There were no spectators allowed in the venue, and the players were given an option as to whether they would like to shake hands or not with their opponents before and after the game! But once the games began we witnessed full-fledged fights in all four encounters. At the end of round one very few would have actually imagined that there would be two wins, both with the black pieces. It was Ian Nepomniachtchi who played an absolutely delightful game to beat Anish Giri. And Wang Hao who took advantage of nearly every slip made by his opponent Ding Liren to take home the full point. Caruana had his chances against MVL and so did Grischuk against Alekseenko, but both the games ended in draws.
When the first round of any major event begins, you expect solid chess, draws taking place. The reason being, players don't want to risk it at such an important tournament and they want to get their eye in. However, at the Candidates 2020 it already seems like an entire event was played before the players sat down to make their first moves! The perpetual stress of whether the tournament was taking place or not due to the Corona virus, seemed to have made the players even more battle hardened. As things stood, all four games witnessed humongous fights. The game of the day was without doubt Ian Nepomniachtchi's win over Anish Giri.
In the post game conference all the players were asked about what they felt related to the Corona virus situation. It was quite an uncomfortable question for everyone because they knew how deadly the virus is and the damage it has caused in countries like China and Italy. However, here they were playing the tournament as if nothing really had happened. Wang Hao, in spite of winning his game, went at length to explain why it was not a good idea to hold the event! Most of them were not against the idea of going outside the hotel to shop at the nearby grocery store or go out for a small walk. While majority of our viewers aired their view on social media that playing the Candidates under such a situation is ridiculous idea, some definitely are of the opinion, that this event is just the dose of positive energy that the world needed.
Anish Giri vs Ian Nepomniachtchi 0-1
We come to the most critical position, which in a way improves our understanding of modern day opening preparation. If you look at why Anish played this opening, it's not because objectively he has an advantage. Objectively the position is just equal, so one might even reproach Anish for playing this opening with the white pieces. However, he believes that Ian would not have studied this position at home. And this is where he would get confused amidst the several tasty options he has at his disposal. He can take on c4 in three different ways. But Ian showed why such an approach can backfire. Black played b4!?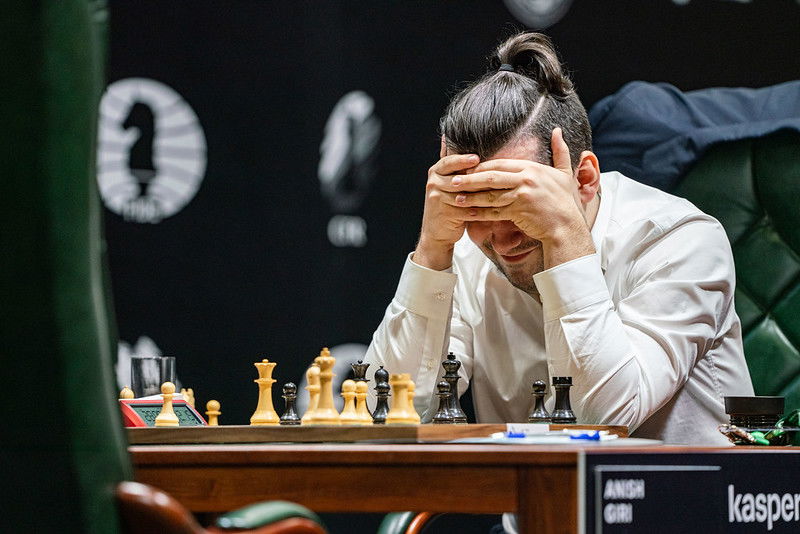 The right move is Qb4. The point is to meet Rb8 with Bb5, threatening to cement everything with a4. Black can take the pawn on a2, but after Qd2, White should be able to hold that pawn down position. In the game after Qb3 (instead of Qb4) White was on the defensive after Rb8. The main point was that the natural Qa4, no longer works because of Bd7. The threat now is to check on b1 and play Bc6. White is just lost.
There are a few extremely important points related to this endgame which have to be kept in mind:
1. You should not let the king come out from f1 and settle down on the squares e1 or e2, as then it would be a draw.
2. As White you really want your rook on the third rank, because if Black can successful play e3 and force fxe3, then the position is just lost. The pawn moving to he third rank (from f2) leads to a lost position.
While the endgame is complex, what is more important for a practical player to learn are the key concepts. GM Vishnu Prasanna explains them in this video:
Ding Liren vs Wang Hao 0-1
One could say that Ding Liren was not himself in this game. When he got the chance to press with a small edge, he was unable to do so and when he landed in a difficult position, he lost without putting up his usual defence. It could well be that the two weeks of quarantine didn't put him in the best possible mood for the first game. But nothing should be taken away from Wang Hao, who exploited each and every of his opponent's mistakes with great precision.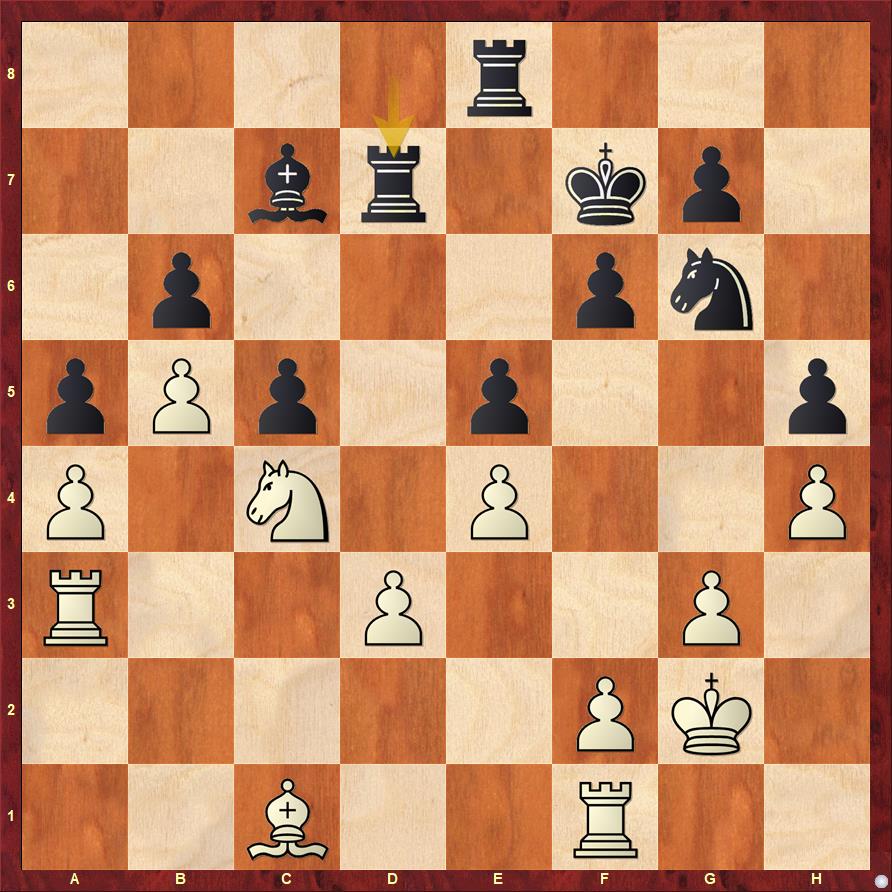 Wang Hao played the powerful move ...f5 forcing the pawn to advance to e5.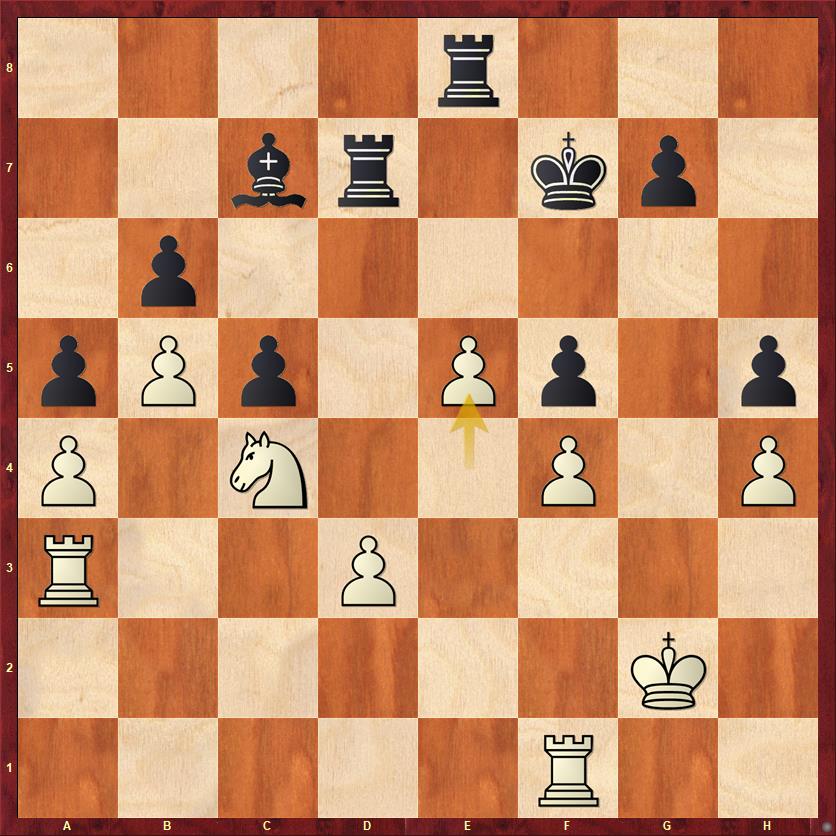 The rook was lifted with Re6! and the threat was to penetrate with Rg6-g4. Black has the much easier game. If Ding was at his best he would have definitely found some of the defensive ideas that would have posed maximum problems to his opponent. As it turns out, White was unable to resist and Wang Hao notched up the win.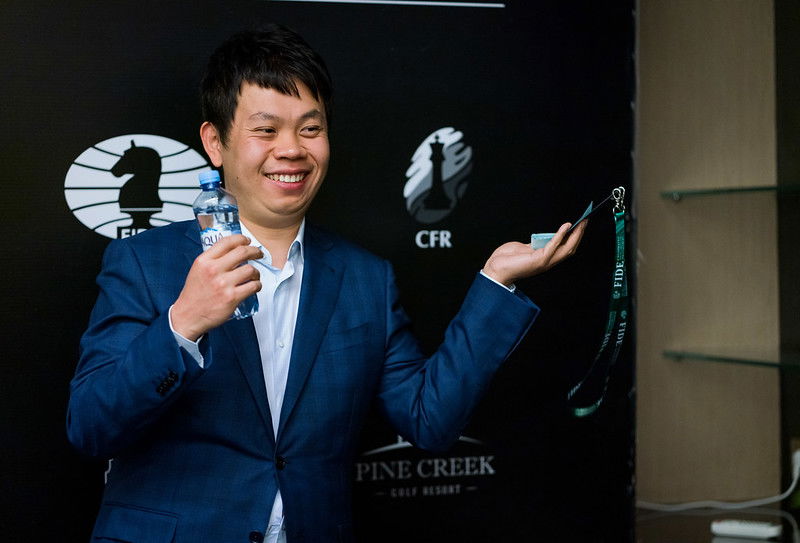 Interview with Wang Hao after his win:
Wang Hao (On how he feels about leading the tournament after the first round): "It is just the first round, there's nothing. Winning for sure is good but nothing more than that."
(About his compatriot and opponent Ding Liren): Yeah we definitely know each other well but we haven't prepared together for anything before. So there's a lot of things, I think, that we don't know.
Anna Burtasova (AB): You and Ding Liren are the stars of this broadcast, do you feel any pressure as so many people from your home country is following you?
Hao: No I don't feel anything like this. I never felt like a star in China. It is very hard to play chess and be a star in a country like China. You said 1 million people were following us online, right? Well, 1 million is really not a big number in China!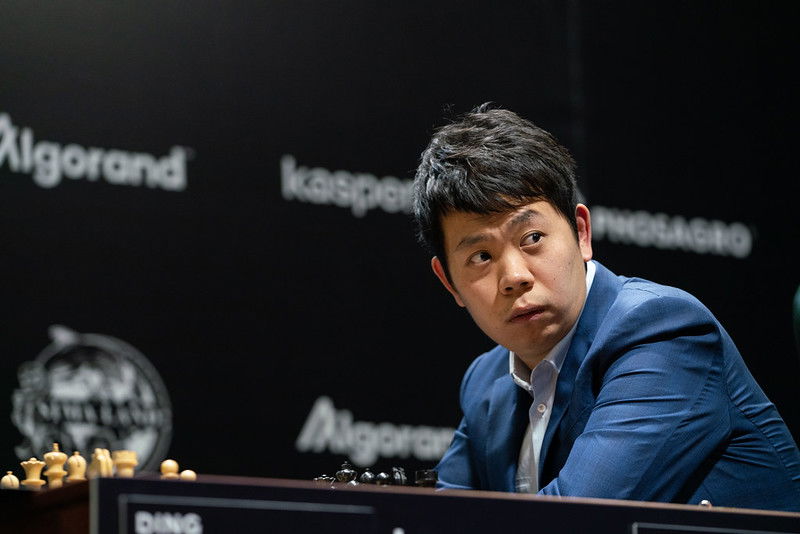 AB: Are you going go out of the Hotel or are you mainly staying indoors because of the virus?
Hao: No, I had to go out for a couple of times. I like to take walks.
AB: Were you afraid to travel to Russia?
Hao: It is not about worry. Basically if I know how to travel, I wouldn't do so. Now is just not the time. You don't want to do something and make yourself ill.
AB: Are you happy with the measures taken here?
Hao: I wouldn't say so. Basically, we shouldn't be playing in this situation. That's my opinion. It is very disturbing for many players.
MVL vs Fabiano Caruana 0.5-0.5
This was the first game to end in round 1. The game began with the Arkhangelsk variation in the Ruy Lopez. It soon became extremely sharp. While the evaluation of the position didn't change much, it was clear that Caruana was better prepared as he played some excellent moves. The pressure was on MVL as he had to find a serious of accurate, sometimes even quite passive moves. The Frenchman managed to do that and the game ended in a draw, when Caruana didn't manage to pose his opponent with maximum problems. In the press conference MVL mentioned, "I didn't expect the way opening went. Then I thought I was slightly better and then my position was just very unpleasant to play. I was hoping to equalize but didn't know if I would manage. There were some pretty scary moments."
Caruana wasn't thrilled with the draw. "It was clear from the start that the game was going in a good direction for me. I was more familiar with the position than MVL was. I think he knew something about the variation. The line is definitely a very sharp one."
"I mean a5 is one of the most double-edged lines in this opening and it's a very double-edged opening as well in general. Of course, I was a bit nervous before the game because it's the first round of the tournament and also a first game in quite a long time. I think a first game for both of us in quite a long time. The pressure of the Candidates is also on. So to get such a sharp position is a bit nerve-racking."
"At some point I felt like I had serious chances. After Qd3 for instance, I felt like it's very tactically dangerous for White and at the same time also tactically dangerous for Black. I looked at several options but didn't find anything that I liked. In the end Ng5 doesn't look like a nice move but then I didn't see anything that I liked. And after that it was just a draw."
Fabiano was right when he mentioned that the position after Qd3 looked like the most critical one. Instead of Ng5, the best choice was ...Rd8. It's not easy for White to play after this move, because Black's pieces are just more harmonious. ...Ng5 (instead of ...Rd8) as was played in the game, gave White an easier way to equalize after Bxg5.

MVL and Caruana on how it feels to play the tournament under the Corona virus stress:
MVL: "Yeah, it is a bit weird, in general. It's very weird to not shake hands with Fabiano [Caruana] or with any other player. In a way it is a very unexpected situation. I try not to think about it. You know you can contract this virus in any place in the world today. Of course, it is not ideal to play in this circumstances but in general I feel pretty safe here and would see how it develops."
Caruana: Well, it's not the most pleasant thing. Before the tournament it wasn't clear whether this tournament would happen or whether it would be postponed. And it's also not clear what will happen in the next three weeks or so, around the world and in Russia. I mean the situation is extremely serious all over the world.We are one of the last sporting events in the world to not have been cancelled. We will see whether it is a right decision or not at the end of the tournament."
Grischuk vs Alekseenko 0.5-0.5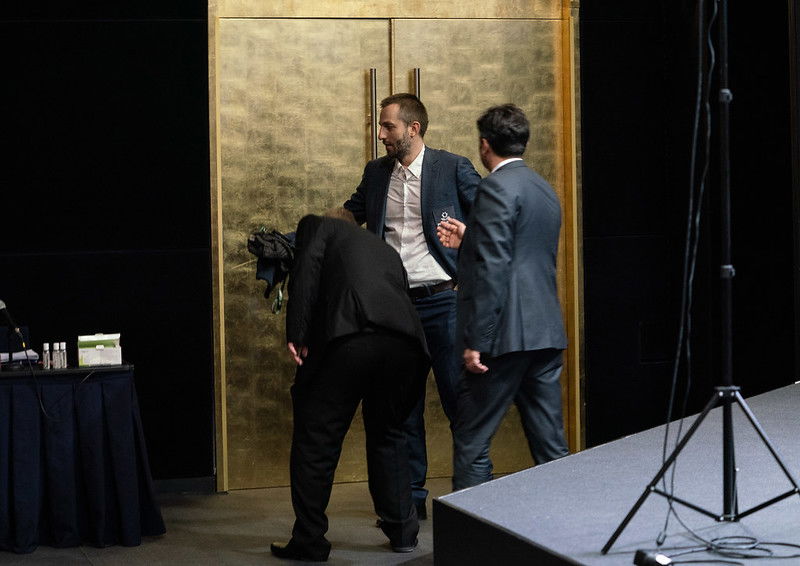 Important links:
Be sure to follow our live coverage at 4.30 p.m. IST here.
While you are enjoying the Candidates, it might be a good idea to enroll for the March Masters Blitz tournament to be held on 29th of March 2020 at 8 p.m. Total Prize fund Rs.50,000
Alternatively, you can also play at the Saturday Online Blitz tournament, which is a series of five blitz events starting from 21st of March to 18th April. The entry is completely free if you are ChessBase Account Premium Member.
Satanick Mukhuty contributed to the article.
---