Candidates R07: The French Defense against French no.1 wasn't a good idea!
The way Nepo was playing at the event made him look untouchable. But MVL, his seventh round opponent had different plans. Nepo's French Defense was punished by the Frenchman with great precision. With this victory MVL caught up with Nepo at the top and both of them lead the event with a score of 4.5/7, one point more than the rest of the field. The remaining three games ended in draws. We bring you the detailed analysis of the decisive game, pictures, videos and more.
MVL beats Nepo, joins him in the lead
Just when it seemed Ian Nepomniachtchi was untouchable and would run away with the tournament, it is MVL who has stopped him right in his tracks in the seventh round of the Candidates 2020. Ian's opening choice wasn't the smartest as the French Defense, which he tried against Alekseenko in third round, this time didn't fire. In fact the French GM came well prepared for the game and was able to outplay Nepo with considerable ease.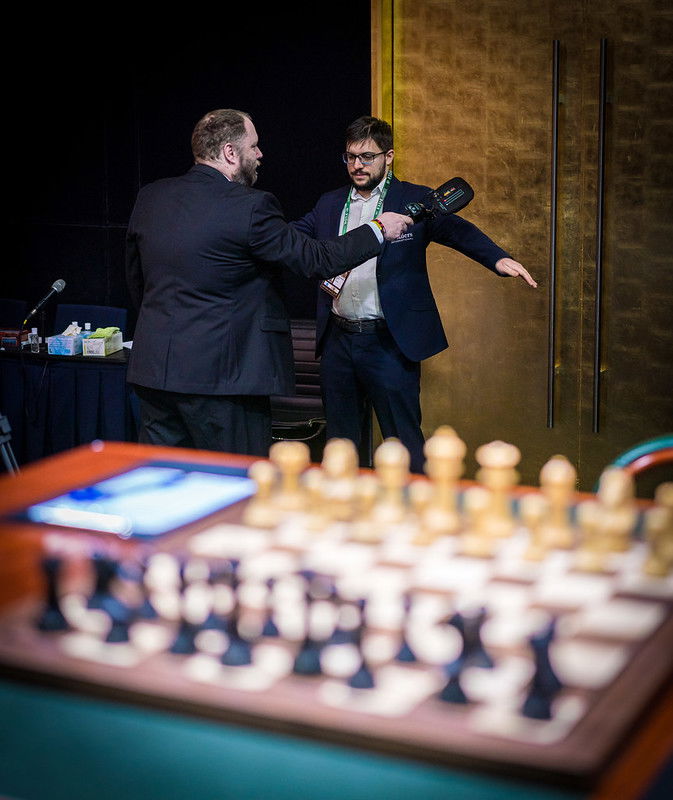 MVL vs Nepo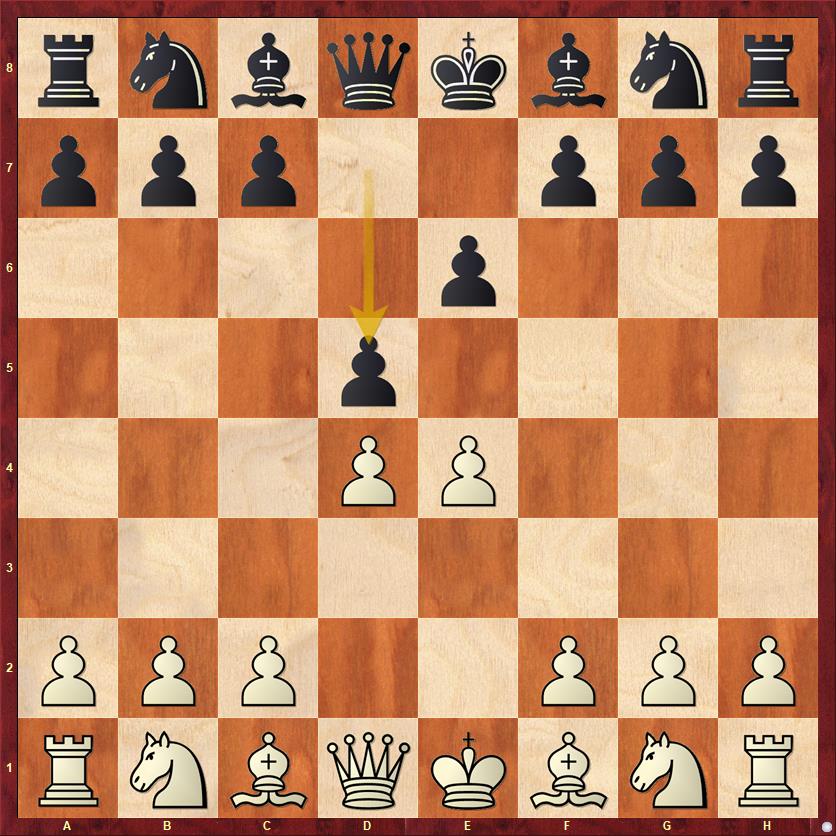 One of the main tasks of the seconds is to keep an eye on each and every game that is taking place at the Candidates. They try to find new ideas because there is a high possibility that those openings would be repeated. Hence, when Nepo played the French against Alekseenko, MVL's team definitely tried to see what Alekseenko did and found something interesting in that direction.
Eteri Kublashvili: We have Maxime Vachier-Lagrave with us who has just outplayed Ian Nepomniachtchi and has joined him in the lead. Did you expect such a sharp opening from your opponent in this game Maxime?
MVL: Well, not really. But of course, he has played it against Kirill earlier in the tournament so I thought I should at least prepare for it. I deviated with h5 which makes sense, it's a logical follow up to h4. It's a very theoretical line, I don't want to bore you with the details. Ian played this move c4... I thought ...Ke8 0-0 Kd8 followed by Kc7 was the right way to play but okay ...c4 also looked principled because it completely closes the queenside. However, after ...c4 0-0 Rb6 Qc2 he was not in time (for the Ke8 Kd8 Kc7 maneuver) because he had to play Rg8-h8 in order to stop Qh7 and then I found this very strong idea with Rb4 Nc6 f4. The exchange can't be taken because after Nxb4 cxb4 Qa6 b5 Qc8 (or Qb7) f5 it looks terrible for Black, I would have very powerful ideas like Bb4 Nc3 and then a5! He therefore went back with Ne7 obviously with the idea of pushing f5 but now I was in time to do this Bc1-Ba3 maneuver.
(Black follows some forced variations and Maxime goes on to show the finish of the game, highlighting some of the pretty tactical details)

Eteri Kublashvili: You were the last one to join the event. Last but not the least of course. Do you think you have some luck favouring you because of this?
MVL: I don't know. I think it is important to play well and I think apart from the game against Wang Hao, I have played reasonably well so far. I am quite happy with my performance and want to continue in the same way.
Caruana vs Wang Hao 0.5-0.5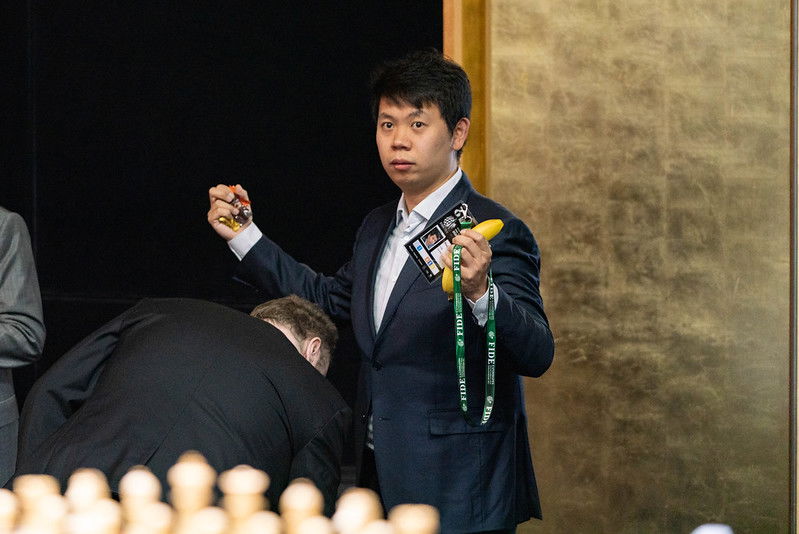 Caruana vs Wang Hao
Eteri Kublashvili: The last game of the round is finished, and Fabiano Caruana and Wang Hao made a draw. Please tell us about this game, the most important things about it.
Fabiano: Well, we played a very solid line of the petroff. I played this myself in the match against Magnus. I wasn't entirely happy with ...c5 because it is not the most popular line but it is a very good one. If you want to really test Black, you either go for an endgame, which I went for, or you play some very sharp lines involving Bg5 which I couldn't quite remember. At some point I was optimistic, after Bg5 I thought I had a good position but Hao played a very strong move Kf7 and after that I didn't really see any logical way to continue. Ng3 looked very tempting Bf1 Nf5 would obviously be very strong but after c4 I had nothing. Later, I probably started to play a bit carelessly and got into a slightly worse position rather than a slightly better one.
(Hao agrees with Fabiano's assessment and seems satisfied with the result)
Eteri Kublashvili: The history of your encounter Fabiano against Hao is not very good. Does this influence your game in usually?
Fabiano: Not really. Yes, I have a bad score against Hao. I have never really won a classical game against him. But majority of the games I played against him were a long time ago. Recently, we only played in Isle of Man and that ended in draw. The other games that I lost already feels like distant past.

Hao: No, I don't think so. Like Fabiano said majority of the games we played were indeed a long time ago. It is a new start for everyone I would say. (Smiles)
Eteri Kublashvili: Who are the players from the past who have influenced your game the most?
Fabiano: It is hard to point out a single player. I would say all of the World Champions from the past I have studied have contributed a lot to the development of chess. I guess in US Fischer was the biggest name and I think what he accomplished is the greatest thing that any chess player has accomplished, despite the fact that his reign was very short. A lot of players like Kasparov and Lasker had long World Championship reigns but Fischer was always an influential figure for me.
Hao: Of course, Fischer was a great player but I don't remember his games as well as I remember the games played by modern players. I would say Kramnik influenced my play a lot.
Giri vs Grischuk 0.5-0.5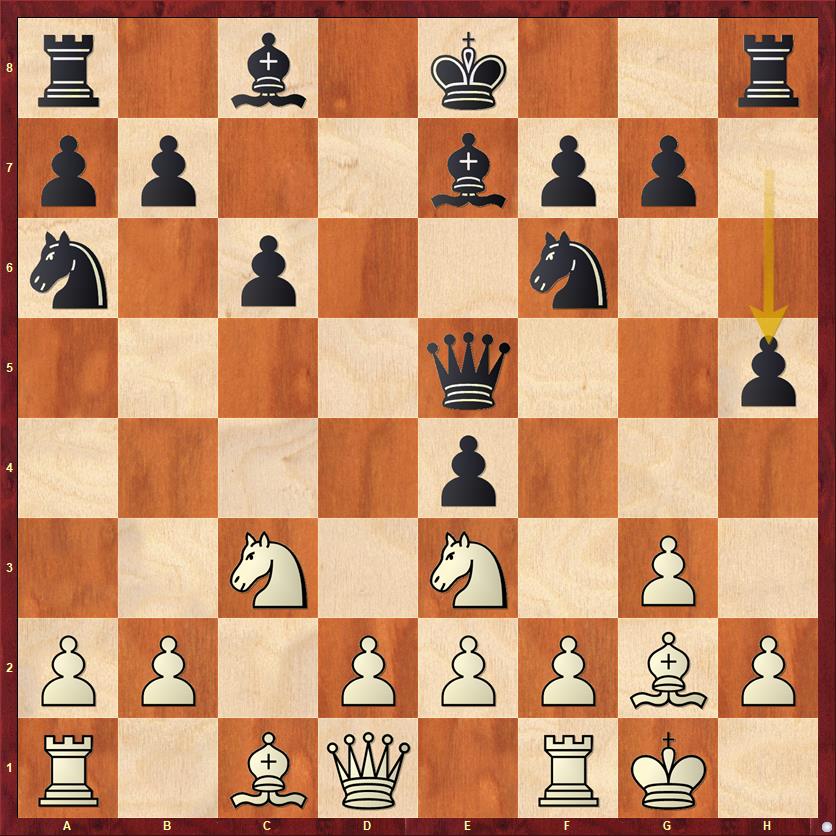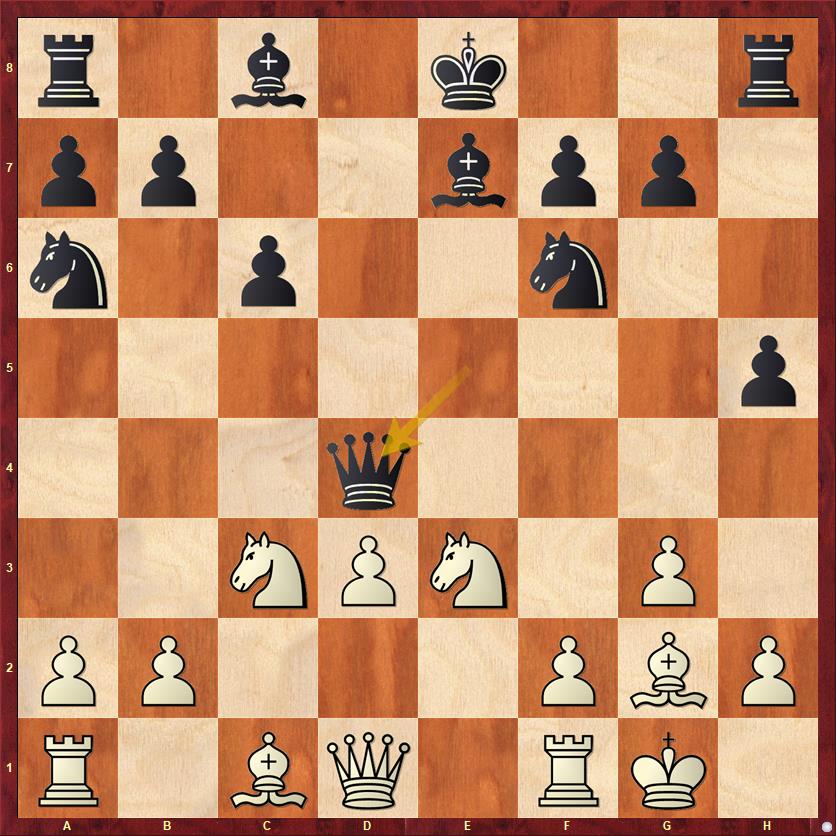 Eteri Kublashvili: We are here with Anish Giri and Alexander Grischuk and their game ended in a draw. Anish we were playing the white pieces so can you tell us about the opening outcome and about the game?
Giri: Yeah I think Nd3 was an interesting new idea. Alexander reacted with h5 which I thought was a difficult move to make even though it was certainly an option. After d4 he played Qd4 which I also thought was a sophisticated move but he probably knew it or perhaps found over-the-board I don't know. Then it was not so much after Qg4. I thought Black was very solid.
I thought after Be6 I have something because there are some tricks with Bh3+ sometimes. But I didn't see a move, I thought he comes with Bd6 Bd5 Be7 at the very least. At first I was somehow excited but then after spending lot of time, I decided to go for the line I played and simply missed Rc8. So I think the opening wasn't a big success.
Eteri Kublashvili: Alexander, are you happy with this draw with black pieces?
Grischuk: No, I mean I would be a very happy person if I was happy with every draw that I make (Smiles)
Eteri Kublashvili: Okay, so I think maybe in the final part of the game you got some initiative, right?
Grischuk: Actually after Rc8 I thought I was safe but I didn't see much going on in terms of initiative. Maybe I could have played something else instead of g4?
Anish: Well, without the a2 pawn I hold this position ten out of ten time, so with the a2 pawn I think also manage the same!
Ding Liren vs Alekseenko 0.5-0.5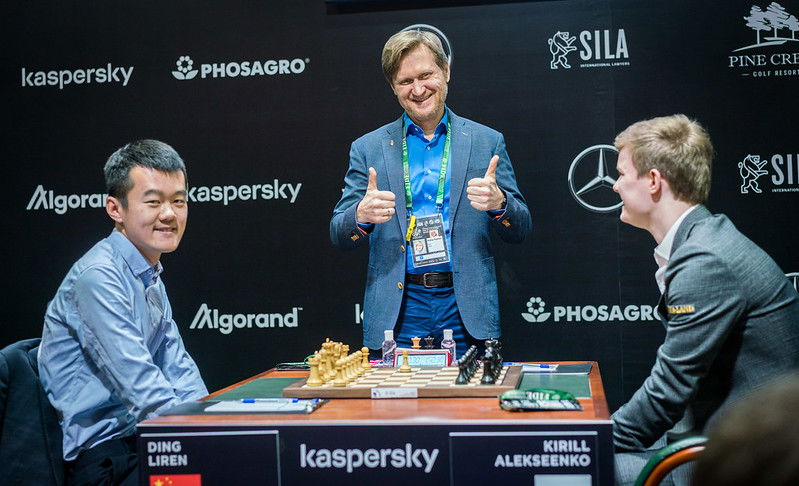 Ding Liren vs Alekseenko
Ding took on f6 which shows that he is clearly not in form at the event. He should have gone Qa4! when after Nxe5 Nxe5 fxe5 Qxa7 White is clearly better.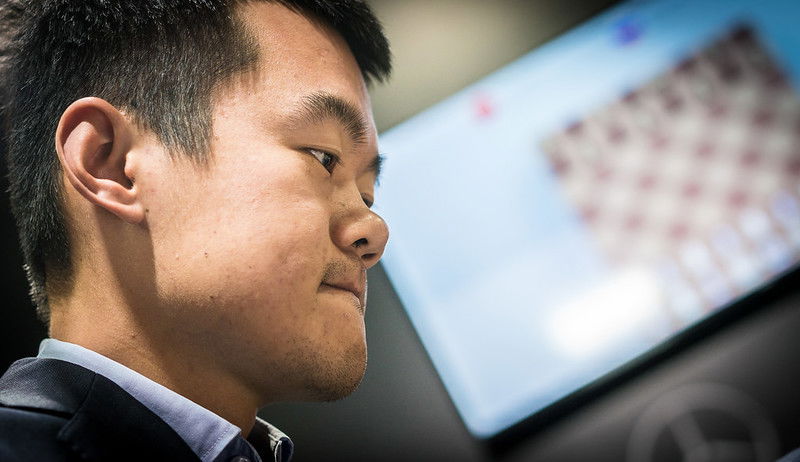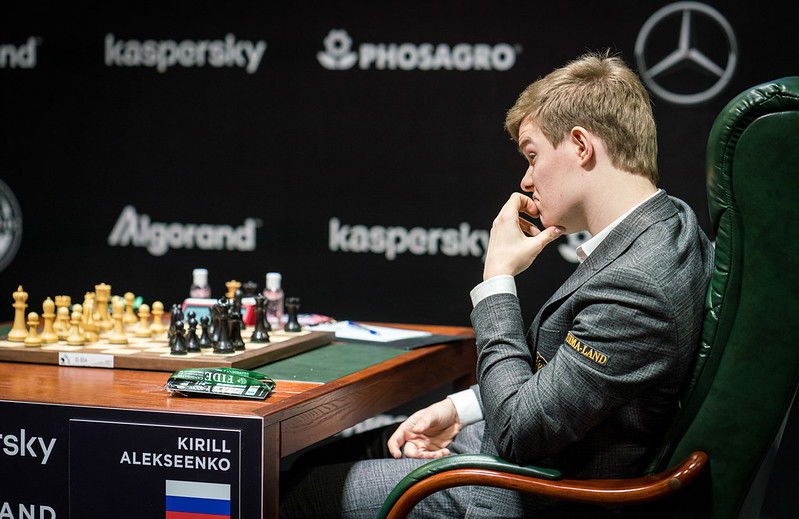 ---