60th National Championship 2023 R9: Sethuraman inches closer to a triumph
GM Sethuraman S P (PSPB) drew his game against IM Aronyak Ghosh (RSPB) in Round 9 of 60th National Chess Championship 2023. Five players are in pursuit at 7.5/9 each. They are - Aronyak, GM Vignesh N R (RSPB), GM Vishnu Prasanna (TN), GM Diptayan Ghosh (WB) and IM Neelash Saha (RSPB). Vignesh brought an end to Iniyan's winning streak. Vishnu handed 12-year-old Vedant Garg (CHD) his first loss of the event. Top seed GM Abhijeet Gupta (PSPB) won against CM Soham Kamotra (J&K) after nine continuous moves of capturing pieces. Sethuraman will face Neelash in the penultimate Round 10. It starts today at 3 p.m. IST. Photos: Siddhant Mahajan
Five in pursuit
The number of decisive and drawn games among top ten boards is 50%. As the race towards the finish line gets close, the games are bound to get exciting. GM Vishnu Prasanna (TN) ended 12-year-old Vedant Garg's (CHD) unbeaten run.
Iniyan - Vignesh: 0-1
GM Vignesh N R (2501) has never lost a Classical rated game against GM Iniyan P (2502). That statistic remains unchanged.
27.Re5? actually turned things in Black's favor Nd7 28.Rg5 g6 29.Rxa6 Nc5 30.Rc6 Qa7 31.Rxd6 Nd3 32.h4 Re1+ and it's over as the queen loss is inevitable.

Abhijeet - Soham
GM Abhijeet Gupta (PSPB, 2625) and CM Soham Kamotra (J&K, 2381) had an interesting sequence 14.exd5 Nxf4 15.d6 Bxg2 16.Nxf7 Bd5 17.Nxd5 Ne2+ 18.Kg2 Nxd4 19.Nxd8 Nxb3 20.Nxe7+ Rxe7 21.dxe7 Nxc1 22.Rxc1 after nine moves of capturing pieces, White arrived at a winning rook and knight endgame.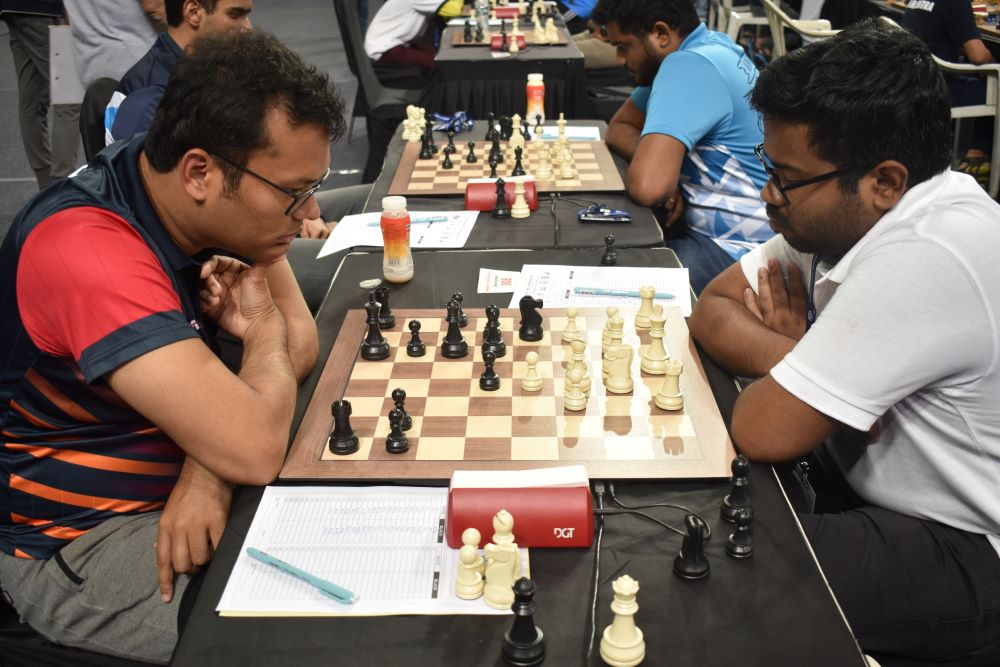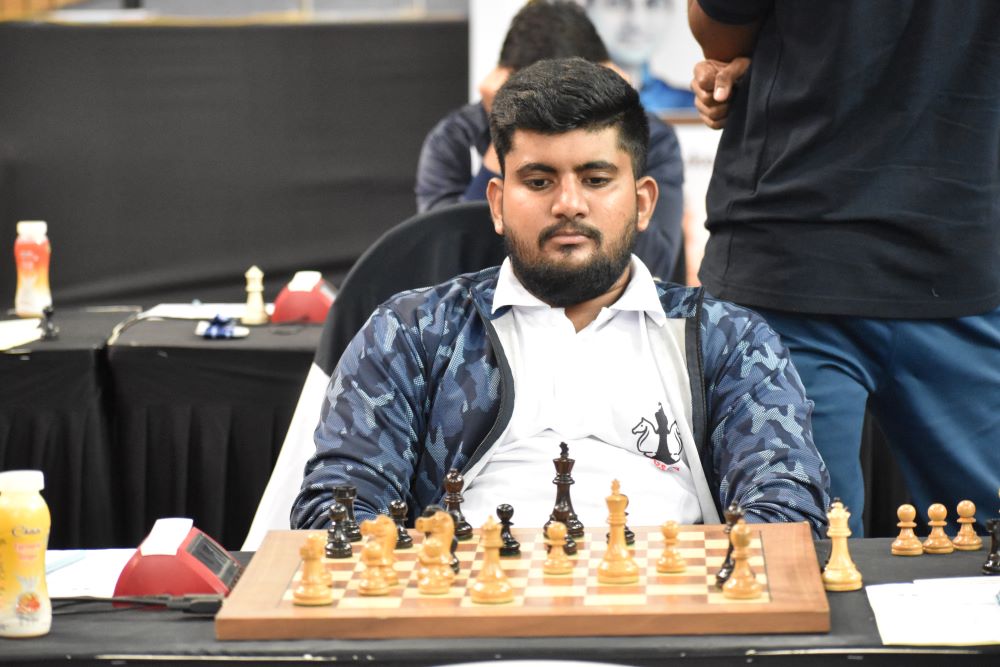 A total of 352 players including 18 GMs, 17 IMs and a WGM are taking part in this tournament from various states across the country. The eleven-round Swiss League Rating tournament is taking place at Boxing Hall, Shri Shiv Chhatrapati Sports Complex in Pune, Maharashtra from 16th to 26th August 2023. The time control of the event is 90 minutes for 40 moves followed by 30 minutes with an increment of 30 seconds from move no.1
Prizes
The total prize fund of the tournament is ₹3000000. The top three prizes are ₹600000, ₹500000 and ₹400000 each.
Replay Round 9 games
Round 9 results
| | | | | | | | | | | | | | |
| --- | --- | --- | --- | --- | --- | --- | --- | --- | --- | --- | --- | --- | --- |
| Bo. | No. | | Name | Rtg | Club/City | Pts. | Result | Pts. | | Name | Rtg | Club/City | No. |
| 1 | 3 | GM | Sethuraman, S.P. | 2591 | PSPB | 7½ | ½ - ½ | 7 | IM | Aronyak, Ghosh | 2538 | RSPB | 7 |
| 2 | 5 | GM | Ghosh, Diptayan | 2568 | WB | 7 | ½ - ½ | 7 | IM | Neelash, Saha | 2435 | RSPB | 16 |
| 3 | 9 | GM | Iniyan, P | 2502 | TN | 7 | 0 - 1 | 6½ | GM | Vignesh, N R | 2501 | RSPB | 10 |
| 4 | 14 | GM | Akash, G | 2456 | TN | 6½ | ½ - ½ | 6½ | IM | Srihari, L R | 2407 | TN | 22 |
| 5 | 21 | GM | Vishnu, Prasanna. V | 2411 | TN | 6½ | 1 - 0 | 6½ | | Vedant, Garg | 1529 | CHD | 253 |
| 6 | 1 | GM | Gupta, Abhijeet | 2625 | PSPB | 6 | 1 - 0 | 6 | CM | Soham, Kamotra | 2381 | J&K | 26 |
| 7 | 19 | IM | Sidhant, Mohapatra | 2420 | RSPB | 6 | 0 - 1 | 6 | GM | Puranik, Abhimanyu | 2611 | AAI | 2 |
| 8 | 27 | | Sahoo, Utkal Ranjan | 2367 | ODI | 6 | ½ - ½ | 6 | GM | Ganguly, Surya Shekhar | 2583 | PSPB | 4 |
| 9 | 23 | IM | Krishna, C R G | 2405 | RSPB | 6 | ½ - ½ | 6 | GM | Visakh, N R | 2540 | RSPB | 6 |
| 10 | 59 | WGM | Kiran, Manisha Mohanty | 2044 | LIC | 6 | 0 - 1 | 6 | GM | Mitrabha, Guha | 2505 | WB | 8 |
| 11 | 11 | GM | Das, Sayantan | 2489 | RSPB | 6 | 1 - 0 | 6 | GM | Laxman, R.R. | 2349 | RSPB | 28 |
| 12 | 12 | GM | Sengupta, Deep | 2474 | PSPB | 6 | ½ - ½ | 6 | | Kolla, Bhaavan | 1727 | AP | 161 |
| 13 | 15 | GM | Deepan, Chakkravarthy J. | 2446 | RSPB | 6 | 1 - 0 | 6 | CM | Nayak, Rajesh | 2194 | ODI | 41 |
| 14 | 18 | IM | Anuj, Shrivatri | 2420 | MP | 6 | ½ - ½ | 6 | FM | Dhananjay, S | 2133 | CHAT | 48 |
| 15 | 17 | GM | Venkatesh, M.R. | 2434 | PSPB | 5½ | 1 - 0 | 6 | | Om, Nagnath Lamkane | 1786 | MAH | 133 |
| 16 | 13 | IM | Shyaamnikhil, P | 2467 | RSPB | 5½ | 1 - 0 | 5½ | | Vignesh, Advaith Vemula | 2018 | TEL | 62 |
| 17 | 67 | | Mahindrakar, Indrajeet | 1996 | MAH | 5½ | 0 - 1 | 5½ | IM | Nitin, S. | 2386 | RSPB | 24 |
| 18 | 75 | | Lad, Mandar Pradip | 1954 | GOA | 5½ | ½ - ½ | 5½ | IM | Mehar, Chinna Reddy C.H. | 2384 | RSPB | 25 |
| 19 | 29 | GM | Karthikeyan, P. | 2325 | RSPB | 5½ | 1 - 0 | 5½ | | Ajay, Santhosh Parvathareddy | 2034 | UP | 60 |
| 20 | 125 | | Tadam, Dupit | 1792 | ARU | 5½ | 0 - 1 | 5½ | IM | Utsab, Chatterjee | 2322 | WB | 30 |
Standings after Round 9
| | | | | | | | | | | | | | |
| --- | --- | --- | --- | --- | --- | --- | --- | --- | --- | --- | --- | --- | --- |
| Rk. | SNo | | Name | sex | FED | Rtg | Club/City | Pts. | TB1 | TB2 | TB3 | TB4 | TB5 |
| 1 | 3 | GM | Sethuraman, S.P. | | IND | 2591 | PSPB | 8 | 52,5 | 57 | 49,75 | 0 | 7 |
| 2 | 7 | IM | Aronyak, Ghosh | | IND | 2538 | RSPB | 7,5 | 52 | 56 | 46,50 | 0 | 6 |
| 3 | 10 | GM | Vignesh, N R | | IND | 2501 | RSPB | 7,5 | 50 | 54,5 | 43,50 | 0 | 7 |
| 4 | 21 | GM | Vishnu, Prasanna. V | | IND | 2411 | TN | 7,5 | 49,5 | 54 | 43,75 | 0 | 7 |
| 5 | 5 | GM | Ghosh, Diptayan | | IND | 2568 | WB | 7,5 | 49 | 53 | 43,00 | 0 | 6 |
| 6 | 16 | IM | Neelash, Saha | | IND | 2435 | RSPB | 7,5 | 48 | 51 | 41,50 | 0 | 6 |
| 7 | 2 | GM | Puranik, Abhimanyu | | IND | 2611 | AAI | 7 | 51 | 56 | 41,50 | 0 | 6 |
| 8 | 8 | GM | Mitrabha, Guha | | IND | 2505 | WB | 7 | 50 | 54 | 39,25 | 0 | 6 |
| 9 | 9 | GM | Iniyan, P | | IND | 2502 | TN | 7 | 49,5 | 53,5 | 39,50 | 0 | 7 |
| 10 | 1 | GM | Gupta, Abhijeet | | IND | 2625 | PSPB | 7 | 48 | 51,5 | 37,50 | 0 | 7 |
| 11 | 15 | GM | Deepan, Chakkravarthy J. | | IND | 2446 | RSPB | 7 | 47,5 | 52 | 39,50 | 0 | 5 |
| 12 | 22 | IM | Srihari, L R | | IND | 2407 | TN | 7 | 47,5 | 51,5 | 36,75 | 0 | 6 |
| 13 | 11 | GM | Das, Sayantan | | IND | 2489 | RSPB | 7 | 47 | 52 | 38,50 | 0 | 7 |
| 14 | 14 | GM | Akash, G | | IND | 2456 | TN | 7 | 46 | 50 | 38,75 | 0 | 6 |
| 15 | 17 | GM | Venkatesh, M.R. | | IND | 2434 | PSPB | 6,5 | 51 | 55 | 37,75 | 0 | 5 |
| 16 | 4 | GM | Ganguly, Surya Shekhar | | IND | 2583 | PSPB | 6,5 | 50 | 54,5 | 38,00 | 0 | 4 |
| 17 | 12 | GM | Sengupta, Deep | | IND | 2474 | PSPB | 6,5 | 50 | 54 | 35,50 | 0 | 6 |
| 18 | 48 | FM | Dhananjay, S | | IND | 2133 | CHAT | 6,5 | 48,5 | 53 | 36,50 | 0 | 5 |
| 19 | 161 | | Kolla, Bhaavan | | IND | 1727 | AP | 6,5 | 48,5 | 51,5 | 34,75 | 0 | 5 |
| 20 | 13 | IM | Shyaamnikhil, P | | IND | 2467 | RSPB | 6,5 | 48 | 52 | 35,50 | 0 | 5 |
Round 10 pairings
| | | | | | | | | | | | | | |
| --- | --- | --- | --- | --- | --- | --- | --- | --- | --- | --- | --- | --- | --- |
| Bo. | No. | | Name | Rtg | Club/City | Pts. | Result | Pts. | | Name | Rtg | Club/City | No. |
| 1 | 16 | IM | Neelash, Saha | 2435 | RSPB | 7½ | | 8 | GM | Sethuraman, S.P. | 2591 | PSPB | 3 |
| 2 | 7 | IM | Aronyak, Ghosh | 2538 | RSPB | 7½ | | 7½ | GM | Ghosh, Diptayan | 2568 | WB | 5 |
| 3 | 10 | GM | Vignesh, N R | 2501 | RSPB | 7½ | | 7½ | GM | Vishnu, Prasanna. V | 2411 | TN | 21 |
| 4 | 11 | GM | Das, Sayantan | 2489 | RSPB | 7 | | 7 | GM | Gupta, Abhijeet | 2625 | PSPB | 1 |
| 5 | 2 | GM | Puranik, Abhimanyu | 2611 | AAI | 7 | | 7 | GM | Akash, G | 2456 | TN | 14 |
| 6 | 8 | GM | Mitrabha, Guha | 2505 | WB | 7 | | 7 | GM | Deepan, Chakkravarthy J. | 2446 | RSPB | 15 |
| 7 | 22 | IM | Srihari, L R | 2407 | TN | 7 | | 7 | GM | Iniyan, P | 2502 | TN | 9 |
| 8 | 30 | IM | Utsab, Chatterjee | 2322 | WB | 6½ | | 6½ | GM | Ganguly, Surya Shekhar | 2583 | PSPB | 4 |
| 9 | 6 | GM | Visakh, N R | 2540 | RSPB | 6½ | | 6½ | | Kolla, Bhaavan | 1727 | AP | 161 |
| 10 | 12 | GM | Sengupta, Deep | 2474 | PSPB | 6½ | | 6½ | IM | Sharma, Dinesh K. | 2203 | LIC | 37 |
| 11 | 35 | FM | Wagh, Suyog | 2221 | MAH | 6½ | | 6½ | IM | Shyaamnikhil, P | 2467 | RSPB | 13 |
| 12 | 36 | IM | Abhishek, Kelkar | 2217 | MAH | 6½ | | 6½ | GM | Venkatesh, M.R. | 2434 | PSPB | 17 |
| 13 | 52 | | Apoorv, Kamble | 2082 | KAR | 6½ | | 6½ | IM | Anuj, Shrivatri | 2420 | MP | 18 |
| 14 | 48 | FM | Dhananjay, S | 2133 | CHAT | 6½ | | 6½ | IM | Krishna, C R G | 2405 | RSPB | 23 |
| 15 | 24 | IM | Nitin, S. | 2386 | RSPB | 6½ | | 6½ | | Samyak, Dharewa | 1789 | WB | 129 |
| 16 | 82 | | Ram, S. Krishnan | 1941 | BSNL | 6½ | | 6½ | | Sahoo, Utkal Ranjan | 2367 | ODI | 27 |
| 17 | 253 | | Vedant, Garg | 1529 | CHD | 6½ | | 6½ | GM | Karthikeyan, P. | 2325 | RSPB | 29 |
| 18 | 77 | | Mukund, Hemant Agarwal | 1950 | GUJ | 6 | | 6 | IM | Sidhant, Mohapatra | 2420 | RSPB | 19 |
| 19 | 20 | IM | Das, Arghyadip | 2413 | RSPB | 6 | | 6 | | Bhosale, Shriraj | 1930 | MAH | 87 |
| 20 | 80 | | Setumadhav, Yellumahanthi | 1942 | AP | 6 | | 6 | IM | Mehar, Chinna Reddy C.H. | 2384 | RSPB | 25 |
Links
---