60th National Championship 2023 R4: Praveen Kumar astonishes Akash
IM Praveen Kumar C defeated his Tamil Nadu statemate GM Akash G in the fourth round of 60th National Chess Championship 2023. Despite being in control for the better part of the game, Akash loosened his grip in the endgame. It was enough for Praveen to turn things around. IM Nitin S (TN) and CM Soham Kamotra (J&K) held GM Surya Sekhar Ganguly (PSPB) and GM Diptayan Ghosh (WB) to a draw each respectively. Dhananjay (CHAT) continues his good form as he drew against the strong GM Venkatesh M R (PSPB). Shriraj Bhosale (MAH) scored a big win over the veteran, IM D V Prasad (KAR). Praveen is the sole IM among the eight leaders at 4/4. Round 5 starts today at 3 p.m. IST. Photo: Shahid Ahmed
Eight players at 4/4
GM Sethuraman S P (PSPB), GM Iniyan P (TN), GM Vignesh N R (RSPB), GM Abhimanyu Puranik (AAI), GM Sayantan Das (RSPB), IM Praveen Kumar C (TN), GM Mitrabha Guha (WB) and GM Deep Sengupta (PSPB) are the eight players who have won all four of their games so far.
Akash - Praveen
GM Akash G (TN, 2456) was in control for the better part of the game against IM Praveen Kumar C (TN, 2167). In the final moments of the endgame, White opened the floodgates 42.Ne2? The d4-pawn does not need protection. Instead, White needed to go 42.f3 gxf3 runs into 43.Nxd5. The other option 42...Kg6 43.fxg4 Bd3 44.Re1 Rxd4 45.Qb8 leads to some sharp position. The game continued 42...Rc2 43.b4 Rb2 44.Nc3 Bg6 45.Qxf6+ Kxf6 and White's unprotected pawns started dropping and Black went on to win the game.
D V Prasad - Shriraj
When you are playing a stronger titled player, you have to take every opportunity you get. Shriraj Bhosale (MAH, 1930) decided to exchange his queen for two rooks against IM D V Prasad (KAR, 2254). 22...Nxd3 23.Bxc7 Nxc1 24.Nf3? allowed Black to escape his knight with ease Ne2+ 25.Kh1 Nd4 Black eventually went on to win the game.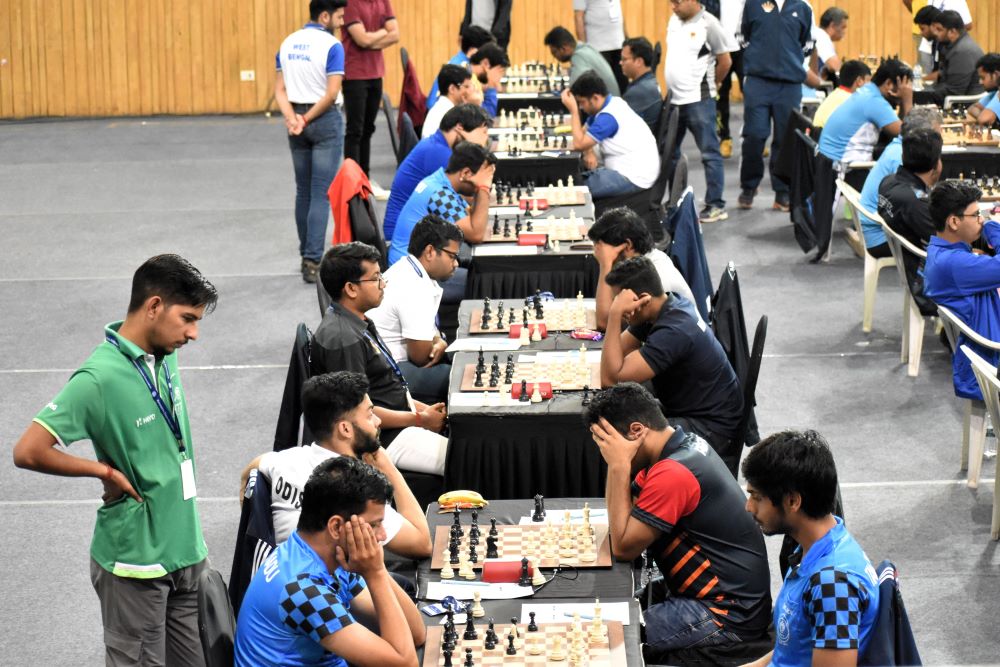 Some notable results
IM Nitin S (RSPB) - GM Surya Sekhar Ganguly (PSPB): 0.5-0.5
CM Soham Kamotra (J&K) - GM Diptayan Ghosh (WB): 0.5-0.5
GM Akash G (TN) - IM Praveen Kumar C (KAR): 0-1
FM Dhananjay S (CHAT) - GM Venkatesh M R (PSPB): 0.5-0.5
IM Anuj Shrivatri (MP) - Bhaavan Kolla (AP): 0.5-0.5
GM Visakh N R (RSPB) - Indrajeet Mahindrakar (MAH): 0.5-0.5
Ram S Krishnan (BSNL) - IM Mehar Chinna Reddy C H (RSPB): 0.5-0.5
IM D V Prasad (KAR) - Shriraj Bhosale (MAH): 0-1
Manas Gaikwad (MAH) - GM Sriram Jha (LIC): 0.5-0.5
Om Nagnath Lamkane (MAH) - IM Anup Deshmukh (LIC): 1-0
A total of 352 players including 18 GMs, 17 IMs and a WGM are taking part in this tournament from various states across the country. The eleven-round Swiss League Rating tournament is taking place at Boxing Hall, Shri Shiv Chhatrapati Sports Complex in Pune, Maharashtra from 16th to 26th August 2023. The time control of the event is 90 minutes for 40 moves followed by 30 minutes with an increment of 30 seconds from move no.1
Prizes
The total prize fund of the tournament is ₹3000000. The top three prizes are ₹600000, ₹500000 and ₹400000 each.
Replay Round 4 games
Round 4 results
| | | | | | | | | | | | | | | |
| --- | --- | --- | --- | --- | --- | --- | --- | --- | --- | --- | --- | --- | --- | --- |
| Bo. | No. | | Name | Rtg | Club/City | Pts. | Result | Pts. | | Name | Rtg | Club/City | No. | PGN |
| 1 | 2 | GM | Puranik, Abhimanyu | 2611 | AAI | 3 | 1 - 0 | 3 | IM | Das, Arghyadip | 2413 | RSPB | 20 | PGN |
| 2 | 22 | IM | Srihari, L R | 2407 | TN | 3 | 0 - 1 | 3 | GM | Sethuraman, S.P. | 2591 | PSPB | 3 | PGN |
| 3 | 24 | IM | Nitin, S. | 2386 | RSPB | 3 | ½ - ½ | 3 | GM | Ganguly, Surya Shekhar | 2583 | PSPB | 4 | PGN |
| 4 | 26 | CM | Soham, Kamotra | 2381 | J&K | 3 | ½ - ½ | 3 | GM | Ghosh, Diptayan | 2568 | WB | 5 | PGN |
| 5 | 8 | GM | Mitrabha, Guha | 2505 | WB | 3 | 1 - 0 | 3 | IM | Krishna, C R G | 2405 | RSPB | 23 | PGN |
| 6 | 30 | IM | Utsab, Chatterjee | 2322 | WB | 3 | 0 - 1 | 3 | GM | Iniyan, P | 2502 | TN | 9 | PGN |
| 7 | 10 | GM | Vignesh, N R | 2501 | RSPB | 3 | 1 - 0 | 3 | | Sahoo, Utkal Ranjan | 2367 | ODI | 27 | PGN |
| 8 | 40 | | Aakash Sharadchandra, Dalvi | 2196 | MAH | 3 | 0 - 1 | 3 | GM | Das, Sayantan | 2489 | RSPB | 11 | PGN |
| 9 | 12 | GM | Sengupta, Deep | 2474 | PSPB | 3 | 1 - 0 | 3 | CM | Nayak, Rajesh | 2194 | ODI | 41 | PGN |
| 10 | 14 | GM | Akash, G | 2456 | TN | 3 | 0 - 1 | 3 | IM | Praveen, Kumar C | 2167 | TN | 43 | PGN |
| 11 | 48 | FM | Dhananjay, S | 2133 | CHAT | 3 | ½ - ½ | 3 | GM | Venkatesh, M.R. | 2434 | PSPB | 17 | PGN |
| 12 | 18 | IM | Anuj, Shrivatri | 2420 | MP | 3 | ½ - ½ | 3 | | Kolla, Bhaavan | 1727 | AP | 161 | PGN |
| 13 | 6 | GM | Visakh, N R | 2540 | RSPB | 2½ | ½ - ½ | 2½ | | Mahindrakar, Indrajeet | 1996 | MAH | 67 | PGN |
| 14 | 56 | | Sinha, Sudhir Kumar | 2050 | BIH | 2½ | 0 - 1 | 2½ | IM | Aronyak, Ghosh | 2538 | RSPB | 7 | PGN |
| 15 | 60 | | Ajay, Santhosh Parvathareddy | 2034 | UP | 2½ | 0 - 1 | 2½ | IM | Shyaamnikhil, P | 2467 | RSPB | 13 | PGN |
| 16 | 70 | | Phatak, Aanjaneya | 1978 | MAH | 2½ | 0 - 1 | 2½ | GM | Deepan, Chakkravarthy J. | 2446 | RSPB | 15 | PGN |
| 17 | 16 | IM | Neelash, Saha | 2435 | RSPB | 2½ | 1 - 0 | 2½ | | Gawai, Siddhant | 1973 | MAH | 71 | PGN |
| 18 | 77 | | Mukund, Hemant Agarwal | 1950 | GUJ | 2½ | 0 - 1 | 2½ | GM | Vishnu, Prasanna. V | 2411 | TN | 21 | PGN |
| 19 | 82 | | Ram, S. Krishnan | 1941 | BSNL | 2½ | ½ - ½ | 2½ | IM | Mehar, Chinna Reddy C.H. | 2384 | RSPB | 25 | PGN |
| 20 | 32 | IM | Prasad, Devaki V | 2254 | KAR | 2½ | 0 - 1 | 2½ | | Bhosale, Shriraj | 1930 | MAH | 87 | PGN |
Standings after Round 4
| | | | | | | | | | | | | | |
| --- | --- | --- | --- | --- | --- | --- | --- | --- | --- | --- | --- | --- | --- |
| Rk. | SNo | | Name | sex | FED | Rtg | Club/City | Pts. | TB1 | TB2 | TB3 | TB4 | TB5 |
| 1 | 3 | GM | Sethuraman, S.P. | | IND | 2591 | PSPB | 4 | 9 | 11 | 11,00 | 0 | 4 |
| | 9 | GM | Iniyan, P | | IND | 2502 | TN | 4 | 9 | 11 | 11,00 | 0 | 4 |
| | 10 | GM | Vignesh, N R | | IND | 2501 | RSPB | 4 | 9 | 11 | 11,00 | 0 | 4 |
| 4 | 2 | GM | Puranik, Abhimanyu | | IND | 2611 | AAI | 4 | 8,5 | 10,5 | 10,50 | 0 | 4 |
| 5 | 11 | GM | Das, Sayantan | | IND | 2489 | RSPB | 4 | 8,5 | 9,5 | 9,50 | 0 | 4 |
| 6 | 43 | IM | Praveen, Kumar C | | IND | 2167 | TN | 4 | 8 | 9 | 9,00 | 0 | 4 |
| 7 | 8 | GM | Mitrabha, Guha | | IND | 2505 | WB | 4 | 7,5 | 9 | 9,00 | 0 | 4 |
| 8 | 12 | GM | Sengupta, Deep | | IND | 2474 | PSPB | 4 | 7,5 | 8,5 | 8,50 | 0 | 4 |
| 9 | 17 | GM | Venkatesh, M.R. | | IND | 2434 | PSPB | 3,5 | 9 | 11 | 9,25 | 0 | 3 |
| 10 | 48 | FM | Dhananjay, S | | IND | 2133 | CHAT | 3,5 | 9 | 10,5 | 8,75 | 0 | 3 |
| | 87 | | Bhosale, Shriraj | | IND | 1930 | MAH | 3,5 | 9 | 10,5 | 8,75 | 0 | 3 |
| 12 | 16 | IM | Neelash, Saha | | IND | 2435 | RSPB | 3,5 | 9 | 10 | 8,25 | 0 | 3 |
| 13 | 4 | GM | Ganguly, Surya Shekhar | | IND | 2583 | PSPB | 3,5 | 8,5 | 10,5 | 8,75 | 0 | 3 |
| | 33 | IM | Konguvel, Ponnuswamy | | IND | 2250 | PSPB | 3,5 | 8,5 | 10,5 | 8,75 | 0 | 3 |
| 15 | 21 | GM | Vishnu, Prasanna. V | | IND | 2411 | TN | 3,5 | 8 | 10,5 | 9,00 | 0 | 3 |
| 16 | 18 | IM | Anuj, Shrivatri | | IND | 2420 | MP | 3,5 | 8 | 9,5 | 8,00 | 0 | 3 |
| 17 | 5 | GM | Ghosh, Diptayan | | IND | 2568 | WB | 3,5 | 8 | 9,5 | 7,75 | 0,5 | 3 |
| | 26 | CM | Soham, Kamotra | | IND | 2381 | J&K | 3,5 | 8 | 9,5 | 7,75 | 0,5 | 3 |
| 19 | 36 | IM | Abhishek, Kelkar | | IND | 2217 | MAH | 3,5 | 8 | 9 | 7,25 | 0 | 3 |
| | 138 | | Nirnay, Garg | | IND | 1777 | HAR | 3,5 | 8 | 9 | 7,25 | 0 | 3 |
Round 5 pairings
| | | | | | | | | | | | | | |
| --- | --- | --- | --- | --- | --- | --- | --- | --- | --- | --- | --- | --- | --- |
| Bo. | No. | | Name | Rtg | Club/City | Pts. | Result | Pts. | | Name | Rtg | Club/City | No. |
| 1 | 11 | GM | Das, Sayantan | 2489 | RSPB | 4 | | 4 | GM | Puranik, Abhimanyu | 2611 | AAI | 2 |
| 2 | 3 | GM | Sethuraman, S.P. | 2591 | PSPB | 4 | | 4 | GM | Vignesh, N R | 2501 | RSPB | 10 |
| 3 | 43 | IM | Praveen, Kumar C | 2167 | TN | 4 | | 4 | GM | Mitrabha, Guha | 2505 | WB | 8 |
| 4 | 9 | GM | Iniyan, P | 2502 | TN | 4 | | 4 | GM | Sengupta, Deep | 2474 | PSPB | 12 |
| 5 | 4 | GM | Ganguly, Surya Shekhar | 2583 | PSPB | 3½ | | 3½ | CM | Soham, Kamotra | 2381 | J&K | 26 |
| 6 | 5 | GM | Ghosh, Diptayan | 2568 | WB | 3½ | | 3½ | IM | Konguvel, Ponnuswamy | 2250 | PSPB | 33 |
| 7 | 7 | IM | Aronyak, Ghosh | 2538 | RSPB | 3½ | | 3½ | FM | Wagh, Suyog | 2221 | MAH | 35 |
| 8 | 13 | IM | Shyaamnikhil, P | 2467 | RSPB | 3½ | | 3½ | IM | Abhishek, Kelkar | 2217 | MAH | 36 |
| 9 | 15 | GM | Deepan, Chakkravarthy J. | 2446 | RSPB | 3½ | | 3½ | FM | Dhananjay, S | 2133 | CHAT | 48 |
| 10 | 55 | CM | Nagare, Kaivalya Sandip | 2071 | MAH | 3½ | | 3½ | IM | Neelash, Saha | 2435 | RSPB | 16 |
| 11 | 17 | GM | Venkatesh, M.R. | 2434 | PSPB | 3½ | | 3½ | | Bhosale, Shriraj | 1930 | MAH | 87 |
| 12 | 169 | | Bhoopnath, | 1706 | BIH | 3½ | | 3½ | IM | Anuj, Shrivatri | 2420 | MP | 18 |
| 13 | 21 | GM | Vishnu, Prasanna. V | 2411 | TN | 3½ | | 3½ | | Nirnay, Garg | 1777 | HAR | 138 |
| 14 | 161 | | Kolla, Bhaavan | 1727 | AP | 3½ | | 3½ | IM | Nitin, S. | 2386 | RSPB | 24 |
| 15 | 1 | GM | Gupta, Abhijeet | 2625 | PSPB | 3 | | 3 | | Ram, S. Krishnan | 1941 | BSNL | 82 |
| 16 | 91 | | Kartik, Kumar Singh | 1925 | MAH | 3 | | 3 | GM | Visakh, N R | 2540 | RSPB | 6 |
| 17 | 93 | | Umashankar, A | 1920 | PUD | 3 | | 3 | GM | Akash, G | 2456 | TN | 14 |
| 18 | 19 | IM | Sidhant, Mohapatra | 2420 | RSPB | 3 | | 3 | | Mehta, Naitik R | 1931 | GUJ | 86 |
| 19 | 20 | IM | Das, Arghyadip | 2413 | RSPB | 3 | | 3 | | Jani, Kushal R | 1913 | GUJ | 94 |
| 20 | 101 | CM | Ebenezer, Joseph | 1866 | TN | 3 | | 3 | IM | Srihari, L R | 2407 | TN | 22 |
Links
---