60th National Championship 2023 R8: Sethuraman maintains his sole lead
GM Sethuraman S P (PSPB) defeated GM Visakh N R (RSPB) emphatically to maintain his sole lead 7.5/8. GM Iniyan P (TN) registered his second hat-trick of the event as he won against GM Abhimanyu Puranik (AAI). GM Diptayan Ghosh won the All-West Bengal clash against GM Mitrabha Guha. IM Aronyak Ghosh (RSPB) got the better of GM Deep Sengupta (PSPB) when the latter blundered in an equal endgame. IM Neelash Saha (RSPB) beat a Commonwealth Gold medalist for the second round in-a-row. Three out of the top five boards ended in 25 moves or less, all five of them were decisive. This certainly speaks volumes about the level of competitiveness among India's strong titled players. Sethuraman will be up against Aronyak in Round 9 which starts today at 3 p.m. IST. Photos: Siddhant Mahajan
25 moves or less
The ongoing FIDE World Cup is clearly inspiring a lot of players to give their best at this event. Because, everyone is aware that apart from high reward as cash prizes, the winner of the event earns an important spot at the next edition of FIDE World Cup.
Visakh - Sethuraman: 0-1
The only time GM Visakh N R (2540) defeated GM Sethuraman S P (2591) was in their very first encounter almost a decade ago. Their last encounter at 55th Biel Masters last year ended in a draw.
19.h5 actually did not launch White's attack first. It did the opposite Nxc2 20.Qxc2 b4 21.Ne2 b3 22.Qc5 bxa2+ 23.Kxa2 Qb8 24.Qc3 Nc4 25.Nc1 Re7 White did not even get an opportunity to attack on the kingside before Black gained a substantial advantage.
Abhimanyu - Iniyan: 0-1
GM Iniyan P (2502) has never beaten GM Abhimanyu Puranik (2611) in a rated game. After yesterday's immortal win over GM Venkatesh M R, Iniyan was definitely in good form.
In a complex queen, rook and two knights endgame, White blundered 35.Rxb7?? Ng5 36.Qxc6 Nfe4 and Black won the game in another four moves. Time trouble is likely the reason Black could not execute 36...Ng4.
Mitrabha - Diptayan: 0-1
The sole Classical rated game between GM Mitrabha Guha (WB, 2505) and GM Diptayan Ghosh (2568) took place over 4.5 years ago. Diptayan prevailed in that one. This time also the result was the same.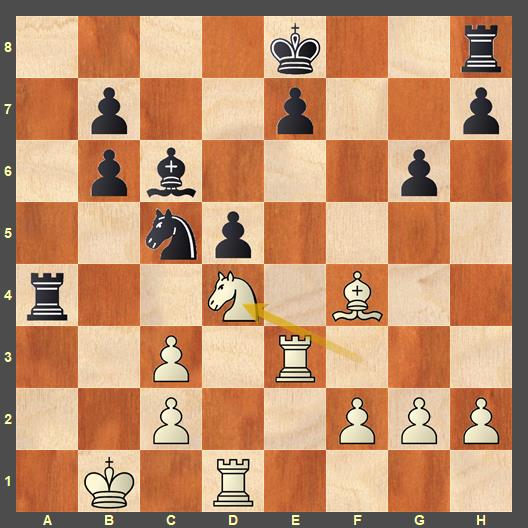 18.Nd4 turned out to be a positional mistake by White as Black castled his king away to safety and also cleared the path for his cornered rook at h8. 18...0-0 19.g3 Rfa8 20.Kc1 Ne4 21.Rxe4 Ra1+ 22.Kd2 Rxd1 23.Kxd1 dxe4 24.h4 Ra5 25.Be3 Bd5 and White did not have much to go on.
Aronyak - Deep: 1-0
IM Aronyak Ghosh (2538) won their first encounter against GM Deep Sengupta (2474) back in 2021, drew the second earlier this year. The third one was also heading towards a draw until the multi-time Hastings Masters winner made a minute inaccuracy in the rook and knight endgame.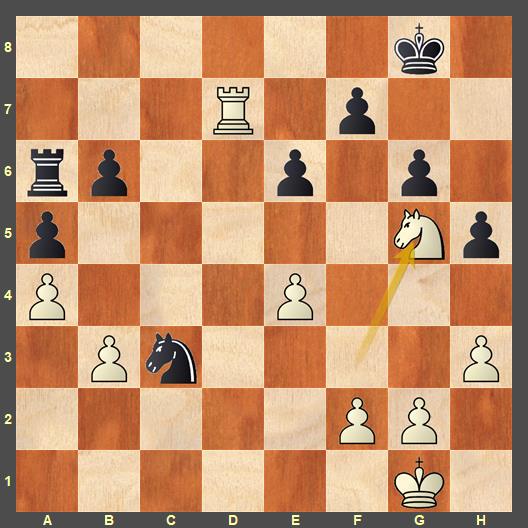 Here Black made the mistake of playing 36...f6?? which dropped the e6-pawn for free with a couple of checks 37.Rd8+ Kg7 40.Nxe6+ and White won the game eventually. 36...b5 would have continued the fight.
A total of 352 players including 18 GMs, 17 IMs and a WGM are taking part in this tournament from various states across the country. The eleven-round Swiss League Rating tournament is taking place at Boxing Hall, Shri Shiv Chhatrapati Sports Complex in Pune, Maharashtra from 16th to 26th August 2023. The time control of the event is 90 minutes for 40 moves followed by 30 minutes with an increment of 30 seconds from move no.1
Prizes
The total prize fund of the tournament is ₹3000000. The top three prizes are ₹600000, ₹500000 and ₹400000 each.
Replay Round 8 games
Round 8 results
| | | | | | | | | | | | | | | |
| --- | --- | --- | --- | --- | --- | --- | --- | --- | --- | --- | --- | --- | --- | --- |
| Bo. | No. | | Name | Rtg | Club/City | Pts. | Result | Pts. | | Name | Rtg | Club/City | No. | PGN |
| 1 | 6 | GM | Visakh, N R | 2540 | RSPB | 6 | 0 - 1 | 6½ | GM | Sethuraman, S.P. | 2591 | PSPB | 3 | PGN |
| 2 | 2 | GM | Puranik, Abhimanyu | 2611 | AAI | 6 | 0 - 1 | 6 | GM | Iniyan, P | 2502 | TN | 9 | PGN |
| 3 | 8 | GM | Mitrabha, Guha | 2505 | WB | 6 | 0 - 1 | 6 | GM | Ghosh, Diptayan | 2568 | WB | 5 | PGN |
| 4 | 7 | IM | Aronyak, Ghosh | 2538 | RSPB | 6 | 1 - 0 | 6 | GM | Sengupta, Deep | 2474 | PSPB | 12 | PGN |
| 5 | 16 | IM | Neelash, Saha | 2435 | RSPB | 6 | 1 - 0 | 5½ | IM | Shyaamnikhil, P | 2467 | RSPB | 13 | PGN |
| 6 | 4 | GM | Ganguly, Surya Shekhar | 2583 | PSPB | 5½ | ½ - ½ | 5½ | IM | Krishna, C R G | 2405 | RSPB | 23 | PGN |
| 7 | 10 | GM | Vignesh, N R | 2501 | RSPB | 5½ | 1 - 0 | 5½ | GM | Sriram, Jha | 2316 | LIC | 31 | PGN |
| 8 | 25 | IM | Mehar, Chinna Reddy C.H. | 2384 | RSPB | 5½ | 0 - 1 | 5½ | GM | Akash, G | 2456 | TN | 14 | PGN |
| 9 | 26 | CM | Soham, Kamotra | 2381 | J&K | 5½ | ½ - ½ | 5½ | GM | Deepan, Chakkravarthy J. | 2446 | RSPB | 15 | PGN |
| 10 | 41 | CM | Nayak, Rajesh | 2194 | ODI | 5½ | ½ - ½ | 5½ | IM | Anuj, Shrivatri | 2420 | MP | 18 | PGN |
| 11 | 52 | | Apoorv, Kamble | 2082 | KAR | 5½ | 0 - 1 | 5½ | GM | Vishnu, Prasanna. V | 2411 | TN | 21 | PGN |
| 12 | 22 | IM | Srihari, L R | 2407 | TN | 5½ | 1 - 0 | 5½ | | Vignesh, Advaith Vemula | 2018 | TEL | 62 | PGN |
| 13 | 20 | IM | Das, Arghyadip | 2413 | RSPB | 5 | 0 - 1 | 5½ | | Vedant, Garg | 1529 | CHD | 253 | PGN |
| 14 | 64 | | Imocha, Laishram | 2004 | PSPB | 5 | 0 - 1 | 5 | GM | Gupta, Abhijeet | 2625 | PSPB | 1 | PGN |
| 15 | 80 | | Setumadhav, Yellumahanthi | 1942 | AP | 5 | 0 - 1 | 5 | GM | Das, Sayantan | 2489 | RSPB | 11 | PGN |
| 16 | 82 | | Ram, S. Krishnan | 1941 | BSNL | 5 | ½ - ½ | 5 | GM | Venkatesh, M.R. | 2434 | PSPB | 17 | PGN |
| 17 | 98 | | Shankhodip, De | 1883 | WB | 5 | 0 - 1 | 5 | IM | Sidhant, Mohapatra | 2420 | RSPB | 19 | PGN |
| 18 | 150 | | Harsh, Himanshu | 1744 | BIH | 5 | 0 - 1 | 5 | | Sahoo, Utkal Ranjan | 2367 | ODI | 27 | PGN |
| 19 | 28 | GM | Laxman, R.R. | 2349 | RSPB | 5 | 1 - 0 | 5 | | Bharadia, Yash | 1997 | RAJ | 65 | PGN |
| 20 | 33 | IM | Konguvel, Ponnuswamy | 2250 | PSPB | 5 | ½ - ½ | 5 | | Lad, Mandar Pradip | 1954 | GOA | 75 | PGN |
Standings after Round 8
| | | | | | | | | | | | | | |
| --- | --- | --- | --- | --- | --- | --- | --- | --- | --- | --- | --- | --- | --- |
| Rk. | SNo | | Name | sex | FED | Rtg | Club/City | Pts. | TB1 | TB2 | TB3 | TB4 | TB5 |
| 1 | 3 | GM | Sethuraman, S.P. | | IND | 2591 | PSPB | 7,5 | 40,5 | 44,5 | 41,50 | 0 | 7 |
| 2 | 5 | GM | Ghosh, Diptayan | | IND | 2568 | WB | 7 | 37,5 | 41 | 35,25 | 0 | 6 |
| 3 | 7 | IM | Aronyak, Ghosh | | IND | 2538 | RSPB | 7 | 37,5 | 40,5 | 36,00 | 0 | 6 |
| 4 | 9 | GM | Iniyan, P | | IND | 2502 | TN | 7 | 36 | 40 | 34,00 | 0 | 7 |
| 5 | 16 | IM | Neelash, Saha | | IND | 2435 | RSPB | 7 | 35 | 38 | 33,25 | 0 | 6 |
| 6 | 10 | GM | Vignesh, N R | | IND | 2501 | RSPB | 6,5 | 39 | 42,5 | 32,25 | 0 | 6 |
| 7 | 21 | GM | Vishnu, Prasanna. V | | IND | 2411 | TN | 6,5 | 37 | 41 | 31,50 | 0 | 6 |
| 8 | 22 | IM | Srihari, L R | | IND | 2407 | TN | 6,5 | 36,5 | 40,5 | 30,25 | 0 | 6 |
| 9 | 14 | GM | Akash, G | | IND | 2456 | TN | 6,5 | 33,5 | 36,5 | 30,25 | 0 | 6 |
| 10 | 253 | | Vedant, Garg | | IND | 1529 | CHD | 6,5 | 32,5 | 36,5 | 29,75 | 0 | 5 |
| 11 | 12 | GM | Sengupta, Deep | | IND | 2474 | PSPB | 6 | 42 | 45,5 | 31,00 | 0 | 6 |
| 12 | 2 | GM | Puranik, Abhimanyu | | IND | 2611 | AAI | 6 | 40,5 | 44,5 | 30,75 | 0 | 5 |
| 13 | 4 | GM | Ganguly, Surya Shekhar | | IND | 2583 | PSPB | 6 | 39,5 | 43,5 | 31,75 | 0 | 4 |
| 14 | 8 | GM | Mitrabha, Guha | | IND | 2505 | WB | 6 | 39 | 42,5 | 29,00 | 0 | 5 |
| 15 | 15 | GM | Deepan, Chakkravarthy J. | | IND | 2446 | RSPB | 6 | 38 | 42 | 30,75 | 0 | 4 |
| 16 | 1 | GM | Gupta, Abhijeet | | IND | 2625 | PSPB | 6 | 38 | 41 | 28,00 | 0 | 6 |
| 17 | 161 | | Kolla, Bhaavan | | IND | 1727 | AP | 6 | 38 | 40 | 27,75 | 0 | 5 |
| 18 | 26 | CM | Soham, Kamotra | | IND | 2381 | J&K | 6 | 37 | 41,5 | 29,50 | 0 | 5 |
| 19 | 27 | | Sahoo, Utkal Ranjan | | IND | 2367 | ODI | 6 | 37 | 41 | 28,50 | 0 | 6 |
| 20 | 48 | FM | Dhananjay, S | | IND | 2133 | CHAT | 6 | 37 | 40,5 | 28,75 | 0 | 5 |
Round 9 pairings
| | | | | | | | | | | | | | |
| --- | --- | --- | --- | --- | --- | --- | --- | --- | --- | --- | --- | --- | --- |
| Bo. | No. | | Name | Rtg | Club/City | Pts. | Result | Pts. | | Name | Rtg | Club/City | No. |
| 1 | 3 | GM | Sethuraman, S.P. | 2591 | PSPB | 7½ | | 7 | IM | Aronyak, Ghosh | 2538 | RSPB | 7 |
| 2 | 5 | GM | Ghosh, Diptayan | 2568 | WB | 7 | | 7 | IM | Neelash, Saha | 2435 | RSPB | 16 |
| 3 | 9 | GM | Iniyan, P | 2502 | TN | 7 | | 6½ | GM | Vignesh, N R | 2501 | RSPB | 10 |
| 4 | 14 | GM | Akash, G | 2456 | TN | 6½ | | 6½ | IM | Srihari, L R | 2407 | TN | 22 |
| 5 | 21 | GM | Vishnu, Prasanna. V | 2411 | TN | 6½ | | 6½ | | Vedant, Garg | 1529 | CHD | 253 |
| 6 | 1 | GM | Gupta, Abhijeet | 2625 | PSPB | 6 | | 6 | CM | Soham, Kamotra | 2381 | J&K | 26 |
| 7 | 19 | IM | Sidhant, Mohapatra | 2420 | RSPB | 6 | | 6 | GM | Puranik, Abhimanyu | 2611 | AAI | 2 |
| 8 | 27 | | Sahoo, Utkal Ranjan | 2367 | ODI | 6 | | 6 | GM | Ganguly, Surya Shekhar | 2583 | PSPB | 4 |
| 9 | 23 | IM | Krishna, C R G | 2405 | RSPB | 6 | | 6 | GM | Visakh, N R | 2540 | RSPB | 6 |
| 10 | 59 | WGM | Kiran, Manisha Mohanty | 2044 | LIC | 6 | | 6 | GM | Mitrabha, Guha | 2505 | WB | 8 |
| 11 | 11 | GM | Das, Sayantan | 2489 | RSPB | 6 | | 6 | GM | Laxman, R.R. | 2349 | RSPB | 28 |
| 12 | 12 | GM | Sengupta, Deep | 2474 | PSPB | 6 | | 6 | | Kolla, Bhaavan | 1727 | AP | 161 |
| 13 | 15 | GM | Deepan, Chakkravarthy J. | 2446 | RSPB | 6 | | 6 | CM | Nayak, Rajesh | 2194 | ODI | 41 |
| 14 | 18 | IM | Anuj, Shrivatri | 2420 | MP | 6 | | 6 | FM | Dhananjay, S | 2133 | CHAT | 48 |
| 15 | 17 | GM | Venkatesh, M.R. | 2434 | PSPB | 5½ | | 6 | | Om, Nagnath Lamkane | 1786 | MAH | 133 |
| 16 | 13 | IM | Shyaamnikhil, P | 2467 | RSPB | 5½ | | 5½ | | Vignesh, Advaith Vemula | 2018 | TEL | 62 |
| 17 | 67 | | Mahindrakar, Indrajeet | 1996 | MAH | 5½ | | 5½ | IM | Nitin, S. | 2386 | RSPB | 24 |
| 18 | 75 | | Lad, Mandar Pradip | 1954 | GOA | 5½ | | 5½ | IM | Mehar, Chinna Reddy C.H. | 2384 | RSPB | 25 |
| 19 | 29 | GM | Karthikeyan, P. | 2325 | RSPB | 5½ | | 5½ | | Ajay, Santhosh Parvathareddy | 2034 | UP | 60 |
| 20 | 125 | | Tadam, Dupit | 1792 | ARU | 5½ | | 5½ | IM | Utsab, Chatterjee | 2322 | WB | 30 |
Links
---