55th Biel MTO R3: Aryan, Visakh and Pranav Anand score superb wins
As we slowly ease into the new normal after Covid-19 pandemic, we are once again back dominating the chess universe all over the globe. GM Aryan Chopra, GM Visakh N R and IM Pranav Anand scored fantastic wins over GM Vladimir Fedoseev, GM Kirill Shevchenko (UKR) and GM Maxime Lagarde (FRA) respectively. Thus, currently four Indians are sharing the lead at 55th Biel Chess Festival 2022 MTO, GM Abhimanyu Puranik along with the three victors mentioned before. Gukesh had a relatively quiet draw with Arkadij Naiditsch (AZE). GMT Round 3 and MTO Round 4 starts today at 2 p.m. local time (5:30 p.m. IST). Photo: Aditya Sur Roy
Four Indians share the lead 3/3
It would have been five Indians in the lead, if GM Bharath Subramaniyam H managed to convert his completely winning position into a win against GM Sethuraman S P. All four leaders are born on or after 1999, which reitarates that India's young talent has a lot of depth.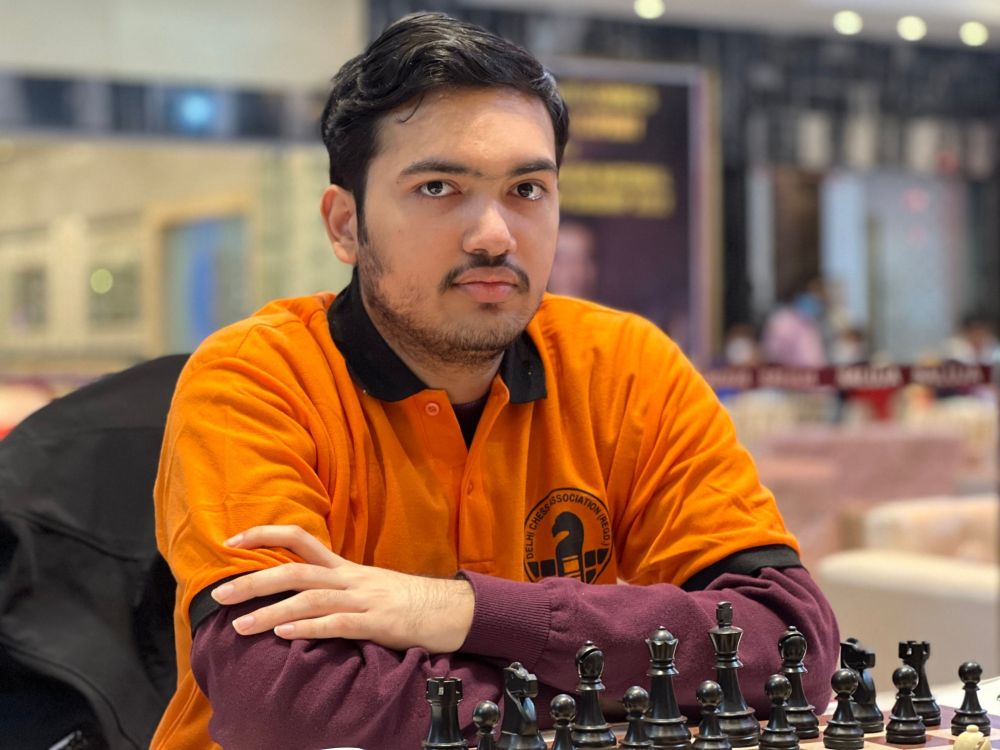 MTO: Aryan - Fedoseev: 1-0
GM Aryan Chopra (2610) got a substantial advantage out of the opening against GM Vladimir Fedoseev (2686). However, it was not easy to convert. He had to grind and wait for his opponent to go wrong.
Generally the combination of queen and knight is considered to be stronger than queen and bishop. The poorly placed bishop at e8 only exemplifies that notion. It would have taken a computer like accuracy for Black to defend the position as the machine suggests 75...Kd7 to be the only way to save the game for Black. It is certainly a counter-intuitive move as it blocks the only plausible diagonal for Black. 75...Kd7 was played. Aryan found the correct continuation 76.Qg8 Bg6+ the idea is to deflect the knight to get perpetual check. However, White is not going to fall for the cheap tricks. 77.Ke6! the Qxf4 does not work due to Qxg7+ and the bishop falls. White won the game in another 12 moves.
Shevchenko - Visakh: 0-1
GM Kirill Shevchenko (UKR, 2654) is a very strong player. GM Visakh N R (2503) is coming off a dominating triumph at 2nd San Leo Open 2022. He made his intentions clear about
While 10...g4 may not have culminated in a crushing attack on the kingside, it certainly had an overall positive effect for Black. When you launch an early attack and catch your opponent off-guard, it can certainly disorient and induce mistakes, positional errors in this particular game.
Lagarde - Pranav Anand: 0-1
GM Maxime Lagarde (FRA, 2631) made a few inaccurate positional decisions. IM Pranav Anand (2463) seized all his opportunities to score the win.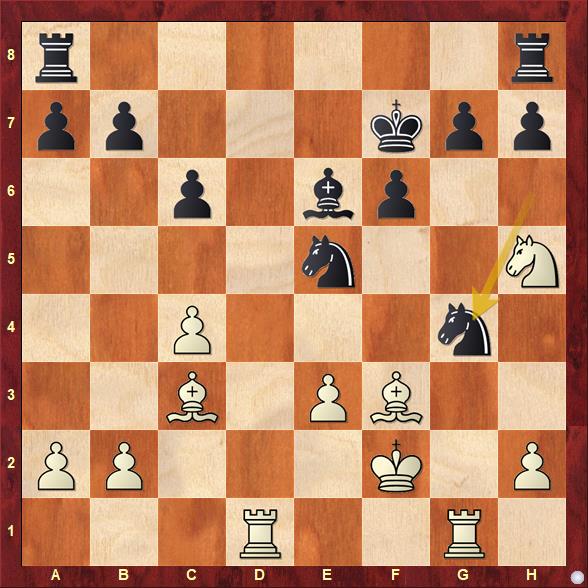 White had an opportunity to capture the e5-knight a few moves ago, 19.Bxe5 fxe5 20.Ng3 would have been comparatively better for White than what was played. After 22...Nhg4+, there is no good way for White to defend the position. So he opted to give up his exchange 23.Bxg4 Bxg4 24.Rxg4 Nxg4+ 25.Kf3 Ne5+ 26.Bxe5 fxe5 White has no counterplay and Black is completely winning.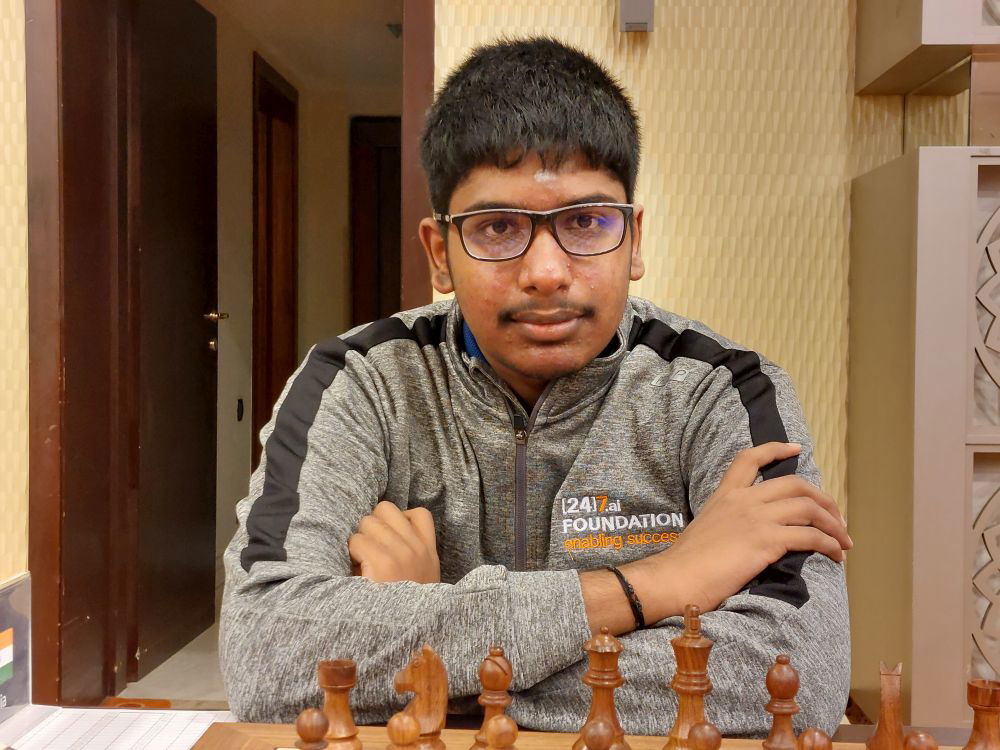 Replay the livestream
Scoring for Classical
Win - 4 points, Draw - 1.5 point and Loss - 0
Replay GMT Round 2 games
Round 2 results
Bo.
No.
Rtg
Name
Result
Name
Rtg
No.
1
8
2684
GM
Gukesh D
½ - ½
GM
Naiditsch Arkadij
2664
5
2
6
2682
GM
Esipenko Andrey
½ - ½
GM
Salem A.R. Saleh
2684
4
3
7
2655
GM
Kamsky Gata
½ - ½
GM
Keymer Vincent
2686
3
4
1
2688
GM
Abdusattorov Nodirbek
0 - 1
GM
Le Quang Liem
2722
2
Round 3 pairings
Bo.
No.
Rtg
Name
Result
Name
Rtg
No.
1
2
2722
GM
Le Quang Liem
GM
Gukesh D
2684
8
2
3
2686
GM
Keymer Vincent
GM
Abdusattorov Nodirbek
2688
1
3
4
2684
GM
Salem A.R. Saleh
GM
Kamsky Gata
2655
7
4
5
2664
GM
Naiditsch Arkadij
GM
Esipenko Andrey
2682
6
Overall standings
Links
---