Gukesh becomes the youngest Indian, third youngest in the world to cross 2700, now World no.32
The youngest Indian Grandmaster, D Gukesh is now the youngest Indian to cross 2700 Elo rating. At the age of 16 years and a little over 1.5 months, Gukesh became the third youngest in the world after Wei Yi and Alireza Firouzja to cross the magical rating barrier. He is the sixth Indian to achieve this incredible feat after Vishy Anand, Krishnan Sasikiran, Pentala Harikrishna, Vidit Gujrathi and B Adhiban. He defeated World Blitz 2013 champion, GM Liem Quang Le (VIE) to take his live rating to 2703.9 and become World #32. The calm and composed teenager has also emerged as the sole leader of the GMT with 16.5/26. GMT Round 4 starts Tuesday 19th July at 2 p.m. local time (5:30 p.m. IST). A total of 14-rounds of Blitz will be played today in a double round-robin format. Photo: Aditya Sur Roy, Stats: 2700chess.com
Gukesh keeps creating history
If the Covid-19 pandemic did not halt most of the chess tournaments around the world in 2020-21, GM D Gukesh perhaps would have crossed 2700 rating much earlier. Nevertheless, achieving this milestone at the tender age of 16 years and 1.5 months is fantastic anyway.
Liem - Gukesh: 0-4
GM Liem Quang Le (VIE, 2722) opted for the Queen's Gambit Exchange variation against GM D Gukesh (2684). The youngster struck at the first opportunity he got.
26...Bxa3 does not end the game immediately, it certainly gives an inkling about Black's intentions. White obviously cannot take it 27.bxa3 runs into Qxa3 followed by a barrage of attack on the white king.
Black declined multiple offers of a queen exchange. Soon he got a decisive advantage. 37...c3 is the straw that broke the camel's back. White's final line of defense, the b2-pawn was forced to be displaced. 38.bxc3 Qxb5+ and rest was just a matter of time for Black to score the victory.

How the chess universe reacted to Gukesh's incredible feat
Replay the livestream
Scoring for Classical
Win - 4 points, Draw - 1.5 point and Loss - 0
Replay GMT Round 3 games
Round 3 results
Bo.
No.
Rtg
Name
Result
Name
Rtg
No.
1
2
2722
GM
Le Quang Liem
0 - 1
GM
Gukesh D
2684
8
2
3
2686
GM
Keymer Vincent
½ - ½
GM
Abdusattorov Nodirbek
2688
1
3
4
2684
GM
Salem A.R. Saleh
1 - 0
GM
Kamsky Gata
2655
7
4
5
2664
GM
Naiditsch Arkadij
½ - ½
GM
Esipenko Andrey
2682
6
Round 4 pairings
Bo.
No.
Rtg
Name
Result
Name
Rtg
No.
1
8
2684
GM
Gukesh D
GM
Esipenko Andrey
2682
6
2
7
2655
GM
Kamsky Gata
GM
Naiditsch Arkadij
2664
5
3
1
2688
GM
Abdusattorov Nodirbek
GM
Salem A.R. Saleh
2684
4
4
2
2722
GM
Le Quang Liem
GM
Keymer Vincent
2686
3
Overall standings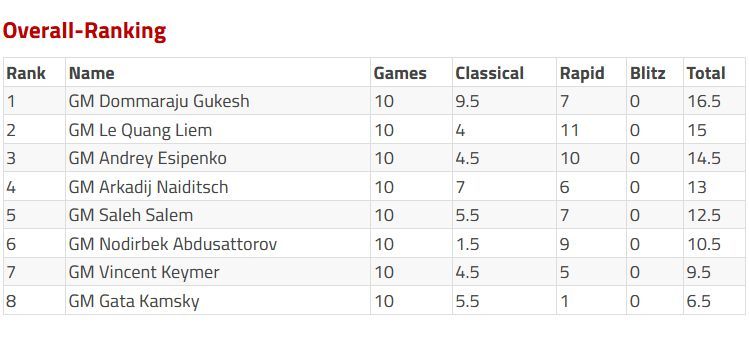 Links
---