Liem Quang Le wins 55th Biel GMT Rapid 2022
Liem Quang Le scored 11.0/14 to win the 55th Biel International Chess Festival GMT Rapid. He finished a full point ahead of Andrey Esipenko 10/14, whom Liem beat in the final round. Reigning World Rapid champion, Nodirbek Abdusattorov scored 9/14 to secure third place. Both D Gukesh and Salem Saleh made 7/14. They finished at tied fourth place. Today is a rest day for the GMT participants. Classical event Round 1 starts tomorrow 14th July from 2 p.m. local time (5:30 p.m. IST). Master Tournament (MTO) starts today at the same time. It will feature two Olympiad teammates of India, Surya Sekhar Ganguly and Sethuraman S P. Photo: Lennart Ootes
Gukesh secures fourth place
GM D Gukesh played really well in the GMT Rapid event. However, he missed a lot of chances to convert into a win, three to be exact. He drew them in Round 1 and 3 against Abudsattorov and Liem, lost the second round against Naiditsch. This is probably because adjusting to a different format of the game, Rapid, than what he is used to playing, Classical time control, is what caused a lot of missed wins. It has been over six months since Gukesh played a Rapid tournament and we all remember how amazing he performed at the World Rapid 2021. The GMT is far from over as the Classical event starts tomorrow and the Blitz event will take place on 17th July 2022.
Round 1: Gukesh - Abdusattorov: 1-1
D Gukesh had a promising position against Nodirbek Abdusattorov (UZB, 2670). However, it was not easy to convert his advantage practically.
Perhaps 36.Qf3 threatening g4 would have been a better continuation than 36.Qg5 Rc8 37.Re1 Qf6 38.Qxf6+ Kxf6 caused White's advantage to dissipate.
Round 2: Naiditsch - Gukesh: 2-0
Gukesh was completely winning against Azerbaijan no.4, Arkadij Naiditsch (2600).
29.Ke4 is a blunder. 29.Qc1 Bxf4 30.Qxf4 would have given White a fighting chance. 29...Qxg3 is the simplest way for Black to win it. However, sometimes a blind spot happens during a game especially when the clock is ticking down. 29...Bxf4 is still winning, it's just that Black will have to work more for a win. 30.Kxf4 Qh6+ 31.Kf3 and now trading the queens simplifies things for Black. Instead, he opted for 31...Re8 and missed a few more opportunities to exchange the queens. Despite having a decisive advantage for the better part of the endgame, a blunder in the end cost Gukesh the game.
Round 3: Gukesh - Liem: 1-1
Once again, Gukesh was completely winning in the endgame. However, this time the World Blitz 2013 champion, Liem Le Quang (VIE, 2626) managed to escape with a draw.
Find out the winning continuation for White after 48...axb3.
Round 5: Gukesh - Keymer: 2-0
Gukesh beat Vincent Keymer (GER, 2552) for the second consecutive day in a back and forth battle.
Round 7: Gukesh - Salem: 2-0
Gukesh finished the day with a win over UAE no.1 Salem Saleh (2655), avenging his previous day loss in Chess960.
Replay the livestream
Scoring for Rapid
Win - 2 points, Draw - 1 point and Loss - 0
Replay all games
Final Standings in Rapid
Overall standings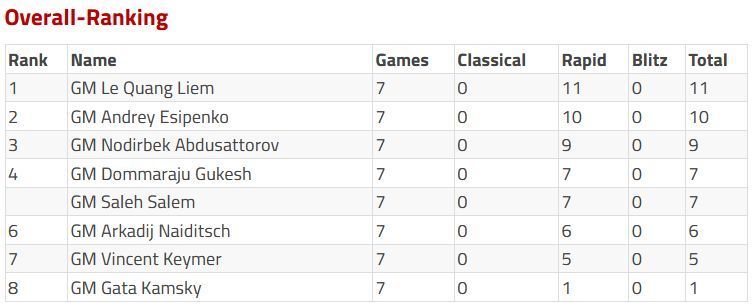 Links
---