Sportland NRW Cup 2023: Karthik Venkataraman second, Sparkassen Open: Leon Luke Mendonca third
Fabiano Caruana (USA) defeated Pavel Eljanov (UKR) in the final round to win NC World Masters 2023. WGM Dinara Wagner (GER) drew against IM Ruben Gideon Köllner (GER) to become the champion in Sportland NRW Cup and earn her second GM-norm. GM Karthik Venkataraman scored 6.5/9 to finish second. Germany no.3 GM Alexander Donchenko defeated GM Ori Kobo (ISR) in a 96-move long battle to win Sparkassen Chess Open A on tie-breaks. The sole leader GM Frederik Svane (GER) drew against IM Gleb Dudin to finish second. GM Leon Luke Mendonca finished with a score 7/9 to be placed third. GM Pranav Anand also made 7/9. He was placed seventh. GM Aryan Chopra and IM Rathanvel V S are the only two other Indians to make a top ten finish. They scored 6.5/9 each to secure eighth and tenth place respectively. Photos: Official site
Fabiano Caruana, Dinara Wagner and Alexander Donchenko are the winners of 50th International Dortmund Chess Days
The top three prizes in the Sparkassen Chess Trophy Open A were €5000, €3000 and €2000 each.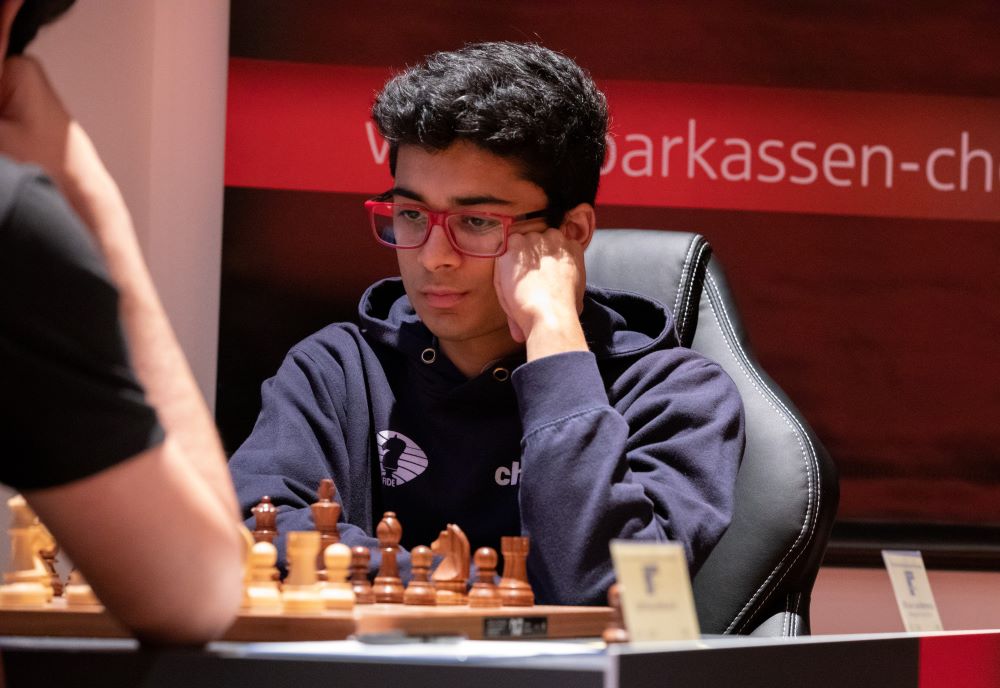 Bagrationi - Karthik, Sportland NRW Cup
GM Karthik Venkataraman (2548) already has a significant advantage against GM Alexander Bagrationi (ISR, 2454). 19.a3? provoked Black to expose the white king Nxa3! 20.bxa3 Qxa3+ 21.Qb2 Qxb2+ 22.Kxb2 b5 time for a pawn storm. 23.Ka2 c4 24.Bb1 b4 25.Nce4 c3 26.Nxc3 White decided to return the piece to reduce the sheer number of black pawns bxc3 27.Bxc3 Re3 28.Bxf6 Rxg3 29.Bxg7 Rxg2+ 30.Ka3 Kxg7 31.Rd4 Rb8 and it's over.
Aditya Samant - Josefine, Sparkassen Open
Move of the round has to be 32.Ng5+! by IM Aditya S Samant (2503) against WGM Josefine Heinemann (GER, 2276). White already had a fantastic position. 31...Nd7 allowed the beautiful 32.Ng5+ which gave him a decisive advantage. No matter how Black decides to take the knight, White is going to recapture 33.fxg5 and there is no good defense for her.
Replay Sportland NRW Cup Round 9 games
Replay Sparkassen Chess Trophy Open A Round 9 games
Replay NC World Masters Round 6 games
Sparkassen Chess Trophy Open A Round 9 results
| | | | | | | | | | | | | | |
| --- | --- | --- | --- | --- | --- | --- | --- | --- | --- | --- | --- | --- | --- |
| Bo. | No. | | | Name | Rtg | Pts. | Result | Pts. | | Name | Rtg | | No. |
| 1 | 23 | | IM | Dudin,Gleb, | 2486 | 6½ | ½ - ½ | 7 | GM | Svane,Frederik, | 2622 | | 9 |
| 2 | 15 | | GM | Kobo,Ori, | 2556 | 6 | 0 - 1 | 6½ | GM | Donchenko,Alexander, | 2667 | | 2 |
| 3 | 3 | | GM | Adams,Michael, | 2666 | 6 | 0 - 1 | 6 | GM | Prohaszka,Peter, | 2585 | | 12 |
| 4 | 6 | | GM | Aryan Chopra, | 2626 | 6 | ½ - ½ | 6 | GM | Raja Rithvik R, | 2488 | | 22 |
| 5 | 7 | | GM | Svane,Rasmus, | 2625 | 6 | 1 - 0 | 6 | GM | Raja Harshit, | 2510 | | 18 |
| 6 | 8 | | GM | Mendonca,Leon Luke, | 2623 | 6 | 1 - 0 | 6 | FM | Seemann,Jakub, | 2446 | | 31 |
| 7 | 17 | | GM | Pranav Anand, | 2510 | 6 | 1 - 0 | 6 | GM | Wagner,Dennis, | 2616 | | 10 |
| 8 | 32 | | IM | Guo,Arthur, | 2445 | 6 | ½ - ½ | 5½ | GM | Kamsky,Gata, | 2659 | | 5 |
| 9 | 1 | | GM | Blübaum,Matthias, | 2673 | 5½ | 1 - 0 | 5½ | GM | Akesson,Ralf, | 2402 | | 43 |
| 10 | 42 | | FM | Bilovil,Bogdan, | 2404 | 5½ | ½ - ½ | 5½ | GM | Ponomariov,Ruslan, | 2664 | | 4 |
Final standings
| | | | | | | | | | | | |
| --- | --- | --- | --- | --- | --- | --- | --- | --- | --- | --- | --- |
| Rk. | SNo | | | Name | FED | RtgI | RtgN | Club/City | Pts. | TB1 | TB2 |
| 1 | 2 | | GM | Donchenko,Alexander, | GER | 2667 | 2656 | OSG Baden-Baden | 7,5 | 52 | 390 |
| 2 | 9 | | GM | Svane,Frederik, | GER | 2603 | 2622 | Hamburger SK von 1830 eV | 7,5 | 52 | 381 |
| 3 | 8 | | GM | Mendonca,Leon Luke, | IND | 2623 | 2606 | Hamburger SK von 1830 eV | 7 | 51 | 378,5 |
| 4 | 7 | | GM | Svane,Rasmus, | GER | 2616 | 2625 | Hamburger SK von 1830 eV | 7 | 50 | 371 |
| 5 | 23 | | IM | Dudin,Gleb, | FID | 2486 | 2453 | SV Deggendorf | 7 | 47 | 366,5 |
| 6 | 12 | | GM | Prohaszka,Peter, | HUN | 2585 | 0 | | 7 | 45,5 | 362 |
| 7 | 17 | | GM | Pranav Anand, | IND | 2510 | 0 | | 7 | 44,5 | 357 |
| 8 | 6 | | GM | Aryan Chopra, | IND | 2626 | 0 | | 6,5 | 52 | 386,5 |
| 9 | 1 | | GM | Blübaum,Matthias, | GER | 2672 | 2673 | SF Deizisau | 6,5 | 50 | 380 |
| 10 | 25 | | IM | Rathanvel,V S, | IND | 2463 | 0 | | 6,5 | 49 | 356,5 |
NRW Cup Round 9 results
Bo.
No.
Rtg
Name
Result
Name
Rtg
No.
1
5
2326
FM
Schneider,Jana,
0 - 1
IM
Petrovskyi,Vadym,
2423
10
2
6
2429
IM
Köllner,Ruben Gideon,
½ - ½
WGM
Wagner,Dinara,
2447
4
3
7
2462
GM
Saltaev,Mihail,
½ - ½
FM
Besou,Hussain,
2325
3
4
8
2454
GM
Bagrationi,Alexander,
0 - 1
GM
Karthik Venkataraman,
2548
2
5
9
2419
IM
Souleidis,Georgios,
1 - 0
FM
De Winter,Arthur,
2378
1
Final standings
| | | | | | | | | | | |
| --- | --- | --- | --- | --- | --- | --- | --- | --- | --- | --- |
| Rk. | SNo | | | Name | FED | Rtg | Club/City | Pts. | TB1 | TB2 |
| 1 | 4 | | WGM | Wagner,Dinara, | GER | 2447 | SC Viernheim 1934 e.V. | 7 | 5 | 27,00 |
| 2 | 2 | | GM | Karthik Venkataraman, | IND | 2548 | | 6,5 | 5 | 25,25 |
| 3 | 6 | | IM | Köllner,Ruben Gideon, | GER | 2429 | SF Deizisau | 6,5 | 5 | 25,00 |
| 4 | 9 | | IM | Souleidis,Georgios, | GRE | 2419 | Hamburger SK von 1830 eV | 4,5 | 3 | 19,00 |
| 5 | 1 | | FM | De Winter,Arthur, | NED | 2378 | SV Erkenschwick 1923 e | 4,5 | 3 | 17,75 |
| 6 | 10 | | IM | Petrovskyi,Vadym, | UKR | 2423 | Sfr. Bad Emstal/Wolfhagen | 4,5 | 3 | 17,00 |
| 7 | 3 | | FM | Besou,Hussain, | GER | 2325 | LSV Turm Lippstadt | 4 | 1 | 15,50 |
| 8 | 8 | | GM | Bagrationi,Alexander, | ISR | 2454 | | 3,5 | 2 | 11,50 |
| 9 | 7 | | GM | Saltaev,Mihail, | UZB | 2462 | SV Mülheim-Nord 1931 e | 3 | 1 | 11,00 |
| 10 | 5 | | FM | Schneider,Jana, | GER | 2326 | SC Bavaria Regensburg von 1881 e | 1 | 0 | 3,50 |
NC World Masters Round 6 results
Final standings
| | | | | | | | | |
| --- | --- | --- | --- | --- | --- | --- | --- | --- |
| Rk. | SNo | | Name | Rtg | Club/City | Pts. | TB1 | TB2 |
| 1 | 3 | GM | Caruana,Fabiano, | 2773 | | 4 | 3 | 10,25 |
| 2 | 4 | GM | Kramnik,Vladimir, | 2753 | | 3,5 | 3 | 9,50 |
| 3 | 2 | GM | Kollars,Dmitrij, | 2618 | | 2,5 | 2 | 7,50 |
| 4 | 1 | GM | Eljanov,Pavel, | 2694 | | 2 | 1 | 6,25 |
Links
Sparkassen Chess Trophy 2023 tournaments
Sparkassen Chess Trophy on facebook, youtube, twitter and instagram
---