Sparkassen Chess Trophy 2023 R4: Aryan and Donchenko are the coleaders 4/4
GM Leon Luke Mendonca held Germany no.2 GM Matthias Bluebaum to a draw in the fourth round of Sparkassen Chess Trophy 2023 Open, part of 50th International Dortmund Chess Days. The teenager made a nice positional exchange sacrifice. The continuation to capitalize on his advantage was quite complex for human to find. Naturally, Leon did not play it and the game ended in a draw. GM Aryan Chopra defeated IM Arthur Guo (USA) after a 5.5 hour long battle to maintain his lead with GM Alexander Donchenko (GER) at 4/4 each. They will inevitably face each other in the fifth round. Defending NC World Masters champion, GM Dmitrij Kollars defeated the former world champion GM Vladimir Kramnik in a wild game. Round 5 Open and Sportland NRW Cup, Round 3 NC World Masters starts today at 3 p.m. local time, 6:30 p.m. IST. Photo: FI Niklesh Jain
Kollars beats Kramnik in a wild game
11-year-old FM Besou Hussain (GER, 2325) held GM Karthik Venkataraman (2548) to a draw. Karthik was lost for the better part of the endgame. However, he managed to use his experience and salvage a draw against the prodigy. IM Ruben Gideon Köllner (GER, 2429) defeated GM Mihal Saltaev (UZB, 2462) to emerge sole leader 3.5/4. Karthik is at 2.5/4.
Open Round 4: Leon - Bluebaum: 0.5-0.5
GM Leon Luke Mendonca (2623) faced the Germany no.2 GM Matthias Bluebaum (2672) only once before almost two years ago. The teenager lost that game. This time, he got himself a very good position.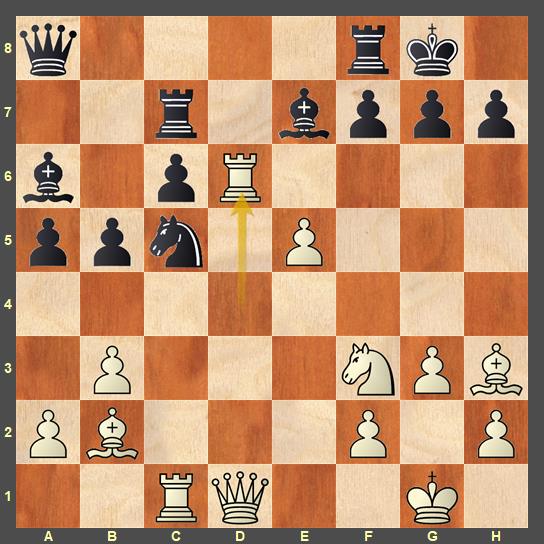 21.Rd6! is a nice interference. Black is forced to retreat his knight. Taking the rook results in Black losing two minor pieces for the rook and White ending up with a passed pawn on d6. 21...Ne6 22.Bxe6 fxe6 23.Nd4 because knight will be placed better on e6 than the rook. 23...Bxd6 24.exd6 Rd7 25.Nxe6 Rff7 26.Nc5 instead the computer suggest the inhuman 26.Nxg7! to be the best continuation for White. 26...Rxg7 27.Bxg7 and White can win the game due to the power of the strong passed pawn at d6. If Black decides against taking the knight and goes 26...c5 27.Ne6 Qf3 28.Qxf3 Rxf3 29.Be5 White maintains his decisive advantage. Well, Leon is human, thus the game ended in a draw.
Replay Sportland NRW Cup Round 4 games
Replay Sparkassen Chess Trophy Open A Round 4 games
Replay NC World Masters Round 2 games
Sparkassen Chess Trophy Open A Round 4 results
| | | | | | | | | | | | | | |
| --- | --- | --- | --- | --- | --- | --- | --- | --- | --- | --- | --- | --- | --- |
| Bo. | No. | | | Name | Rtg | Pts. | Result | Pts. | | Name | Rtg | | No. |
| 1 | 8 | | GM | Mendonca,Leon Luke, | 2623 | 3 | ½ - ½ | 3 | GM | Blübaum,Matthias, | 2673 | | 1 |
| 2 | 2 | | GM | Donchenko,Alexander, | 2667 | 3 | 1 - 0 | 3 | GM | Svane,Frederik, | 2622 | | 9 |
| 3 | 15 | | GM | Kobo,Ori, | 2556 | 3 | ½ - ½ | 3 | GM | Adams,Michael, | 2666 | | 3 |
| 4 | 6 | | GM | Aryan Chopra, | 2626 | 3 | 1 - 0 | 3 | IM | Guo,Arthur, | 2445 | | 32 |
| 5 | 4 | | GM | Ponomariov,Ruslan, | 2664 | 2½ | ½ - ½ | 2½ | IM | Vogel,Roven, | 2461 | | 27 |
| 6 | 35 | | IM | Muthaiah AL, | 2439 | 2½ | ½ - ½ | 2½ | GM | Svane,Rasmus, | 2625 | | 7 |
| 7 | 43 | | GM | Akesson,Ralf, | 2402 | 2½ | ½ - ½ | 2½ | GM | Safarli,Eltaj, | 2609 | | 11 |
| 8 | 67 | | FM | Woelk,Tom-Frederic, | 2330 | 2½ | ½ - ½ | 2½ | IM | Laurent-Paoli,Pierre, | 2572 | | 13 |
| 9 | 190 | | | Thieme,Daniel Otis, | 2091 | 3 | 0 - 1 | 2½ | GM | Pranav Anand, | 2510 | | 17 |
| 10 | 18 | | GM | Raja Harshit, | 2510 | 2½ | ½ - ½ | 2½ | IM | Materia,Marco, | 2436 | | 36 |
Standings after Round 4
| | | | | | | | | | | | |
| --- | --- | --- | --- | --- | --- | --- | --- | --- | --- | --- | --- |
| Rk. | SNo | | | Name | FED | Rtg | RtgN | Club/City | Pts. | TB1 | TB2 |
| 1 | 6 | | GM | Aryan Chopra, | IND | 2626 | 0 | | 4 | 9 | 26,5 |
| 2 | 2 | | GM | Donchenko,Alexander, | GER | 2667 | 2656 | OSG Baden-Baden | 4 | 7,5 | 28 |
| 3 | 8 | | GM | Mendonca,Leon Luke, | IND | 2623 | 2606 | Hamburger SK von 1830 eV | 3,5 | 9,5 | 26 |
| 4 | 1 | | GM | Blübaum,Matthias, | GER | 2673 | 2673 | SF Deizisau | 3,5 | 9,5 | 25,5 |
| 5 | 3 | | GM | Adams,Michael, | ENG | 2666 | 2631 | OSG Baden-Baden | 3,5 | 9 | 25 |
| | 15 | | GM | Kobo,Ori, | ISR | 2556 | 0 | | 3,5 | 9 | 25 |
| 7 | 17 | | GM | Pranav Anand, | IND | 2510 | 0 | | 3,5 | 7,5 | 26 |
| 8 | 25 | | IM | Rathanvel,V S, | IND | 2463 | 0 | | 3,5 | 6,5 | 26,5 |
| 9 | 20 | | IM | Samunenkov,Ihor, | UKR | 2499 | 0 | | 3,5 | 6,5 | 26 |
| 10 | 9 | | GM | Svane,Frederik, | GER | 2622 | 2622 | Hamburger SK von 1830 eV | 3 | 10 | 22 |
| 11 | 32 | | IM | Guo,Arthur, | USA | 2445 | 0 | | 3 | 9,5 | 23,5 |
| 12 | 52 | | IM | Colpe,Malte, | GER | 2382 | 2368 | Hamburger SK von 1830 eV | 3 | 9 | 23 |
| 13 | 13 | | IM | Laurent-Paoli,Pierre, | FRA | 2572 | 2572 | SC Ötigheim | 3 | 8,5 | 25,5 |
| | 43 | | GM | Akesson,Ralf, | SWE | 2402 | 0 | | 3 | 8,5 | 25,5 |
| 15 | 7 | | GM | Svane,Rasmus, | GER | 2625 | 2625 | Hamburger SK von 1830 eV | 3 | 8,5 | 25 |
| 16 | 35 | | IM | Muthaiah AL, | IND | 2439 | 0 | | 3 | 8,5 | 24,5 |
| 17 | 67 | | FM | Woelk,Tom-Frederic, | GER | 2330 | 2330 | Hamburger SK von 1830 eV | 3 | 8,5 | 24 |
| 18 | 26 | | IM | Feuerstack,Aljoscha, | GER | 2462 | 2456 | FC ST.Pauli 1910 eV SAbt | 3 | 8 | 25,5 |
| 19 | 16 | | GM | Bailet,Pierre, | FRA | 2513 | 0 | | 3 | 8 | 25 |
| | 19 | | IM | Samant Aditya S, | IND | 2503 | 0 | | 3 | 8 | 25 |
Round 5 pairings
| | | | | | | | | | | | | | |
| --- | --- | --- | --- | --- | --- | --- | --- | --- | --- | --- | --- | --- | --- |
| Bo. | No. | | | Name | Rtg | Pts. | Result | Pts. | | Name | Rtg | | No. |
| 1 | 6 | | GM | Aryan Chopra, | 2626 | 4 | | 4 | GM | Donchenko,Alexander, | 2667 | | 2 |
| 2 | 1 | | GM | Blübaum,Matthias, | 2673 | 3½ | | 3½ | GM | Kobo,Ori, | 2556 | | 15 |
| 3 | 3 | | GM | Adams,Michael, | 2666 | 3½ | | 3½ | IM | Samunenkov,Ihor, | 2499 | | 20 |
| 4 | 17 | | GM | Pranav Anand, | 2510 | 3½ | | 3½ | GM | Mendonca,Leon Luke, | 2623 | | 8 |
| 5 | 7 | | GM | Svane,Rasmus, | 2625 | 3 | | 3½ | IM | Rathanvel,V S, | 2463 | | 25 |
| 6 | 33 | | IM | Buckels,Valentin, | 2442 | 3 | | 3 | GM | Ponomariov,Ruslan, | 2664 | | 4 |
| 7 | 9 | | GM | Svane,Frederik, | 2622 | 3 | | 3 | IM | Muthaiah AL, | 2439 | | 35 |
| 8 | 36 | | IM | Materia,Marco, | 2436 | 3 | | 3 | GM | Wagner,Dennis, | 2616 | | 10 |
| 9 | 11 | | GM | Safarli,Eltaj, | 2609 | 3 | | 3 | IM | Wadsworth,Matthew J, | 2431 | | 37 |
| 10 | 39 | | IM | Parvanyan,Ashot, | 2425 | 3 | | 3 | GM | Prohaszka,Peter, | 2585 | | 12 |
NRW Cup Round 4 results
Bo.
No.
Rtg
Name
Result
Name
Rtg
No.
1
10
2423
IM
Petrovskiy,Vadim,
0 - 1
GM
Saltaev,Mihail,
2462
7
2
8
2454
GM
Bagrationi,Alexander,
0 - 1
IM
Köllner,Ruben Gideon,
2429
6
3
9
2419
IM
Souleidis,Georgios,
1 - 0
FM
Schneider,Jana,
2326
5
4
1
2378
FM
De Winter,Arthur,
½ - ½
WGM
Wagner,Dinara,
2447
4
5
2
2548
GM
Karthik Venkataraman,
½ - ½
FM
Besou,Hussain,
2325
3
Standings after Round 4
| | | | | | | | | | | |
| --- | --- | --- | --- | --- | --- | --- | --- | --- | --- | --- |
| Rk. | SNo | | | Name | FED | Rtg | Club/City | Pts. | TB1 | TB2 |
| 1 | 6 | | IM | Köllner,Ruben Gideon, | GER | 2429 | SF Deizisau | 3,5 | 3 | 3,75 |
| 2 | 9 | | IM | Souleidis,Georgios, | GRE | 2419 | Hamburger SK von 1830 eV | 3 | 2 | 5,75 |
| 3 | 4 | | WGM | Wagner,Dinara, | GER | 2447 | SC Viernheim 1934 e.V. | 3 | 2 | 4,50 |
| 4 | 2 | | GM | Karthik Venkataraman, | IND | 2548 | | 2,5 | 2 | 3,75 |
| 5 | 3 | | FM | Besou,Hussain, | GER | 2325 | LSV Turm Lippstadt | 2,5 | 1 | 4,25 |
| 6 | 10 | | IM | Petrovskiy,Vadim, | UKR | 2423 | Sfr. Bad Emstal/Wolfhagen | 1,5 | 1 | 2,75 |
| 7 | 7 | | GM | Saltaev,Mihail, | UZB | 2462 | SV Mülheim-Nord 1931 e | 1,5 | 1 | 1,75 |
| 8 | 8 | | GM | Bagrationi,Alexander, | ISR | 2454 | | 1 | 1 | 0,50 |
| 9 | 1 | | FM | De Winter,Arthur, | NED | 2378 | SV Erkenschwick 1923 e | 1 | 0 | 2,75 |
| 10 | 5 | | FM | Schneider,Jana, | GER | 2326 | SC Bavaria Regensburg von 1881 e | 0,5 | 0 | 0,75 |
Round 5 pairings
Bo.
No.
Rtg
Name
Result
Name
Rtg
No.
1
3
2325
FM
Besou,Hussain,
IM
Petrovskiy,Vadim,
2423
10
2
4
2447
WGM
Wagner,Dinara,
GM
Karthik Venkataraman,
2548
2
3
5
2326
FM
Schneider,Jana,
FM
De Winter,Arthur,
2378
1
4
6
2429
IM
Köllner,Ruben Gideon,
IM
Souleidis,Georgios,
2419
9
5
7
2462
GM
Saltaev,Mihail,
GM
Bagrationi,Alexander,
2454
8
NC World Masters Round 2 results
Standings after Round 2
| | | | | | | | | |
| --- | --- | --- | --- | --- | --- | --- | --- | --- |
| Rk. | SNo | | Name | Rtg | Club/City | Pts. | TB1 | TB2 |
| 1 | 3 | GM | Caruana,Fabiano, | 2773 | | 1,5 | 1 | 1,25 |
| 2 | 2 | GM | Kollars,Dmitrij, | 2618 | | 1 | 1 | 1,00 |
| 3 | 4 | GM | Kramnik,Vladimir, | 2753 | | 1 | 1 | 0,50 |
| 4 | 1 | GM | Eljanov,Pavel, | 2694 | | 0,5 | 0 | 0,75 |
Round 3 pairings
Links
Sparkassen Chess Trophy 2023 tournaments
Sparkassen Chess Trophy on facebook, youtube, twitter and instagram
---