Sparkassen Chess Trophy 2023 R1-3: Aryan Chopra and Leon Luke Mendonca win three in-a-row
The historic 50th International Dortmund Chess Days is having four tournaments in which a combined total of 568 players are taking part. 326 in Sparkassen Chess Trophy Open A, 228 in Open B, ten in Sportland NRW Cup and four in NC World Masters 2023 from a total of 43 countries across the world. GM Aryan Chopra and GM Leon Luke Mendonca are in an eight-pack lead with GM Matthias Bluebaum (GER), GM Alexander Donchenko (GER), GM Michael Adams (ENG), GM Frederik Svane (GER), GM Ori Kobo (ISR) and IM Arthur Guo (USA) with a perfect 3/3. GM Karthik Venkataraman is the sole Indian in the Sportland NRW Cup. He won two games in-a-row after starting the event with a loss. GM Vladimir Kramnik and GM Fabiano Caruana won their first games of the NC World Masters. Photo: FI Niklesh Jain
Karthik Venkataraman bounces back
Sportland NRW Cup Round 2: Arthur - Karthik: 0-1
The reigning National Senior champion, GM Karthik Venkataraman (2548) bounced back from a first-round loss by winning a sharp battle against FM Arthur De Winter (NED, 2378).
White sacrificed his knight on d4 to launch an attack on the kingside. 26.Kg2 Nxd4 27.Rh1 f5 28.gxf6 Qxc2! 29.fxg7 Qe4+ 30.Kf1 Qe2+ 31. Kg2 Qe4+ players repeated moves once to gain some time then 32.Kf1 Qf5 33.Qh8+ Kf7 34.g8Q+ Rxg8 35.Rh7+ Ke7 36.Rxa6+ White threw everything at the black king to salvage something. 36...Ndc6 Black showed his resilience and won the game in the next few moves.
In the third round, GM Karthik Venkataraman defeated IM Vadim Petrovskiy (UKR, 2423) comfortably to take his score to 2/3.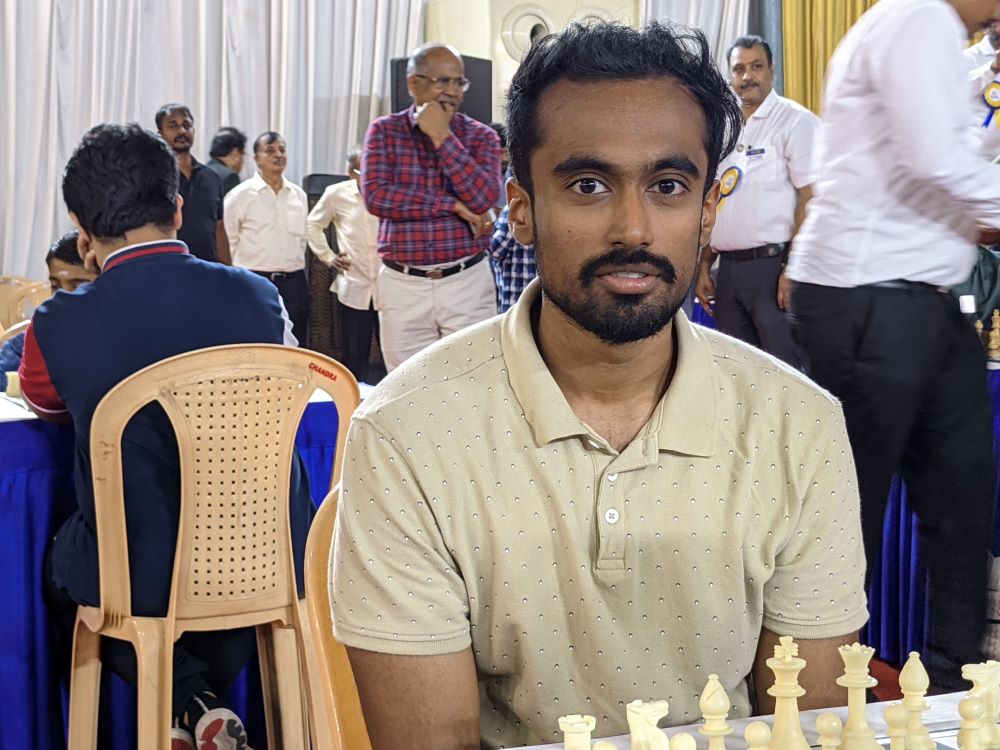 Bluebaum - Raja Rithvik, Round 3
49...e3 50.Re5 e2 51.Kb6 Kd7 52.g5 Rg2 saves the game for Black. The idea behind it is, Black will give up the e-pawn to gain the c-pawn. Thus, getting a draw would be easier. However, this is not something easy to find over-the-board when the clock is ticking down. 49...Rf4?? 50.Rd5+ better was Kc6. 50...Kc7 51.g5 e3 52.Re5 Rg4?? 53.Re7+ Kc8 54.c6 and it's over. The key idea to saving the game was to exchange the e-pawn with White's c-pawn instead of the g-pawn. The reason behind that is simple, the g-pawn is farthest from the white king and promotion square. Hence, it becomes difficult for White to use it to his advantage and win the game.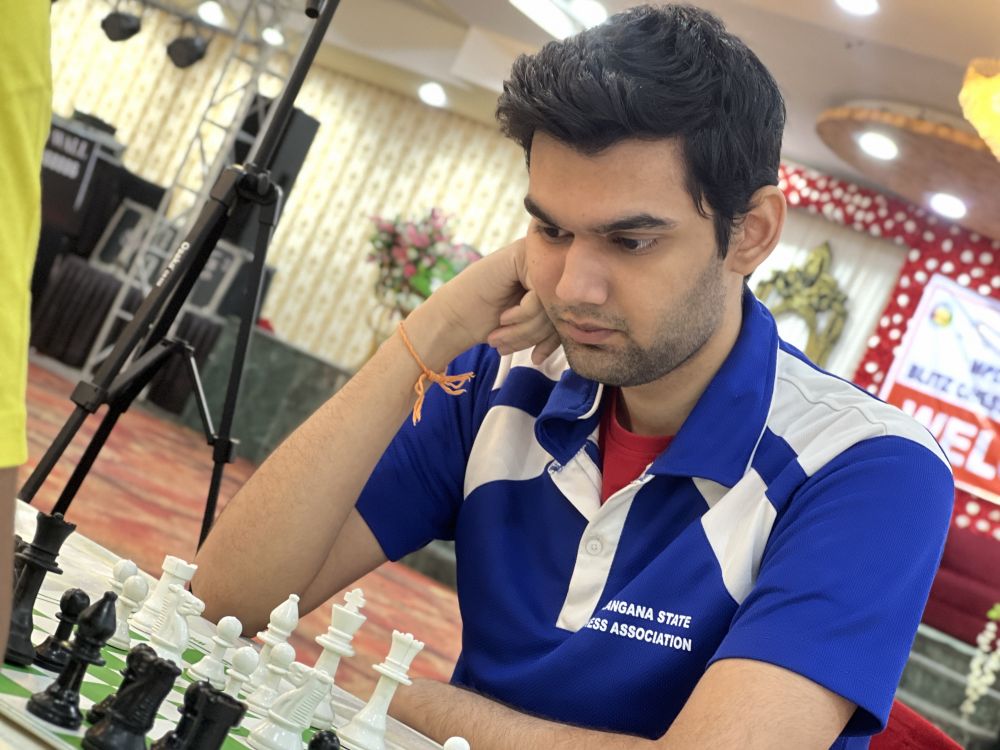 Aditya Samant - Priyanka Nutakki, Round 3
IM Aditya Samant (2503) made an inaccuracy 16.Nh4. His opponent, WGM Priyanka Nutakki (2352) correctly found 16...Nc5! which started a series of chain exchange 17.Rxe8+ Qxe8 18.Nxg6 Nxd3 19.Be3 Ne1 20.Qe2 and now Black needed to play Nxg2 first. She went 20...hxg6 21.Nc3 Nxg2 and the effect is not the same. White developed his knight with a tempo and the d5-pawn can no longer be defended.
Replay Sportland NRW Cup Round 1-3 games
Replay Sparkassen Chess Trophy Open A Round 1-3 games
Replay NC World Masters Round 1 games
Sparkassen Chess Trophy Open A Round 3 results
| | | | | | | | | | | | | | |
| --- | --- | --- | --- | --- | --- | --- | --- | --- | --- | --- | --- | --- | --- |
| Bo. | No. | | | Name | Rtg | Pts. | Result | Pts. | | Name | Rtg | | No. |
| 1 | 1 | | GM | Blübaum,Matthias, | 2673 | 2 | 1 - 0 | 2 | GM | Raja Rithvik R, | 2488 | | 22 |
| 2 | 23 | | IM | Dudin,Gleb, | 2486 | 2 | 0 - 1 | 2 | GM | Donchenko,Alexander, | 2667 | | 2 |
| 3 | 3 | | GM | Adams,Michael, | 2666 | 2 | 1 - 0 | 2 | IM | Janzelj,Tim, | 2453 | | 29 |
| 4 | 26 | | IM | Feuerstack,Aljoscha, | 2462 | 2 | 0 - 1 | 2 | GM | Aryan Chopra, | 2626 | | 6 |
| 5 | 30 | | IM | Willow,Jonah B, | 2447 | 2 | 0 - 1 | 2 | GM | Mendonca,Leon Luke, | 2623 | | 8 |
| 6 | 9 | | GM | Svane,Frederik, | 2622 | 2 | 1 - 0 | 2 | IM | Buckels,Valentin, | 2442 | | 33 |
| 7 | 32 | | IM | Guo,Arthur, | 2445 | 2 | 1 - 0 | 2 | GM | Prohaszka,Peter, | 2585 | | 12 |
| 8 | 13 | | IM | Laurent-Paoli,Pierre, | 2572 | 2 | ½ - ½ | 2 | IM | Muthaiah AL, | 2439 | | 35 |
| 9 | 15 | | GM | Kobo,Ori, | 2556 | 2 | 1 - 0 | 2 | IM | Wadsworth,Matthew J, | 2431 | | 37 |
| 10 | 17 | | GM | Pranav Anand, | 2510 | 2 | ½ - ½ | 2 | WIM | Dolzhykova,Kateryna, | 2329 | | 68 |
Standings after Round 3
| | | | | | | | | | | | |
| --- | --- | --- | --- | --- | --- | --- | --- | --- | --- | --- | --- |
| Rk. | SNo | | | Name | FED | Rtg | RtgN | Club/City | Pts. | TB1 | TB2 |
| 1 | 2 | | GM | Donchenko,Alexander, | GER | 2667 | 2656 | OSG Baden-Baden | 3 | 4 | 10 |
| | 3 | | GM | Adams,Michael, | ENG | 2666 | 2631 | OSG Baden-Baden | 3 | 4 | 10 |
| | 6 | | GM | Aryan Chopra, | IND | 2626 | 0 | | 3 | 4 | 10 |
| 4 | 1 | | GM | Blübaum,Matthias, | GER | 2673 | 2673 | SF Deizisau | 3 | 4 | 9,5 |
| | 8 | | GM | Mendonca,Leon Luke, | IND | 2623 | 2606 | Hamburger SK von 1830 eV | 3 | 4 | 9,5 |
| | 9 | | GM | Svane,Frederik, | GER | 2622 | 2622 | Hamburger SK von 1830 eV | 3 | 4 | 9,5 |
| | 15 | | GM | Kobo,Ori, | ISR | 2556 | 0 | | 3 | 4 | 9,5 |
| 8 | 32 | | IM | Guo,Arthur, | USA | 2445 | 0 | | 3 | 3,5 | 10 |
| 9 | 190 | | | Thieme,Daniel Otis, | GER | 2091 | 2091 | FC ST.Pauli 1910 eV SAbt | 3 | 1 | 10,5 |
| 10 | 17 | | GM | Pranav Anand, | IND | 2510 | 0 | | 2,5 | 4,5 | 9,5 |
| 11 | 13 | | IM | Laurent-Paoli,Pierre, | FRA | 2572 | 2572 | SC Ötigheim | 2,5 | 4,5 | 9 |
| | 68 | | WIM | Dolzhykova,Kateryna, | GER | 2329 | 2329 | SV Oberursel | 2,5 | 4,5 | 9 |
| 13 | 43 | | GM | Akesson,Ralf, | SWE | 2402 | 0 | | 2,5 | 4,5 | 8,5 |
| 14 | 7 | | GM | Svane,Rasmus, | GER | 2625 | 2625 | Hamburger SK von 1830 eV | 2,5 | 4 | 9,5 |
| | 18 | | GM | Raja Harshit, | IND | 2510 | 0 | | 2,5 | 4 | 9,5 |
| 16 | 4 | | GM | Ponomariov,Ruslan, | UKR | 2664 | 0 | | 2,5 | 4 | 9 |
| | 35 | | IM | Muthaiah AL, | IND | 2439 | 0 | | 2,5 | 4 | 9 |
| | 38 | | | Jinan Jomon, | IND | 2428 | 0 | | 2,5 | 4 | 9 |
| 19 | 27 | | IM | Vogel,Roven, | GER | 2461 | 2461 | USV TU Dresden | 2,5 | 3,5 | 10 |
| 20 | 11 | | GM | Safarli,Eltaj, | AZE | 2609 | 0 | | 2,5 | 3,5 | 9,5 |
Round 4 pairings
| | | | | | | | | | | | | | |
| --- | --- | --- | --- | --- | --- | --- | --- | --- | --- | --- | --- | --- | --- |
| Bo. | No. | | | Name | Rtg | Pts. | Result | Pts. | | Name | Rtg | | No. |
| 1 | 8 | | GM | Mendonca,Leon Luke, | 2623 | 3 | | 3 | GM | Blübaum,Matthias, | 2673 | | 1 |
| 2 | 2 | | GM | Donchenko,Alexander, | 2667 | 3 | | 3 | GM | Svane,Frederik, | 2622 | | 9 |
| 3 | 15 | | GM | Kobo,Ori, | 2556 | 3 | | 3 | GM | Adams,Michael, | 2666 | | 3 |
| 4 | 6 | | GM | Aryan Chopra, | 2626 | 3 | | 3 | IM | Guo,Arthur, | 2445 | | 32 |
| 5 | 4 | | GM | Ponomariov,Ruslan, | 2664 | 2½ | | 2½ | IM | Vogel,Roven, | 2461 | | 27 |
| 6 | 35 | | IM | Muthaiah AL, | 2439 | 2½ | | 2½ | GM | Svane,Rasmus, | 2625 | | 7 |
| 7 | 43 | | GM | Akesson,Ralf, | 2402 | 2½ | | 2½ | GM | Safarli,Eltaj, | 2609 | | 11 |
| 8 | 67 | | FM | Woelk,Tom-Frederic, | 2330 | 2½ | | 2½ | IM | Laurent-Paoli,Pierre, | 2572 | | 13 |
| 9 | 190 | | | Thieme,Daniel Otis, | 2091 | 3 | | 2½ | GM | Pranav Anand, | 2510 | | 17 |
| 10 | 18 | | GM | Raja Harshit, | 2510 | 2½ | | 2½ | IM | Materia,Marco, | 2436 | | 36 |
NRW Cup Round 3 results
Bo.
No.
Rtg
Name
Result
Name
Rtg
No.
1
2
2548
GM
Karthik Venkataraman,
1 - 0
IM
Petrovskiy,Vadim,
2423
10
2
3
2325
FM
Besou,Hussain,
½ - ½
FM
De Winter,Arthur,
2378
1
3
4
2447
WGM
Wagner,Dinara,
½ - ½
IM
Souleidis,Georgios,
2419
9
4
5
2326
FM
Schneider,Jana,
0 - 1
GM
Bagrationi,Alexander,
2454
8
5
6
2429
IM
Köllner,Ruben Gideon,
1 - 0
GM
Saltaev,Mihail,
2462
7
Standings after Round 3
| | | | | | | | | | | |
| --- | --- | --- | --- | --- | --- | --- | --- | --- | --- | --- |
| Rk. | SNo | | | Name | FED | Rtg | Club/City | Pts. | TB1 | TB2 |
| 1 | 4 | | WGM | Wagner,Dinara, | GER | 2447 | SC Viernheim 1934 e.V. | 2,5 | 2 | 2,50 |
| 2 | 6 | | IM | Köllner,Ruben Gideon, | GER | 2429 | SF Deizisau | 2,5 | 2 | 1,75 |
| 3 | 2 | | GM | Karthik Venkataraman, | IND | 2548 | | 2 | 2 | 2,00 |
| 4 | 9 | | IM | Souleidis,Georgios, | GRE | 2419 | Hamburger SK von 1830 eV | 2 | 1 | 4,25 |
| 5 | 3 | | FM | Besou,Hussain, | GER | 2325 | LSV Turm Lippstadt | 2 | 1 | 2,25 |
| 6 | 10 | | IM | Petrovskiy,Vadim, | UKR | 2423 | Sfr. Bad Emstal/Wolfhagen | 1,5 | 1 | 1,75 |
| 7 | 8 | | GM | Bagrationi,Alexander, | ISR | 2454 | | 1 | 1 | 0,50 |
| 8 | 1 | | FM | De Winter,Arthur, | NED | 2378 | SV Erkenschwick 1923 e | 0,5 | 0 | 1,00 |
| 9 | 5 | | FM | Schneider,Jana, | GER | 2326 | SC Bavaria Regensburg von 1881 e | 0,5 | 0 | 0,25 |
| | 7 | | GM | Saltaev,Mihail, | UZB | 2462 | SV Mülheim-Nord 1931 e | 0,5 | 0 | 0,25 |
Round 4 pairings
Bo.
No.
Rtg
Name
Result
Name
Rtg
No.
1
10
2423
IM
Petrovskiy,Vadim,
GM
Saltaev,Mihail,
2462
7
2
8
2454
GM
Bagrationi,Alexander,
IM
Köllner,Ruben Gideon,
2429
6
3
9
2419
IM
Souleidis,Georgios,
FM
Schneider,Jana,
2326
5
4
1
2378
FM
De Winter,Arthur,
WGM
Wagner,Dinara,
2447
4
5
2
2548
GM
Karthik Venkataraman,
FM
Besou,Hussain,
2325
3
NC World Masters Round 1 results
Round 2 pairings
Links
Sparkassen Chess Trophy 2023 tournaments
Sparkassen Chess Trophy on facebook, youtube, twitter and instagram
---