Frederik Svane on the verge of winning Sparkassen Chess Trophy Open 2023
GM Frederik Svane (GER) defeated GM Aryan Chopra to emerge sole leader 7/8 at Sparkassen Chess Open A 2023. He is now a half point ahead of GM Alexander Donchenko (GER) and IM Gleb Dudin. Aryan, GM Leon Luke Mendonca, GM Raja Rithvik R, GM Harshit Raja and GM Pranav Anand are the five Indians at 6/8 each. IM Muthiah Al and IM Sammed Jaykumar Shete held Germany no.2 GM Matthias Bluebaum and FIDE World Cup 2007 winner GM Gata Kamsky to a draw each. Muthiah played solid throughout the game. Fabiano Caruana and Dmitrij Kollars defeated Vladimir Kramnik and Pavel Eljanov respectively. Caruana is once again the sole leader in the NC World Masters. A GM-norm is guaranteed to be scored at Sportland NRW Cup in the final round. Round 9 Open and Sportland NRW Cup, NC World Masters Round 6 starts today at 1:30 p.m. local time, 5 p.m. IST. Photos: Official site
Sportland NRW Cup: Karthik beats Saltaev
The sole leader of Sportland NRW Cup, WGM Dinara Wagner (GER) needs a draw in the final round to secure her second GM-norm. Her opponent, IM Ruben Gideon Köllner (GER) needs to win to earn his second GM-norm.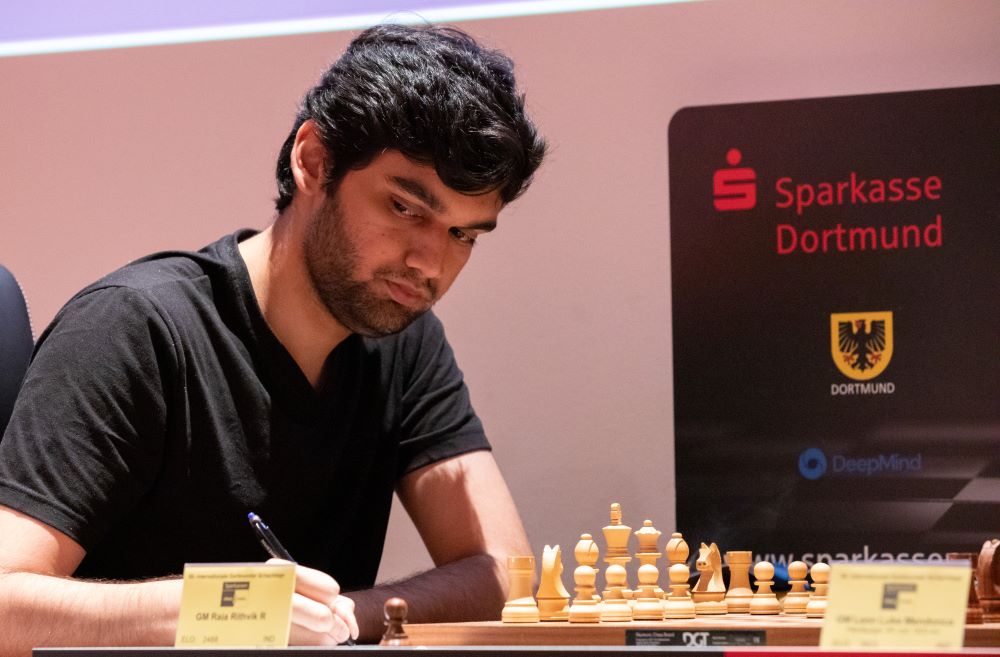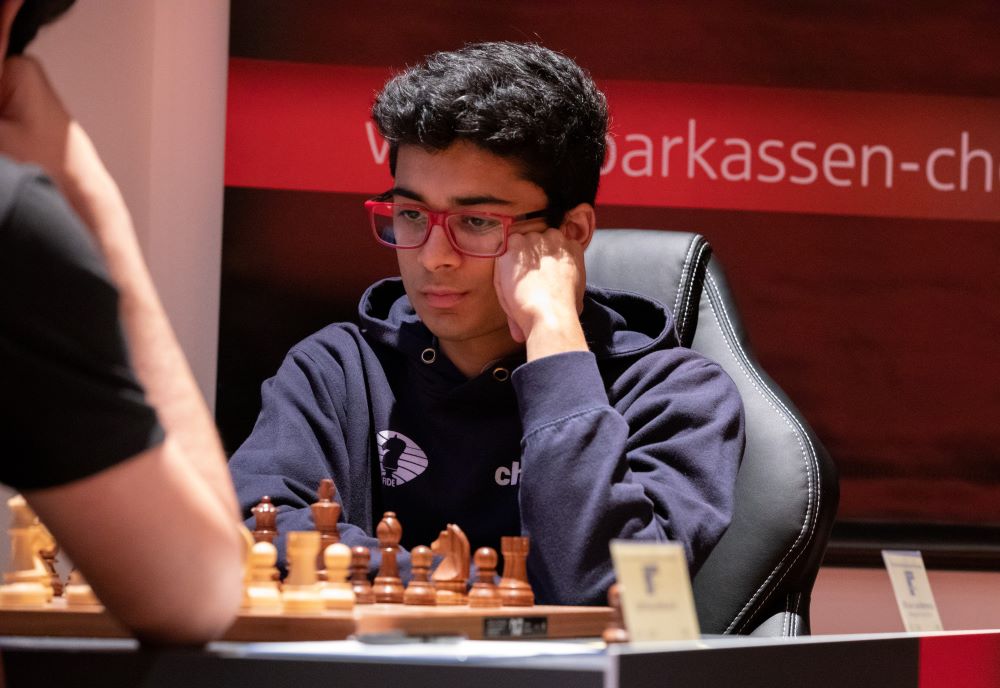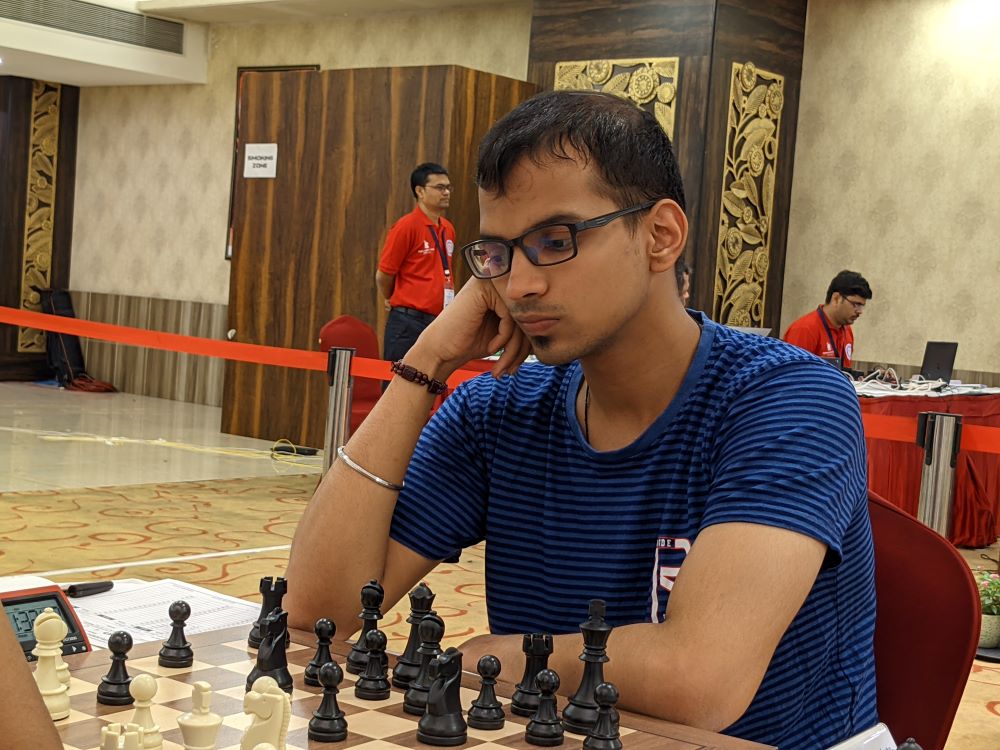 Karthik - Saltaev, NRW Sportland Cup
GM Karthik Venkataraman (2548) launched a brutal attack on his opponent GM Mihail Saltaev's (UZB, 2462) kingside with a knight sacrifice 20.Nxh6+! gxh6 21.Qg3+ Kh7 22.Bxh6 a nice double attack - threatening checkmate at g7 and also the queen 22...Nf5 23.Qf3 Qc8 24.Bxf8 Bxf8 25.Qe4 and White went on to win the game.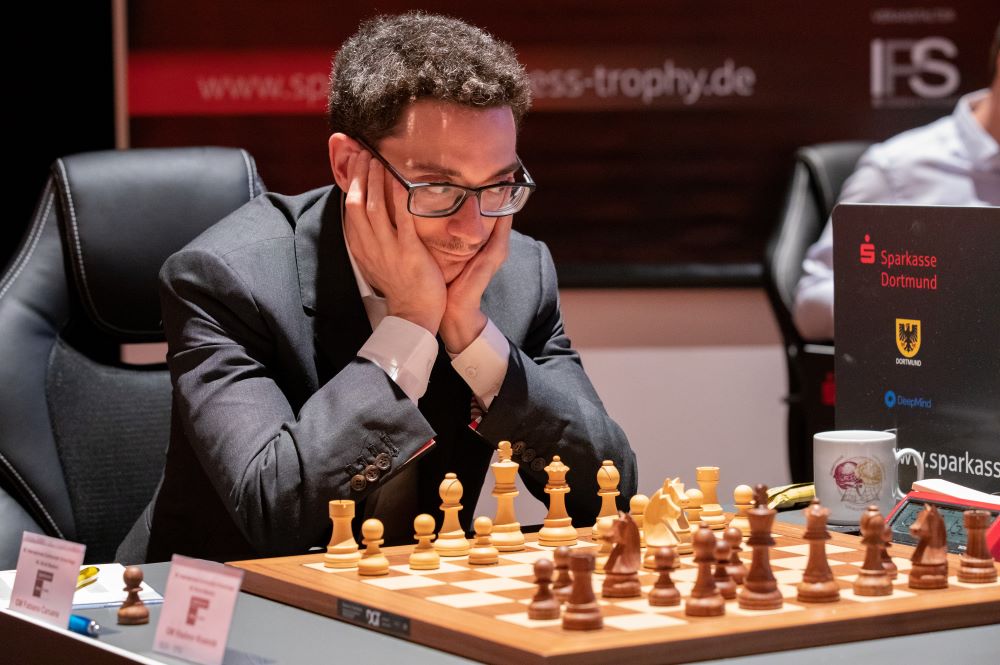 Replay Sportland NRW Cup Round 8 games
Replay Sparkassen Chess Trophy Open A Round 8 games
Replay NC World Masters Round 5 games
Sparkassen Chess Trophy Open A Round 8 results
| | | | | | | | | | | | | | |
| --- | --- | --- | --- | --- | --- | --- | --- | --- | --- | --- | --- | --- | --- |
| Bo. | No. | | | Name | Rtg | Pts. | Result | Pts. | | Name | Rtg | | No. |
| 1 | 9 | | GM | Svane,Frederik, | 2622 | 6 | 1 - 0 | 6 | GM | Aryan Chopra, | 2626 | | 6 |
| 2 | 2 | | GM | Donchenko,Alexander, | 2667 | 6 | ½ - ½ | 5½ | GM | Svane,Rasmus, | 2625 | | 7 |
| 3 | 22 | | GM | Raja Rithvik R, | 2488 | 5½ | ½ - ½ | 5½ | GM | Mendonca,Leon Luke, | 2623 | | 8 |
| 4 | 23 | | IM | Dudin,Gleb, | 2486 | 5½ | 1 - 0 | 5½ | GM | Safarli,Eltaj, | 2609 | | 11 |
| 5 | 31 | | FM | Seemann,Jakub, | 2446 | 5½ | ½ - ½ | 5½ | GM | Kobo,Ori, | 2556 | | 15 |
| 6 | 35 | | IM | Muthaiah AL, | 2439 | 5 | ½ - ½ | 5 | GM | Blübaum,Matthias, | 2673 | | 1 |
| 7 | 37 | | IM | Wadsworth,Matthew J, | 2431 | 5 | 0 - 1 | 5 | GM | Adams,Michael, | 2666 | | 3 |
| 8 | 5 | | GM | Kamsky,Gata, | 2659 | 5 | ½ - ½ | 5 | IM | Sammed Jaykumar,Shete, | 2440 | | 34 |
| 9 | 10 | | GM | Wagner,Dennis, | 2616 | 5 | 1 - 0 | 5 | IM | Parvanyan,Ashot, | 2425 | | 39 |
| 10 | 12 | | GM | Prohaszka,Peter, | 2585 | 5 | 1 - 0 | 5 | IM | Materia,Marco, | 2436 | | 36 |
Standings after Round 8
| | | | | | | | | | | | |
| --- | --- | --- | --- | --- | --- | --- | --- | --- | --- | --- | --- |
| Rk. | SNo | | | Name | FED | Rtg | RtgN | Club/City | Pts. | TB1 | TB2 |
| 1 | 9 | | GM | Svane,Frederik, | GER | 2622 | 2622 | Hamburger SK von 1830 eV | 7 | 39 | 266,5 |
| 2 | 2 | | GM | Donchenko,Alexander, | GER | 2667 | 2656 | OSG Baden-Baden | 6,5 | 41 | 265,5 |
| 3 | 23 | | IM | Dudin,Gleb, | FID | 2486 | 2453 | SV Deggendorf | 6,5 | 36 | 248,5 |
| 4 | 6 | | GM | Aryan Chopra, | IND | 2626 | 0 | | 6 | 42 | 262,5 |
| 5 | 8 | | GM | Mendonca,Leon Luke, | IND | 2623 | 2606 | Hamburger SK von 1830 eV | 6 | 39,5 | 263,5 |
| 6 | 3 | | GM | Adams,Michael, | ENG | 2666 | 2631 | OSG Baden-Baden | 6 | 39,5 | 253,5 |
| 7 | 7 | | GM | Svane,Rasmus, | GER | 2625 | 2625 | Hamburger SK von 1830 eV | 6 | 39 | 253 |
| 8 | 15 | | GM | Kobo,Ori, | ISR | 2556 | 0 | | 6 | 38 | 257 |
| 9 | 32 | | IM | Guo,Arthur, | USA | 2445 | 0 | | 6 | 38 | 253 |
| 10 | 22 | | GM | Raja Rithvik R, | IND | 2488 | 0 | | 6 | 37 | 253,5 |
| 11 | 10 | | GM | Wagner,Dennis, | GER | 2616 | 2616 | SC Viernheim 1934 e.V. | 6 | 37 | 249,5 |
| 12 | 31 | | FM | Seemann,Jakub, | POL | 2446 | 0 | | 6 | 36 | 247,5 |
| 13 | 12 | | GM | Prohaszka,Peter, | HUN | 2585 | 0 | | 6 | 35,5 | 249 |
| 14 | 18 | | GM | Raja Harshit, | IND | 2510 | 0 | | 6 | 35 | 239 |
| 15 | 17 | | GM | Pranav Anand, | IND | 2510 | 0 | | 6 | 34 | 244,5 |
| 16 | 1 | | GM | Blübaum,Matthias, | GER | 2673 | 2673 | SF Deizisau | 5,5 | 40 | 261,5 |
| 17 | 4 | | GM | Ponomariov,Ruslan, | UKR | 2664 | 0 | | 5,5 | 37,5 | 251,5 |
| 18 | 11 | | GM | Safarli,Eltaj, | AZE | 2609 | 0 | | 5,5 | 37,5 | 243,5 |
| 19 | 25 | | IM | Rathanvel,V S, | IND | 2463 | 0 | | 5,5 | 37,5 | 238 |
| 20 | 35 | | IM | Muthaiah AL, | IND | 2439 | 0 | | 5,5 | 37 | 247 |
Round 8 pairings
| | | | | | | | | | | | | | |
| --- | --- | --- | --- | --- | --- | --- | --- | --- | --- | --- | --- | --- | --- |
| Bo. | No. | | | Name | Rtg | Pts. | Result | Pts. | | Name | Rtg | | No. |
| 1 | 23 | | IM | Dudin,Gleb, | 2486 | 6½ | | 7 | GM | Svane,Frederik, | 2622 | | 9 |
| 2 | 15 | | GM | Kobo,Ori, | 2556 | 6 | | 6½ | GM | Donchenko,Alexander, | 2667 | | 2 |
| 3 | 3 | | GM | Adams,Michael, | 2666 | 6 | | 6 | GM | Prohaszka,Peter, | 2585 | | 12 |
| 4 | 6 | | GM | Aryan Chopra, | 2626 | 6 | | 6 | GM | Raja Rithvik R, | 2488 | | 22 |
| 5 | 7 | | GM | Svane,Rasmus, | 2625 | 6 | | 6 | GM | Raja Harshit, | 2510 | | 18 |
| 6 | 8 | | GM | Mendonca,Leon Luke, | 2623 | 6 | | 6 | FM | Seemann,Jakub, | 2446 | | 31 |
| 7 | 17 | | GM | Pranav Anand, | 2510 | 6 | | 6 | GM | Wagner,Dennis, | 2616 | | 10 |
| 8 | 32 | | IM | Guo,Arthur, | 2445 | 6 | | 5½ | GM | Kamsky,Gata, | 2659 | | 5 |
| 9 | 1 | | GM | Blübaum,Matthias, | 2673 | 5½ | | 5½ | GM | Akesson,Ralf, | 2402 | | 43 |
| 10 | 42 | | FM | Bilovil,Bogdan, | 2404 | 5½ | | 5½ | GM | Ponomariov,Ruslan, | 2664 | | 4 |
NRW Cup Round 8 results
Bo.
No.
Rtg
Name
Result
Name
Rtg
No.
1
10
2423
IM
Petrovskiy,Vadim,
1 - 0
IM
Souleidis,Georgios,
2419
9
2
1
2378
FM
De Winter,Arthur,
½ - ½
GM
Bagrationi,Alexander,
2454
8
3
2
2548
GM
Karthik Venkataraman,
1 - 0
GM
Saltaev,Mihail,
2462
7
4
3
2325
FM
Besou,Hussain,
0 - 1
IM
Köllner,Ruben Gideon,
2429
6
5
4
2447
WGM
Wagner,Dinara,
1 - 0
FM
Schneider,Jana,
2326
5
Standings after Round 8
| | | | | | | | | | | |
| --- | --- | --- | --- | --- | --- | --- | --- | --- | --- | --- |
| Rk. | SNo | | | Name | FED | Rtg | Club/City | Pts. | TB1 | TB2 |
| 1 | 4 | | WGM | Wagner,Dinara, | GER | 2447 | SC Viernheim 1934 e.V. | 6,5 | 5 | 20,75 |
| 2 | 6 | | IM | Köllner,Ruben Gideon, | GER | 2429 | SF Deizisau | 6 | 5 | 18,50 |
| 3 | 2 | | GM | Karthik Venkataraman, | IND | 2548 | | 5,5 | 4 | 19,50 |
| 4 | 1 | | FM | De Winter,Arthur, | NED | 2378 | SV Erkenschwick 1923 e | 4,5 | 3 | 16,25 |
| 5 | 10 | | IM | Petrovskiy,Vadim, | UKR | 2423 | Sfr. Bad Emstal/Wolfhagen | 3,5 | 2 | 14,50 |
| 6 | 9 | | IM | Souleidis,Georgios, | GRE | 2419 | Hamburger SK von 1830 eV | 3,5 | 2 | 12,75 |
| 7 | 8 | | GM | Bagrationi,Alexander, | ISR | 2454 | | 3,5 | 2 | 9,75 |
| 8 | 3 | | FM | Besou,Hussain, | GER | 2325 | LSV Turm Lippstadt | 3,5 | 1 | 12,50 |
| 9 | 7 | | GM | Saltaev,Mihail, | UZB | 2462 | SV Mülheim-Nord 1931 e | 2,5 | 1 | 7,50 |
| 10 | 5 | | FM | Schneider,Jana, | GER | 2326 | SC Bavaria Regensburg von 1881 e | 1 | 0 | 3,00 |
Round 9 pairings
Bo.
No.
Rtg
Name
Result
Name
Rtg
No.
1
5
2326
FM
Schneider,Jana,
IM
Petrovskiy,Vadim,
2423
10
2
6
2429
IM
Köllner,Ruben Gideon,
WGM
Wagner,Dinara,
2447
4
3
7
2462
GM
Saltaev,Mihail,
FM
Besou,Hussain,
2325
3
4
8
2454
GM
Bagrationi,Alexander,
GM
Karthik Venkataraman,
2548
2
5
9
2419
IM
Souleidis,Georgios,
FM
De Winter,Arthur,
2378
1
NC World Masters Round 5 results
Standings after Round 5
| | | | | | | | | |
| --- | --- | --- | --- | --- | --- | --- | --- | --- |
| Rk. | SNo | | Name | Rtg | Club/City | Pts. | TB1 | TB2 |
| 1 | 3 | GM | Caruana,Fabiano, | 2773 | | 3 | 2 | 7,25 |
| 2 | 2 | GM | Kollars,Dmitrij, | 2618 | | 2,5 | 2 | 6,00 |
| | 4 | GM | Kramnik,Vladimir, | 2753 | | 2,5 | 2 | 6,00 |
| 4 | 1 | GM | Eljanov,Pavel, | 2694 | | 2 | 1 | 5,25 |
Round 6 pairings
Links
Sparkassen Chess Trophy 2023 tournaments
Sparkassen Chess Trophy on facebook, youtube, twitter and instagram
---