Sparkassen Chess Trophy 2023 R5: Leon joins Aryan and Donchenko at the top
GM Leon Luke Mendonca defeated fellow compatriot GM Pranav Anand in the fifth round of Sparkassen Chess Trophy of 50th International Dortmund Chess Days. Pranav erred in a complex rook and same color bishop endgame. GM Aryan Chopra had a quick 16-move draw against GM Alexander Donchenko (GER). Aryan, Donchenko and Leon are currently at 4.5/5 each. Aryan will face Leon in Round 6. GM Karthik Venkataraman drew against WGM Dinara Wagner (GER) to move his score 3/5. Mr. Dortmund Vladimir Kramnik bounced back by winning against Fabiano Caruana. Pavel Eljanov (UKR) defeated the defending champion Dmitrij Kollars (GER). Round 6 Open and Sportland NRW Cup starts today at 3 p.m. local time, 6:30 p.m. IST. Today is a rest day for the NC World Masters. Photo: IM Patrick Zelbel
Kramnik beats Caruana
After Aryan, Donchenko and Leon, 16 players including the top seed GM Matthias Bluebaum (GER), GM Raja Rithvik R, IM Rathanvel V S and IM Aditya S Samant are at 4/5 each.
Open Round 5: Pranav Anand - Leon: 0-1
In the first-ever rated game between GM Pranav Anand (2510) and GM Leon Luke Mendonca (2623), the latter prevailed. It was a complex rook and same color bishop endgame.
White needed to go 51.Kf4 to prevent Re5. 51.f4? turned out to be the incorrect way to achieve that Rc1 52.Re8 Rc3 53.Kg4 Bc4 even Rxa3 was also fine as there is no checkmate threat via Rf8+. Black soon went on to win the game.
Kramnik - Caruana, NC World Masters Round 3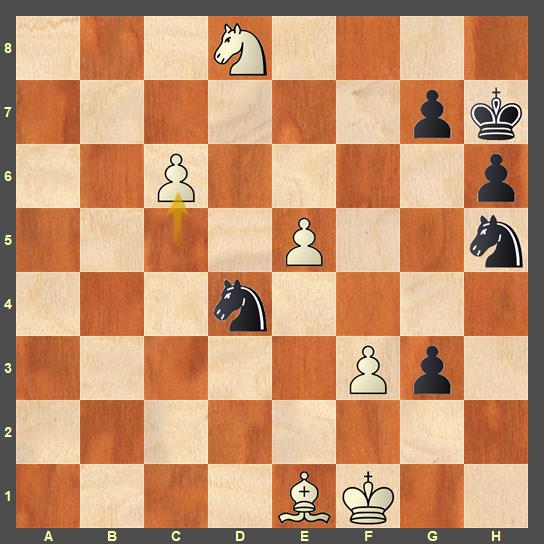 White is threatening to runaway with both his passed c6 and e5-pawns. Black should not forget that he has his own at g3. 41...Nb5? 42.Ne6 Na7 43.c7 allowed White to get away with a win. Instead 41...Nf4 42.Bxg3 Nd5 43.e6 Nb5 44.Ke2 Kg6 would have saved the half point for Fabiano Caruana (USA).
Replay Sportland NRW Cup Round 5 games
Replay Sparkassen Chess Trophy Open A Round 5 games
Replay NC World Masters Round 3 games
Sparkassen Chess Trophy Open A Round 5 results
| | | | | | | | | | | | | | |
| --- | --- | --- | --- | --- | --- | --- | --- | --- | --- | --- | --- | --- | --- |
| Bo. | No. | | | Name | Rtg | Pts. | Result | Pts. | | Name | Rtg | | No. |
| 1 | 6 | | GM | Aryan Chopra, | 2626 | 4 | ½ - ½ | 4 | GM | Donchenko,Alexander, | 2667 | | 2 |
| 2 | 1 | | GM | Blübaum,Matthias, | 2673 | 3½ | ½ - ½ | 3½ | GM | Kobo,Ori, | 2556 | | 15 |
| 3 | 3 | | GM | Adams,Michael, | 2666 | 3½ | ½ - ½ | 3½ | IM | Samunenkov,Ihor, | 2499 | | 20 |
| 4 | 17 | | GM | Pranav Anand, | 2510 | 3½ | 0 - 1 | 3½ | GM | Mendonca,Leon Luke, | 2623 | | 8 |
| 5 | 7 | | GM | Svane,Rasmus, | 2625 | 3 | ½ - ½ | 3½ | IM | Rathanvel,V S, | 2463 | | 25 |
| 6 | 33 | | IM | Buckels,Valentin, | 2442 | 3 | 0 - 1 | 3 | GM | Ponomariov,Ruslan, | 2664 | | 4 |
| 7 | 9 | | GM | Svane,Frederik, | 2622 | 3 | 1 - 0 | 3 | IM | Muthaiah AL, | 2439 | | 35 |
| 8 | 36 | | IM | Materia,Marco, | 2436 | 3 | ½ - ½ | 3 | GM | Wagner,Dennis, | 2616 | | 10 |
| 9 | 11 | | GM | Safarli,Eltaj, | 2609 | 3 | ½ - ½ | 3 | IM | Wadsworth,Matthew J, | 2431 | | 37 |
| 10 | 39 | | IM | Parvanyan,Ashot, | 2425 | 3 | ½ - ½ | 3 | GM | Prohaszka,Peter, | 2585 | | 12 |
Standings after Round 5
| | | | | | | | | | | | |
| --- | --- | --- | --- | --- | --- | --- | --- | --- | --- | --- | --- |
| Rk. | SNo | | | Name | FED | Rtg | RtgN | Club/City | Pts. | TB1 | TB2 |
| 1 | 6 | | GM | Aryan Chopra, | IND | 2626 | 0 | | 4,5 | 15 | 56,5 |
| 2 | 2 | | GM | Donchenko,Alexander, | GER | 2667 | 2656 | OSG Baden-Baden | 4,5 | 14,5 | 56 |
| 3 | 8 | | GM | Mendonca,Leon Luke, | IND | 2623 | 2606 | Hamburger SK von 1830 eV | 4,5 | 13,5 | 56,5 |
| 4 | 1 | | GM | Blübaum,Matthias, | GER | 2673 | 2673 | SF Deizisau | 4 | 16 | 54 |
| 5 | 3 | | GM | Adams,Michael, | ENG | 2666 | 2631 | OSG Baden-Baden | 4 | 15 | 55 |
| 6 | 15 | | GM | Kobo,Ori, | ISR | 2556 | 0 | | 4 | 14,5 | 57,5 |
| 7 | 9 | | GM | Svane,Frederik, | GER | 2622 | 2622 | Hamburger SK von 1830 eV | 4 | 14,5 | 55 |
| 8 | 4 | | GM | Ponomariov,Ruslan, | UKR | 2664 | 0 | | 4 | 14 | 54,5 |
| 9 | 32 | | IM | Guo,Arthur, | USA | 2445 | 0 | | 4 | 14 | 53 |
| 10 | 27 | | IM | Vogel,Roven, | GER | 2461 | 2461 | USV TU Dresden | 4 | 13,5 | 56 |
| 11 | 67 | | FM | Woelk,Tom-Frederic, | GER | 2330 | 2330 | Hamburger SK von 1830 eV | 4 | 13,5 | 52,5 |
| 12 | 20 | | IM | Samunenkov,Ihor, | UKR | 2499 | 0 | | 4 | 13 | 53,5 |
| 13 | 22 | | GM | Raja Rithvik R, | IND | 2488 | 0 | | 4 | 12,5 | 55,5 |
| 14 | 18 | | GM | Raja Harshit, | IND | 2510 | 0 | | 4 | 12,5 | 54 |
| 15 | 25 | | IM | Rathanvel,V S, | IND | 2463 | 0 | | 4 | 12,5 | 53 |
| 16 | 19 | | IM | Samant Aditya S, | IND | 2503 | 0 | | 4 | 12 | 54,5 |
| 17 | 31 | | FM | Seemann,Jakub, | POL | 2446 | 0 | | 4 | 11,5 | 54 |
| 18 | 203 | | | Skabs,Denis, | GER | 2059 | 2047 | Schachfreunde Brackel 1930 e. V. | 4 | 8 | 49,5 |
| | 235 | | | Strehse,Nelson, | GER | 1995 | 1995 | Klub Kölner SF e. V. | 4 | 8 | 49,5 |
| 20 | 13 | | IM | Laurent-Paoli,Pierre, | FRA | 2572 | 2572 | SC Ötigheim | 3,5 | 14 | 54 |
Round 6 pairings
| | | | | | | | | | | | | | |
| --- | --- | --- | --- | --- | --- | --- | --- | --- | --- | --- | --- | --- | --- |
| Bo. | No. | | | Name | Rtg | Pts. | Result | Pts. | | Name | Rtg | | No. |
| 1 | 8 | | GM | Mendonca,Leon Luke, | 2623 | 4½ | | 4½ | GM | Aryan Chopra, | 2626 | | 6 |
| 2 | 2 | | GM | Donchenko,Alexander, | 2667 | 4½ | | 4 | GM | Blübaum,Matthias, | 2673 | | 1 |
| 3 | 22 | | GM | Raja Rithvik R, | 2488 | 4 | | 4 | GM | Adams,Michael, | 2666 | | 3 |
| 4 | 4 | | GM | Ponomariov,Ruslan, | 2664 | 4 | | 4 | IM | Guo,Arthur, | 2445 | | 32 |
| 5 | 25 | | IM | Rathanvel,V S, | 2463 | 4 | | 4 | GM | Svane,Frederik, | 2622 | | 9 |
| 6 | 27 | | IM | Vogel,Roven, | 2461 | 4 | | 4 | GM | Kobo,Ori, | 2556 | | 15 |
| 7 | 18 | | GM | Raja Harshit, | 2510 | 4 | | 4 | | Skabs,Denis, | 2059 | | 203 |
| 8 | 31 | | FM | Seemann,Jakub, | 2446 | 4 | | 4 | IM | Samant Aditya S, | 2503 | | 19 |
| 9 | 20 | | IM | Samunenkov,Ihor, | 2499 | 4 | | 4 | | Strehse,Nelson, | 1995 | | 235 |
| 10 | 67 | | FM | Woelk,Tom-Frederic, | 2330 | 4 | | 3½ | GM | Safarli,Eltaj, | 2609 | | 11 |
NRW Cup Round 5 results
Bo.
No.
Rtg
Name
Result
Name
Rtg
No.
1
3
2325
FM
Besou,Hussain,
IM
Petrovskiy,Vadim,
2423
10
2
4
2447
WGM
Wagner,Dinara,
½ - ½
GM
Karthik Venkataraman,
2548
2
3
5
2326
FM
Schneider,Jana,
0 - 1
FM
De Winter,Arthur,
2378
1
4
6
2429
IM
Köllner,Ruben Gideon,
1 - 0
IM
Souleidis,Georgios,
2419
9
5
7
2462
GM
Saltaev,Mihail,
½ - ½
GM
Bagrationi,Alexander,
2454
8
Standings after Round 5
| | | | | | | | | | | |
| --- | --- | --- | --- | --- | --- | --- | --- | --- | --- | --- |
| Rk. | SNo | | | Name | FED | Rtg | Club/City | Pts. | TB1 | TB2 |
| 1 | 6 | | IM | Köllner,Ruben Gideon, | GER | 2429 | SF Deizisau | 4,5 | 4 | 7,75 |
| 2 | 4 | | WGM | Wagner,Dinara, | GER | 2447 | SC Viernheim 1934 e.V. | 3,5 | 2 | 7,50 |
| 3 | 2 | | GM | Karthik Venkataraman, | IND | 2548 | | 3 | 2 | 6,50 |
| | 9 | | IM | Souleidis,Georgios, | GRE | 2419 | Hamburger SK von 1830 eV | 3 | 2 | 6,50 |
| 5 | 3 | | FM | Besou,Hussain, | GER | 2325 | LSV Turm Lippstadt | 2,5 | 1 | 5,50 |
| 6 | 1 | | FM | De Winter,Arthur, | NED | 2378 | SV Erkenschwick 1923 e | 2 | 1 | 3,50 |
| 7 | 7 | | GM | Saltaev,Mihail, | UZB | 2462 | SV Mülheim-Nord 1931 e | 2 | 1 | 2,50 |
| 8 | 10 | | IM | Petrovskiy,Vadim, | UKR | 2423 | Sfr. Bad Emstal/Wolfhagen | 1,5 | 1 | 4,25 |
| 9 | 8 | | GM | Bagrationi,Alexander, | ISR | 2454 | | 1,5 | 1 | 1,50 |
| 10 | 5 | | FM | Schneider,Jana, | GER | 2326 | SC Bavaria Regensburg von 1881 e | 0,5 | 0 | 1,00 |
Round 6 pairings
Bo.
No.
Rtg
Name
Result
Name
Rtg
No.
1
10
2423
IM
Petrovskiy,Vadim,
GM
Bagrationi,Alexander,
2454
8
2
9
2419
IM
Souleidis,Georgios,
GM
Saltaev,Mihail,
2462
7
3
1
2378
FM
De Winter,Arthur,
IM
Köllner,Ruben Gideon,
2429
6
4
2
2548
GM
Karthik Venkataraman,
FM
Schneider,Jana,
2326
5
5
3
2325
FM
Besou,Hussain,
WGM
Wagner,Dinara,
2447
4
NC World Masters Round 2 results
Standings after Round 2
| | | | | | | | | |
| --- | --- | --- | --- | --- | --- | --- | --- | --- |
| Rk. | SNo | | Name | Rtg | Club/City | Pts. | TB1 | TB2 |
| 1 | 3 | GM | Caruana,Fabiano, | 2773 | | 1,5 | 1 | 1,25 |
| 2 | 2 | GM | Kollars,Dmitrij, | 2618 | | 1 | 1 | 1,00 |
| 3 | 4 | GM | Kramnik,Vladimir, | 2753 | | 1 | 1 | 0,50 |
| 4 | 1 | GM | Eljanov,Pavel, | 2694 | | 0,5 | 0 | 0,75 |
Round 3 pairings
Links
Sparkassen Chess Trophy 2023 tournaments
Sparkassen Chess Trophy on facebook, youtube, twitter and instagram
---