35th Cannes Chess Festival R1-4: Nihal scores with a brilliant display of attack
Nihal Sarin made an unbeaten start at 35th Cannes Chess Festival 2022. After starting the tournament with a win, he drew the next two games. It was a theoretical draw in the second round against FM Joseph Girel. FM Phileas Mathieu thwarted all attemps by Nihal for a breakthrough in the third round. The 17-year-old managed to get back to his winning ways in round 4 as he scored a very nice victory with a brilliant display of attack against WIM Andreaa Navrotescu. He will face IM Harutyun Barseghyan (FRA) in round 5 which starts at 1:30 p.m. IST today. Photo: Amruta Mokal
Nihal makes a steady start
Nihal Sarin scored a fine victory in the fourth round.
Round 1: Nihal - Crevatin
Nihal Sarin started the tournament with a nice victory over CM Leo Crevatin (SWE).
Nihal found a brilliant breakthrough 20.d5. It completely disintegrated Black's position. Calculate all the variations to see why it is such an effective move.
Nihal drew the next two games against FM Joseph Girel (FRA) and FM Phileas Mathieu (FRA) in Round 2 and 3 respectively.
Round 4: Nihal - Andrea
Nihal defeated WIM Andrea Navrotescu (FRA) in the fourth round with a brilliant display of attack as she went wrong early in the middlegame.
15.Nd6+ is an excellent move. Black has no defense against it. 15...Kd7 16.Qc3 Bg7 17.Rfd1 Rb8 18.Ra1 exd6 19.Bxf6 yes taking the f6-knight is better than taking the queen here.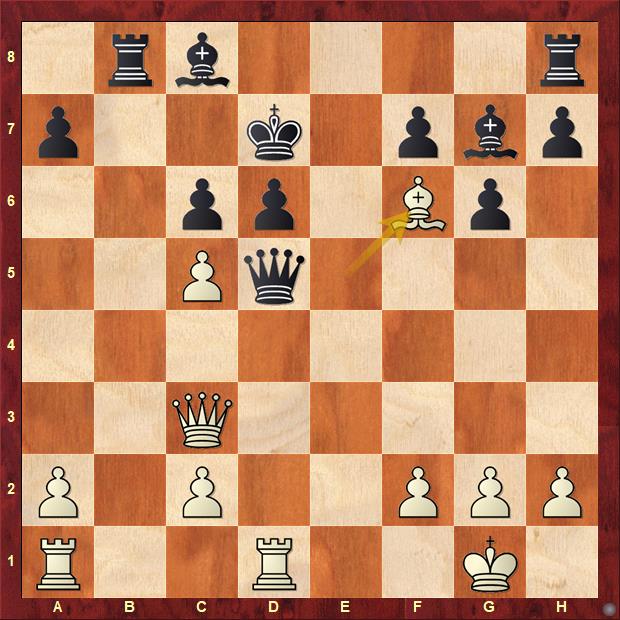 19.Rxd5 would have been a loss for White as 19...Nxd5 20.Qf3 Bxe5 gives Black decisive advantage due to the fact of being ahead in material.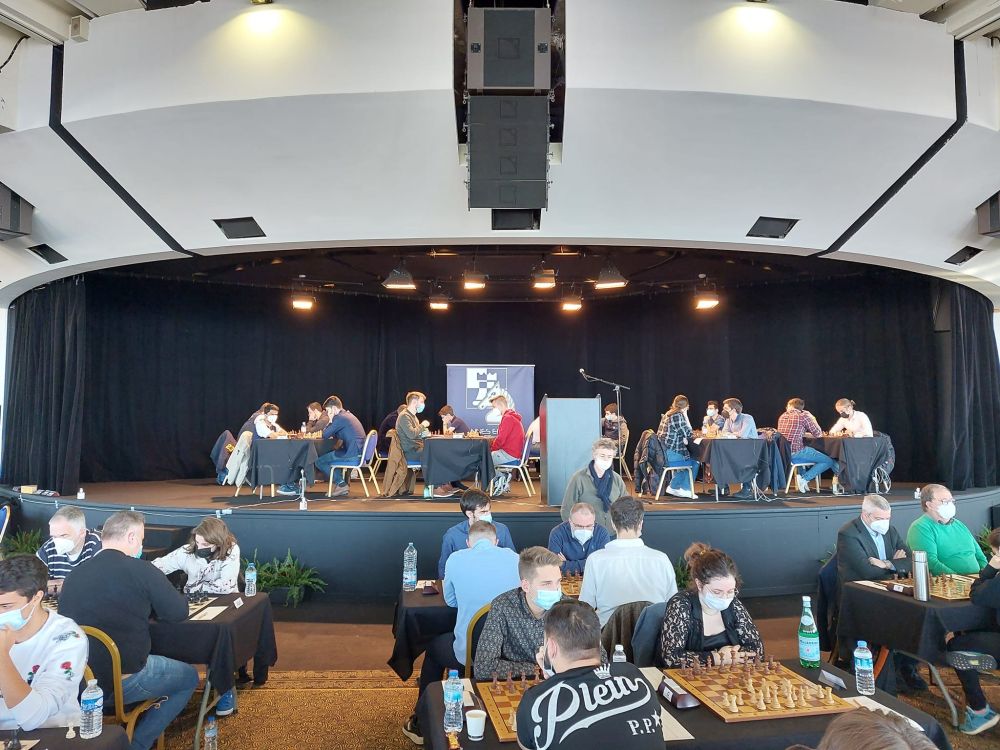 A total of 94 players including 11 GMs, 13 IMs, a WGM and 2 WIMs are taking part in the Category A tournament organized by Cannes Echecs Association. The event is taking place at Salon des Ambassadeurs at Cannes, France from 21st to 27th February 2022. The nine-round Swiss league tournament has a time control of 90 minutes + 30 seconds increment for the first 40 moves, then 30 minutes + 30sec/move for the rest of the game.
Replay Nihal's games
Round 4 results
| | | | | | | | |
| --- | --- | --- | --- | --- | --- | --- | --- |
| Board | Points | blanks | | Res. | Black | | Points |
| 1 | 3 | GODENA Michele | 2442F | 1 - 0 | MESHKOVS Nikita | 2570F | 3 |
| 2 | 3 | PHILIP William | 2411F | 0 - 1 | MAURIZZI Marc Andria | 2502F | 3 |
| 3 | 2½ | BELLAHCENE Bilel | 2509F | X-X | BOYER Mahel | 2407F | 3 |
| 4 | 2½ | VALSECCHI Alessio | 2524F | X-X | GIREL Joseph | 2394 F | 2½ |
| 5 | 2½ | RAZAFINDRATSIMA Timothy | 2386F | 1 - 0 | PANTZAR Milton | 2422F | 2½ |
| 6 | 2 | NIHAL SARIN | 2656F | 1 - 0 | NAVROTESCU Andreea | 2229F | 2½ |
| 7 | 2 | BASSO Pier Luigi | 2600F | X-X | MATHIEU Phileas | 2323F | 2 |
| 8 | 2 | KRZYZANOWSKI Marcin | 2523F | 1 - 0 | PIGEAT Alexandre | 2314 F | 2 |
| 9 | 2 | NIKOLOV Momchil | 2501F | 1 - 0 | RODRIGUEZ Adrian | 2306F | 2 |
| 10 | 2 | CARNICELLI Valerio | 2315F | 0 - 1 | DIMITROV Radoslav | 2487F | 2 |
Round 5 pairings
| | | | | | | | |
| --- | --- | --- | --- | --- | --- | --- | --- |
| Ech. | Pts | Blancs | | Res. | Noirs | | Pts |
| 1 | 4 | MAURIZZI Marc Andria | 2502 F | | GODENA Michele | 2442 F | 4 |
| 2 | 3½ | BOYER Mahel | 2407 F | | RAZAFINDRATSIMA Timothe | 2386 F | 3½ |
| 3 | 3 | BARSEGHYAN Harutyun | 2439 F | | NIHAL SARIN | 2656 F | 3 |
| 4 | 3 | MESHKOVS Nikita | 2570 F | | CAN Isik | 2426 F | 3 |
| 5 | 3 | BELLIA Fabrizio | 2427 F | | VALSECCHI Alessio | 2524 F | 3 |
| 6 | 3 | VLACHOS Anatole | 2412 F | | KRZYZANOWSKI Marcin | 2523 F | 3 |
| 7 | 3 | PHILIPPE Guillaume | 2411 F | | BELLAHCENE Bilel | 2509 F | 3 |
| 8 | 3 | GIREL Joseph | 2394 F | | NIKOLOV Momchil | 2501 F | 3 |
| 9 | 3 | DIMITROV Radoslav | 2487 F | | KLIMKOWSKI Jan | 2350 F | 3 |
| 10 | 3 | ROEBERS Eline | 2341 F | | TRAVADON Loic | 2459 F | 3 |
Links
---