The consistency of Nihal Sarin
How many tournaments did you play from January 2018 until now? Somewhere between 10-15, right? Well, the 14-year-old Indian prodigy Nihal Sarin also played 13 classical events, But guess what? In none of them did he lose a single rating point! This is simply unbelievable. From January 2018 to April 2019, in the last16 months, Nihal played in some of the strongest open tournaments in the world like the Gibraltar Masters, Aeroflot Open, Isle of Man and many others and he gained 74 Elo points to get his rating from 2524 to 2598! Now, on the brink of 2600, Nihal will take part in the first strong Round Robin tournament of his career - Tepe Sigeman & Co Chess Tournament. beginning from the 3rd of May 2019. | Photo: David Llada.
Nihal Sarin became India's 53rd grandmaster on August 15th 2018 at the age of 14 years and one month. But he had already crossed the Elo of 2500 in December 2017. Of course, becoming a GM is one of the biggest milestones of a chess player's career, but once that is achieved, the focus shifts to your Elo rating. There are no more titles to achieve and the invitation to events often depends upon what your Elo rating is. We went through the tournaments that Nihal played in the year 2018 and found something quite unbelievable. He began the year with an Elo of 2524 and as on 1st of May 2019 when the new rating list will be published he would have an Elo of 2598! And guess what? He hasn't lost a single rating point in any of the tournaments in the past 16 months. Have a look at this table:
Nihal Sarin's tournaments from January 2018 to April 2019
| | | |
| --- | --- | --- |
| S. No. | Tournament | Rating Gain |
| 1 | Rilton Cup 2017-18 | 8 |
| 2 | Gibraltar Masters 2018 | 2 |
| 3 | Aeroflot 2018 | 0 |
| 4 | Reykjavik 2018 | 17 |
| 5 | Kolkata GM 2018 | 0 |
| 6 | Leiden 2018 | 5 |
| 7 | Porticcio 2018 | 0 |
| 8 | Abu Dhabi 2018 | 9 |
| 9 | Turkish League 2018 | 7 |
| 10 | Isle of Man 2018 | 4 |
| 11 | Sunway Sitges 2018 | 2 |
| 12 | Aeroflot Open 2019 | 11 |
| 13 | Sharjah Masters 2019 | 9 |
| | Total | 74 |
The above rating list doesn't count Nihal's phenomenal performance at the World Blitz Championships where he finished ahead of many strong players including Vishy Anand and stood 11th, gaining 151 Elo points. Nor does it take into consideration his performance at Tata Steel India rapid event where Nihal drew against Anand, Harikrishna, Mamedyarov, Vidit, Karjakin and Ganguly. We are just talking about classical chess for now.
Those are some world class tournaments up there. Gibraltar, Aeroflot, Reykjavik, Abu Dhabi, Isle of Man, Sunway Sitges, Sharjah etc. Nihal scored his first GM norm at the Fagernes International in 2017. He scored his second GM norm at the Reykjavik Open 2018 and his third GM norm at Abu Dhabi Masters 2018 to become a GM. Nihal had a whopping 192 Elo points gain in the year 2017 to cross 2500 on the rating list. When a youngster has such a huge jump, it usually takes time for him to settle down to a specific rating level. But Nihal has just kept moving forward. This also shows that he has been constantly evolving as a player and his style has improved so as to sustain against some of the best players in the world.
Between January 2018 to April 2019:
* Nihal has played 115 classical games with 42 wins, 56 draws and 17 losses.
* He faced nine players above the rating of 2700. The youngster managed to hold six of his opponents to a draw - Wesley So, Cheparinov, Fedoseev (twice), Dubov and Rapport.
* When it comes to 2600 GMs, Nihal already has six wins. They include Hammer, Parligras, twice against Adly Ahmed, Aleksandar Indjic and Kiril Georgiev.
* While Nihal has fared well against higher rated opponents, against players who are rated lower than him he has been absolutely brutal. Against opponents who were rated between 2000 to 2400 Nihal has played 34 games and has won 24, drawn 7 and lost 3.
The above data has been gathered using ChessBase 15 + Mega Database 2019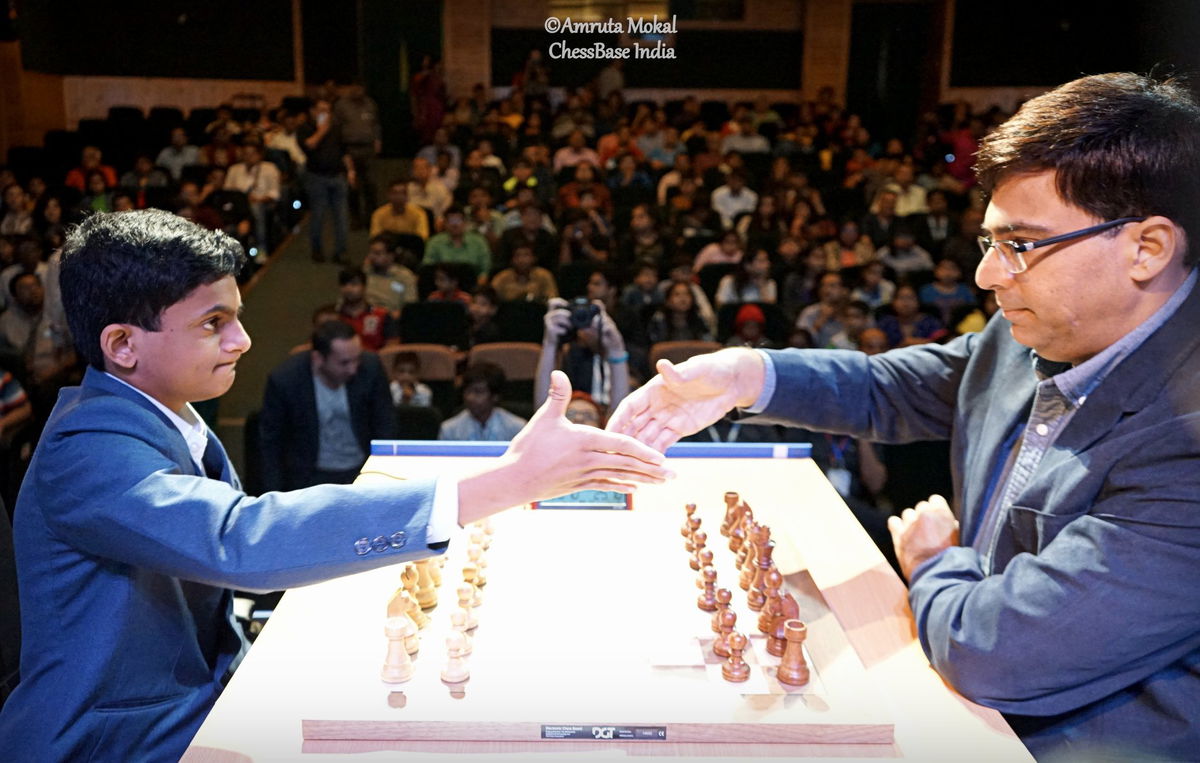 Assessing Nihal's style of play:
After the Sharjah Masters 2019 where Nihal gained nine Elo points, we decided to have an interview with Nihal. He was at his home in Thrissur while I was in the ChessBase India office in Mumbai. You should go over the video below to get a feel of this amazing talent, the way he thinks, analyzes and how he is completely focused towards chess.
One shocking revelation (at least for myself) in the interview was the fact that Nihal didn't spend any real time in analyzing his games played at a tournament. He comes back from the game, checks his game with an engine to see whether he had calculated accurately or not and that is all. He doesn't look at it again to try and learn from his mistakes. Rather than analyzing his games, he would prefer playing blitz online. Well known experts like Nimzowitsch, Botvinnik, Karpov, Kasparov and others have always emphasized on the importance of analyzing your own games. But Nihal has his own preferences and has never adhered to well laid down rules. That's the reason why in spite of doing everything different from what the great masters of the past mentioned, Nihal still is able to taste success. He just enjoys playing chess and works on it in his own special way.
What's next?
Nihal's next tournament is the Tepe Sigeman & Co. in Sweden which begins from the 3rd of May. This is how the field looks like:
Harikrishna Pentala (IND)
Ivan Saric (CRO)
Nils Grandelius (SWE)
Gawain Jones (GBR)
Parham Maghsoodloo (IRN)
Dieter-Liviu Nisipeanu (GER)
Nihal Sarin (IND)
Tiger Hillarp (SWE)
Being the second last seed, this is going to be a big challenge for Nihal. But this is also a chance for him to prove that he really belongs right up there. This is his first strong Round Robin tournament of his career and we will be following his games with great enthusiasm! With two more points to get to reach 2600, the entire nation is cheering for the 14-year-old youngster! You can check the official website of the event for more details.
Coverage of Nihal on ChessBase India:
ChessBase India began in January 2016. At that point Nihal's rating was 2216. Now he is 2598! It has been an absolute pleasure to follow his journey.
Entire playlist on ChessBase India YouTube Channel dedicated to Nihal (has 31 videos)
ChessBase articles on Nihal:
How Nihal Sarin became an IM at 12 years and 8 months
13-year-old Nihal crosses 2500
Nihal Sarin scores his second GM norm with two rounds to spare
Nihal Sarin turns 14 years old
14-year-old Nihal Sarin raises Rs.1,74,463 through ChessBase India show for Kerala
For India's 53rd GM Nihal Sarin, the journey is more important than destination
14-year-old Nihal Sarin's blitzkrieg in St. Petersburg
---