2nd elllobregat Open R6: Arjun Erigaisi and Aditya Mittal in a five-way lead
IM Aditya Mittal drew with GM Sethuraman S P in the sixth round of 2nd elllobregat Open 2021 to maintain his lead. Arjun Erigaisi beat Marcin Krzyzanowski (POL) to join the leaders at 5.0/6. Jaime Santos Latasa (ESP), Eltaj Safarli (AZE) and Nikita Meshkovs (LAT) are the remaining three players who are at 5.0/6 each. Karthikeyan Murali, Sethuraman and Karthik Venkataraman are the Indians at just a half point behind 4.5/6 each. Arjun Erigaisi and Aditya Mittal will face each other in the seventh round. It starts today at 9:30 p.m. IST. Photo: Patricia Claros Aguilar
Karthikeyan, Sethuraman and Karthik in the hunt
The number of decisive games and draws among the top ten boards is exactly 50-50. IM Arghyadip Das, FM Aditya S Samant, IM Sidhant Mohapatra and Sharan Rao drew with former Venezuela no.1 GM Eduardo Iturrizaga Bonelli (ESP), GM Harsha Bharathakoti, GM Helgi Gretarsson (ISL) and IM Lucian-Ioan Filip (ROU) to a draw each respectively.
Aditya Mittal - Sethuraman: 0.5-0.5
IM Aditya Mittal tried to create something for himself by launching an attack on the kingside 17.g4
17.g4 Be4 18.g5 Bxf3 19.Qxf3 Nd7 suddenly gave Black a slight edge as White overstretched the g-pawn.
Although Black has done a family fork 25...Nf3+, the checkmate threat at g7 prevents him from gaining huge material advantage. Perhaps 26...Rxe1+ 27.Rxe1 Nxh2+ 28.Qxh2 Qxd4 was a better practical continuation for Black as he not only gets a pawn but the king at f1 is more vulnerable to attack than his own. Black almost reached the same position, however the key difference was the pawn moved to g6 which gave White a leverage to make threats across the seventh rank and exchange f6-pawn with c4. The game soon liquidated into a drawn rook ending.
Arjun Erigaisi - Marcin: 1-0
Arjun Erigaisi got an initiative early in the middlegame when he did what needed to be done against Marcin Krzyzanowski (POL).
White defended the c4-pawn tactically after 15.g4 Bc8 16.a5. Now c4-pawn cannot be taken because of Ra4 traps the queen.
Sometimes when we get a good position, we try to quickly convert it into a win. That was not the case with Arjun. He waited patiently, trying to improve his position slowly without making any major pieces. Eventually, his opponent made a break 60...a4. While that almost worked for Black as he managed to get back in the game.
68...fxe4 69.Nxe4 Rxc3+ 70.Rxc3 Qg7+ allows Black to save the game. However, he missed this probably due to time trouble and played 68...f4+ which once again gave the upper hand to White who won the game in another ten moves.
Nikita - Sankalp: 1-0
Sankalp got a good opportunity against Nikita Meshkovs (LAT). However, it was not easy to calculate, especially if he was low on time.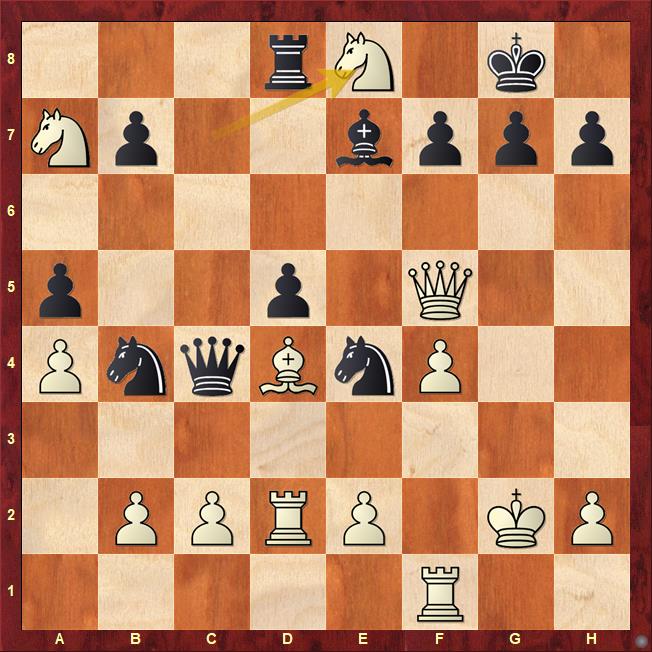 White has just taken Black's rook 24.Nxe8. Black should have also done the same 24...Nxd2. It's easier said than done, as White has some threats on g7. 25.Qe5 is met by 25...Kf8 which not only saves the day for Black but also maintains his decisive advantage. 25...Kf8 is a computer move which is not easy to spot for humans. Black got another subtle opportunity after a few moves, however that was also missed and White eventually won the game.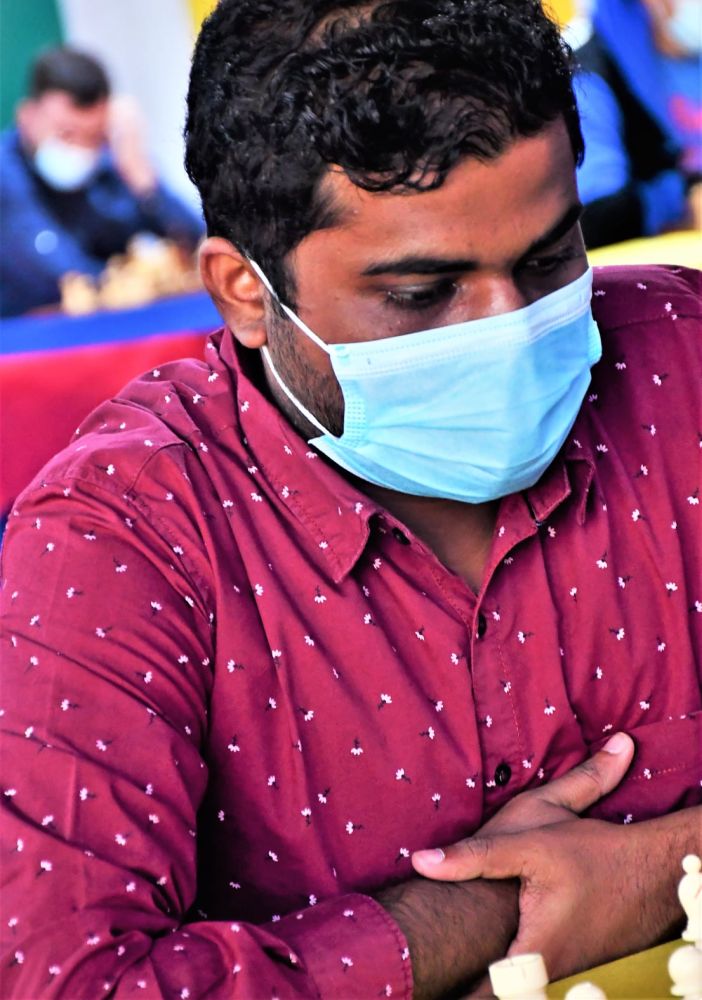 Replay Round 6 games
The tournament is taking place at Hotel Playafels, at Castelldefels, Barcelona in Spain from 30th November to 8th December 2021. Every day game starts at 9:30 p.m. IST, except the last round, which starts at 2:30 p.m. IST. Time control is 90 minutes/40 moves + 30 minutes/end + 30 seconds increment per move starting from move 1.
Round 6 results
Round 7 pairings
Links
---