2nd elllobregat Open R5: Aditya Mittal still at the top
IM Aditya Mittal held the top seed of the tournament, GM Nodirbek Abdusattorov (UZB) to a draw in the fifth round of 2nd elllobregat Open 2021. 15 players including five Indians are at a half point behind 4.0/5. They are - Arjun Erigaisi, Sethuraman, Visakh N R and Sankalp Gupta. Aditya will face Sethuraman at the top board. Visakh, Sethuraman and Sankalp drew with Arjun Erigaisi, Nikita Meshkovs (LAT) and former world champion Ruslan Ponomariov (UKR) respectively. Aditya Mittal moves closer to his second GM-norm and the tournament triumph both. Round 6 starts today at 9:30 p.m. IST. Photo: Patricia Claros Aguilar
Aditya Samant prevails Nico Zwirs
Only one game ended decisively out of first six boards. However, the most interesting draw among them was between Karthikeyan Murali and Harsha Bharathakoti. IM Vignesh N R and Shantanu Bhambure drew with GM Marc Narciso Dublan (ESP) and GM Julen Luis Arizmendi Martinez (ESP); FM Aditya S Samant and WIM Isha Sharma defeated IM Nico Zwirs (NED) and WGM Josefine Heinemann (GER) each respectively.
Aditya Mittal - Abdusattorov: 0.5-0.5
IM Aditya Mittal had a well-fought draw with Uzbekistan no.2 GM Nodirbek Abdusattorov.
Sethuraman - Nikita: 0.5-0.5
Sethuraman got himself a good position against Nikita Meshkovs (LAT).
White needs to play a3 sooner than later and make sure nothing happens on the queenside as the rook is misplaced on c5 and the knight cannot do much. Thus the probability of Black launching a successful attack on the queenside is far less than White creating a chance for himself on the kingside. It is all easier than done on a practical game. Knights and queens got exchanged soon, the attack fizzled out, rendering the game end up in an equal rook, bishop and many pawns endgame.
Karthikeyan - Harsha: 0.5-0.5
Karthikeyan Murali and Harsha Bharathakoti, arguably had the most interesting draw of the round.
It goes without saying that, Karthikeyan is a very creative player, so whenever he gets an opportunity to express his creative side, he does it. 19.Re4 is a beautiful move. Try to figure out if taking the rook on e4 is a good idea for Black or not. The game eventually liquidated into a bishop vs rook endgame.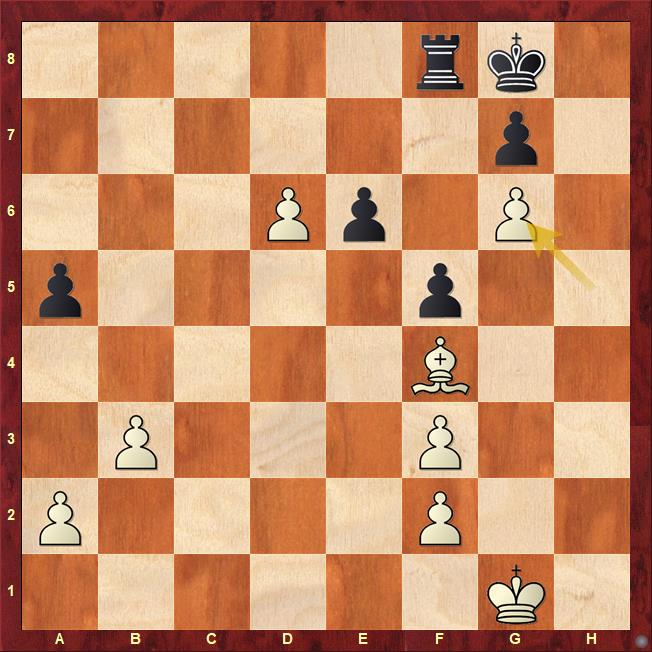 White has two bishops and a bishop for Black's rook. Both players made their attempt to push for a full point, after 22 more moves the game ended in a draw because of insufficient material. Try to work out, what plans should White have in the above position and how can Black defend it.
Replay Round 5 games
The tournament is taking place at Hotel Playafels, at Castelldefels, Barcelona in Spain from 30th November to 8th December 2021. Every day game starts at 9:30 p.m. IST, except the last round, which starts at 2:30 p.m. IST. Time control is 90 minutes/40 moves + 30 minutes/end + 30 seconds increment per move starting from move 1.
Round 5 results
Round 6 pairings
Links
---