Vidit, Arjun, Humpy and Harika start their 19th Asian Games 2022 campaign today
Nearly 13 years later, Chess is making a return at the 19th Asian Games 2022. Back in 2010 Asian Games, Harika Dronavalli was the sole Indian to win an individual Bronze medal. Indian Men won a Bronze medal at the team event. The individual event will take place from 24th to 27th September 2023. Vidit Gujrathi, Arjun Erigaisi, Koneru Humpy and Harika Dronavalli are taking part in the individual events. Round 1 pairings are: IM Fahad Rahman (BAN) vs Vidit, GM Arjun vs IM Paulo Bersamina (PHI), GM Humpy vs WGM Mobina (IRI) and WCM Rouda (UAE) vs GM Harika. Round 1 and 2 starts today from 3 and 5 p.m. local time, 12:30 and 2:30 p.m. IST.
Individual Rapid is the first event in Chess
A total of nine rounds of Rapid games will be played in a Swiss League format in the individual event. The time control is 25 minutes + 10 seconds increment. There are double rounds on 24th, 25th and 27th September. Only on Tuesday 26th September 2023, there will be three rounds.
Round 1 Men's pairings
Round 1 Women's pairings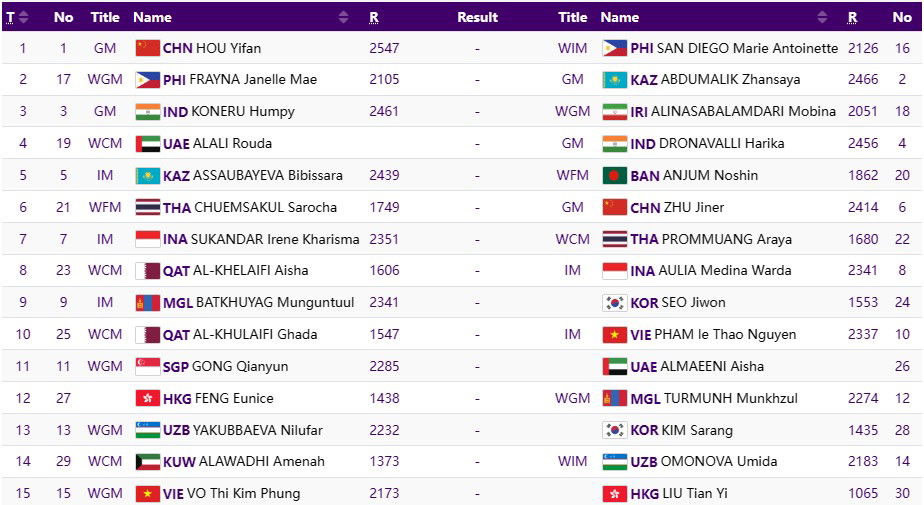 Live Commentary
Links
19th Asian Games 2022 Official site
Asian Games: facebook, twitter and instagram
---