19th Asian Games 2022 R5-7: Vidit eyes a medal
GM Vidit Gujrathi defeated GM Parham Maghsoodloo (IRI) and GM Nodirbek Abdusattorov (UZB) to increase his win streak to four games. He lost the seventh round game against GM Yi Wei (CHN). Vidit is at 5/7, a half point behind the sole leader Yi 5.5/7. Three more players - Abdusattorov, GM Tuan Minh Le (VIE) and GM Sumiya Bilguun (MGL) are also at 5/7. GM Arjun Erigaisi scored only 1.5/3, to move to 4.5/7. He needs to win his last two games and hope everything goes in his favor to win a medal. GM Jiner Zhu (CHN) is currently the sole leader in the Women 6/7. GM Koneru Humpy and GM Harika Dronavalli are at 4.5/7. The last two rounds, eighth and ninth starts today from 3 and 5 p.m. local time, 12:30 and 2:30 p.m. IST. Photos: IA Malith Akalanka
Humpy and Harika have chances
Both Humpy and Harika scored an unbeaten 2/3 on the penultimate day of the individual rapid event. They both cannot afford to any miss any more opportunities. Round 8 pairings are: Men - GM Vidit Gujrathi vs GM Sumiya Bilguun (MGL) and GM Nodirbek Abdusattorov (UZB) vs GM Arjun Erigaisi. Women - GM Harika Dronavalli vs GM Koneru Humpy. Since Harika and Humpy are facing each other, whoever wins this game will have higher chances. However, a draw could reduce both of their medal hopes.
Vidit - Parham, Round 5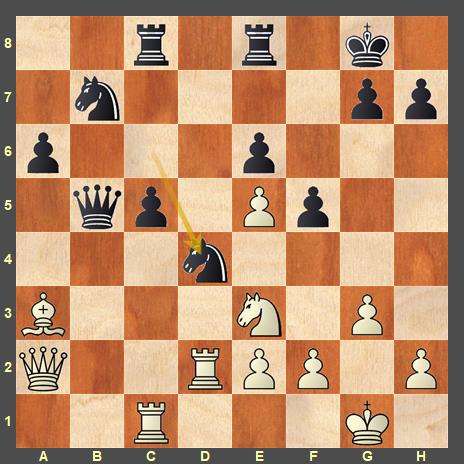 GM Parham Maghsoodloo (IRI, 2662) could not maintain his positional advantage against GM Vidit Gujrathi (2694). The former blundered 32...Nd4?? Vidit seized his opportunity 33.Rxd4 cxd4 34.Rxc8 Kf7 35.Rc7+ Kg6 36.Ng2 and soon White won another piece and the game too.
Abdusattorov - Vidit, Round 6
GM Nodirbek Abdusattorov (UZB, 2731) blundered in the final moments of the endgame. He went 40.Kf2?? which dropped the a2-pawn after Qc2+ 41.Kg1 Qb1+ 42.Kg2 Qxa2 and Black won the game in another seven moves.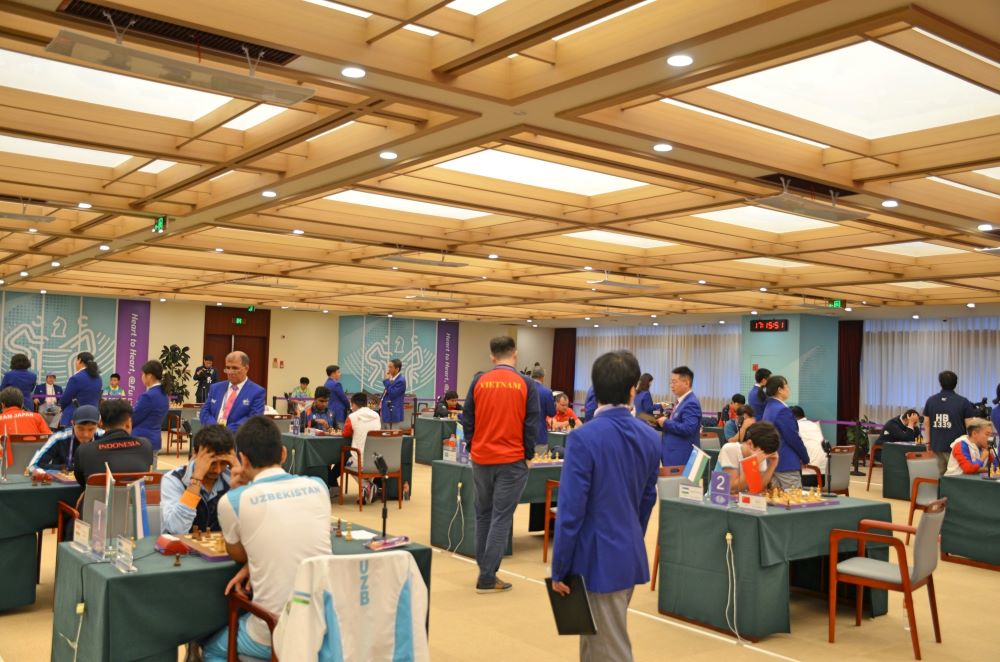 Arjun - Novendra, Round 7
In the above position, GM Arjun Erigaisi (2675) is completely winning against GM Novendra Priasmoro (INA, 2412). Find out how.
Arjun Erigaisi in deep thought against Novendra Priasmoro (INA)
Replay Live Commentary
Replay Men Round 5-7 games
Replay Women Round 5-7 games
Round 7 Men's results
Standings after Round 7
Round 8 pairings
Round 7 Women's results
Standings after Round 7
Round 8 pairings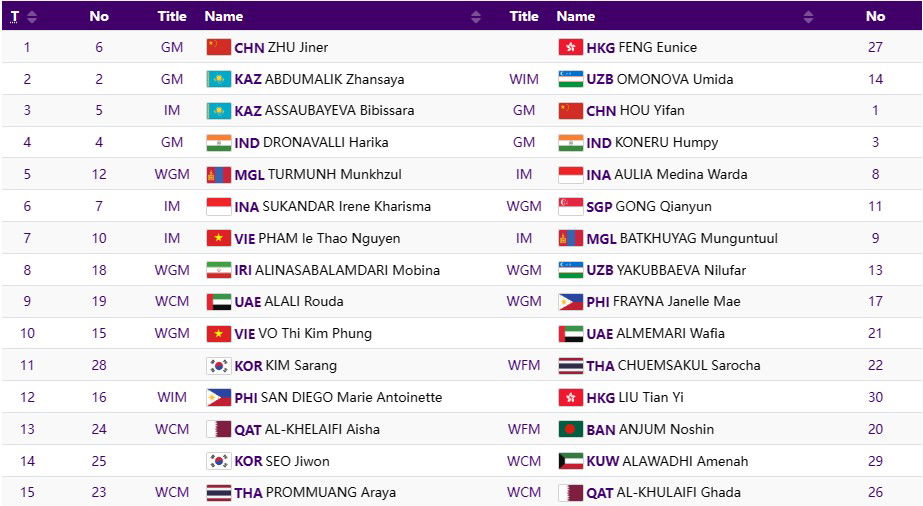 Links
19th Asian Games 2022 Official site
Asian Games: facebook, twitter and instagram
---