19th Asian Games 2022 Team R2: Indian Women victorious against Vietnam, Men draw versus Uzbekistan
Indian Women defeated Vietnam 2.5-1.5 in the second round of 19th Asian Games 2022. IM Vaishali R scored the crucial victory for her team against WGM Thi Kim Phung Vo (VIE). GM Koneru Humpy was in deep trouble. Thankfully, her opponent IM Pham Le Thao Nguyen (VIE) could not capitalize on her huge chance. IM Vantika Agrawal had a great decisive advantage against WGM Thi Thanh An Nguyen (VIE). However, she couldn't seize her chance and the game ended in a draw. In the Men's section, India drew against Uzbekistan 2-2. GM D Gukesh got himself in slight trouble in the endgame against GM Nodirbek Abdusattorov (UZB). He managed to avoid the worst and draw the game. Indian men will face Kazakhstan and women will battle against Indonesia. Round 3 starts today from 3 p.m. local time, 12:30 p.m. IST. Photos: Official site
Vaishali scores the key victory for the team
Men: Uzbekistan - India: 2-2
All four games ended in draws. GM D Gukesh (2758) got himself a worse position in the endgame when he made an incorrect offer of a rook exchange. It allowed his opponent, GM Nodirbek Abdusattorov (2716) to gain an entry with his king.
Abdussattorov - Gukesh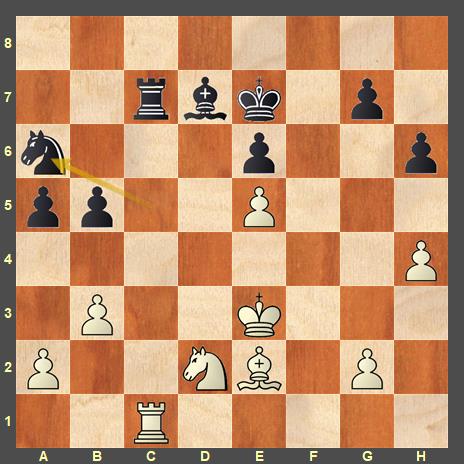 27...Na6? was unnecessary. 28.Rxc7 Nxc7 now the king gains an easy entry via d4-c5. The position quickly became unpleasant for Black. White could not capitalize on his advantage and a correct play by Black ensured a draw.
Replay Uzbekistan - India games
Women: India - Vietnam: 2.5-1.5
IM Vaishali R (2448) scored the crucial victory against WGM Thi Kim Phung Vo (2348). GM Koneru Humpy (2550) was completely lost against IM Pham Le Thao Nguyen (2380).
Humpy - Pham
In a sharp major piece endgame, White's best result in the above position is a draw after 50.cxd7 Qf1+ 51.Kh2 Qf2+ and the game ends in a draw by perpetual check. Even if White captures the queen at f1, it still ends in a draw in the same way. 50.Kg2?? was a big mistake Re7 51.Qg3 Rd1 52.c7 Qf1+ 53.Kh2 now taking the rook Qxe1 would have been winning for Black. 53...Rxc7?? allowed White to escape with a draw 54.Qe5+ and soon the game transformed into a queen endgame.
Thi Kim - Vaishali
Find out the beautiful combination which IM Vaishali R (2448) executed against WGM Thi Kim Phung Vo (2348).
Vantika - Thi Thanh An
One of the most difficult things to find out in chess is - backward moves. Human mind has a tendency to always move pieces forward, rarely backwards. 31.Qh3 would have given White a huge decisive advantage. IM Vantika Agrawal (2435) would have probably won her game against WGM Thi Thanh An Nguyen (2249) if she had spotted it. She played the obvious 31.Rh8+ Kxh8 32.Qxf7 and her advantage slowly diminished.

Replay India - Vietnam games
Replay Round 2 Men games
Replay Round 2 Women games
Men Round 2 results
Round 3 pairings
Women Round 2 results
Round 3 pairings
Links
19th Asian Games 2022 Official site
Asian Games: facebook, twitter and instagram
---