19th Asian Games 2022 R1-2: Humpy and Harika make a winning start
GM Koneru Humpy and GM Harika Dronavalli won both of their first two games at 19th Asian Games 2022. Humpy defeated WIM Mobina Alinasab (IRI) and IM Pham Le Thao Nguyen (VIE). Harika got the better of WCM Rouda Essa Alkerkal (UAE) and WGM Qianyun Gong (SGP). Teenager Rouda was winning for the better part of the game against Harika and Gong had decisive advantage too. In the Men's section, GM Vidit Gujrathi and GM Arjun Erigaisi won their first round games with ease. However, Vidit lost his second round game against IM Nogerbek Kazybek (KAZ). Arjun was held to a draw by GM Tuan Minh Le (VIE). Round 3 and 4 starts today from 3 and 5 p.m. local time, 12:30 and 2:30 p.m. IST. Photo: Shahid Ahmed
Vidit falters, Arjun stumbles
Round 3 pairings are: Men - GM Arjun Erigaisi vs GM Ngoc Truong Son Nguyen (VIE) and GM Vidit Gujrathi vs FM Prin Laohawirapap (THA). Women - GM Koneru Humpy vs GM Jiner Zhu (CHN) and GM Yifan Hou (CHN) vs GM Harika Dronavalli.
Fahad - Vidit, Round 1
29.Bf3 Ng4 30.Bxg4 Qxg4+ 31.Kf1 Qh3+ 32.Ke2 exf2 33.d7 and White would have been fine. However, IM Mohammad Fahad Rahman (BAN, 2366) blundered 29.Qa5?? Find out the finish for Black which GM Vidit Gujrathi (2694) executed in the game.
Arjun - Bersamina, Round 1
GM Arjun Erigaisi (2675) got a pleasant position out of the opening against IM Paulo Bersamina (PHI, 2351). 19...Qc7 20.Bxh3 Bxh3 21.Rxh3 0-0-0 22.Nxc5 Ne5 23.Nxe5 Qxe5 24.d4 Qxc5 25.dxc5 Rxd2 26.Kxd2 and White converted his advantage smoothly into a full point.
Humpy - Mobina, Round 1
WGM Mobina Alinasab (IRI, 2051) did the one thing she should not have done 53...d4?? Instead 53...Kg2 54.Kxf5 Kf3 55.g4 d4 56.Bxd4 Nxd4+ and Black could have saved the game with an accurate play. The game continued 54.Kf3 d3 55.Ke3 Kg4 56.Kxd3 Kf3 57.Bf4 and GM Koneru Humpy (2461) won the game in another five moves.
Rouda - Harika, Round 1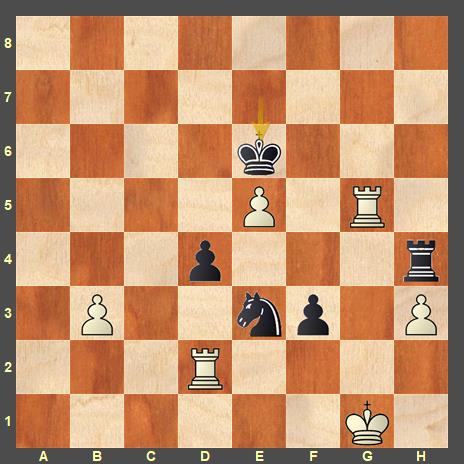 WCM Rouda Essa Alkerkal (UAE, 1915) was winning for the better part of game against GM Harika Dronavalli (2456). The teenager made two big mistakes in the final moments which cost her the full point. 63.Rf2? Rxh3 64.Rh2 Rxh2?? 65.Kxh2 f2 and it's over.
Pham Le Thao - Humpy
30.Ke2? is a positional mistake. Find out why it cost White the game.
Replay Live Commentary
Replay Men Round 1-2 games
Replay Women Round 1-2 games
Round 2 Men's results
Standings after Round 2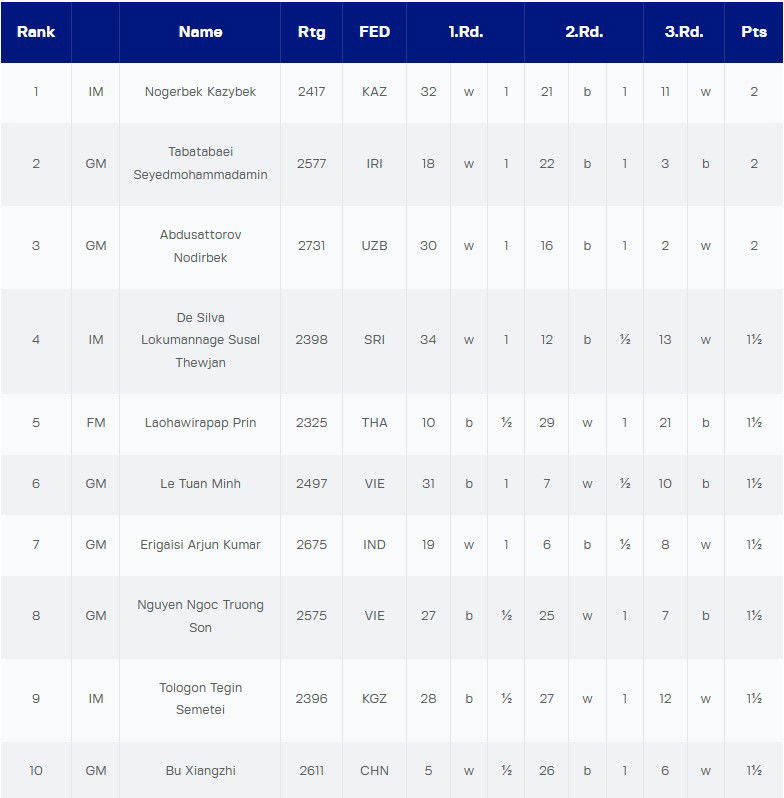 Round 3 pairings
Round 2 Women's results
Standings after Round 2
Round 3 pairings
Links
19th Asian Games 2022 Official site
Asian Games: facebook, twitter and instagram
---