19th Asian Games 2022 Team R3: India decimates Kazakhstan and Indonesia
Indian Women scored a hat-trick as Indonesia lost 0.5-3.5 in the third round of 19th Asian Games 2022. GM Koneru Humpy, GM Harika Dronavalli and IM Vantika Agrawal scored emphatic victories. Only IM Vaishali R was held to a draw by WIM Chelsie Monica Sihite Ignesias. Indian Men also scored a dominating victory 3-1, against Kazakhstan. GM D Gukesh outplayed Kazakhstan no.1 GM Rinat Jumabayev with a beautiful positional play. GM R Praggnanandhaa tricked Kazakhstan's latest GM Alisher Suleymenov in the endgame. GM Arjun Erigaisi and GM Pentala Harikrishna were held to draws by IM Ramazan Zhalmakhanov and IM Nogerbek Kazybek respectively. Indian Men will face Kyrgyzstan, while Women will take on the top seed, China in Round 4 which starts today from 3 p.m. local time, 12:30 p.m. IST. Photos: Official site
Indian Women emerge sole leader
Indian Men defeated Kazakhstan to take their score 5/6, a full point behind Iran 6/6. Uzbekistan is also at 5/6. In the Women's event, India has gained sole lead with a perfect 6/6. They are followed by the top seed China 5/6.
Men: India - Kazakhstan: 3-1
GM D Gukesh (2758) scored his first win of the event against the Kazakhstan no.1 GM Rinat Jumabayev (2585). GM R Praggnanandhaa (2727) defeated GM Alisher Suleymenov (2512). GM Arjun Erigaisi (2712) and GM Pentala Harikrishna (2711) were held to draws by IM Ramazan Zhalmakhanov (2447) and IM Nogerbek Kazybek (2471) respectively.
Gukesh - Jumabayev
From the move 20-28, Gukesh transferred his king from g1 to b2. He slowly outplayed his opponent and beautifully maneuvered his pieces, eventually the a4-pawn fell. White went on to use his extra pawn on the queenside and win the game.
Alisher - Praggnanandhaa
Praggnanandhaa created a neat trick in the rook and minor piece endgame. White rook has only one safe square. His opponent, Alisher moved the rook to c5. Can you find out why it is a mistake and where he should have moved his rook instead?
Replay India - Kazakhstan games
Women: Indonesia - India: 0.5-3.5
GM Koneru Humpy (2550), GM Harika Dronavalli (2502) and IM Vantika Agrawal (2435) scored emphatic victories over IM Medina Warda Aulia (2373), WGM Citra Dewi Ardhiani Anastasia (2256) and WIM Ummi Fisabilillah (2180) respectively. Only IM Vaishali R (2448) was held to a draw by WIM Chelsie Monica Ignesias Sihite (2251).
Replay Indonesia - India games
Replay Round 3 Men games
Replay Round 3 Women games
Men Round 3 results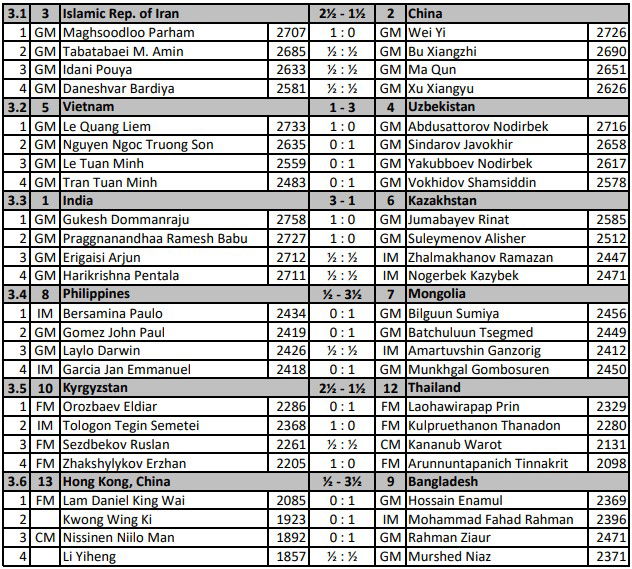 Standings after Round 3
Round 4 pairings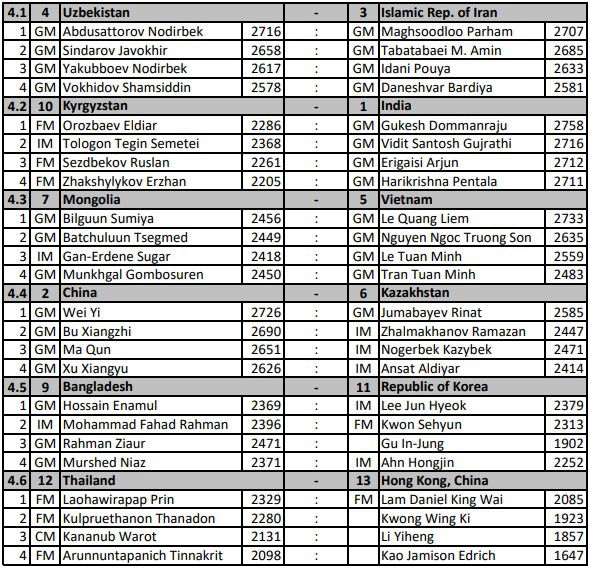 Women Round 3 results
Standings after Round 3
Round 4 pairings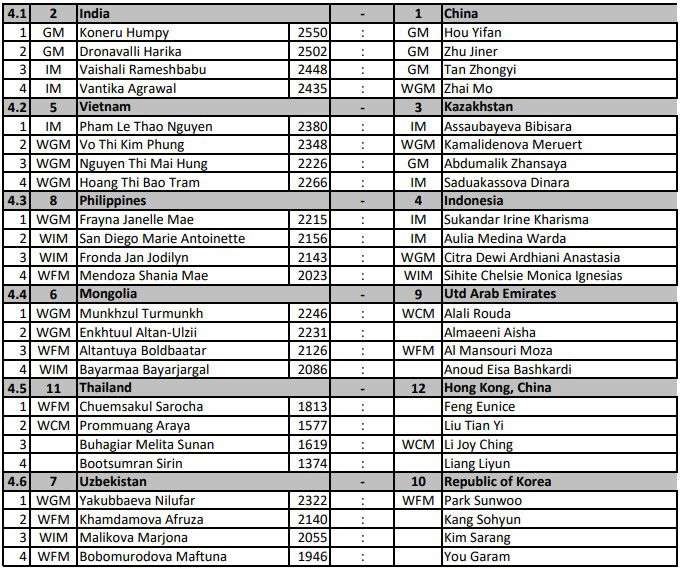 Links
19th Asian Games 2022 Official site
Asian Games: facebook, twitter and instagram
---