Tata Steel Masters R6: Grandelius maintains his sole lead, Harikrishna still in the hunt
Nils Grandelius is definitely playing fantastic in this event as he is yet to show a chink in his armor. He made a solid draw against Caruana to maintain his sole lead with 4.0/6. Jordan Van Foreest capitalized on his opponent Anton's mistake and Firouzja beat Donchenko to stay a half point behind the leader. Harikrishna, Caruana, Carlsen, Giri are the other four players who are also in the hunt with 3.5/6. Photo: Jurriaan Hoefsmit/Tata Steel Chess Tournament 2021
Jordan Van Foreest and Firzouja are the victors
Nils Grandelius maintained his sole lead by making a solid draw with Caruana. Despite Caruana pushing for an advantage in the endgame, Grandelius kept his cool and defended well to stay ahead. Jordan Van Foreest and Alireza Firouzja were the only two players who scored a win each against David Anton Guijarro and Alexander Donchenko respectively. Duda held Carlsen and Harikrishna drew with Wojtaszek.
Jordan Van Foreest - David Anton Guijarro 1-0
Anton initiated an incorrect exchange offer in the middlegame which misplaced his rook.
21...Nh5 results in the rook getting misplaced after 22.Nxh5 Rxh5. Find out what black should have done instead.
The next mistake happened in the form of 26...c4. This incorrect pawn push turned things completely. into white's favor. Find out why.
Donchenko - Firouzja 0-1
Firouzja's opening preparation definitely gave him an edge over Donchenko as he got a favorable position in the middle game.
White replied with 24.f5. Now it seems to be a race where both players are trying to launch an attack on opposite flanks.
Black made a very simple double attack with 26...Qg3. There are multiple ways for white to defend it. Which is the best one?
It is evident that black is in firm control and completely winning here. Find out how should black continue after 32.Qd2.
Grandelius - Caruana 0.5-0.5
Grandelius made a solid draw with Caruana.
Grandelius talked about the importance of giving up the b2-pawn to activate his king as the a-pawn is not dangerous because it won't be able to push safely.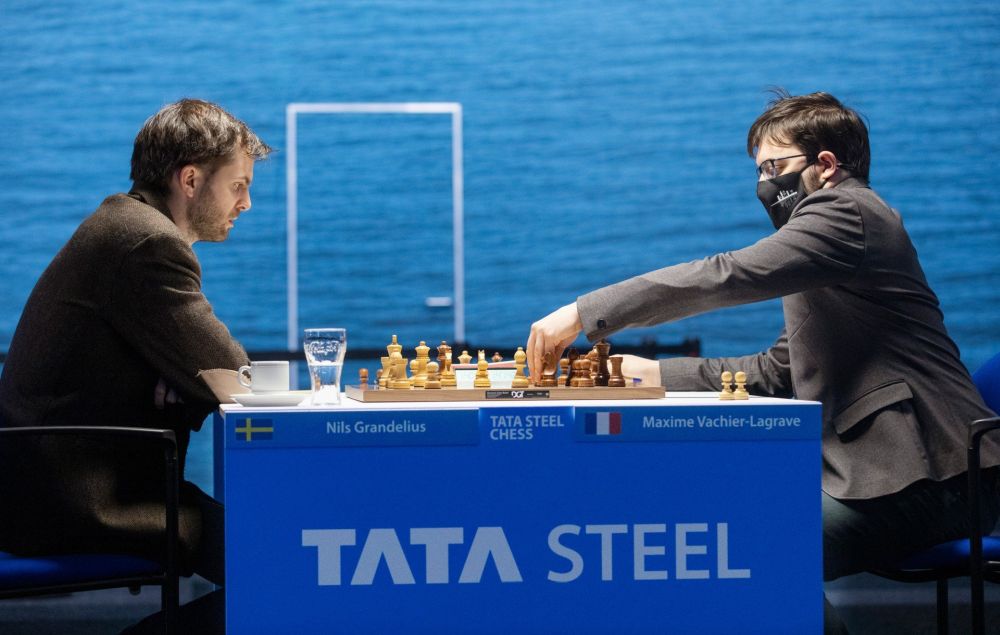 Duda - Carlsen 0.5-0.5
Duda and Carlsen encounter ended up in a hard-fought draw.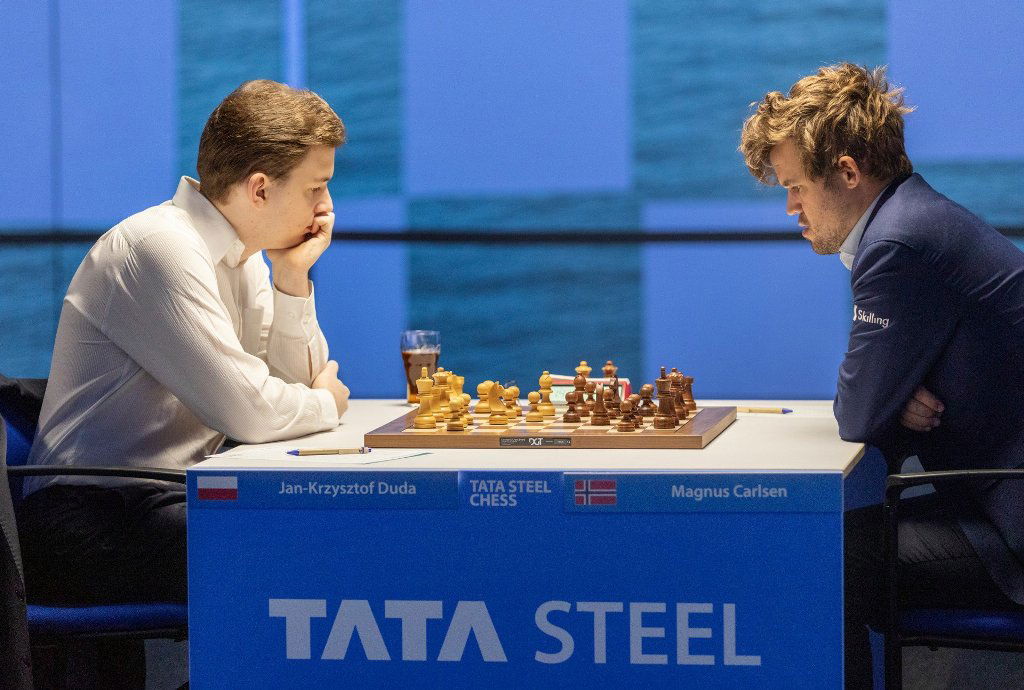 Vachier-Lagrave - Tari 0.5-0.5
They had an uneventful short draw in just 26 moves.
Harikrishna - Wojtaszek 0.5-0.5
Harikrishna had a quiet draw with Wojtaszek.
Esipenko - Giri 0.5-0.5
Esipenko made his sixth consecutive draw, this time against Giri.
Replay all games from Round 6
Standings after Round 6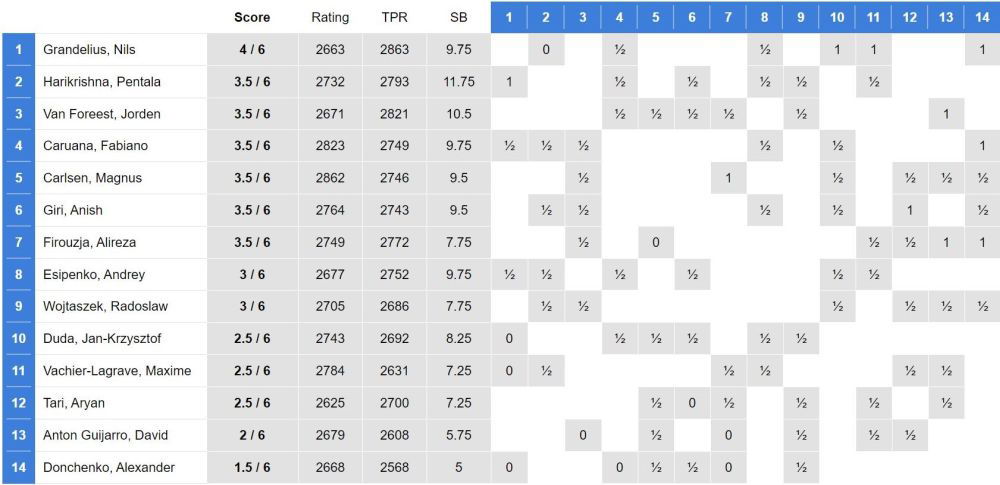 Schedule
Starting from Saturday 16th January, all round starts at 6:30 p.m. IST, only Sunday 31st January, the final round will start at 5:30 p.m. IST. Rest days are - 20th, 25th and 28th January.
Time Control
100 Minutes for 40 moves, followed by 50 minutes for 20 moves, then 15 minutes for the remaining moves with 30 seconds cumulative increment for each move starting from the first move.
Links
Tata Steel Chess official site
---