Srihari holds Koustav in 49th National Junior 2019
Srihari L R of Tamil Nadu continued his solid form by holding top seed in the open section IM Koustav Chatterjee to a draw. FM Jeet Jain of Gujarat used element of surprise to beat Harshavardhan G B of Tamil Nadu. IM Srijit Paul survived quite a scare as his opponent FM Aaryan Varshney of Delhi missed his opportunity to gain decisive advantage and perhaps score a full point. Among the girls, Toshali V of Andhra Pradesh shocked WIM Arpita Mukherjee of West Bengal. Arushi Kotwal continued her momentum and held WIM Sakshi Chitlange to a draw despite being better for the majority of the game. Vyshnavi Chinnam of Andhra Pradesh beat WFM Srishti Pandey. Three-way lead in the open section and four-way lead in the girls section at the conclusion of round 4. Photo: IA Jitendra Choudhary
Top seeds tumble in round 4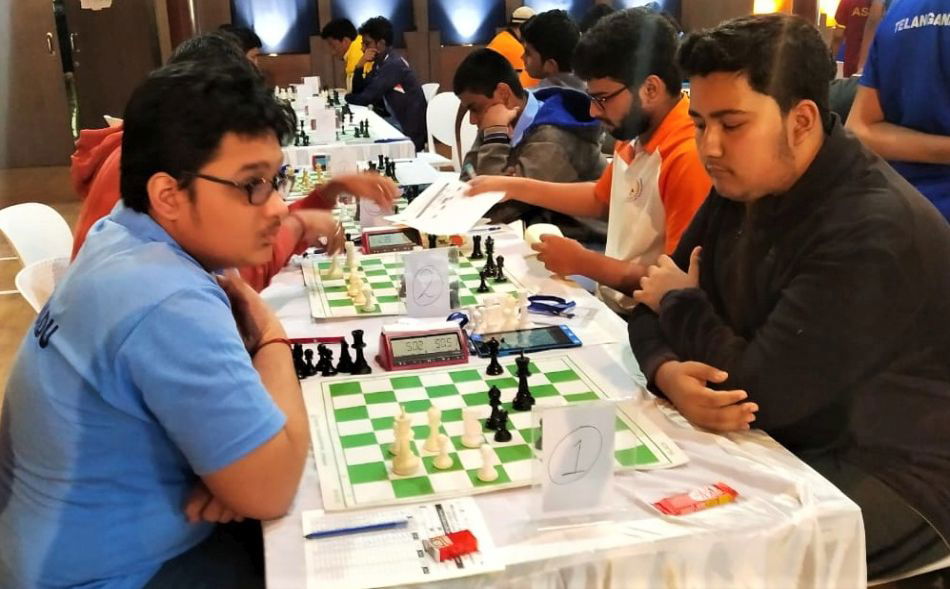 World Youth under-14 Silver medalist FM Srihari L R of Tamil Nadu continues his great form as he held the top seed of the open section IM Koustav Chatterjee of West Bengal to a draw in round 4. Srihari opted for a solid line in King's Indian Attack and he offered an exchange at one point of the game, but of course Koustav knows better than to fall for it.
Srihari - Koustav
IM Mitrabha Guha of West Bengal who is quite strong in endgame, arrived at a double rook endgame in just 26 moves after his opponent Suyog Wagh of Maharashntra exchanged pieces at regular interval. It was just a matter of technique for Mitrabha to convert it into a win.
FM Jeet Jain of Gujarat defeated Harshavardhan G B of Tamil Nadu using element of surprise. There are only two games where 11.Bg5 is played which caught Harshavardhan off-guard and then slowly things just went south for him.
Jeet - Harshavardhan
Despite having advantage, Srijit slipped and survived quite a scare, if only Aaryan played the correct continuation.
Srijit - Aaryan
In the girls section, Toshali V of Andhra Pradesh shocked WIM Arpita Mukherjee of West Bengal, after the latter made a positional mistake and weakened her king side.
Toshali - Arpita
To prevent 28.Ne6, Arpita opted for 27...e6 herself, but little did she fathomed that that would be the reason of her king's demise.
Arushi continued her terrific form and remained better for the majority of the game against WIM Sakshi Chitlange of Maharashtra. However, Arushi did not manage to convert her advantage and the game petered out to a draw in a queen ending.
Srishti cramped her position on her own and her pieces started looking for breathing space. Vyshnavi perfectly exploited her space advantage and gained an exchange which she converted with ease to a full point.
Round 4 results in Open
Round 4 results in Girls
Round 5 pairings in Open
Round 5 pairings in Girls
---