Leelajai Krishna N outstanding at 16th Paracin Open B 2023, Pranesh clinches Blitz, Ethan Vaz second
Indian players have always garnered a lot of success at Paracin International Chess Festival tournaments. The 16th edition was no different either. CM Aaditya Dhingra scored his second IM-norm in Open A (>2100) section with a performance of 2420. He increased his Elo rating by 131.2 points. 16-year-old Leelajai Krishna N won the Open B (≤2100 section) scoring an unbeaten 8.5/9. The teenager finished a full point ahead of the competition and gained 122.8 Elo rating points. GM Pranesh M won the Blitz Open scoring 9/11 and remained undefeated. FM Ethan Vaz also scored the same. He was adjudged second and gained 206 Elo rating points. The top three prizes in Open A were RSD 200000, 150000 and 110000, for Open B they were 55000, 42000 and 30000. Blitz had a total prize fund of RSD 60000. The entire festival offered the total prize fund of RSD 1160000. Photos: FM FT IA IO Sasa Jevtic
Aaditya Dhingra scores his second IM-norm in consecutive events
Haryana's top player, CM Aaditya Dhingra scored an impressive 6/9, performed at 2500 and gained a humongous 198 Elo rating points. He defeated GM Milos Pavlovic (SRB) and drew against IM Sinisa Saric (SRB) en route his maiden IM-norm. A day after the conclusion of Vojvodina Open, Aaditya started playing his event Paracin Open 2023 on 7th July. The 16-year-old once again scored 6/9, performed at 2420 and gained a whopping 131.2 Elo rating points. His live rating is currently 2473.2. He won against GM Dejan Pikula (SRB), IM Vuk Djordjevic (SRB) and drew with IM Marcel Becker (GER) en route his second IM-norm. The teenager is now final IM-norm and few Elo rating points away from becoming India's next International Master.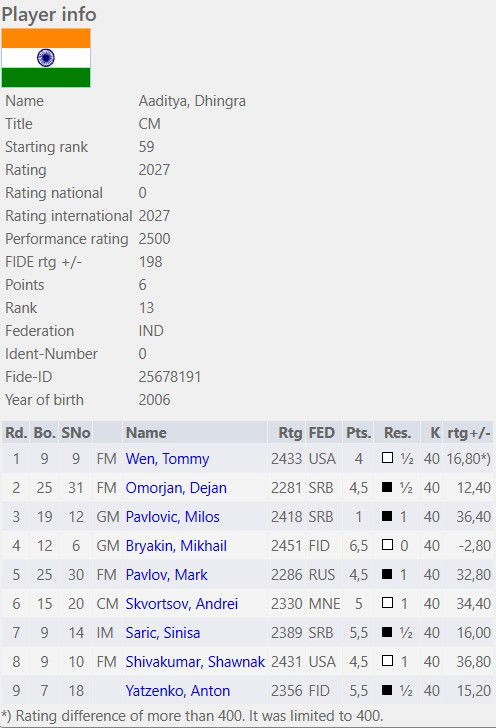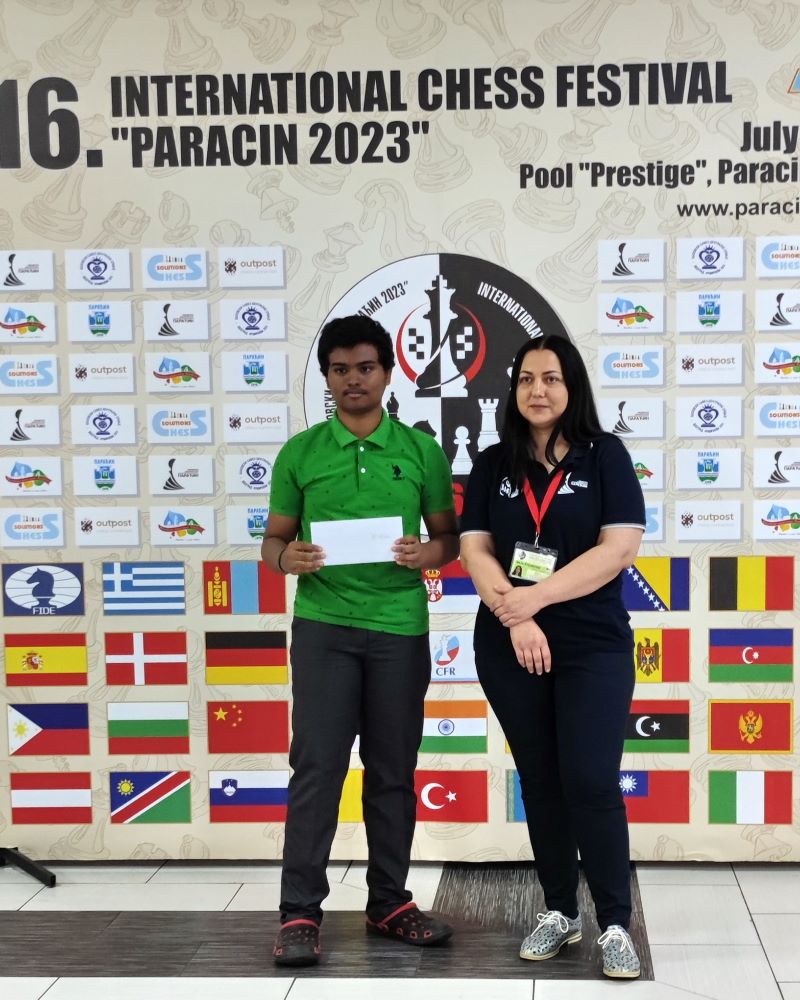 Pranesh wins Blitz Open, Ethan Vaz second
GM Pranesh M (2437), FM Ethan Vaz (2163), GM Nikita Petrov (MNE, 2549) and IM Pavel S Dvalishvili (2297) scored 9/11 each. Pranesh won the tournament on tie-breaks, Ethan was placed second.
Before winning this event, GM Pranesh M scored an unbeaten 8/9 to finish as the runner-up at Silver Lake Open A 2023. Then he secured a third place finish at Vojvodina Blitz Open 2023.
11-year-old FM Ethan Vaz (2163) is also having a great tour in Serbia. Last month he gained 101.6 Elo rating points at Silver Lake Open A 2023. In the following event, he gained 96.4 Elo rating points at Vojvodina Open A 2023.
A total of 144 players including 5 GMs, 6 IMs and 2 WIMs took part from 20 countries across the world in the Blitz Rating Open. The time control was 3 minutes + 2 seconds each.
A total of 126 players including 9 GMs, 15 IMs and 6 WIMs took part in Open A category from 25 countries across the world in Group A (>2100). Group B (≤2100) witnessed the participation of 164 players. A total of 183 players including 9 GMs, 14 IMs and 3 WIMs took part in the one day Rapid Rating Open tournament. The tournaments were organized by FM FT IO IA Sasa Jevtic at Pool Prestige in Paracin, Serbia from 7th to 15th July 2023. The one-day Rapid Rating event took place on 9th July 2023. The time control for the Classical tournaments were 90 minutes + 30 seconds increment, for Rapid it was 10 minutes + 5 seconds increment.
Replay all Open A games
Final standings in Open A
| | | | | | | | | | | | | | | | |
| --- | --- | --- | --- | --- | --- | --- | --- | --- | --- | --- | --- | --- | --- | --- | --- |
| Rk. | SNo | | | Name | Typ | sex | Gr | FED | Rtg | Pts. | TB1 | TB2 | TB3 | K | rtg+/- |
| 1 | 2 | | GM | Gundavaa, Bayarsaikhan | | | | MGL | 2510 | 7 | 48,5 | 36,5 | 5 | 10 | 4,7 |
| 2 | 9 | | IM | Urazayev, Arystanbek | | | | KAZ | 2427 | 7 | 48 | 38 | 5 | 10 | 14,6 |
| 3 | 20 | | FM | Efremov, Vladislav | U18 | | | FID | 2356 | 7 | 40,5 | 32,5 | 6 | 20 | 14,6 |
| 4 | 26 | | | Itgelt, Khuyagtsogt | U18 | | | MGL | 2321 | 6,5 | 45,5 | 34,5 | 5 | 20 | 41,6 |
| 5 | 4 | | GM | Bryakin, Mikhail | | | | SRB | 2454 | 6,5 | 45 | 35,5 | 4 | 10 | 8 |
| 6 | 3 | | GM | Pranesh, M | U16 | | | IND | 2507 | 6,5 | 44 | 34,5 | 4 | 10 | -1,6 |
| 7 | 15 | | FM | Mamatov, Melis | | | | KGZ | 2403 | 6,5 | 43,5 | 33 | 5 | 10 | 3,4 |
| 8 | 6 | | IM | Low, Zhen Yu Cyrus | U20 | | | SGP | 2444 | 6,5 | 43 | 33 | 5 | 10 | 1,4 |
| 9 | 1 | | GM | Ivanisevic, Ivan | | | | SRB | 2536 | 6,5 | 42,5 | 32,5 | 6 | 10 | -6 |
| 10 | 10 | | GM | Damljanovic, Branko | S50 | | | SRB | 2422 | 6,5 | 39,5 | 33,5 | 5 | 10 | -2,6 |
| 11 | 63 | | CM | Aaditya, Dhingra | U16 | | | IND | 2144 | 6 | 44,5 | 31,5 | 5 | 40 | 131,2 |
| 12 | 23 | | | Yatzenko, Anton | | | | FID | 2335 | 6 | 42 | 29,5 | 4 | 10 | -5,1 |
| 13 | 45 | | FM | Zhukov, Anton | U18 | | | FID | 2215 | 6 | 41 | 30 | 2 | 20 | 29,8 |
| 14 | 7 | | IM | Ajay, Karthikeyan | U18 | | | IND | 2441 | 6 | 41 | 27,5 | 4 | 10 | -14,7 |
| 15 | 55 | | WIM | Nurgali, Nazerke | U18 | w | | KAZ | 2192 | 6 | 40 | 29 | 6 | 20 | 48,6 |
Final standings in Open B
| | | | | | | | | | | | | | | |
| --- | --- | --- | --- | --- | --- | --- | --- | --- | --- | --- | --- | --- | --- | --- |
| Rk. | SNo | | | Name | Typ | sex | FED | Rtg | Pts. | TB1 | TB2 | TB3 | K | rtg+/- |
| 1 | 28 | | MK | Leelajai, Krishna N | U16 | | IND | 1795 | 8,5 | 50,5 | 43 | 8 | 40 | 122,8 |
| 2 | 4 | | MK | Tserendorj, Batsaikhan | | | USA | 2011 | 7,5 | 49 | 41 | 7 | 20 | -1,2 |
| 3 | 46 | | MK | Huseynova, Lala | U12 | w | AZE | 1711 | 7 | 49 | 37 | 7 | 40 | 108 |
| 4 | 15 | | MK | Sakmak, Kutay | U14 | | TUR | 1874 | 7 | 47,5 | 36,5 | 6 | 40 | 26,4 |
| 5 | 25 | | MK | Roneet, Das | U20 | | IND | 1804 | 6,5 | 51 | 36,5 | 5 | 20 | 15,8 |
| 6 | 63 | | I | Yessengali, Adizhan | U12 | | KAZ | 1663 | 6,5 | 48 | 37,5 | 6 | 40 | 139,2 |
| 7 | 44 | | MK | Kuruz, Yusuf | | | TUR | 1728 | 6,5 | 47,5 | 36 | 4 | 20 | 31 |
| 8 | 62 | | I | Pusara, Mihailo | U14 | | MNE | 1664 | 6,5 | 47,5 | 35,5 | 5 | 40 | 106 |
| 9 | 77 | | I | Milovic, Ilija | U14 | | MNE | 1617 | 6,5 | 46 | 33 | 5 | 40 | 112,4 |
| 10 | 21 | | MK | Jakovljevic, Dejan | | | SRB | 1824 | 6,5 | 45,5 | 34,5 | 5 | 20 | 3 |
| 11 | 23 | | MK | Baiture, Temirlan | U14 | | KAZ | 1814 | 6,5 | 45 | 31,5 | 5 | 40 | -6 |
| 12 | 33 | | MK | Swapna, C N | U18 | w | IND | 1789 | 6,5 | 44,5 | 32,5 | 6 | 40 | -22 |
| 13 | 56 | | I | Divitt, Arora | U12 | | IND | 1682 | 6,5 | 44 | 32,5 | 6 | 40 | 92,4 |
| 14 | 78 | | I | Ouzounis, Konstantinos Kyr | U14 | | GRE | 1615 | 6,5 | 41,5 | 29 | 5 | 40 | 132,8 |
| 15 | 108 | | II | Buyankhishig, Batpelden | U10 | w | MGL | 1487 | 6,5 | 41 | 28,5 | 5 | 40 | 162 |
Final standings in Uros Dinic Memorial Rapid
| | | | | | | | | | | | | | | |
| --- | --- | --- | --- | --- | --- | --- | --- | --- | --- | --- | --- | --- | --- | --- |
| Rk. | SNo | | | Name | Typ | sex | FED | Rtg | Pts. | TB1 | TB2 | TB3 | K | rtg+/- |
| 1 | 5 | | GM | Bryakin, Mikhail | | | SRB | 2443 | 7,5 | 53 | 41,5 | 6 | 10 | 10,4 |
| 2 | 22 | | IM | Dvalishvili, Pavel S. | | | RUS | 2285 | 7,5 | 50,5 | 40 | 6 | 10 | 17,8 |
| 3 | 1 | | GM | Ivanisevic, Ivan | | | SRB | 2582 | 7,5 | 50 | 39 | 7 | 10 | -7,5 |
| 4 | 14 | | GM | Pranesh, M | U16 | | IND | 2357 | 7,5 | 49 | 39 | 6 | 20 | 32,6 |
| 5 | 16 | | IM | Low, Zhen Yu Cyrus | U20 | | SGP | 2315 | 7,5 | 43,5 | 34,5 | 7 | 20 | -11,2 |
| 6 | 11 | | IM | Uskov, Artem | U12 | | FID | 2382 | 7 | 46 | 36 | 7 | 10 | -5,8 |
| 7 | 12 | | IM | Tadic, Stefan | U18 | | SRB | 2375 | 7 | 45 | 36 | 7 | 10 | -2,9 |
| 8 | 15 | | FM | Petrovic, Aleksa | U18 | | SRB | 2343 | 7 | 40,5 | 32 | 7 | 20 | -24,2 |
| 9 | 69 | | CM | Aaditya, Dhingra | U16 | | IND | 1958 | 6,5 | 51,5 | 37 | 5 | 40 | 185,2 |
| 10 | 19 | | FM | Mamatov, Melis | | | KGZ | 2298 | 6,5 | 50,5 | 37 | 5 | 20 | 26,4 |
| 11 | 72 | | AGM | Vignesh, B | U18 | | IND | 1931 | 6,5 | 49 | 35,5 | 6 | 20 | 93,8 |
| 12 | 32 | | IM | Raahul, V S | U20 | | IND | 2183 | 6,5 | 48,5 | 36 | 6 | 20 | 42,4 |
| 13 | 8 | | GM | Arnaudov, G. Petar | | | BUL | 2410 | 6,5 | 48,5 | 36 | 5 | 10 | -7,5 |
| 14 | 33 | | | Aswath, S | U14 | | IND | 2168 | 6,5 | 48 | 35,5 | 6 | 40 | 58,4 |
| 15 | 2 | | GM | Damljanovic, Branko | S50 | | SRB | 2540 | 6,5 | 47,5 | 34,5 | 6 | 10 | -15,3 |
Final standings in Blitz
| | | | | | | | | | | | | | |
| --- | --- | --- | --- | --- | --- | --- | --- | --- | --- | --- | --- | --- | --- |
| Rk. | SNo | | | Name | sex | FED | Rtg | Pts. | TB1 | TB2 | TB3 | K | rtg+/- |
| 1 | 5 | | GM | Pranesh, M | | IND | 2437 | 9 | 77,5 | 59,5 | 7 | 10 | 11,5 |
| 2 | 23 | | AIM | Vaz, Ethan | | IND | 2163 | 9 | 77 | 60 | 9 | 40 | 206 |
| 3 | 2 | | GM | Petrov, Nikita | | MNE | 2549 | 9 | 76 | 55 | 8 | 10 | -7,2 |
| 4 | 14 | | IM | Dvalishvili, Pavel S. | | RUS | 2297 | 9 | 73,5 | 54,5 | 7 | 10 | 20,4 |
| 5 | 1 | | GM | Ivanisevic, Ivan | | SRB | 2592 | 8,5 | 75 | 54,5 | 8 | 10 | -7,3 |
| 6 | 24 | | FM | Afanasiev, Vadim | | RUS | 2157 | 8,5 | 73 | 51 | 8 | 20 | 64,4 |
| 7 | 13 | | | Tasic, Vladimir | | SRB | 2300 | 8,5 | 69 | 51 | 8 | 20 | 6 |
| 8 | 32 | | | Aswath, S | | IND | 2041 | 8 | 77,5 | 53 | 8 | 40 | 162 |
| 9 | 8 | | IM | Perunovic, Miodrag | | SRB | 2369 | 8 | 74 | 53 | 6 | 10 | 3 |
| 10 | 17 | | FM | Averin, Nikolay | | FID | 2273 | 8 | 67 | 47 | 8 | 20 | -15,4 |
| 11 | 10 | | IM | Uskov, Artem | | FID | 2338 | 7,5 | 74,5 | 54 | 7 | 10 | -3,2 |
| 12 | 21 | | | Aakash Sharadchandra, Dalvi | | IND | 2179 | 7,5 | 69 | 49,5 | 7 | 20 | 23,6 |
| 13 | 4 | | IM | Djordjevic, Vuk | | SRB | 2463 | 7,5 | 69 | 47 | 7 | 10 | -18,3 |
| 14 | 15 | | IM | Sredojevic, Ivan | | SRB | 2278 | 7,5 | 69 | 46 | 6 | 10 | -10,8 |
| 15 | 7 | | GM | Pikula, Dejan | | SRB | 2375 | 7,5 | 68,5 | 48,5 | 7 | 10 | -16,1 |
Links
---