WWCh 2018 Round 3.1: Harika draws with Kosteniuk
Harika drew with former Women's World Champion GM Alexandra Kosteniuk of Russia after a grueling battle of almost 5 hours in round 3.1 of FIDE Women's World Championship. The Indian GM started with Catalan opening which Kosteniuk equalized easily out of the opening. Until this game the head-to-head statistics was 3 draws and 3 wins a piece for each player. They are going to face each other in round 3.2. The player who wins that game will advance to the quarter finals. Ju Wenjun, Jolanta Zawadzka, Anna Muzychuk and Gulrukhbegim Tokhirjonova were victorious in round 3.1. In this report, we bring you the best games, photos and videos from Khanty-Mansiysk. Photo: Official site
Harika draws with Chess Queen Kosteniuk
Tale of the tape:
Kosteniuk managed to equalize with Black pieces out of the opening in the Catalan. She rapidly expanded on the kingside by pushing her pawns but before she could launch a full fledged attack, knights got exchanged and the potential attack diminished.
Anna Muzychuk (UKR) made quick work of her opponent former Women's World Champion Antoaneta Stefanova (BUL) in Petroff's Defence when the latter went haywire after the opening concluded. Anna finished off Stefanova in just 26 moves.
Former Women's World Champion, Mariya Muzychuk was on the brink of a loss as Mobina Alinasab continues to surprise her relatively stronger opponents. Mobina had a winning Queen ending when in the end she rushed for victory but fell into a perpetual check and the game ended up in a draw.
Mariya definitely breathed a sigh of relief when her opponent played 49.h7 and the game ended up in a draw.
Photo Gallery: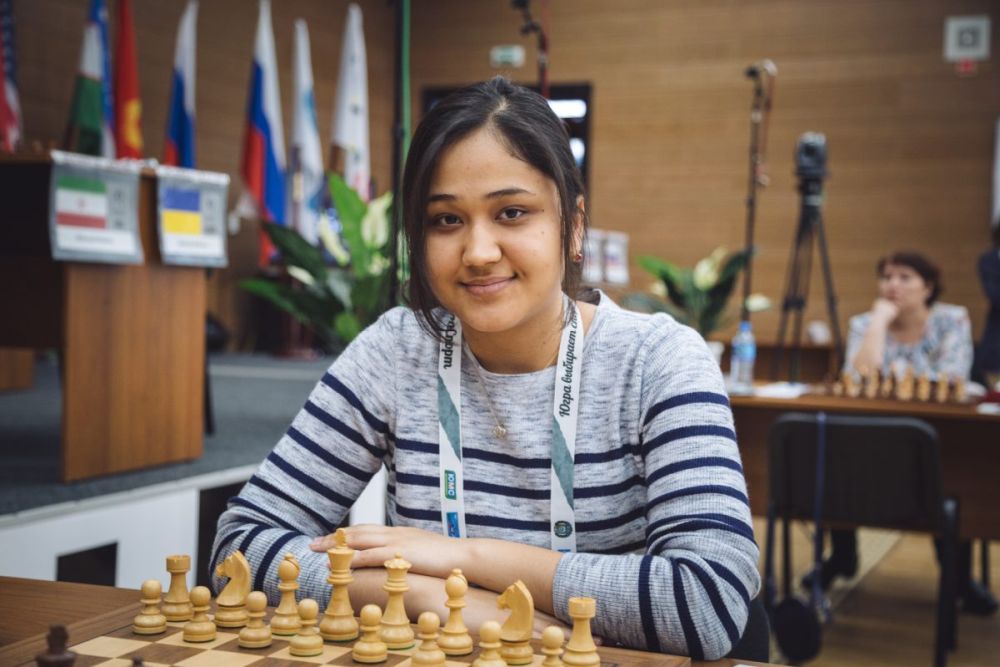 Video Gallery:
Results of round 3.1
| | | | | |
| --- | --- | --- | --- | --- |
| Zhai Mo | (CHN) | 0-1 | Ju Wenjun | (CHN) |
| Zawadzka Jolanta | (POL) | 1-0 | Abdumalik Zhansaya | (KAZ) |
| Pogonina Natalija | (RUS) | ½-½ | Lagno Kateryna | (RUS) |
| Muzychuk Anna | (UKR) | 1-0 | Stefanova Antoaneta | (BUL) |
| Harika Dronavalli | (IND) | ½-½ | Kosteniuk Alexandra | (RUS) |
| Galliamova Alisa | (RUS) | ½-½ | Lei Tingjie | (CHN) |
| Alinasab Mobina | (IRI) | ½-½ | Muzychuk Mariya | (UKR) |
| Tokhirjonova Gulrukhbegim | (UZB) | 1-0 | Gunina Valentina | (RUS) |
---