WWCh 2018 Round 1 TB: Harika survives a scare, Padmini knocked out
Lady luck shined on Harika as she survived a massive scare in round 1.4 against Sopiko Khukhashvili. After drawing her first tie-breaker match, Harika was going to draw the second one too, but she gave an opportunity which Sopiko was not expecting. Khukhashvili not only missed it but she blundered in a drawn game, thus allowing Harika to advance it round 2. Padmini drew her first tie-break game with ease, however in the second game, her opponent's queen proved to be too strong and it snagged a lot of pawns which proved to be fatal. We bring you photos, games and videos from Khanty-Mansiysk. Photo: Official site
Harika advances with a lucky win, Padmini loses her tie-break match
Harika had a couple of intense tie-break matches against Sopiko Khukhashvili. She survived a big scare when she won her second tie-break game after drawing the first one. The second game was also heading for a draw, however Sopiko Khukhashvili was not expecting a gift, thus she completely missed it and then eventually blundered in a drawn position.
In the first game, Sopiko tried to surprise Harika by playing the O'Kelly variation in Sicilian Defence. However it is not easy to surprise Harika. Pieces got exchanged at regular intervals until move no. 30. After 57 moves a draw was agreed due to a threefold repetition in Rook-Knight endgame.
Padmini was unable to extract anything in the first tie-breaker as her opponent played Anti-Berlin system in Ruy Lopez. She had a pull in the game at one point, however it reached to a drawn Rook-Pawn endgame and ended up in a draw after 69 moves when both sides had nothing but king left on the board.
In the second tie-breaker, Padmini played an encore of the same opening from their round 1.1 game. Only this time, Zhansaya decided to deviate and go for short castling. Zhansaya had the initiative in queen, knight and bishop vs. queen and two bishop endgame. Eventually Zhansaya's Queen proved to be too strong as it snagged a whole lot of pawns.
Indian women's situation after round 1 tie-breaks:
1. Humpy and Harika advanced to round 2
2. Bhakti and Padmini have been eliminated
Photo Gallery: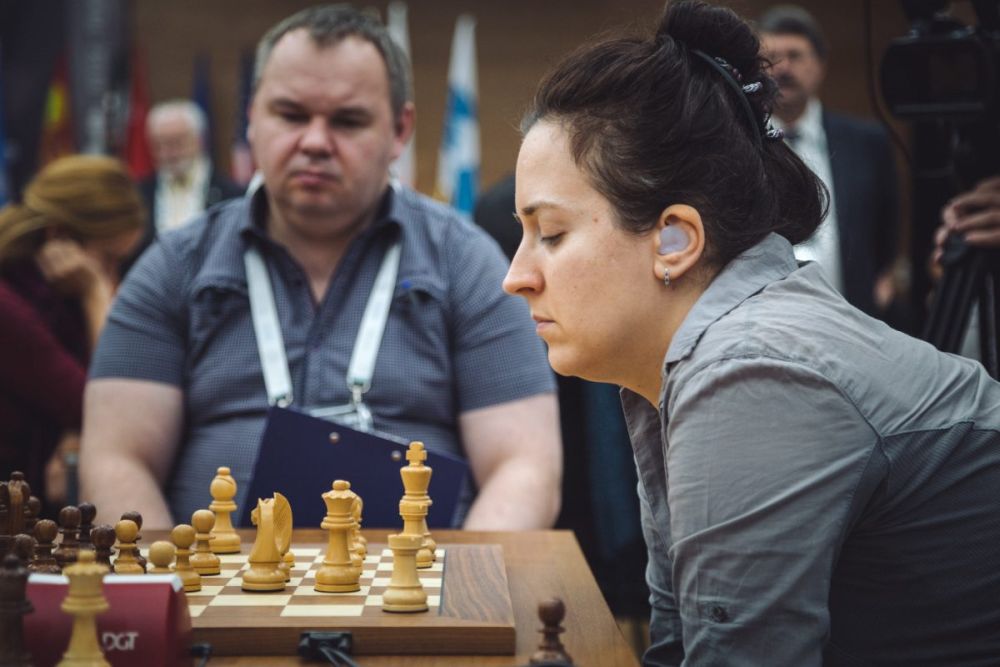 Video Gallery:
Results of round 1:
| | | | | |
| --- | --- | --- | --- | --- |
| Hardegen Kathryn | (AUS) | 0-2 | Ju Wenjun | (CHN) |
| Koneru Humpy | (IND) | 2-0 | Toubal Hayat | (ALG) |
| February Jesse Nikki | (RSA) | 0-2 | Lagno Kateryna | (RUS) |
| Muzychuk Anna | (UKR) | 2-0 | Hamid Rani | (BAN) |
| Vazquez Maccarini, Danitza | (PUR) | 0-2 | Kosteniuk Alexandra | (RUS) |
| Goryachkina Aleksandra | (RUS) | 1½-½ | Ouellet, Maili-Jade | (CAN) |
| Wafa Shahenda | (EGY) | 0-2 | Muzychuk Mariya | (UKR) |
| Tan Zhongyi | (CHN) | 1½-½ | Sun Fanghui | (CHN) |
| Aliaga Fernandez, Ingrid Y | (PER) | ½-1½ | Gunina Valentina | (RUS) |
| Paehtz Elisabeth | (GER) | ½-1½ | Alinasab Mobina | (IRI) |
| Miranda Llanes, Yerisbel | (CUB) | 0-2 | Dzagnidze Nana | (GEO) |
| Harika Dronavalli | (IND) | 2½-1½ | Khukhashvili Sopiko | (GEO) |
| Foisor Sabina-Francesca | (USA) | 1-3 | Stefanova Antoaneta | (BUL) |
| Pogonina Natalija | (RUS) | 1½-½ | Kulkarni Bhakti | (IND) |
| Padmini Rout | (IND) | 1½-2½ | Abdumalik Zhansaya | (KAZ) |
| Batsiashvili Nino | (GEO) | 2-0 | Arakhamia-Grant Ketevan | (SCO) |
| Zhai Mo | (CHN) | 2-0 | Girya Olga | (RUS) |
| Zhao Xue | (CHN) | 2-0 | Lujan, Carolina | (ARG) |
| Zhu Jineer | (CHN) | 2-0 | Javakhishvili Lela | (GEO) |
| Saduakassova Dinara | (KAZ) | 3-1 | Matnadze Ana | (ESP) |
| Vo Thi Kim Phung | (VIE) | ½-1½ | Khotenashvili Bela | (GEO) |
| Lei Tingjie | (CHN) | 3-1 | Gara Anita | (HUN) |
| Shvayger Yuliya | (ISR) | ½-1½ | Socko Monika | (POL) |
| Ushenina Anna | (UKR) | 1½-½ | Mkrtchian Lilit | (ARM) |
| Tokhirjonova Gulrukhbegim | (UZB) | 1½-½ | Kashlinskaya Alina | (RUS) |
| Atalik Ekaterina | (TUR) | 3-1 | Cori T., Deysi | (PER) |
| Nakhbayeva Guliskhan | (KAZ) | 1½-2½ | Galliamova Alisa | (RUS) |
| Ni Shiqun | (CHN) | 3½-2½ | Zhukova Natalia | (UKR) |
| Vega Gutierrez Sabrina | (ESP) | 1½-2½ | Bodnaruk Anastasia | (RUS) |
| Hoang Thanh Trang | (HUN) | 2½-1½ | Danielian Elina | (ARM) |
| Nechaeva (Guseva) Marina | (RUS) | ½-1½ | Zawadzka Jolanta | (POL) |
| Krush Irina | (USA) | 3-1 | Gaponenko Inna | (UKR) |
Round 2 pairings:
| | | | | |
| --- | --- | --- | --- | --- |
| Zhai Mo | (CHN) | – | Batsiashvili Nino | (GEO) |
| Zawadzka Jolanta | (POL) | – | Koneru Humpy | (IND) |
| Zhu Jineer | (CHN) | – | Pogonina Natalija | (RUS) |
| Ju Wenjun | (CHN) | – | Krush Irina | (USA) |
| Lagno Kateryna | (RUS) | – | Hoang Thanh Trang | (HUN) |
| Bodnaruk Anastasia | (RUS) | – | Muzychuk Anna | (UKR) |
| Kosteniuk Alexandra | (RUS) | – | Ni Shiqun | (CHN) |
| Muzychuk Mariya | (UKR) | – | Atalik Ekaterina | (TUR) |
| Dzagnidze Nana | (GEO) | – | Lei Tingjie | (CHN) |
| Abdumalik Zhansaya | (KAZ) | – | Zhao Xue | (CHN) |
| Tokhirjonova Gulrukhbegim | (UZB) | – | Tan Zhongyi | (CHN) |
| Gunina Valentina | (RUS) | – | Ushenina Anna | (UKR) |
| Socko Monika | (POL) | – | Alinasab Mobina | (IRI) |
| Galliamova Alisa | (RUS) | – | Goryachkina Aleksandra | (RUS) |
| Khotenashvili Bela | (GEO) | – | Harika Dronavalli | (IND) |
| Stefanova Antoaneta | (BUL) | – | Saduakassova Dinara | (KAZ) |
---