Debarshi wins 56th West Bengal State Open 2018
Debarshi Mukherjee scored 8.5/10 and won 56th West Bengal State Open Championship 2018. Thus qualifying for the upcoming National Open Senior Championship 2018. Defending champion Neelash Saha scored 7.5/10 and secured 2nd position. He drew with the eventual champion of the tournament in the last round. Gopal Chandra Biswas made a strong comeback in this tournament, scored 7.5/10 and secured 3rd position due to a better tie-break score. In this report, we bring you photos from the tournament. Photo: Swati Biswas
Debarshi wins his maiden State Open title
Due to the number of tournaments getting increased so much these days that it allows a player to pick and choose which one they wish to play. The tournament clashing with Goa GM tournament and festivities around the corner resulted in low number of participants. A few years 160 participants would mean a lot for a State championship but these days it's just a meagre number.
Two IM-norm holder, Debarshi Mukherjee headed into the final round with a full one point lead over five other players at 7.0/9. A draw in the last round guaranteed him a championship, well a loss would mean the defending champion Neelash Saha winning for the second year in a row. Debarshi managed to hold a draw and secure his first State title.
Photo Gallery: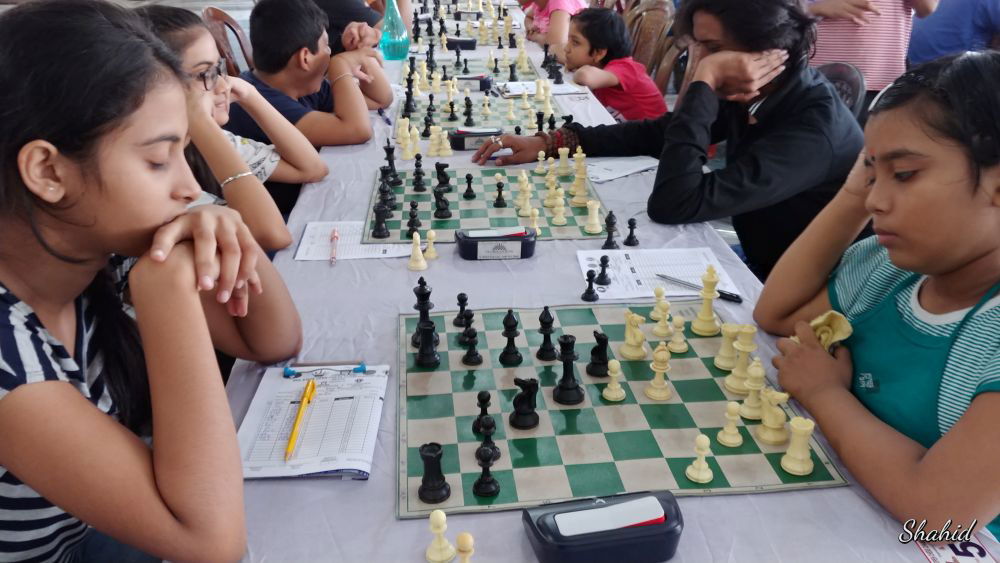 Prize Distribution Ceremony photos: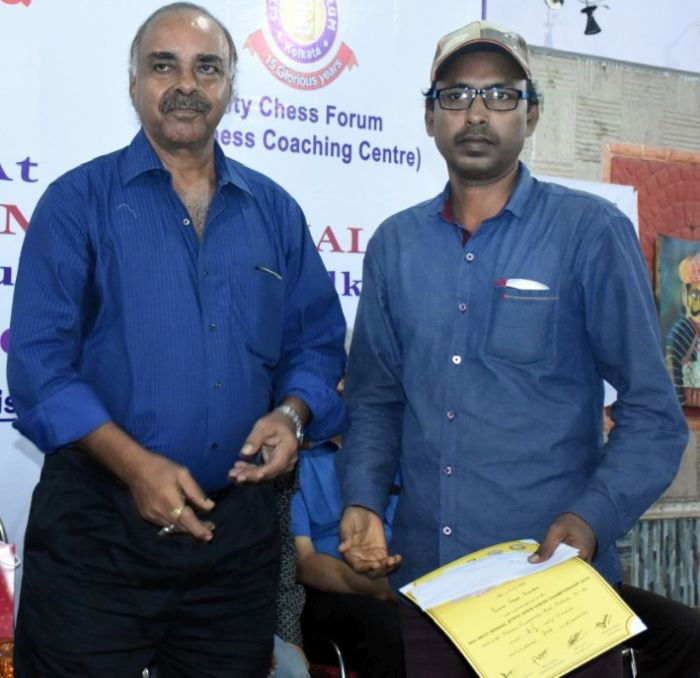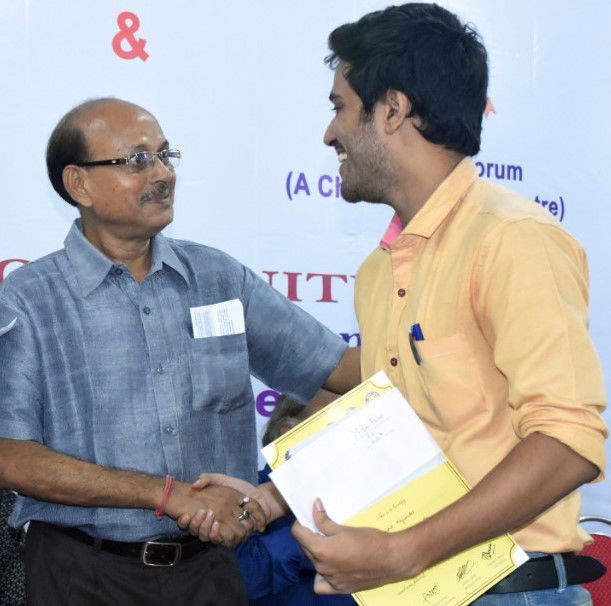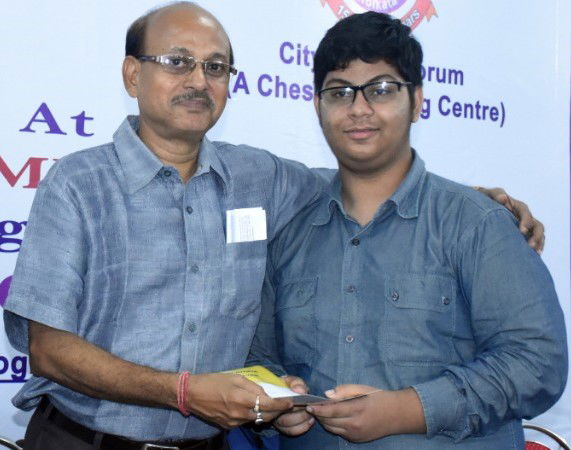 A short interview with the champion:
Shahid Ahmed (SA): Congratulations for winning 56th West Bengal State Open. How does it feel to become champion for the very first time?
Debarshi Mukherjee (DM): I am very happy to be the 56th State Champion. Senior State championship has always held a special place compared to any other tournament in West Bengal. Yes this is my first although I had won a national selection tournament previously.
SA: What is the reason behind your triumph?
DM: I was a bit lucky but I was very motivated to win this event. Roktim Bandyopadhyay is my coach. Aagard and Dvoretsky's books helped me a lot.
SA: What was the last championship you have won?
DM: I won a Rapid event just two days before the Senior State Championship and the DBCA rating event in Dec 2016
SA: Whom will you give credit for your success?
DM: My mother and my coach.
SA: How difficult/easy is to balance your work and chess?
DM: It is getting very difficult for me to manage both. There are no special leave for tournaments.
SA: What is your aim in chess?
DM: Getting International Master title is my immediate aim.
SA: What are the next tournaments you are planning to play?
DM: I will be playing in Dhaka
SA: Tata Steel India 2018 Super GM tournament is taking place in your hometown Kolkata in a few days. How excited are you about it? Whom are you looking forward to see live in action?
DM: I am very excited and I will be looking forward to seeing the world's best in action. I have never seen them play live so it's a huge thing for me to watch each and every one of them playing.
The tournament was organized by Bengal Chess Association and City Chess Forum from 9th-13th October 2018 at Kalatan Community Hall in Kolkata. The tournament witnessed the participation of 160 players from various districts of West Bengal.
Final standings after round 10
| | | | | | | | | | | | | | | | | | | | |
| --- | --- | --- | --- | --- | --- | --- | --- | --- | --- | --- | --- | --- | --- | --- | --- | --- | --- | --- | --- |
| Rk. | SNo | | Name | Typ | sex | FED | Rtg | Pts. | TB1 | TB2 | TB3 | TB4 | TB5 | n | w | we | w-we | K | rtg+/- |
| 1 | 3 | | Debarshi Mukherjee | | | IND | 2300 | 8,5 | 0,0 | 62,5 | 67,5 | 54,75 | 7 | 10 | 8,5 | 8,14 | 0,36 | 20 | 7,2 |
| 2 | 1 | | Neelash Saha | | | IND | 2370 | 7,5 | 0,0 | 65,0 | 70,0 | 50,00 | 5 | 10 | 7,5 | 8,60 | -1,10 | 20 | -22,0 |
| 3 | 14 | | Biswas Gopal Chandra | | | IND | 1810 | 7,5 | 0,0 | 62,0 | 66,0 | 47,00 | 7 | 10 | 7,5 | 6,19 | 1,31 | 20 | 26,2 |
| 4 | 11 | | Sandip Dey | | | IND | 1867 | 7,5 | 0,0 | 61,0 | 66,5 | 43,75 | 7 | 10 | 7,5 | 6,43 | 1,07 | 20 | 21,4 |
| 5 | 9 | | Sarbojit Paul | | | IND | 1923 | 7,5 | 0,0 | 61,0 | 66,0 | 44,00 | 5 | 10 | 7,5 | 5,93 | 1,57 | 20 | 31,4 |
| 6 | 18 | | Basak Bishal | | | IND | 1703 | 7,5 | 0,0 | 60,5 | 65,5 | 47,75 | 6 | 10 | 7,5 | 5,19 | 2,31 | 20 | 46,2 |
| 7 | 7 | | Bhattacharya Niladri Shekhar | | | IND | 2037 | 7,5 | 0,0 | 59,5 | 63,5 | 45,25 | 6 | 10 | 7,5 | 7,79 | -0,29 | 20 | -5,8 |
| 8 | 5 | | Arpan Das | | | IND | 2164 | 7,5 | 0,0 | 58,0 | 62,5 | 45,75 | 6 | 10 | 7,5 | 9,01 | -1,51 | 20 | -30,2 |
| 9 | 2 | | Kaustuv Kundu | | | IND | 2369 | 7,5 | 0,0 | 56,5 | 60,5 | 41,75 | 7 | 10 | 7,5 | 8,84 | -1,34 | 20 | -26,8 |
| 10 | 33 | | Pratyay Chowdhury | 13B | | IND | 1542 | 7,5 | 0,0 | 54,0 | 58,0 | 40,25 | 7 | 9 | 6,5 | 3,93 | 2,57 | 40 | 102,8 |
| 11 | 30 | | Parikshit Majumder | | | IND | 1561 | 7,0 | 0,0 | 58,0 | 63,0 | 41,00 | 6 | 10 | 7 | 5,57 | 1,43 | 40 | 57,2 |
| 12 | 23 | | Swarnava Biswas | | | IND | 1666 | 7,0 | 0,0 | 58,0 | 62,0 | 41,25 | 6 | 10 | 7 | 6,55 | 0,45 | 40 | 18,0 |
| 13 | 21 | | Satya Sekhar Mitra | | | IND | 1686 | 7,0 | 0,0 | 53,5 | 57,5 | 38,50 | 4 | 10 | 7 | 7,66 | -0,66 | 20 | -13,2 |
| 14 | 51 | | Arijit Ghosh | | | IND | 1413 | 7,0 | 0,0 | 52,0 | 54,5 | 35,50 | 7 | 9 | 6 | 3,61 | 2,39 | 40 | 95,6 |
| 15 | 41 | | Subhabrata Roy | | | IND | 1469 | 7,0 | 0,0 | 51,0 | 55,0 | 36,25 | 6 | 8 | 6 | 3,96 | 2,04 | 40 | 81,6 |
Links:
ChessBase India t-shirts are now available in Amazon India
---