Prantik Roy wins 1st Golf Green Rapid Rating 2018
IM Prantik Roy of Eastern Railways won 1st Golf Green Rapid Rating 2018 in Kolkata, West Bengal on 28th October 2018. Prantik scored 8.0/9 and became champion due to better tie-break score. Four players finished at 8.0/9 at the end of the tournament. Along with the champion, IM Sayantan Das, GM Diptayan Ghosh and Neelash Saha all of them finished at 8.0/9 and they were placed 2nd, 3rd and 4th. Sayantan's phenomenal run of eight straight wins was stalled in the final round by his childhood friend Diptayan. Despite not losing a single game, Diptayan had to settle for 4th position because of low tie-break score. In this report we bring you photos, videos, interviews and an annotated game by the champion. Photo: Shahid Ahmed
Prantik wins his first title in his hometown after 5 years
Former National Blitz champion IM Prantik Roy started the tournament as fourth seed. He was leading the tournament until 6th round, however a loss in the 7th round against Neelash Saha put him behind the leader by a whole point. However that did not stop him. He won the crucial last two rounds and with a little bit of luck, he became the champion.
Here is an annotated game by the champion himself from Xtracon Chess Open 2018 where he scored his maiden GM norm
IM Sayantan Das had a phenomenal start with 8.0/8 and he was a full point ahead heading into the final round. He just needed a draw in the final round to become champion, however his last round opponent was...
GM Diptayan Ghosh, started the tournament as the top seed and he is the only player to remain undefeated in top 4, finished at 4th position with a score of 8.0/9. Two draws against Subhayan Kundu and Aronyak Ghosh in the 5th and 7th round made sure his tie-break was the lowest among the top 4. He also did not face the eventual champion of the tournament.
Neelash's only loss in the tournament was against Prantik Roy in the 6th round. Due to a lesser tie-break score, he had to settle for 3rd position.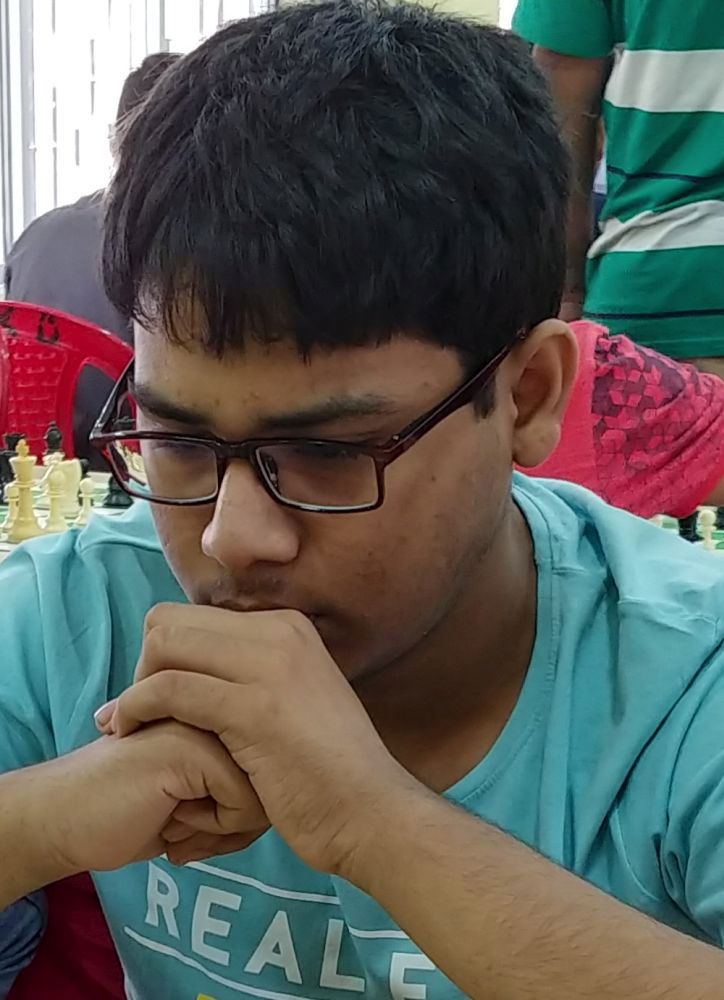 Aronyak's best game of the tournament was in the 7th round when drew with GM Diptayan Ghosh.
Despite suffering a loss against the eventual champion, Diya Chowdhury managed to finish at 10th position with a score of 7.0/9. She also increased her ELO rating by 80 points.
Photo Gallery: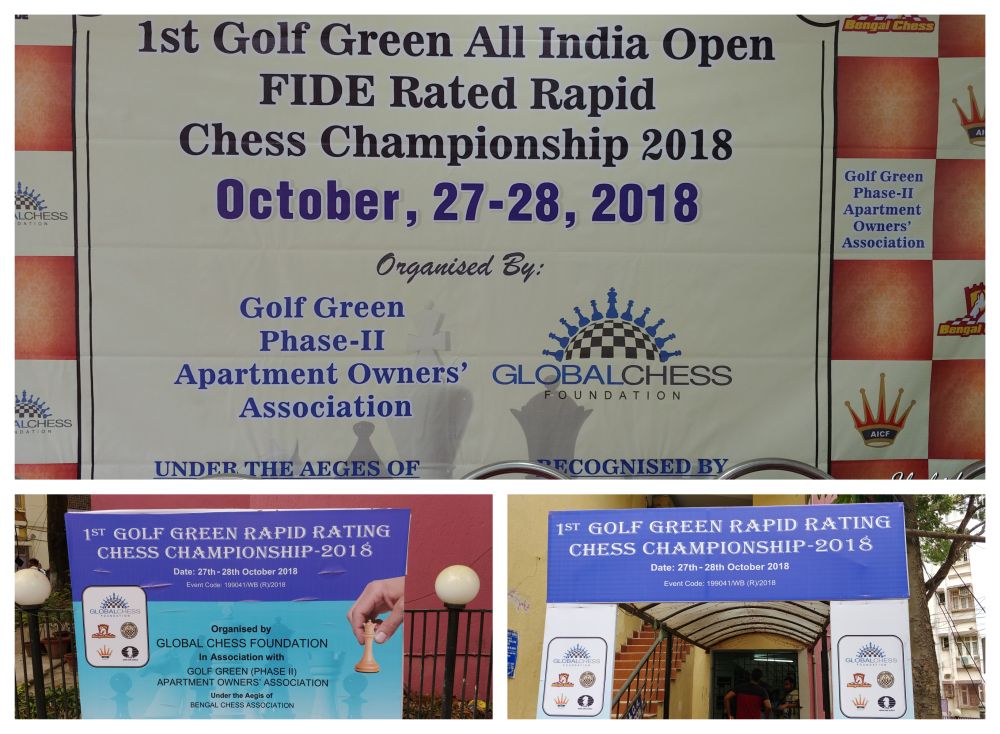 Video Gallery:
1st Golf Green All India Open Rapid Rating Tournament witnessed the participation of 305 players from various parts of West Bengal on 27th and 28th October 2018. The tournament was organized by Global Chess Foundation and Golf Green Phase II Apartment Owners' Association.
Final Standings after 9 rounds
| | | | | | | | | | | | | | | | | | | | |
| --- | --- | --- | --- | --- | --- | --- | --- | --- | --- | --- | --- | --- | --- | --- | --- | --- | --- | --- | --- |
| Rk. | SNo | | Name | Typ | sex | FED | Rtg | Pts. | TB1 | TB2 | TB3 | TB4 | TB5 | n | w | we | w-we | K | rtg+/- |
| 1 | 4 | IM | Roy Prantik | | | IND | 2157 | 8,0 | 0,0 | 55,0 | 60,5 | 52,50 | 8 | 9 | 8 | 7,48 | 0,52 | 20 | 10,4 |
| 2 | 2 | IM | Das Sayantan | | | IND | 2431 | 8,0 | 0,0 | 52,5 | 57,0 | 50,00 | 8 | 9 | 8 | 7,65 | 0,35 | 20 | 7,0 |
| 3 | 13 | | Neelash Saha | | | IND | 1830 | 8,0 | 0,0 | 51,5 | 55,0 | 47,50 | 8 | 9 | 8 | 6,72 | 1,28 | 20 | 25,6 |
| 4 | 1 | GM | Ghosh Diptayan | | | IND | 2521 | 8,0 | 0,0 | 49,0 | 52,5 | 46,00 | 7 | 9 | 8 | 7,98 | 0,02 | 20 | 0,4 |
| 5 | 7 | CM | Aronyak Ghosh | | | IND | 2063 | 7,5 | 0,0 | 49,5 | 54,0 | 44,50 | 6 | 9 | 7,5 | 7,34 | 0,16 | 20 | 3,2 |
| 6 | 16 | | Souradip Deb | | | IND | 1780 | 7,5 | 0,0 | 46,5 | 50,5 | 41,00 | 7 | 9 | 7,5 | 6,74 | 0,76 | 0 | 0,0 |
| 7 | 9 | | Arpan Das | | | IND | 1965 | 7,0 | 0,0 | 50,5 | 54,0 | 38,50 | 7 | 9 | 7 | 7,24 | -0,24 | 20 | -4,8 |
| 8 | 8 | | Anurag Jaiswal | | | IND | 2015 | 7,0 | 0,0 | 49,5 | 55,0 | 41,50 | 6 | 9 | 7 | 7,62 | -0,62 | 20 | -12,4 |
| 9 | 20 | | Aryamann Sain | | | IND | 1681 | 7,0 | 0,0 | 49,5 | 54,0 | 38,00 | 7 | 9 | 7 | 6,47 | 0,53 | 20 | 10,6 |
| 10 | 75 | | Diya Chowdhury | | w | IND | 1274 | 7,0 | 0,0 | 48,0 | 51,5 | 37,00 | 7 | 8 | 6 | 2,00 | 4,00 | 20 | 80,0 |
| 11 | 15 | | Mukherjee Dyutimoy | S60 | | IND | 1786 | 7,0 | 0,0 | 47,0 | 51,5 | 38,50 | 7 | 9 | 7 | 7,64 | -0,64 | 20 | -12,8 |
| 12 | 25 | | Rajarshi Dutta | | | IND | 1621 | 7,0 | 0,0 | 46,5 | 50,5 | 33,25 | 6 | 8 | 6 | 6,29 | -0,29 | 20 | -5,8 |
| 13 | 68 | | Tejash Jain | | | IND | 1310 | 7,0 | 0,0 | 46,0 | 48,5 | 36,00 | 7 | 7 | 5 | 2,85 | 2,15 | 20 | 43,0 |
| 14 | 35 | | Arya Bhakta | U13 | | IND | 1512 | 7,0 | 0,0 | 45,5 | 49,0 | 34,50 | 7 | 8 | 6 | 5,66 | 0,34 | 20 | 6,8 |
| 15 | 55 | | Pratyay Chowdhury | U13 | | IND | 1382 | 7,0 | 0,0 | 37,5 | 38,5 | 28,00 | 7 | 7 | 5 | 4,40 | 0,60 | 20 | 12,0 |
| 16 | 31 | | Basak Bishal | | | IND | 1551 | 6,5 | 0,0 | 50,5 | 52,0 | 34,75 | 6 | 8 | 5,5 | 4,37 | 1,13 | 20 | 22,6 |
| 17 | 19 | | Saptorshi Gupta | | | IND | 1700 | 6,5 | 0,0 | 50,0 | 54,5 | 36,25 | 6 | 9 | 6,5 | 7,08 | -0,58 | 20 | -11,6 |
| 18 | 14 | | Subhayan Kundu | | | IND | 1791 | 6,5 | 0,0 | 50,0 | 54,0 | 34,00 | 6 | 8 | 5,5 | 4,27 | 1,23 | 20 | 24,6 |
| 19 | 23 | | Satya Sekhar Mitra | | | IND | 1660 | 6,5 | 0,0 | 50,0 | 53,0 | 36,25 | 6 | 7 | 4,5 | 5,21 | -0,71 | 20 | -14,2 |
| 20 | 6 | | Mitra Swapan | | | IND | 2097 | 6,5 | 0,0 | 49,0 | 51,5 | 36,00 | 5 | 8 | 5,5 | 7,05 | -1,55 | 20 | -31,0 |
---