Lake City Open 2018 : IM R Balasubramaniam wins the grand festival in Udaipur!
Udaipur is known as the city of lakes. With unparalleled beauty it is one of the most exciting places for tourists all across India and the world. The chess players are in for a treat as the "Chess in Lakecity" are making giant efforts to popularize the sport in their city. The 6th N.L. Pandiyar International FIDE Rating tournament was held from the 22nd to 25th of November 2018. With 353 participants, excellent prize fund and super star India no.3 Vidit Gujrathi visiting the venue, the event became the centre of attraction of chess fans all across the country. IM R. Balasubramaniam of Tamil Nadu won the championship. Atul Dahale, who was one of the participants in the tournament, sends us an elaborate report on his experience of playing in Udaipur.
6th N L Pandiyar International Fide Rating chess tournament was held in the beautiful city of lakes Udaipur from 22nd to 25th November, 2018. This tournament attracted 353 participants from all over India including 4 International masters and 1 Fide master. After 8 rounds of play International Master Ramnathan Balasubramaniam emerged as the champion of the tournament with 7.5/8 score.
Udaipur is a city situated in the state of Rajasthan which is also known as 'City of Lakes'. There are several beautiful lakes in Udaipur. The city was named after Maharana Udai Singh II who founded it in 1559. After the tournament got over I visited "Fateh Sagar Lake" in the evening and it was really beautiful.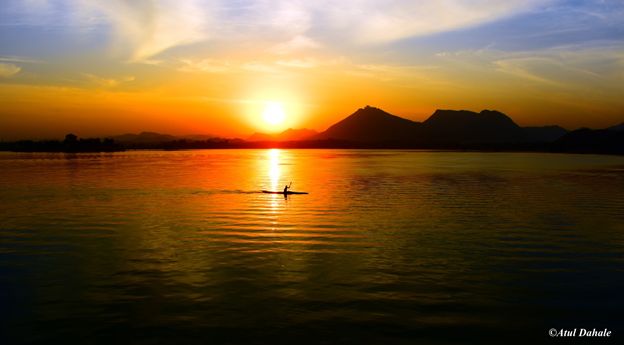 The tournament attracted 353 participants from different parts of India which included 4 International Masters and one Fide master. IM Chakravarthy Reddy M (2418) was the top seed of the tournament. Apart from him IM Rahul Sangma, IM Ramanathan Balasubramanim and veteran IM Wazeer Ahmad Khan participated in this grand tournament.
Final Rankings after 8 rounds
Rk.
SNo
Name
Typ
sex
FED
Rtg
Club/City
Pts.
TB1
TB2
TB3
TB4
TB5
w-we
1
6
IM
Ramnathan Balasubramaniam
IND
2163
TN
7,5
0,0
40,0
43,0
39,50
7
0,44
2
9
Soni Krishan
IND
1987
ODI
7,0
0,0
40,5
44,0
37,25
6
0,11
3
18
Sher Singh
IND
1848
RAJ
7,0
0,0
40,0
43,5
36,50
6
2,72
4
2
IM
Sangma Rahul
IND
2297
RLYS
7,0
0,0
37,0
41,5
36,00
6
-0,36
5
7
Bagdi R.K.
S60
IND
2112
MP
7,0
0,0
34,0
38,0
33,50
7
-0,36
6
25
Sanchit Anand
IND
1775
DEL
6,5
0,0
40,5
45,0
35,25
5
1,90
7
3
FM
Gajwa Ankit
IND
2270
MP
6,5
0,0
40,5
44,0
33,75
6
-0,86
8
11
Dere Pushkar
IND
1954
MAH
6,5
0,0
40,0
44,0
33,75
6
0,09
9
1
IM
Chakravarthi Reddy M
IND
2418
MAH
6,5
0,0
37,5
40,5
30,50
6
0,06
10
29
Akash Tiwari
IND
1748
WB
6,5
0,0
36,5
40,0
31,75
6
0,86
11
34
Sunny Bedi
IND
1710
RAJ-LC
6,5
0,0
35,0
38,5
30,00
6
1,32
12
37
Kapil Dadhich
IND
1692
RAJ
6,5
0,0
34,5
38,0
28,00
6
0,69
13
8
Dahale Atul
IND
2084
MAH
6,5
0,0
34,0
37,5
29,50
6
-0,74
14
47
AFM
Pawar Harshit
U11
IND
1656
DEL
6,5
0,0
32,5
36,0
28,50
6
0,37
15
19
Sahil Dhawan
IND
1838
HAR
6,0
0,0
40,0
44,0
29,50
6
0,75
16
26
Katiyar Prashant
IND
1768
UP
6,0
0,0
40,0
43,5
30,50
5
0,64
17
39
Rathina Sabapathi A
U15
IND
1686
TN
6,0
0,0
39,0
42,5
29,00
6
1,29
18
16
Verma Sanjay
IND
1857
WB
6,0
0,0
38,0
42,0
29,00
6
-0,11
19
35
Dhruv Dak
IND
1700
RAJ-LC
6,0
0,0
36,0
39,5
28,00
6
0,99
20
54
Babel T Divyanshu
IND
1625
RAJ-LC
6,0
0,0
36,0
39,0
27,25
5
1,83
The tournament was organized by "Chess in Lake city" and was praised by everyone because of its efficient organization. Let's see what made players and parents to like the organization of this grand festival.
Air conditioned tournament hall
Delicious food for all players!
Everyday delicious breakfast,lunch, evening tea and dinner was provided to all the players at very less price!It surely shows that the organisers cared about the players and it helped players to save time and money in finding good food during the tournament.
Good team of arbiters.
Very efficient team of arbiters headed by India's famous IA Gopakumar MS made sure that the tournament was conducted in best manner and without any disputes.
Great media coverage in local newspapers
The organisers took good efforts to get media coverage in all the local and national newspapers right from the start of the event. This is something rare to happen in India when chess gets wide publicity in newspapers. Players, organisers and sponsors get publicity. In the end chess comes to the local population which is a good feeling.
Words of appreciation from parents and visitors
India's experienced organizer Praful Zaveri who has staged many successful tournaments in Mumbai including the famous "IIFL wealth International Open" paid a visit to the tournament venue and praised the organization of this event. When I was discussing with him he said it was a very well organized tournament where the needs of the players were taken care of quite well. Organizing an event with good food and good accommodation and big AC hall shows the quality of the event.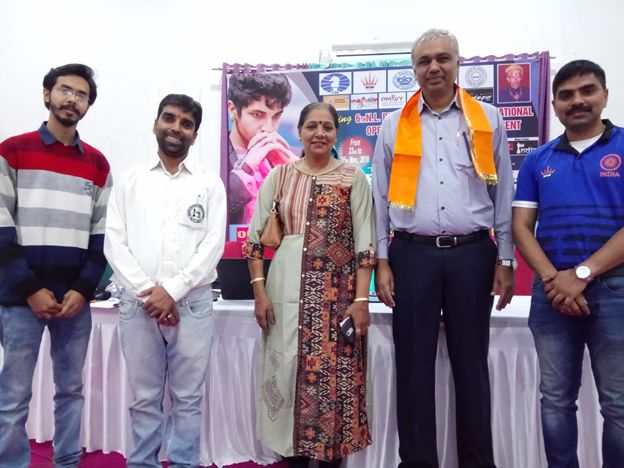 Parents were very happy with the organization.
Our superstar GM Vidit Gujrathi!
Our superstar GM Vidit Gujarathi was the brand ambassador of the tournament. Vidit is India's youngest player to cross 2700 Elo rating mark. He has many achievements under his hat. He is truly a fine brand ambassador of our game.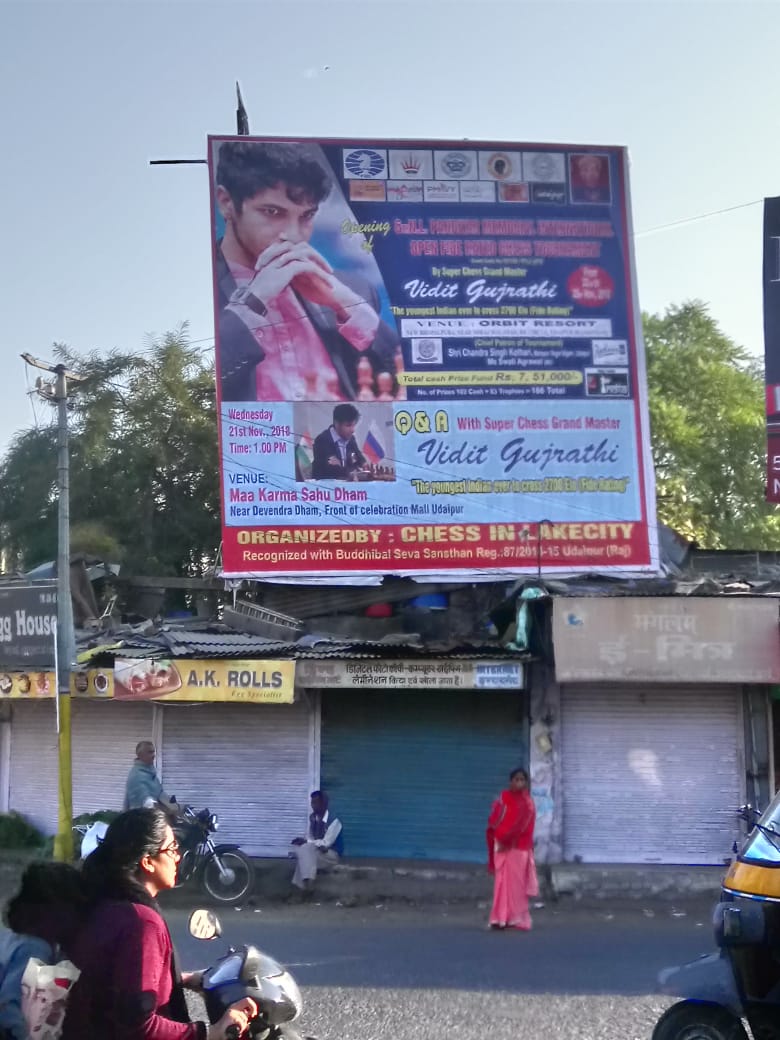 Vidit played a simultaneous exhibition of 50 games against 50 local players and inaugurated the tournament. Personally I loved that the big posters of Vidit that were erected at all prime locations in Udaipur and it felt really nice to see a person whom you know since childhood being treated in such a warm manner. Vidit has worked tremendously hard to achieve this appreciation and he truly deserves this.
Local Sight-seeing!
After the tournament me and my friend Ankit Gajwa went on a one day sight-seeing of Udaipur city and we really loved it. We visited all good places in Udaipur like Udaipur City Palace, Pichola lake, Fateh Sagar lake, aquarium and main city also. I must say Udaipur is a beautiful city and the people are very warm and helpful.
It was a wonderfully organized event and I enjoyed my stay there in Udaipur. All credit goes to organizing team of "Chess in Lake City". I am looking forward to come and play in Udaipur once again soon!
About the author:
Atul Dahale is one of the first internationally FIDE rated players from Parbhani. He loves the game of chess and enjoys the fact that he can travel to different places, meet people and make new friends thanks to chess. He has a rating of 2069.
---