N L Pandiyar Memorial Rating Open is back after four years
1st Bikaner GM Open is starting today. Rajasthan is going to host another strong rating open tournament in a week from 8th October 2022. The seventh edition of N L Pandiyar Memorial Rating Open will take place at Orbit Resort, Udaipur. This is one of the longest running Open Rating tournaments in the state. The first edition took place back in 2009. This edition offers a prize fund of ₹1501000. Total number of prizes are 173. There are three prizes worth ₹1 lac and more. Apart from that, there are five prizes worth over ₹50000. So far 309 players have registered from various parts of the country. Hurry up and register if you have not already. Photo: Tournament Circular/Chess in Lakecity
One of the longest running Rating Open tournament in Udaipur, Rajasthan
The first edition of N L Pandiyar Memorial took place back in 2009. The second and third edition was held in the following years 2010 and 2011. After a gap of five years, the next three editions happened between 2016 and 2018. There was a GM tournament in 2019. Thus, after a gap of almost four years, N L Pandiyar Memorial Rating Open tournament is back, starting next week 8th October 2022.
Championship history
The tournament is being organized in Udaipur, Rajasthan since 2009. The winner of the first edition, IM Sriram Jha went on to become a Grandmaster in the following year. Vignesh N R won the third edition when he was just 13-years-old. He became an International Master in 2015. Only the second and third edition were rating restricted events. From 2016 onwards, it once again became an Open tournament. Fourth to sixth edition took place consecutively between 2016 and 2018.
Schedule
Every day there is double round from 8th to 11th October 2022. Only the last round on 12th October 2022 is a single round.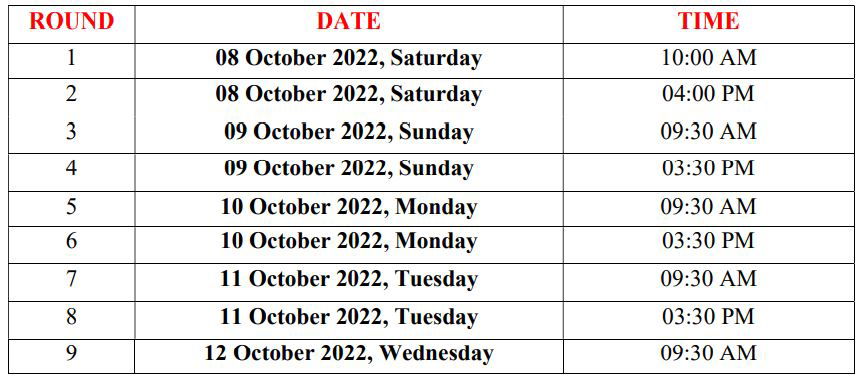 Prizes
The tournament has a total prize fund of ₹1501000. The total number of prizes are 173. There are three prizes worth ₹1 lac and more. Apart from that there are five more prizes worth more than ₹50000. Two different rating categories have a combined total of 35 prizes which is besides the 35 main prizes. That's not all, there are ten prizes each for Veteran (Above 60) and Unrated players. Best Female, Best Rajasthan, Best lakecity and Best Physically Challenge have two prizes each. Six age group categories, starting from Under-5 to Under-15 have ten prizes for top ten in each category.
Entry and Eligibility
The tournament is open to all AICF registered players of the country. Check the table below for entry fee details:
How to Register
Players can only register by filling up the form here. For more details, please visit our calendar.
Starting list
Links
---