Silver Lake Open R4: Raunak's beautiful bishop sacrifice
Raunak Sadhwani made a beautiful bishop sacrifice against IM Zhandos Agmanov to score a victory in Round 4 of Silver Lake Open 2021. Nihal Sarin capitalized on his opponent GM Ulvi Sadikhov's blunder in the endgame to join the lead with Raunak 4.0/4. Based on their present form, it was inevitable that Nihal and Raunak will face each other in the tournament. Their fourth round battle could play a crucial role in deciding the winner of the tournament eventually. GM Abhimanyu Puranik is steadily moving forward 3.5/4. WIM Isha Sharma held GM Thal Abergel to a draw. Round 5 starts today at 8:30 p.m. IST. Photo: Rupali Mullick
Nihal and Raunak share the lead 4.0/4
Both Nihal and Raunak have won all their respective games to share the lead 4.0/4 at the conclusion of the fourth round. GM Abhimanyu Puranik stays in the hunt as he scored a win and moved to 3.5/4.
Nihal - Sadikhov: 1-0
Nihal capitalized on his opponent GM Ulvi Sadikhov's blunder in a seemingly equal endgame.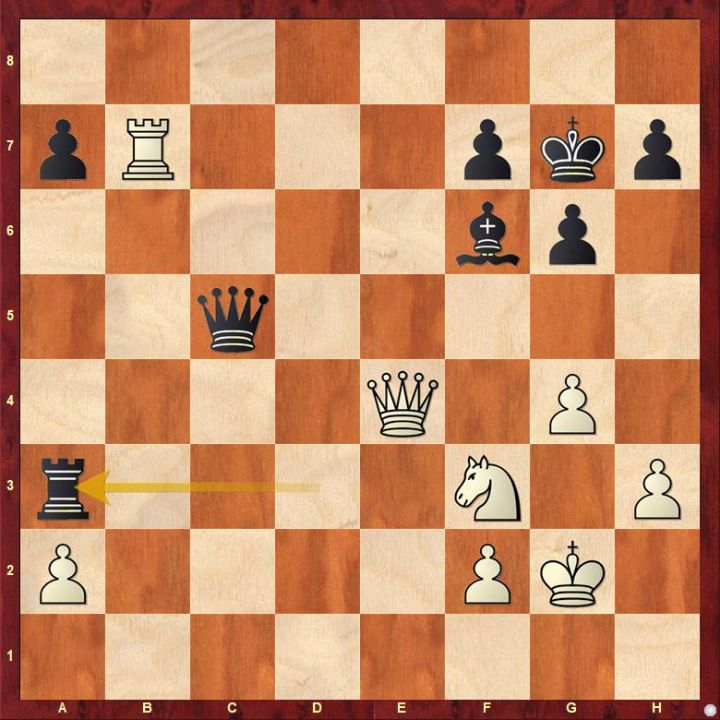 32...Ra3 completely disregards the intention behind 32.Qe4. Find out why it is a blunder and what Black should have played instead.
Agmanov - Raunak: 0-1
IM Zhandos Agmanov had an opportunity to trade the knights but he declined it, eventually the knight caused nightmare for the white pieces.
While the computer suggests 41...Qc6 or h4 to be better for Black, only humans will appreciate the sacrifice 41...Bc5. Sure there is nothing concrete for Black immediately but you know it's not easy for a human to defend the position over the board in a tournament.
Surprisingly there is a defense for White in the above diagram but it is not so easy to find. White had to play 48.Rd8 Rf1+ 49.Bf2 Rxf2 50.Ke3 Qxg2 and now white goes for a perpetual 51.Qg8+ and salvages a draw. Of course Black is not forced to play 48...Rf1+. Nf6 is also there but then again there is nothing substantial in that variation either. So it proves the that sacrifice 41...Bc5 was absolutely a correct practical approach.
Boskovic - Puranik: 0-1
GM Abhimanyu Puranik kept munching pawns and his opponent IM Drasko Boskovic did not do much about it.
The game continued 20..Rxd3 21.R3b2 Qa3 22.Nxg6 hxg6 23.c5 and now Black was forced to play 23...Rxe3. Practically it worked out great. It is not necessary to play the best move always like 20...Bxd3, sometimes practical decisions work out well.
For more photos, click here.
Replay Round 4 games
Round 4 results
Round 5 pairings
Links
---