Arjun Erigaisi set to battle Kramnik, Grischuk, Aronian, Gelfand, Yifan and co. at Satty Zhuldyz Rapid and Blitz
India no.5 and World no.37, Arjun Erigaisi will take part in his second rated tournament of the year, Satty Zhuldyz in Astana, Kazakhstan. Arjun will battle against the 14th world champion - Vladimir Kramnik, three-time World Blitz champion - Alexander Grischuk, the only two-time World Cup winner in history - Levon Aronian, Germany no.1 Vincent Keymer, the former world championship challenger - Boris Gelfand, World no.1 woman - Hou Yifan, Armenia no.2 Haik Martirosyan, 44th Olympiad Gold medalists - Javokhir Sindarov and Jakhongir Vakhidov, former World Rapid and three-time World Blitz Women's champion, Kateryna Lagno, and the reigning two-time World Blitz Women's champion - IM Bibisara Assaubayeva. Who do you think will win the tournament? Round 1 starts today at 5 p.m. local time, 4:30 p.m. IST. Photo: Aditya Sur Roy
A star-studded Rapid and Blitz event
The first side event of the FIDE World Championship 2023 concluded yesterday. The super-strong Satty Zhuldyz Rapid and Blitz event part of the Satty Zhulyz Chess Festival starts today. Arjun Erigaisi will face GM Haik Martirosyan (ARM), GM Jakhongir Sindarov (UZB), GM Hou Yifan (CHN) and GM Alexander Grischuk in the first four rounds starting today.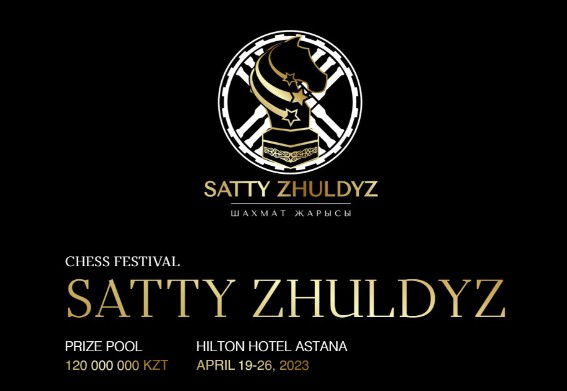 Press Conference
Players
The star-studded line-up of dozen participants is - GM Vladimir Kramnik, GM Levon Aronian (USA), GM Boris Gelfand (ISR), GM Alexander Grischuk, GM Hou Yifan (CHN), GM Javokhir Sindarov (UZB), GM Vincent Keymer (GER), GM Hayk Martirosyan (ARM), GM Kateryna Lagno, GM Arjun Erigaisi, GM Jakhongir Vakhidov (UZB) and IM Bibisara Assaubayeva (KAZ).
Schedule
The Rapid event will take place from 20th to 22nd April. Rest day is on 23rd April. The Blitz event will take place on 24th and 25th April 2023.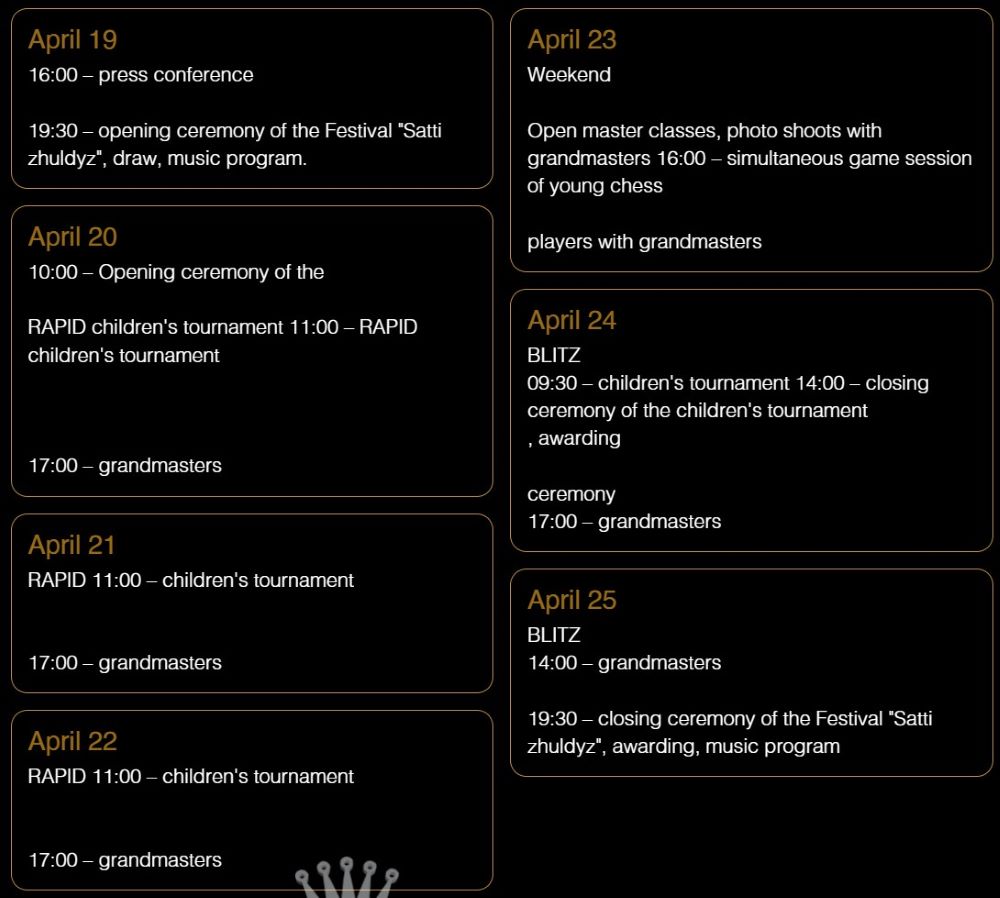 Total prize fund
The total prize fund is 120000000 KZT.
Commentators
The Official Commentators for the Rapid and Blitz events will be - IM and WGM Jovanka Houska (ENG), FM James Canty (USA), Anvar Shaikhymov (KAZ) and Talgat Gubaidulin (KAZ).
Day 1 Rapid Round 1-4 pairings
Round 1 on 2023/04/20
Bo.
No.
Rtg
Name
Result
Name
Rtg
No.
1
1
2359
IM
Assaubayeva, Bibisara
GM
Lagno, Kateryna
2485
12
2
2
2626
GM
Gelfand, Boris
GM
Vakhidov, Jakhongir
2513
11
3
3
2630
GM
Keymer, Vincent
GM
Grischuk, Alexander
2731
10
4
4
2756
GM
Kramnik, Vladimir
GM
Hou, Yifan
2618
9
5
5
2720
GM
Aronian, Levon
GM
Sindarov, Javokhir
2578
8
6
6
2685
GM
Erigaisi, Arjun
GM
Martirosyan, Haik M.
2587
7
Round 2 on 2023/04/20
Bo.
No.
Rtg
Name
Result
Name
Rtg
No.
1
12
2485
GM
Lagno, Kateryna
GM
Martirosyan, Haik M.
2587
7
2
8
2578
GM
Sindarov, Javokhir
GM
Erigaisi, Arjun
2685
6
3
9
2618
GM
Hou, Yifan
GM
Aronian, Levon
2720
5
4
10
2731
GM
Grischuk, Alexander
GM
Kramnik, Vladimir
2756
4
5
11
2513
GM
Vakhidov, Jakhongir
GM
Keymer, Vincent
2630
3
6
1
2359
IM
Assaubayeva, Bibisara
GM
Gelfand, Boris
2626
2
Round 3 on 2023/04/20
Bo.
No.
Rtg
Name
Result
Name
Rtg
No.
1
2
2626
GM
Gelfand, Boris
GM
Lagno, Kateryna
2485
12
2
3
2630
GM
Keymer, Vincent
IM
Assaubayeva, Bibisara
2359
1
3
4
2756
GM
Kramnik, Vladimir
GM
Vakhidov, Jakhongir
2513
11
4
5
2720
GM
Aronian, Levon
GM
Grischuk, Alexander
2731
10
5
6
2685
GM
Erigaisi, Arjun
GM
Hou, Yifan
2618
9
6
7
2587
GM
Martirosyan, Haik M.
GM
Sindarov, Javokhir
2578
8
Round 4 on 2023/04/20
Bo.
No.
Rtg
Name
Result
Name
Rtg
No.
1
12
2485
GM
Lagno, Kateryna
GM
Sindarov, Javokhir
2578
8
2
9
2618
GM
Hou, Yifan
GM
Martirosyan, Haik M.
2587
7
3
10
2731
GM
Grischuk, Alexander
GM
Erigaisi, Arjun
2685
6
4
11
2513
GM
Vakhidov, Jakhongir
GM
Aronian, Levon
2720
5
5
1
2359
IM
Assaubayeva, Bibisara
GM
Kramnik, Vladimir
2756
4
6
2
2626
GM
Gelfand, Boris
GM
Keymer, Vincent
2630
3
Links
---