Satty Zhuldyz Rapid R1-4: Arjun Erigaisi makes a fantastic start
Arjun Erigaisi scored 3.5/4 on the first day of Satty Zhuldyz Rapid 2023. He is currently the sole leader and a full point ahead of Boris Gelfand and Levon Aronian. The India no.5 showcased his sharpness against Haik Martirosyan. In the second round, he had a thrilling finish against Javokhir Sindarov. It could have gone either player's way. In a first-ever rated matchup, Arjun got the better of World no.1 woman, Yifan Hou. She made an unforced error in the endgame which seemed to be heading towards a draw. The teenager finished the day with a short draw against the three-time World Blitz champion, Alexander Grischuk. Round 5 starts today at 5 p.m. local time, 4:30 p.m. IST. Photo: Aditya Sur Roy
Grischuk, Keymer and Bibisara in search of their first win
Arjun Erigaisi will face GM Jakhongir Vakhidov (UZB), IM Bibisara Assaubayeva (KAZ), GM Boris Gelfand (ISR) and GM Vincent Keymer (GER) in Rounds 5 to 8.
Round 1: Tactics is the key
The last time the India no.5 and World no.37, GM Arjun Erigaisi (2685) had a decisive rated game against the Armenia no.2 and World no.61, GM Haik Martirosyan (2587) was at World Blitz 2021. Arjun won that game. The next encounters were in Classical format in 2022. Both of them ended in draws. In fact, Arjun has never lost a rated game against Haik in any of the three formats. Arjun opted for the Trompowsky in the first round.
Arjun - Haik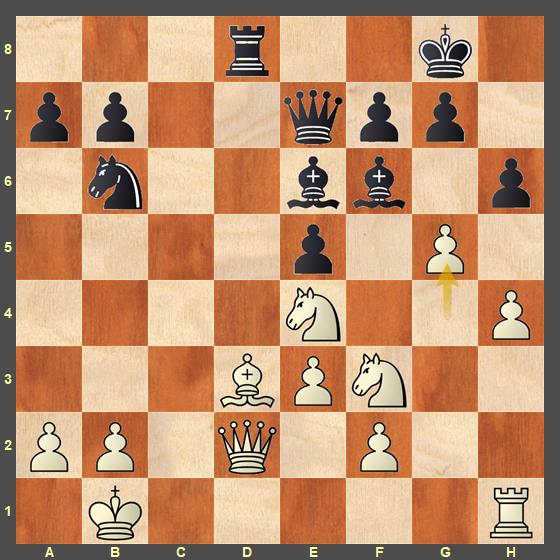 20.g5 is an attempt to destroy Black's kingside. The correct response here is 20...Qd7 21.gxf6 Qxd3+ 22.Qxd3 Rxd3 23.Nc5 Rd6 and there is no trouble for Black. 20...Bc4 invited disaster 21.gxf6 White captures with a tempo Qc7 22.fxg7! Black probably missed this. Black cannot take on d3 by either piece as Nf6+ followed by Ne8+ fork is looming large. Hence, 22...Kxg7 23.Rg1+ and White won the game in the next six moves.
Round 2: Edge of your seat battle
GM Arjun Erigaisi (2685) has never lost a game against GM Javokhir Sindarov (UZB, 2578). Their both Classical games including the last one at 44th Chess Olympiad last year, ended in a draw. The only Blitz game between them was won by Arjun. So this was their first-ever rated Rapid game. Sindarov was winning for the better part of the game, until he blundered big time in an extremely complex rook and minor piece endgame.
Arjun - Sindarov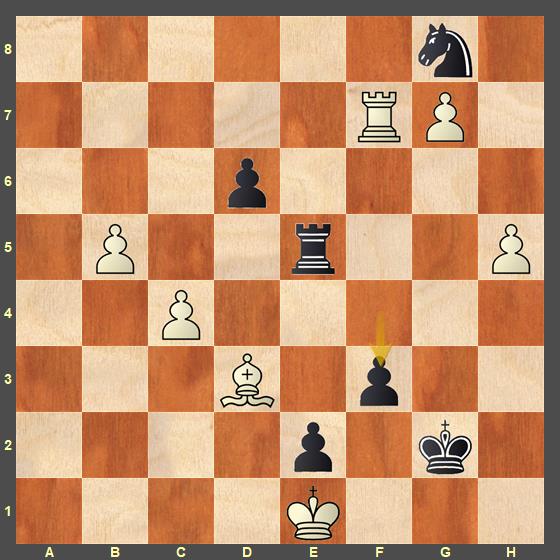 Both sides are trying to promote their connected passed pawns. White should be able to win this because of the fact that he not only has extra pawns but his bishop does both jobs while the black knight at g8 is only busy in stopping the g and h-pawns. It is unable to participate in the black pawns' promotion. 68.c5 is what the computer suggests to be winning for White, whereas 68.b6? gives Black a second chance at the game. 68...Re3 69.Bxe2 White should have done this a few moves ago Rxe2+ 70.Kd1 Rb2 71.h6 Nxh6 72.Rf6 f2 73.Rg6+ and we get the following position.
73...Kf3 is winning for Black. The reason is Black threatens a pawn promotion with a checkmate and prevents g8 promotion at the same time. These are easier to calculate when the clock is not rushing down to zero. Over the board, at a tournament, the scenario is completely different. Black played 73...Ng4?? 74.Rxg4+ and White should have kamikaze'd rook to promote the g-pawn into a queen. Black denying the rook would have also led to a draw. Fortunately for Arjun, White played 74.Kc1 f1Q+ and well once again Arjun got a winning opportunity. This time, he didn't let his advantage slip and converted it into a full point.
Round 3: First rated game against World no.1 Yifan
GM Arjun Erigaisi has faced World no.1 woman, GM Yifan Hou (CHN, 2618) in an online tournament almost two years ago. He won that game. However, they both never faced each other in a rated game. Just when it seemed like the game is heading towards a draw, Yifan made an incorrect break in the endgame.
Arjun - Yifan
The only way for White to make any progress is if Black plays 51...g5. That is exactly what she did and the half point slipped away. 52.Rh6+ Ke7 53.fxg5 and the win was just a matter of time for White.
Photo Gallery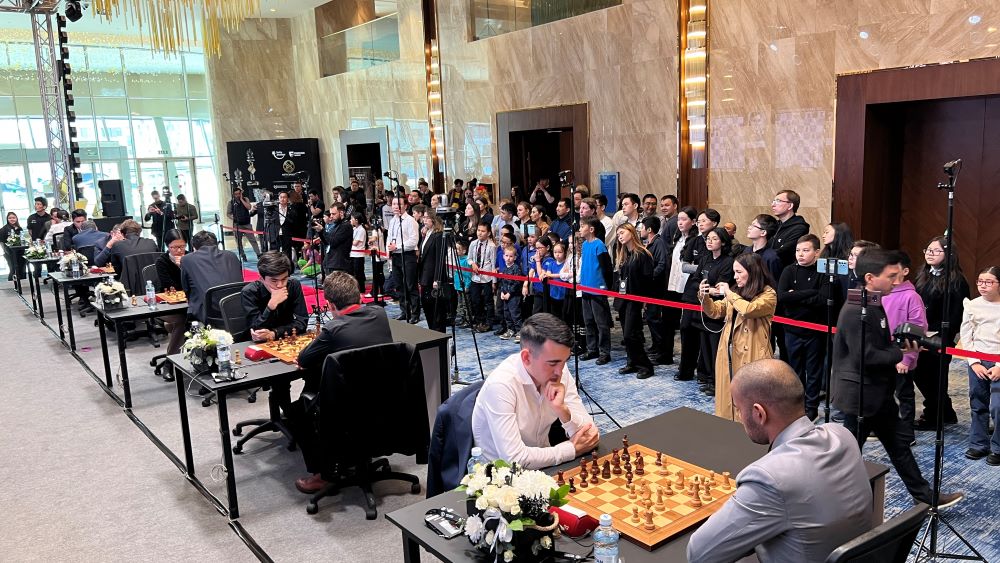 For more inauguration ceremony and Round 1-4 photos, please click at the respective links.
Replay Round 1-4 games
Round 1-4 results
Round 1 on 2023/04/20
Bo.
No.
Rtg
Name
Result
Name
Rtg
No.
1
1
2359
IM
Assaubayeva, Bibisara
½ - ½
GM
Lagno, Kateryna
2485
12
2
2
2626
GM
Gelfand, Boris
1 - 0
GM
Vakhidov, Jakhongir
2513
11
3
3
2630
GM
Keymer, Vincent
½ - ½
GM
Grischuk, Alexander
2731
10
4
4
2756
GM
Kramnik, Vladimir
1 - 0
GM
Hou, Yifan
2618
9
5
5
2720
GM
Aronian, Levon
1 - 0
GM
Sindarov, Javokhir
2578
8
6
6
2685
GM
Erigaisi, Arjun
1 - 0
GM
Martirosyan, Haik M.
2587
7
Round 2 on 2023/04/20
Bo.
No.
Rtg
Name
Result
Name
Rtg
No.
1
12
2485
GM
Lagno, Kateryna
½ - ½
GM
Martirosyan, Haik M.
2587
7
2
8
2578
GM
Sindarov, Javokhir
0 - 1
GM
Erigaisi, Arjun
2685
6
3
9
2618
GM
Hou, Yifan
½ - ½
GM
Aronian, Levon
2720
5
4
10
2731
GM
Grischuk, Alexander
½ - ½
GM
Kramnik, Vladimir
2756
4
5
11
2513
GM
Vakhidov, Jakhongir
½ - ½
GM
Keymer, Vincent
2630
3
6
1
2359
IM
Assaubayeva, Bibisara
½ - ½
GM
Gelfand, Boris
2626
2
Round 3 on 2023/04/20
Bo.
No.
Rtg
Name
Result
Name
Rtg
No.
1
2
2626
GM
Gelfand, Boris
½ - ½
GM
Lagno, Kateryna
2485
12
2
3
2630
GM
Keymer, Vincent
½ - ½
IM
Assaubayeva, Bibisara
2359
1
3
4
2756
GM
Kramnik, Vladimir
0 - 1
GM
Vakhidov, Jakhongir
2513
11
4
5
2720
GM
Aronian, Levon
½ - ½
GM
Grischuk, Alexander
2731
10
5
6
2685
GM
Erigaisi, Arjun
1 - 0
GM
Hou, Yifan
2618
9
6
7
2587
GM
Martirosyan, Haik M.
1 - 0
GM
Sindarov, Javokhir
2578
8
Round 4 on 2023/04/20
Bo.
No.
Rtg
Name
Result
Name
Rtg
No.
1
12
2485
GM
Lagno, Kateryna
0 - 1
GM
Sindarov, Javokhir
2578
8
2
9
2618
GM
Hou, Yifan
1 - 0
GM
Martirosyan, Haik M.
2587
7
3
10
2731
GM
Grischuk, Alexander
½ - ½
GM
Erigaisi, Arjun
2685
6
4
11
2513
GM
Vakhidov, Jakhongir
½ - ½
GM
Aronian, Levon
2720
5
5
1
2359
IM
Assaubayeva, Bibisara
½ - ½
GM
Kramnik, Vladimir
2756
4
6
2
2626
GM
Gelfand, Boris
½ - ½
GM
Keymer, Vincent
2630
3

Round 5-8 pairings
Round 5 on 2023/04/21
Bo.
No.
Rtg
Name
Result
Name
Rtg
No.
1
3
2630
GM
Keymer, Vincent
GM
Lagno, Kateryna
2485
12
2
4
2756
GM
Kramnik, Vladimir
GM
Gelfand, Boris
2626
2
3
5
2720
GM
Aronian, Levon
IM
Assaubayeva, Bibisara
2359
1
4
6
2685
GM
Erigaisi, Arjun
GM
Vakhidov, Jakhongir
2513
11
5
7
2587
GM
Martirosyan, Haik M.
GM
Grischuk, Alexander
2731
10
6
8
2578
GM
Sindarov, Javokhir
GM
Hou, Yifan
2618
9
Round 6 on 2023/04/21
Bo.
No.
Rtg
Name
Result
Name
Rtg
No.
1
12
2485
GM
Lagno, Kateryna
GM
Hou, Yifan
2618
9
2
10
2731
GM
Grischuk, Alexander
GM
Sindarov, Javokhir
2578
8
3
11
2513
GM
Vakhidov, Jakhongir
GM
Martirosyan, Haik M.
2587
7
4
1
2359
IM
Assaubayeva, Bibisara
GM
Erigaisi, Arjun
2685
6
5
2
2626
GM
Gelfand, Boris
GM
Aronian, Levon
2720
5
6
3
2630
GM
Keymer, Vincent
GM
Kramnik, Vladimir
2756
4
Round 7 on 2023/04/21
Bo.
No.
Rtg
Name
Result
Name
Rtg
No.
1
4
2756
GM
Kramnik, Vladimir
GM
Lagno, Kateryna
2485
12
2
5
2720
GM
Aronian, Levon
GM
Keymer, Vincent
2630
3
3
6
2685
GM
Erigaisi, Arjun
GM
Gelfand, Boris
2626
2
4
7
2587
GM
Martirosyan, Haik M.
IM
Assaubayeva, Bibisara
2359
1
5
8
2578
GM
Sindarov, Javokhir
GM
Vakhidov, Jakhongir
2513
11
6
9
2618
GM
Hou, Yifan
GM
Grischuk, Alexander
2731
10
Round 8 on 2023/04/21
Bo.
No.
Rtg
Name
Result
Name
Rtg
No.
1
12
2485
GM
Lagno, Kateryna
GM
Grischuk, Alexander
2731
10
2
11
2513
GM
Vakhidov, Jakhongir
GM
Hou, Yifan
2618
9
3
1
2359
IM
Assaubayeva, Bibisara
GM
Sindarov, Javokhir
2578
8
4
2
2626
GM
Gelfand, Boris
GM
Martirosyan, Haik M.
2587
7
5
3
2630
GM
Keymer, Vincent
GM
Erigaisi, Arjun
2685
6
6
4
2756
GM
Kramnik, Vladimir
GM
Aronian, Levon
2720
5
Standings after Round 4
| | | | | | | | | | |
| --- | --- | --- | --- | --- | --- | --- | --- | --- | --- |
| Rk. | SNo | | Name | FED | Rtg | Pts. | TB1 | TB2 | TB3 |
| 1 | 6 | GM | Erigaisi, Arjun | IND | 2685 | 3,5 | 0 | 5,00 | 3 |
| 2 | 2 | GM | Gelfand, Boris | ISR | 2626 | 2,5 | 0 | 4,75 | 1 |
| 3 | 5 | GM | Aronian, Levon | USA | 2720 | 2,5 | 0 | 3,75 | 1 |
| 4 | 10 | GM | Grischuk, Alexander | RUS | 2731 | 2 | 0 | 5,00 | 0 |
| 5 | 11 | GM | Vakhidov, Jakhongir | UZB | 2513 | 2 | 0 | 4,25 | 1 |
| 6 | 3 | GM | Keymer, Vincent | GER | 2630 | 2 | 0 | 4,25 | 0 |
| 7 | 1 | IM | Assaubayeva, Bibisara | KAZ | 2359 | 2 | 0 | 4,00 | 0 |
| 8 | 4 | GM | Kramnik, Vladimir | RUS | 2756 | 2 | 0 | 3,50 | 1 |
| 9 | 12 | GM | Lagno, Kateryna | RUS | 2485 | 1,5 | 0 | 3,00 | 0 |
| 10 | 9 | GM | Hou, Yifan | CHN | 2618 | 1,5 | 0 | 2,75 | 1 |
| 11 | 7 | GM | Martirosyan, Haik M. | ARM | 2587 | 1,5 | 0 | 1,75 | 1 |
| 12 | 8 | GM | Sindarov, Javokhir | UZB | 2578 | 1 | 0 | 1,50 | 1 |
Links
---