Satty Zhuldyz Rapid R5-8: Arjun Erigaisi is on a roll, now World no.25
Arjun Erigaisi continues his momentum from the previous day at Satty Zhuldyz Rapid and Blitz 2023. He started the day with a convincing victory over GM Jakhongir Vakhidov (UZB). Then he showcased positional prowess against the reigning two-time World Blitz Women's champion, IM Bibisara Assaubayeva (KAZ). The teenager registered his third victory of the day against the legend, GM Boris Gelfand (ISR), who ran out of time in an equal knight endgame. Arjun finished the day with a draw against the Germany no.1 GM Vincent Keymer. He is now a full point ahead of Levon Aronian at 7/8. They will meet each other in the penultimate round. Round 9 starts today at 5 p.m. local time, 4:30 p.m. IST. Photo: Aditya Sur Roy
Only Arjun and Aronian undefeated so far
A new chapter is waiting to be written today between Arjun Erigaisi and the only two-time World Cup winner in history, Levon Aronian (USA). They are the only two who are unbeaten till Round 8. Their penultimate round clash could very well be Arjun's final hurdle towards his triumph in the Rapid portion of the event.

Round 5: London System strikes
The only time GM Arjun Erigaisi (2685) faced GM Jakhongir Vakhidov (UZB, 2513) in a rated game, was at World Rapid 2021. It ended in a draw. This time, Arjun had the white pieces. He got a winning position out of the London System opening within the first 15 moves.
Arjun - Vakhidov
18.Ng5! is fantastic move. 18...hxg5 leads to a checkmate via 19.Qh5+ using the queen and rook. 18...Bxe5 does not alter the course either 19.dxe5 f6 20.Qh5 Qg7 21.exf6 Rxf6 22.0-0-0 Bd7 23.Nxe4 Be8 24.Rxg7 and Black resigned.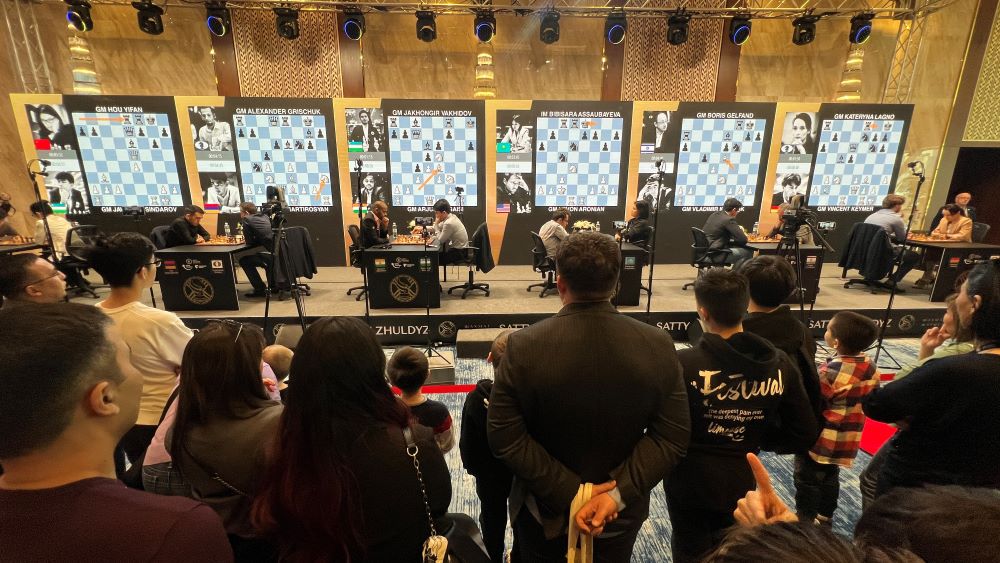 Round 6: Positional squeeze
GM Arjun Erigaisi (2685) faced the reigning two-time World Blitz Women's champion, IM Bibisara Assaubayeva (KAZ, 2359) for the first time in a rated game. He got a pleasant position in the middlegame once the queens were off the board.
Bibisara - Arjun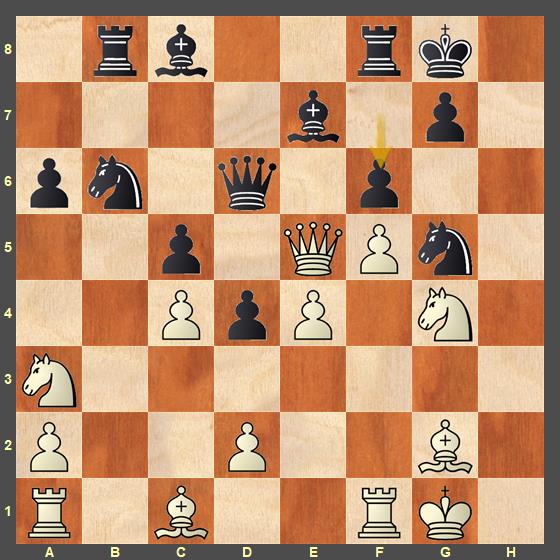 25...f6 forced the queen exchange. 26.Qxd6 Bxd6 and Black made the most out of his space advantage. Eventually Black created a lot of pressure on the b-file, which led to White making an error which cost her the point.
Round 7: Six decisive games
GM Arjun Erigaisi faced the legendary GM Boris Gelfand (ISR, 2626) only once in a rated game in World Rapid 2021 which ended in a draw. This time the color got reversed and Arjun had the white pieces. The game was fairly balanced throughout, until Gelfand ran out of time in an equal knight endgame and lost the game.
For more Round 5-8 photos, please click here.
Replay Round 5-8 games
Round 5-8 results
Round 5 on 2023/04/21
Bo.
No.
Rtg
Name
Result
Name
Rtg
No.
1
3
2630
GM
Keymer, Vincent
½ - ½
GM
Lagno, Kateryna
2485
12
2
4
2756
GM
Kramnik, Vladimir
½ - ½
GM
Gelfand, Boris
2626
2
3
5
2720
GM
Aronian, Levon
1 - 0
IM
Assaubayeva, Bibisara
2359
1
4
6
2685
GM
Erigaisi, Arjun
1 - 0
GM
Vakhidov, Jakhongir
2513
11
5
7
2587
GM
Martirosyan, Haik M.
1 - 0
GM
Grischuk, Alexander
2731
10
6
8
2578
GM
Sindarov, Javokhir
½ - ½
GM
Hou, Yifan
2618
9
Round 6 on 2023/04/21
Bo.
No.
Rtg
Name
Result
Name
Rtg
No.
1
12
2485
GM
Lagno, Kateryna
1 - 0
GM
Hou, Yifan
2618
9
2
10
2731
GM
Grischuk, Alexander
1 - 0
GM
Sindarov, Javokhir
2578
8
3
11
2513
GM
Vakhidov, Jakhongir
½ - ½
GM
Martirosyan, Haik M.
2587
7
4
1
2359
IM
Assaubayeva, Bibisara
0 - 1
GM
Erigaisi, Arjun
2685
6
5
2
2626
GM
Gelfand, Boris
0 - 1
GM
Aronian, Levon
2720
5
6
3
2630
GM
Keymer, Vincent
0 - 1
GM
Kramnik, Vladimir
2756
4
Round 7 on 2023/04/21
Bo.
No.
Rtg
Name
Result
Name
Rtg
No.
1
4
2756
GM
Kramnik, Vladimir
1 - 0
GM
Lagno, Kateryna
2485
12
2
5
2720
GM
Aronian, Levon
1 - 0
GM
Keymer, Vincent
2630
3
3
6
2685
GM
Erigaisi, Arjun
1 - 0
GM
Gelfand, Boris
2626
2
4
7
2587
GM
Martirosyan, Haik M.
1 - 0
IM
Assaubayeva, Bibisara
2359
1
5
8
2578
GM
Sindarov, Javokhir
0 - 1
GM
Vakhidov, Jakhongir
2513
11
6
9
2618
GM
Hou, Yifan
0 - 1
GM
Grischuk, Alexander
2731
10
Round 8 on 2023/04/21
Bo.
No.
Rtg
Name
Result
Name
Rtg
No.
1
12
2485
GM
Lagno, Kateryna
½ - ½
GM
Grischuk, Alexander
2731
10
2
11
2513
GM
Vakhidov, Jakhongir
½ - ½
GM
Hou, Yifan
2618
9
3
1
2359
IM
Assaubayeva, Bibisara
½ - ½
GM
Sindarov, Javokhir
2578
8
4
2
2626
GM
Gelfand, Boris
½ - ½
GM
Martirosyan, Haik M.
2587
7
5
3
2630
GM
Keymer, Vincent
½ - ½
GM
Erigaisi, Arjun
2685
6
6
4
2756
GM
Kramnik, Vladimir
½ - ½
GM
Aronian, Levon
2720
5
Standings after Round 8
| | | | | | | | | | |
| --- | --- | --- | --- | --- | --- | --- | --- | --- | --- |
| Rk. | SNo | | Name | FED | Rtg | Pts. | TB1 | TB2 | TB3 |
| 1 | 6 | GM | Erigaisi, Arjun | IND | 2685 | 7 | 0 | 22,75 | 6 |
| 2 | 5 | GM | Aronian, Levon | USA | 2720 | 6 | 0 | 19,00 | 4 |
| 3 | 4 | GM | Kramnik, Vladimir | RUS | 2756 | 5 | 0 | 17,25 | 3 |
| 4 | 7 | GM | Martirosyan, Haik M. | ARM | 2587 | 4,5 | 1 | 14,50 | 3 |
| 5 | 10 | GM | Grischuk, Alexander | RUS | 2731 | 4,5 | 0 | 16,75 | 2 |
| 6 | 11 | GM | Vakhidov, Jakhongir | UZB | 2513 | 4 | 0 | 15,00 | 2 |
| 7 | 2 | GM | Gelfand, Boris | ISR | 2626 | 3,5 | 0,5 | 13,25 | 1 |
| 8 | 12 | GM | Lagno, Kateryna | RUS | 2485 | 3,5 | 0,5 | 11,50 | 1 |
| 9 | 3 | GM | Keymer, Vincent | GER | 2630 | 3 | 0 | 12,50 | 0 |
| 10 | 9 | GM | Hou, Yifan | CHN | 2618 | 2,5 | 0 | 10,50 | 1 |
| 11 | 1 | IM | Assaubayeva, Bibisara | KAZ | 2359 | 2,5 | 0 | 8,50 | 0 |
| 12 | 8 | GM | Sindarov, Javokhir | UZB | 2578 | 2 | 0 | 6,00 | 1 |
Round 9-11 pairings
Round 9 on 2023/04/22
Bo.
No.
Rtg
Name
Result
Name
Rtg
No.
1
5
2720
GM
Aronian, Levon
GM
Lagno, Kateryna
2485
12
2
6
2685
GM
Erigaisi, Arjun
GM
Kramnik, Vladimir
2756
4
3
7
2587
GM
Martirosyan, Haik M.
GM
Keymer, Vincent
2630
3
4
8
2578
GM
Sindarov, Javokhir
GM
Gelfand, Boris
2626
2
5
9
2618
GM
Hou, Yifan
IM
Assaubayeva, Bibisara
2359
1
6
10
2731
GM
Grischuk, Alexander
GM
Vakhidov, Jakhongir
2513
11
Round 10 on 2023/04/22
Bo.
No.
Rtg
Name
Result
Name
Rtg
No.
1
12
2485
GM
Lagno, Kateryna
GM
Vakhidov, Jakhongir
2513
11
2
1
2359
IM
Assaubayeva, Bibisara
GM
Grischuk, Alexander
2731
10
3
2
2626
GM
Gelfand, Boris
GM
Hou, Yifan
2618
9
4
3
2630
GM
Keymer, Vincent
GM
Sindarov, Javokhir
2578
8
5
4
2756
GM
Kramnik, Vladimir
GM
Martirosyan, Haik M.
2587
7
6
5
2720
GM
Aronian, Levon
GM
Erigaisi, Arjun
2685
6
Round 11 on 2023/04/22
Bo.
No.
Rtg
Name
Result
Name
Rtg
No.
1
6
2685
GM
Erigaisi, Arjun
GM
Lagno, Kateryna
2485
12
2
7
2587
GM
Martirosyan, Haik M.
GM
Aronian, Levon
2720
5
3
8
2578
GM
Sindarov, Javokhir
GM
Kramnik, Vladimir
2756
4
4
9
2618
GM
Hou, Yifan
GM
Keymer, Vincent
2630
3
5
10
2731
GM
Grischuk, Alexander
GM
Gelfand, Boris
2626
2
6
11
2513
GM
Vakhidov, Jakhongir
IM
Assaubayeva, Bibisara
2359
1
Links
---